As an industry, we are continuing to move away from 'chasing the wrinkle' and more towards treatments and techniques that incorporate a whole-face approach, with increasing prominence given to flexible and well-considered strategies.
Facial volume loss contributes significantly to facial ageing, typically occurring in the malar region, temples, infra-orbital and mandibular areas, resulting in dark shadows that give the face a tired and drawn appearance. Over the past five years we have primarily treated the mid- face, both supporting the peri-orbital region and lifting the perioral region, to treat the changes in the facial fat compartments. In doing so, there have been many techniques whereby large boluses of products have been placed in the anterior malar and zygomatic areas. This can create inappropriate projection and volume, resulting in an unnatural-looking result, both in repose and animation, when patients speak and smile. Other side effects of large bolus techniques may also include the formation of biofilms.
For some time, many practitioners have been considering and utilising techniques in which we can use minimal amount of product – with specific placements in certain areas – in order to achieve the maximum amount of lift for the patient with a more natural outcome. This has now been stratified into eight points: the key lifting areas of the face.
The 8-point lift was originally devised by
Dr Mauricio De Maio,
a plastic surgeon from Brazil, and I was one of the first physicians in the
UK to be trained by him on this signature technique. Small adjustments are made
in eight areas of the face to achieve an overall lifting effect, with the ethos being to treat minimally and precisely, looking beyond individual zones of concern to the definitive causes of the signs of ageing, which is often fat and bone resorption in predictable parts of the face.

The technique utilises the Juvéderm Vycross collection of non-permanent
HA dermal fillers. These hyaluronic acid dermal fillers each work in specific ways to volumise and give structure to the face: Juvéderm Voluma is injected deeply, lifting and restoring volume; Juvéderm Volbella has a water-like consistency and is suitable for the delicate peri-orbital area, as well as the area around the lip; Juvéderm Volift works to treat medium- deep depressions.

My personal preference with my patients is to use both needle and cannula for
a full-face treatment. The aim of the 8-point lift is to support the infra-orbital areas, lift the mid-face, nasolabial fold,
oral commissure and help to improve the jawline. It also helps to give more contour and appropriate fullness through the malar, parotid and buccal areas.

In terms of patient selection, the 8-point approach has a lot of versatility. It is a technique appropriate for the young patient, perhaps in his or her 30s, who might do a lot of physical training or who has had large weight fluctuations due to dieting, and has experienced significant fat loss shifts to their superficial fat compartments. Other indications may be post-pregnancy facial changes or illness. This technique addresses the variations that can give the face a tired appearance, despite a relatively young age of patient. The technique is also appropriate for patients 10 to 20 years older. These patients will notice further signs of facial ageing and descent within the face, accompanied by a development of the pre-jowl sulcus and an early loss of the mandibular line.

I have successfully used the 8-point lift technique to treat patients in their 70s and 80s, who have advanced volumetric changes and descent, with excellent results showing a pleasing lift.

This approach is effective for both male and female patients. Needless to say,
the proportions of a male face are very different to the proportions of a female face. As long as that is respected then the 8-point lift is absolutely appropriate for both genders.
The positions of the 8-point lift are as follows: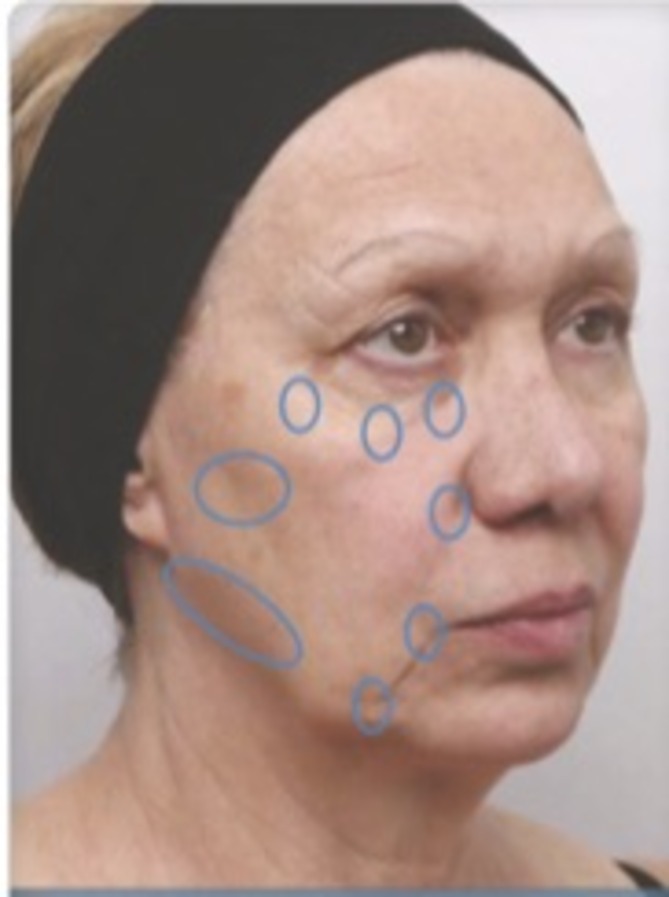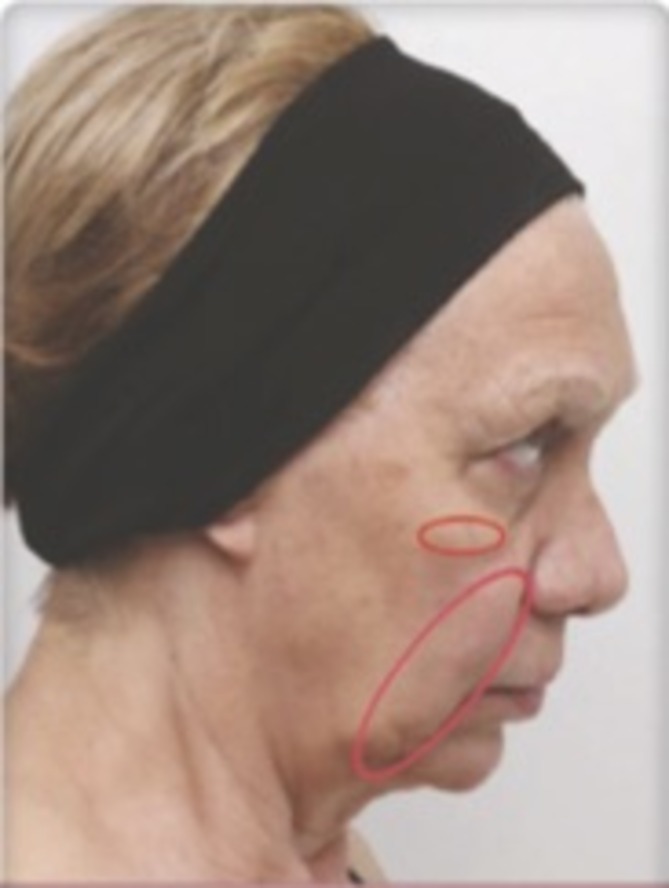 The first point

is the junction between the cheek and the temple. It is a very specific point and treated with a deep placement of Juvederm Voluma onto the zygomatic bone, usually 0.1-0.2mL. This can help to lift the zygomatic area and restore it's youthful curve, whilst also correcting the lid-cheek junction.

Point number two

is a beautification point, positioned over the anterior aspect of the zygomatic bone. Here I would use a further 0.1-0.2mL. This also helps to support the outer aspect of the infra-orbital region and lift the mid face.

Point number three

is a point in the anterior malar area, within the cheek. The deep malar fat is injected in this position, so that it acts as an anchor point to fix the face superiorly. Placement of 0.3mL of Juvederm Voluma or Volift in this position helps to support the tear trough, correct the palpebral-malar groove and can lift the nasolabial fold.

For point number four

,

I would switch to a lighter product such as Volift in order to minimise any external vascular compression and inject a small amount of this into the canine fossa. Between 0.2-0.3mL may be sufficient to lift the rest of the nasolabial fold.

Point number five i

s the oral commissure. Here, I would also use 0.1mL Volift intra- dermally, which helps to give the oral commissure a more supported horizontal position.

Point number six

is the pre-jowl sulcus. This is the area that female patients in particular can experience early mandibular recession and is also important for patients who exhibit retrognathia. Treating this point delivers more support to the chin, and gives better definition. This is a point where I use a cannula to simultaneously support the pre- jowl sulcus, marionette line and deeper element of the oral commisure. My product of choice is commonly Voluma and 0.5mL can produce excellent contouring.

Point number seven

varies between a male and a female. In a male, this is the definition of the mandibular angle, resulting in a square appearance to the jaw. In a woman, it may be desirable to give gentle mandibular definition, but certainly not overly project it, as this can masculinise a female face. The position where I tend to put point number seven is higher than the mandibular angle, usually approximately 2cm above, which gives a nice lift to the posterior aspect of the face. The important point to note about this point is that it needs to be very superficial in its placement. If injected deep in this area then risks could include a parotid cyst or facial nerve injury. Juvederm Voluma or Volift can be used in this area; product volume varies from 0.05mL to 0.3mL for enhanced definition.

Finally, I like to think of point number eight as a superficial zone. This tends

to run from the pre-auricular area, across the parotid and then into the sub-malar and buccal areas. By treating this zone, not only can volume deficit and hollowing be treated appropriately, but a subtle lift of the buccal or jowl fat can be achieved. I always use

a cannula here, gently in the subdermal plane, above the parotid fascia. This helps to minimise the risk of facial nerve, facial artery and parotid duct damage. Quantities used for this zone may be approximately 0.3mL to 0.6mL. In patients that have significant solar elastosis or weakness to the skin I would use Volift not Voluma. This area then requires massage immediately post-treatment.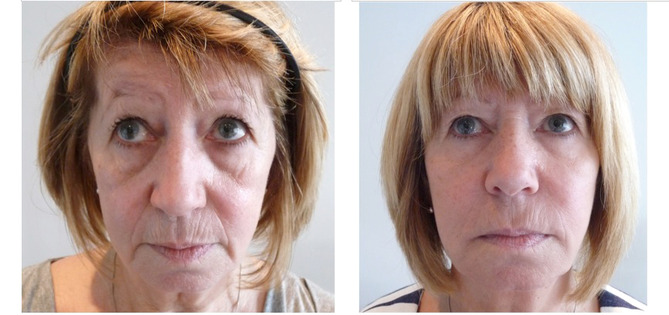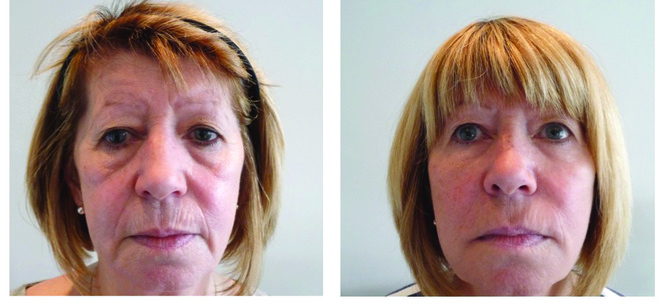 In points one to five I use a needle to administer the treatment, but it is important to note that you can also achieve additional improvements by using cannulas in these points, by revisiting points two and three. I return to these areas and treat them superficially with vectoring. I generally use a many vectoring techniques in my cannula work and so I incorporate this into the 8-point lift.

I don't use all eight points in every patient. In many patients, for instance if they're young or they have very good preservation of their facial fat compartments, then I may only treat point one and point two.
Similarly, I may only use points one, two and three in a patient whose face has a tired expression. With other patients who might be financially limited we can use points one, two and eight to give a lifting effect. This technique is about precise and specific positioning and placing of the product, focusing on the cause of the descent, rather than just treating the effects of it. Communication is an essential part of the 8-Point Lift.
Patients must understand that if small initial quantities are used, then they may require several appointments to achieve the desired result. In the initial one-hour assessment, I consult the patient to understand what they're trying to achieve and also discuss in detail the causes of the changes in their face. We then agree a strategy as to how quickly or slowly they want to progress.
One of the advantages of this method is that the result is buildable, depending upon the expectations of the patient. In my experience, this approach results in a very high patient satisfaction rate and predictable, beautiful outcomes.