The Joint Council for Cosmetic Practitioners (JCCP) and the Clinical Practice Standards Authority (CPSA),8 are well underway to developing new standards for qualification and practice standards to provide an accredited education and training framework for the aesthetics industry. This framework, which is due to be launched later this year, is currently being designed by the JCCP's Working Party on Education, Training and Accreditation, which is a multidiscipline focus group of the JCCP. Qualifications from Levels 4 to 7 are thus being developed in line with the HEE recommendations for each treatment modality.1-3
The JCCP will provide information on this work once it has been completed and validated. When it comes to education and training, some practitioners may be confused about the true nature of an 'accredited' qualification and how this differs from other education and training courses. In order to clarify what you should look for in a training course, and also, vitally, in the individual or company providing it, this article will discuss the difference between a qualification and other forms of learning programmes such as CPD validated courses, while also exploring what makes one qualification different from another, the Ofqual levelling system and who actually provides the accreditation.
The Ofqual process
The process of getting a course recognised by Ofqual is complex. Each required element of study or indicative content must be meticulously specified and documented; every learning outcome, or area of the syllabus, must be mapped against the National Occupational Standards or the regulations and guidelines of professional statutory bodies, such as the General Medical Council (GMC), Nursing and Midwifery Council (NMC) or General Dental Council (GDC).4,5 Furthermore, how this learning will be delivered, the course structure, how competency will be assessed and measured and where the achievement of the learning outcome will be evidenced, must be detailed.6 Courses are submitted to Ofqual for accreditation by the registered Awarding Bodies, not by individual training providers. The preparation of a course submission to Ofqual is a lengthy process of documentation owing to the meticulous nature of curriculum design.
Submissions are dealt with by Ofqual within a calendar month, after which the course will either be accepted or returned for amendment. Once a course is accredited by Ofqual, individual training providers can apply to the Awarding Body to offer the course and will need to develop their course resources, delivery methods and assessment schedules to fit against the accredited course framework. The individual provider will then need to apply for their own accreditation to offer the course – i.e. the Awarding Body will need to validate that their course design is compliant with the standards and required format.
Accredited qualification
According to its strictest educational definition, the term 'accredited' means that the course has either been recognised by a government-registered qualification awarding body or by a university.21 Furthermore, in the former instance, such qualifications will be regulated and registered by the Regulated Qualifications Framework (RQF).6-19 Therefore accredited or regulated qualifications are only available through a university or offered through one of the Ofqual Awarding Bodies such as Edexcel, Industry Qualifications.
For beauty therapists the Awarding Bodies are City and Guilds, CIBTAC or VTCT. Ofqual stands for 'The Office of Qualifications and Examinations Regulation'. It regulates qualifications, examinations and assessments in England and reports directly to parliament. Ofqual maintains education standards in GCSEs, A Levels, AS Levels and vocational qualifications.4,5 To establish whether a course you are looking to enroll on is recognised by Ofqual or by a university, you simply need to visit the Ofqual website or The Universities and Colleges Admissions Service website.6,7
You may need to get the course reference code from the training provider, but usually you will find the course you are looking for by searching its title. If the course is not visible on either of these registers then it is either unaccredited or it may offer a customised qualification,15 which is unique to the training provider. In this case you must contact the Ofqual Awarding Body itself to check the credentials of the course.
Accredited qualification titles, types and levels
Many people get confused about qualifications in respect of their title or type of certification – is the course you are looking at an Award, a Certificate, a Diploma or a Degree? Principally, this comes down to the size of the course, which will be measured in unit credits according to the requirements of the Qualification Credit Framework.8
Unit credits will be given in two ways. Firstly it will be measured according to the number of Guided Learning Hours i.e. the time spent in teaching or training activities. Secondly, the credits given for the Total Qualification Time will indicate the additional activities involved within a course by way of private study, research work, assignments, case studies etc. The unit credits of a qualification determine whether it is an Award, a Certificate, a Diploma or a Degree and each unit of credit represents 10 hours of learning time.
• Award: 1-12 credits or 10-120 hours
• Certificate: 13-36 credits or 130-360 hours
• Diploma: more than 37 credits or 370 hours of study
Degrees are slightly different in that they are accredited by a university rather than an Ofqual Awarding Body and there are a number of different types or levels; beginning with a Foundation, Undergraduate or Bachelor's Degree and upwards to a Master's Degree and Doctorate or PhD. Whether an individual chooses to complete an Award, Certificate, Diploma or Degree will really depend on the extent of the study they wish to undertake.
Ofqual and the RQF define different levels of learning that reflect an upward sliding scale in the advancement of the complexity and depth of the knowledge or skill being learned, the teaching and learning styles employed and modalities of assessment.5,6,8 In respect of the HEE guidelines, the qualification levelling for cosmetic interventions also factors in the degree of risk for each treatment modality and the extent of invasion.
Who can provide accredited qualifications?
Accredited qualifications are provided by education establishments that are working under an Ofqual Awarding Body or university which will recognise their credentials and facilities to be fit to deliver and assess the accredited qualifications in question. The teaching and assessing staff of these organisations will be required to have not only professional qualifications in the area of work or subject matter they are delivering, but also teaching and assessing qualifications. This system provides quality assurance for the aesthetics sector in respect of both the clinical and educational provision. For information on the requirements of teaching and assessing personnel for any particular qualification you should refer to the specific Awarding Body that holds the accredited course. As a potential student, this information on those who will be teaching you, and indeed their certification, should be freely available.
HEE Qualification LevelsEndorsed short courses and validated CPD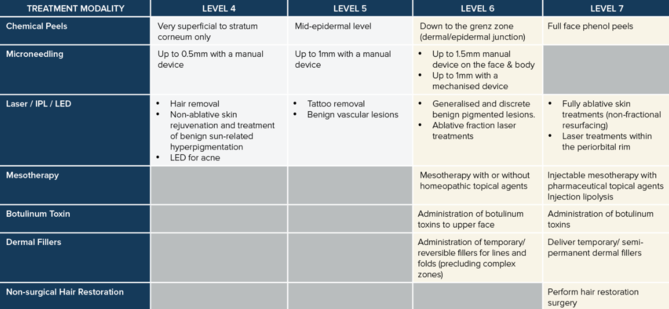 Certified short courses, Continued Professional Development (CPD) programmes or supplier-driven training all have a very important place in our sector but do not constitute as 'qualifications'. They can vary extensively in their quality, educational rigor and the measurement of achievement. That being said, CPD of any kind is vital for keeping knowledge and skills updated, and for the ongoing learning required for professional revalidation. You may have come across the term 'CPD accredited' for short courses and also courses 'accredited' by industry insurers, trade publications or representative organisations.
However it is important to note that in this context, the term 'CPD accredited' does not mean that is has been recognised through a government- registered education body, but that it has been recommended by a professional body in that it has been 'endorsed' or 'validated'. For this reason, I will refer to it as CPD validation to avoid confusion in the below. Either way, CPD courses and short courses endorsed by non-governmental organisations are not 'qualifications', but have been verified through a CPD accreditor, which is a common misconception.20 CPD can be validated or non-validated. If the course materials have been inspected and assessed by a CPD certifying organisation such at CPD Healthcare, the CPD Certification Service, the CPD Standards Office or the International Academy for CPD Accreditation, the delegate or learner might receive a certificate bearing a registration code, which verifies it as a genuinely validated CPD course.12,13
CPD may also be validated by a Professional Statutory Body such as the GMC, NMC or GDC, or by industry bodies such as the British College of Aesthetic Medicine, the British Association of Cosmetic Nurses, or by insurance companies. CPD validated learning is not confined to formal training provision but may also include seminars, webinars, e-learning programmes, workshops and conferences. Individual presenters or speakers may also gain validation for their work. It is important to note that to gain CPD validation, its content must be impartial.
The JCCP will establish a separate register of training organisations and individual trainers who provide these course
APL and RPL
The Accreditation of Prior Learning (APL) and the Recognition of Prior Learning (RPL) are standard practices in education.14 In principle the process of accrediting or recognising prior learning requires the gathering and cross-referencing of documented evidence of the learning and the assessment of knowledge and competency.
In the aesthetics sector this is very difficult to do due to the lack of formally measured or evidenced education and training provision in the past and, equally, it can be a very arduous and expensive process. An example of this difficulty arises commonly when any form of short course has been undertaken where formal assessment or evidence of learning is not completed. Course notes are not enough to accredit the individual with having completed a programme of learning or achieved a level of knowledge or skill mapped against a formal syllabus. In the case of accredited qualifications, a certificate of attendance cannot be used for APL because the syllabus for that course may not be formally set out and mapped against the accredited curriculum framework.
Equally, the measurement of knowledge and practical skill will not have been carried out under formal assessment conditions and with detailed documentation of portfolio evidence and thus cannot be automatically verified.14 Individual training organisations will set their own protocols for the assessment of prior learning which may involve formal testing of the applicant or the compilation of a portfolio to demonstrate the knowledge and/or practical competency of the individual. This can be an arduous process depending on the complexity and size of the curriculum and the responsibility for proving prior learning will usually fall with the student. For the aesthetics sector, the issue of APL and how it may be measured against the new qualification standards is currently under debate by the JCCP.
CPD validated learning is not confined to forma training provision but may also include seminars, webinars, e-learning programmes, workshops and conferences
Role of JCCP
The JCCP will establish a separate register of training organisations and individual trainers who provide these courses. This is to provide clear assurance that an education provision is robust and that the teaching is provided to the required standard by qualified and experienced educators and clinicians. This registration in itself will help potential students sift out which training organisations offer appropriate qualifications qualifications aligned to the qualification framework and practice standards developed by the JCCP and the CPSA. The detail of how the Register of Training Providers will be formatted and the requirements for such registration is under current debate and development by the JCCP.
Conclusion
With the JCCP qualification standards soon to launch, it is important that you understand what you are going to get out of a course that you have chosen to take, whether it be an accredited qualification or validated CPD certificate. You should also remember that education and training of any kind should be a worthwhile and rewarding experience. It is forever ongoing and whatever your training learning objective is, the quality of the course provision, and the qualification and credibility of those who will teach you, must be ascertained.