Delegates, speakers and exhibitors who attended the Aesthetic Conference and Exhibition (ACE) 2016 have reported that the event was a huge success, following two busy days of learning and networking.
On April 15 and 16 professionals throughout the aesthetics industry congregated at the Business Design Centre in Islington, London, to access outstanding clinical and business content and network with sponsors and exhibitors, as well as their fellow industry peers. 1938 delegates walked through the doors over the two days to enjoy presentations from 77 leading speakers who shared clinical and business guidance in 70 exceptional educational sessions. With the focuses ranging from peels and dermal filler injection techniques to body contouring and vaginal rejuvenation, ACE attracted delegates from a variety of different backgrounds including cosmetic doctors, surgeons, dermatologists, GPs, aesthetic nurses, dentists, aestheticians and clinic managers.
The two days featured a wide range of content, including a comprehensive clinical Conference agenda, as well as free Expert Clinics, Masterclasses, Business Track workshops and, new for this year, the Treatments on Trial session. Each agenda included presentations from the industry's most experienced and respected experts, with many featuring live demonstrations. The top-quality content provided delegates with invaluable advice and knowledge on the latest techniques, treatments and business insights, with more than 50 CPD points available over the whole event. Alongside these high-quality presentations, delegates enjoyed exploring the extensive Exhibition Floor, which hosted more than 80 exhibitors displaying the latest devices and treatments on offer.
AestheticSource was the headline sponsor for ACE 2016, and founder Lorna Bowes was thrilled with the outcome of this year's event. She said, "It has been a really great experience, we have been busy all weekend with footfall the whole time and it's been lovely to have our branding all over the place." According to Amanda Cameron, Aesthetics journal editor and ACE 2016 programme organiser, delegates, speakers and distributors alike were impressed with the diverse programme and the positive atmosphere at the conference and exhibition. "People have approached us throughout the event saying what a great experience they have had," she said. "Interest in the free agenda was overwhelming – the Expert Clinics in particular were overflowing with delegates who wanted to make the most of the live demonstrations. I was told the Exhibition felt more personal this year, and that the larger exhibitor size gave a great overall ambiance. Those who purchased a Conference Pass said they loved the interactive agenda, which featured exclusive in-depth presentations from the likes of Mr Dalvi Humzah, Mr Adrian Richards, Sharon Bennett, Dr Tapan Patel and Dr Raj Acquilla."
"It has been really fantastic, almost all areas of aesthetic medicine have been covered here" Dr Souphiyeh Samizadeh, speaker
Conference
The Conference agenda took place in the main auditorium and featured eight comprehensive sessions led by the UK's leading aesthetic practitioners. The Conference sessions explored all aspects of aesthetics from treating the forehead, temple, brow, eye area and the mid-face, to the buttock, thigh and intimate area. The format of the sessions involved several specialised panellists discussing their knowledge and experiences in each topic and debating the best treatment options. Speakers made the most of the special interactive features of the Conference auditorium, including the individual voting keypads. Frances Turner Traill, who spoke on what to avoid when treating the mid-face, used this feature to ask the audience several questions to determine the group's interests. In the same session, Dr Maria Gonzalez discussed treating pigmentation, concluding that, "You have to take your patients with melasma very seriously."
Later in the Conference sessions, Dr Uliana Gout discussed medical skincare and chemical peels to rejuvenate the neck and décolletage and said that; "We need to combine treatments when we treat the neck and the chest, its not just about resurfacing the skin." Plastic, reconstructive and aesthetic surgeon Mr Dalvi Humzah, who chaired several of the Conference sessions and was the chair of the ACE Steering Committee, stressed that in aesthetics, an understanding of the anatomy is extremely important. "I'm trying to bring anatomy into the injection field so that you can apply it and really take it forward," he said, adding, "I think that anatomy is the foundation of treatment, so you really need to understand the anatomy and then change the anatomy to reach the optimum outcome."
Dr Tapan Patel spoke and performed live demonstrations in two of the Conference sessions on the second day, focusing on facial contouring and the beautification of the lower face. After the day's conclusion he said, "I think the real important point delegates take away from attending these sessions is that they are seeing a combination of the anatomy, the injection technique, the aesthetic reasons to inject, and also the treatments being performed, which is very hard to do when you are just working in your clinic on your own." A popular session was the vaginal rejuvenation panel with Dr Sherif Wakil, Dr Shirin Lakhani and Dr Kannan Athreya, who described the vagina as the 'new face', in reference to the growth in popularity of treatment in this area. Speaking after the session, Dr Wakil said, "I was very happy because a lot of people were interested and engaged in the presentation and this is what we want to do, we want to open the door so that more doctors can offer this treatment."
Cosmetic dermatologist Dr Raj Acquilla spoke after his session on the forehead, eyebrow and temple, and said these Conference sessions are integral in maintaining practitioners' learning. "The most important thing is education, we know that good medical education is at the heart of excellent clinical practice. This industry is moving so fast; we've got technologic advancements, we've got on-going improvements in knowledge and details so you've got to keep up with the pace to make sure you're delivering the best results to patients," he said. The feedback from delegates attending the Conference was tremendously positive, with one delegate commenting on the helpfulness of the live demonstrations and the opportunity to learn from more experienced professionals. Dr Roopa Jaiswal, a GP from East London, commented on how it is good to hear that, "other people started in a similar way to me and have had, or still have, the same sort of insecurities and worries that I have – ACE is a great platform, it's just invaluable."
Expert Clinics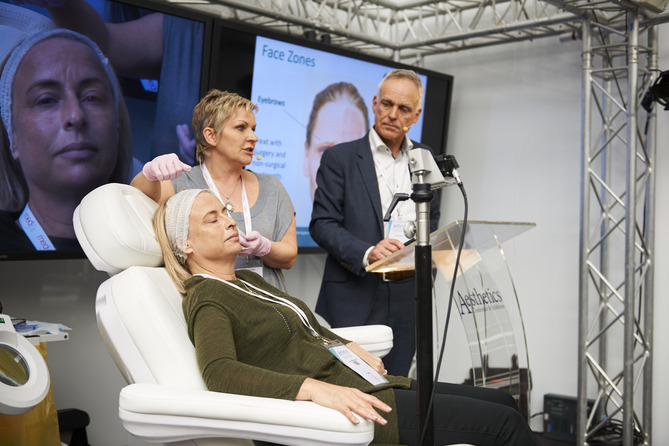 The extensive education continued in the two Expert Clinic workshops on the Exhibition floor, where practitioners could witness top specialists perform live demonstrations and provide technique tips. The diversity of sessions ranged from surgical versus non-surgical options for the face from Mr Adrian Richards and Mel Recchia, to lasers in aesthetic dermatology by Dr Daron Seukeran. Among the sessions were fascinating discussions by Dr Souphiyeh Samizadeh, who presented a session on harmonising the face. She said after her talk, "I hope that delegates understand the importance of the skeletal foundation of the face better and how it affects the soft tissues." The Expert Clinic agenda also included sponsored sessions provided by Rosmetics, Naturastudios, AestheticSource, AesthetiCare, 3D-lipo Ltd, Fusion GT, BTL Aesthetics, Healthxchange, Syneron Candela, Medico Beauty, SkinCeuticals, and Lynton Lasers, which were all very popular with delegates.

Masterclasses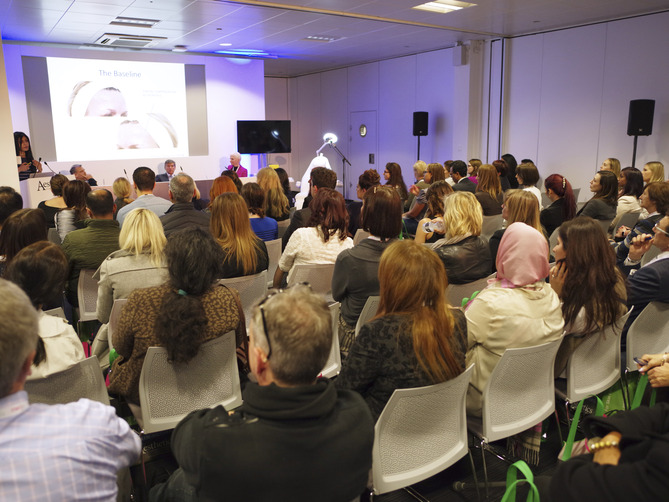 Delegates at ACE took the opportunity to further their knowledge on different products from key opinion leaders representing top manufacturers. The sponsored Masterclass sessions were hosted by some of the leading medical aesthetic companies and gave delegates information on possible patient outcomes and advised them on the best techniques for using their products. The companies that held Masterclasses were Medical Aesthetic Group, Filorga, Intraline, Galderma, HA-DERMA, Vida Aesthetics Ltd, Zeltiq and Neauvia. ACE delegate Dr Liesel Holler said the Masterclasses were the highlight for her, "I've been here participating in the Masterclasses; you always need to update yourself, see what's out there, new things, new techniques and I have really enjoyed it," she said. Among the many topics discussed was a presentation on how to deliver successful results safely by overcoming dermal filler challenges by Professor Daniel Cassuto, Dr Irfan Mian and Professor Hema Sundaram. While performing his live demonstration Professor Cassuto compared injecting to choosing breast implants, "One of the main criteria is soft tissue coverage – how much fat, muscle, gland and skin we have in order to conceal the implant and hide it – I just think the same way here and it works." Delegates were also captivated by a presentation from Dr Vincent Wong speaking on behalf of Intraline, who performed a live demonstration and discussed male facial rejuvenation. Dr Philippe Petit and Dr Phillippe Hamida-Pisal discussed the Filgora range in their Masterclass and how it can be used to support a hostilic approach to full rejuvenation. Dr Nicola Zerbinati, Dr David Jack, Jodie Grove and Dr Miguel Montero spoke at the Neauvia Masterclass about the new organic hyaluronic acid filler. After the talk independent nurse prescriber Jodie Grove said, "Our Masterclass featuring Neauvia was an opportunity to showcase the range to delegates and show how unique and flexible the product is and its ability to get great results from a safe, organic filler." Medical Aesthetic Group's Masterclass by Dr Sabine Zenker was of great interest to delegates who were eager to learn more about how modern nutraceuticals can benefit the skin and discussed the science behind the food supplement Estechoc. The Vida Aesthetics Ltd Masterclass featured Dr Irfan Mian, who explained and performed his pioneering MASH technique for a non-surgical face lift to a packed auditorium. The Masterclasses also included a session by Dr Sach Mohan discussing the ZELTIQ coolsculpting technology; explaining how the device works to naturally eliminate fat cells without harming surrounding tissue. The Galderma Masterclass focused on perorbital rejuvenation and was presented by Mrs Sabrina Shah-Desai. Dylan Griffiths, product manager at Galderma said, "I think ACE is one of the most important events of the year for us in the aesthetic calendar with its medical education agenda, and also the delegates that come, we know its going to be a well appreciated and well valued event for our customers."

Business Track
For delegates wanting to enhance their practices from a non-clinical perspective, the ACE Business Track, sponsored by Church Pharmacy, provided exceptional tips and advice on how to achieve the ultimate patient experience. Session topics included presentations from Zain Bhojani, co-director of Church Pharmacy, on the benefits of the company's free online prescription system. Dr Chris Blatchley explained how to grow your patient database by treating migraines with botulinum toxin, while Professor Andy Pickett examined the types of counterfeit products practitioners and distributors need to be wary of in the aesthetic industry, and medical aesthetic and consumer health PR Julia Kendrick focused on techniques for business growth and profile building for increased revenue. In her session, Kendrick emphasised the need to keep messages to the press short and sharp with clear communication and opinions that shouldn't 'sit on the fence'. US author and international business consultant Wendy Lewis presented two sessions, discussing the best practices for marketing an aesthetic clinic online and how to take a business Facebook page to the next level. Her session on digital marketing was particularly popular, and attracted a packed audience. After her sessions she said, "Education is really important in our industry and the more conferences like this you are able to attend, even one little pearl that you pick up from an aesthetic nurse or a doctor or a plastic surgeon that you can bring to your practice, it's really going to make a difference in excelling your clinic to the next level." Speaking about the Business Track agenda as a whole, Bhojani said, "We found it was very useful for the delegates, and being a family business ourselves we know how difficult it can be for practitioners, so we are very happy to be able to provide some good education for them."

Treatments on Trial
Company representatives presented their latest technologies before a lively panel discussion, with delegates able to watch and take part in the engaging debates of which products would suit particular clinics. Treatments on Trial was a new agenda for ACE 2016 and was supported by BTL Aesthetics, Lumenis, Aqualyx and Syneron Candela, who each supplied a company representative to discuss and compare their latest devices for body contouring and weight loss. Speaking in the sessions was BTL consultant Lee Brine, director of body contouring at Lumenis, Yoram Eshel, Syneron Candela representative, Dr Sabika Karim and Aqualyx representative Dr Vincent Wong. Dr Karim noted at the end of her presentation that even though all of the devices discussed had lots of evidence behind them, sometimes good equipment can be used in the wrong hands and the industry needs to do more to stop this happening. Consultant plastic surgeon Mr Taimur Shoaib, who chaired the session, said, "The Treatments on Trial session allowed participants to speak directly to four leading industry treatment representatives, so that we could compare their effectiveness, their costs, the science behind the mechanism of action and the way the treatments are delivered. Without this education how can any practitioner make a sensible decision about what treatments they are going to offer their patients?"
Networking Event
At the end of an eventful first day, delegates were able to wind down with a glass of prosecco at the Networking Event. Supported by medical aesthetic manufacturer and distributor 3D-lipo Ltd, the event was the perfect opportunity for delegates to liaise with colleagues and business partners and discuss the latest developments within the aesthetic industry. Roy Cowley, founder and managing director of 3D-lipo, said, "We chose to sponsor the Networking Event because it gives a great platform for everybody to meet and one thing I like about this show is that people are networking continually, talking about their favourite devices, talking about the latest technologies and why they should be buying from you." Amanda Cameron added, "The networking event was a lovely way to end the day, everybody could get together, relax, exchange ideas, and talk about their views of ACE so far. I think that more importantly, everybody got a chance to see their customers on an informal basis, and as we know a lot of the best business gets done informally at these meetings."
Exhibition Floor
The Exhibition Floor was filled with more than 80 diverse stands featuring live demonstrations of different products and devices. From lasers to cosmeceuticals and training courses to insurance, delegates were not lost for choice in the 2500m2 hall. Exhibitors noted that the knowledge of the visitors was extremely high. "One of the things that has powerfully impressed me is the quality of the people who attended the stand," said Steven Warren, Bioptron consultant, adding, "There was an understanding; the questions that they asked, they were open to assimilating the information we were talking about."
Delegates also enjoyed the variety of interactions offered at different stands on the Exhibition Floor, including special offers on dermal fillers, machines and courses, as well as competitions from Viviscal Professional and 5 Squirrels. Delegates were also particularly engaged with the colour coding guidelines quiz held by the ACE waste management sponsor, Initial, and the popular bike-juicing machine on the Med-fx stand. Dyan Williams, national sales manager at Med-fx, which was also the registration and consumables partner of ACE 2016, said, "We feel really engaged with the event, there's lots of positivity in the room, lots of experience, its been lots and lots of fun. The reason Med-fx decided to sponsor ACE this year is because it is one of the leading events in the aesthetics calendar and we wanted to support it." The Merz Aesthetics stand was a particular highlight of the Exhibition and featured a Live Demo Zone, which was popular for many delegates throughout the two days. Speakers at the Demo Zone included Dr Kate Goldie, who among other topics, provided demonstrations on the tear trough technique as well as the anatomy and treatment strategies of the forehead and temple in accompaniment with Mr Dalvi Humzah. Another popular session was a contouring workshop on the male face led by Dr Tahera Bhojani-Lynch and Dr Emma Ravichandran. A delegate who attended ACE said that she particularly likes these types of sessions and said, "I love the workshops, I always learn something new. I really want to learn about men's faces because I have some clients now that are men and I want to learn about the techniques and the proper products to use for the male face."
ACE Steering Committee
ACE 2016 was organised and successfully run by the 2016 steering committee, which comprised the UK's most experienced industry leaders. The team included committee chair Mr Dalvi Humzah, programme organiser, Amanda Cameron, as well as Dr Raj Acquilla, Dr Tapan Patel and Sharon Bennett. "It's been a real honour and a great pleasure to work with the likes of Tapan Patel, Dalvi Humzah, Sharon Bennett and Mandy Cameron," said Dr Raj Acquilla, adding, "taking those experts from each individual's sub section of this industry allows us to take that information, pool it together and give the delegates what they really want."
Chair Mr Dalvi Humzah said he was thrilled that ACE 2016 was a success and was happy delegates appreciated the hard work that went into organising the event and speakers. "Getting it together has been great! I think the committee and the Aesthetics team in particular have been really supportive," he said, adding, "As a committee we chose some great speakers who are leaders in their field, and also people who gel together and I think that really came out in all the sessions that we did, we all played along together, we communicated and I think the audience really enjoyed that and they saw some great experts in action."
The success of this year's ACE has confirmed its place as the leading medical aesthetics conference and exhibition in the UK, with no other conference offering an agenda as in-depth and extensive as that seen at the Business Design Centre in 2016. Preparations have already begun for next year's event, which is sure to be a success in maintaining and continuing the valuable education that is so important in this ever-developing industry.
Stay up to date with the latest news and developments for ACE 2017, taking place on 31 March and 1 April 2017, by joining the Aesthetics website www.aestheticsjournal.com