Aesthetic nurse prescriber Helen Allen talks about use of dermal fillers for chin augmentation
Fillers may be best known for improving fullness of lips or cheeks, but they are increasingly being used by aesthetics practitioners to enhance and shape other areas of the face and neck; smoothing wrinkles, plumping the skin or transforming the overall look of the face by balancing out and harmonising features.
Traditionally, for transformations around the chin and jawline, patients may have looked at surgical options, but the use of dermal fillers in these areas gives excellent results at a much lower risk and cost to the patient. Quick, straightforward and relatively painless, fillers will create a subtle difference which is immediately perceivable but difficult to pinpoint, making slight modifications towards that ideal face shape and more youthful appearance.
Over the years I've successfully used fillers in various areas of the face and neck for treatment of signs of ageing or for facial contouring, including foreheads, cheeks, and décolletage, all with excellent results. However, I'd like to concentrate here on the advantages of dermal fillers for adding shape, definition and smoothness to the chin and jawline.
As collagen and elastin fibres in the dermis break down over time and muscles loose some of their tone, the face can begin to sag, sometimes resulting in the 'jowly' look that many associate with ageing, where the skin on cheeks begins to hang down towards, or below, the jaw. Wrinkles can also form around the chin and marionette lines develop. All in all, the chin and jawline can considerably contribute to the ageing look of the face – in fact some argue that the secret to a youthful look lies in the jawbone. With this in mind, the chin is the perfect area to use dermal fillers to subtly add shape and definition, helping to remove the signs of advancing years from the face. This treatment can also address issues in younger patients, such as a recessed chin or a weak jawline, providing an improvement to the balance of features on the face and working towards that attractive V-shaped jawline. Chin augmentation can be used to even out a pointy or squared chin, or even make a prominent nose appear smaller.
Noticeable results will be more-or- less instant, with the effect improving over 14 days
There are many scenarios where the use of dermal fillers in and around the chin area can provide a quick, non-invasive and more affordable option than surgery, and many patients will be more inclined to try this route rather than resorting to anything more drastic. Noticeable results will be more-or-less instant, with the effect improving over 14 days as the filler integrates with the skin's tissue. This produces a very natural look which typically lasts for around 12 months, but potentially up to two years, before requiring a refresh.
I have successfully used fillers for chin augmentation in many cases, addressing various problems, but the particular case I'm going to look at involved a patient who presented with signs of ageing around the chin area. As with many patients I meet, this was having a detrimental effect on the way she felt about her appearance and, consequently, was affecting her overall confidence.
Consultation
The process began with an initial consultation during which I assessed the patient's facial features and pinpointed the chin as a particular area to address, as I believed enhancing this area would be the best way to improve the overall look. We discussed the options and the merits of choosing dermal fillers. For this patient, the reduced cost over any surgical options and the fact that no time off work or lengthy recovery period was required were very appealing. She felt that as only a little discomfort and minor bruising could be expected, this was far preferable to facial surgery.
As usual, during my consultation I discussed the possible risks and side effects of the procedure, talked through the products we would be using and also showed before and after photographs of other patients who had undergone similar treatment. My longstanding reputation in the industry reassured her that she would receive the highest level of professional care and safety standards, as well as benefitting from my years of professional experience and expert judgement about how best to address her needs. By the end of the consultation the patient felt confident and eager to begin, excitedly anticipating the results.
Treatment
The procedure itself took just under an hour. Restylane Volyme, a product I often rely on, was injected into the dermal layer. Containing hyaluronic acid, Restylane Volyme boosts the skin's natural hydrating system, lifting, smoothing and promoting elasticity for a very natural-looking result. It works with tissue and supports everyday movement for extra longevity and sustained definition. As the product is produced by Galderma, a leading aesthetic manufacturer, I know I can trust Restylane products as some of the safest and most effective in the aesthetics specialty. I either inject dermal fillers or use a cannula, allowing for a great deal of accuracy, which again improves the outcome.
Results
As these before and after photographs show, the results are fantastic. The patient was delighted by the difference in her look and the reversal in the signs of ageing around her chin area. This simple procedure has made an enormous di erence to the patient's life, as she now feels happier with the way she looks and more confident in herself as a result. She's no longer hiding away or avoiding interactions with people who she hasn't seen for years!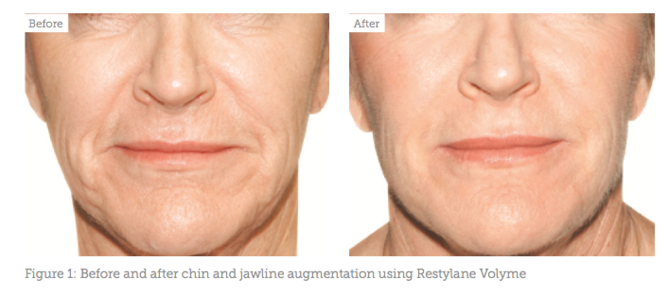 I will continue to promote the use of fillers such as Restylane Volyme to patients wishing for subtle but effective changes to their features, either to reverse the signs of ageing or to adjust and balance their features, bringing facial harmony and a look they can be proud of.