Aesthetics asks senior claims technician Emma Bracchi how Hamilton Fraser Cosmetic Insurance supports practitioners faced with complaints and complications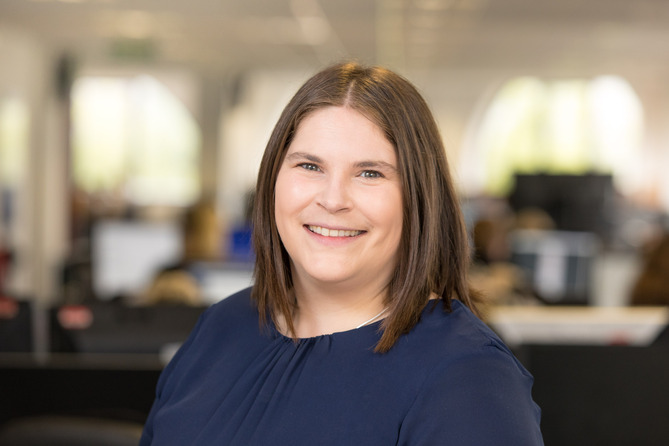 What are the main reasons aesthetic practitioners contact you?
Practitioners usually get in touch with Hamilton Fraser Cosmetic Insurance for advice and reassurance. If they've had a situation where a patient is unhappy, which can be days, weeks or even months after a treatment, practitioners value our help in managing it successfully. We're here every step of the way to advise and guide them on what they can do to avoid a complaint escalating.
What are the most common reasons patients may not be happy?
Aesthetic patients can be unhappy either because the results of treatment do not meet their expectations or they may have experienced a side effect or complication following treatment. We find the most common reason is that they're simply unhappy with the results. Some patients have the impression that dermal filler or botulinum toxin treatment will change their face completely, so it is important practitioners manage expectations and make clear to patients that results should be judged on an individual basis.
What would Hamilton Fraser do to support a practitioner in a situation where a patient is not happy?
Our in-house claims team will go through a step-by-step process with the practitioner to identify the type of complaint that has been raised. They will need to find out exactly what treatment the patient came in for, what products were used, whether anything went wrong and clarify the main reason the patient is unhappy. We will assess the communication the practitioner had with the patient and work out the best course of action. This will result in advising whether the complaint should be dealt with as 'dissatisfaction' or a 'formal claim'. Accurate identification of the type of complaint is crucial as it will determine whether it triggers a practitioner's insurance policy. In the case of a formal claim, using the insurance policy will be necessary, whereas if we deem the issue as dissatisfaction, we will advise the practitioner how best to manage it without making a claim against their insurance.
Dissatisfaction
Unhappy with results/outcome of the treatment

Treatment not successful

Not happy with aftercare

Request for refund or free treatment

If a regular patient, who has had no issues in the past, complains that they are unhappy with the result of a treatment and it hasn't caused a complication, we generally manage the complaint as dissatisfaction. This means the complaint will be dealt with swiftly and the practitioner will hopefully retain the patient.
Sometimes, the evidence provided by the practitioner indicates that no mistakes have been made and expectations were clearly outlined to the patient before treatment. In these cases, we provide helpful advice on how best to communicate this to the patient and not impact retention. Of course, if mistakes are recognised, or it appears that expectations weren't managed effectively, then we would discuss and advise whether a refund or future free treatment would be appropriate for this patient. It is important that practitioners understand that offering refunds or free treatments is a commercial decision, so wouldn't be something that their insurance would cover. It will, however, hopefully resolve a complaint with limited impact to a practitioner's reputation and practice.
Formal claim
Bodily injury

A solicitor's letter of suggestion of legal intervention

Request for compensation

If it appears that the complaint relates to a complication so significant that it would be necessary to claim against insurance, we class it as a formal claim. In these cases, we will ask the practitioner for the full patient file. This should include before and after pictures, consultation notes, copies of the patient's signed consent form and the completed medical questionnaire. We will also need the solicitor's letter or request for compensation, a training certificate for the practitioner who performed the treatment, correspondence with the patient and a full summary of events, detailing how the practitioner feels the treatment went and whether they agree with the allegations. We really encourage practitioners to be honest straightaway. If they know something went wrong during the procedure, it's so much better that we know from the start so we can deal with the complaint most efficiently.
It's really important that practitioners read their policy wording when they take out insurance, because there are certain criteria that have to be met in order for a claim to be dealt with under their policy. For example, with any injectable treatment claim, the practitioner must be able to supply photographs taken immediately before the treatment and we strongly recommend having the 'after' photographs too. These will be your biggest line of defence if a patient claims a treatment didn't work. Hamilton Fraser is proud of the fact that between May 2018 and May 2019, we dealt with 316 dissatisfactions and 213 reported claims. A greater proportion of these would have become formal claims without our intervention in resolving the matter.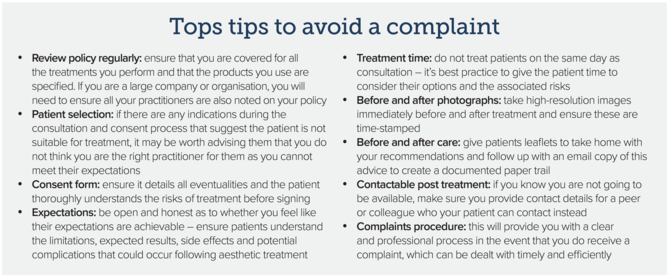 In a scenario where a practitioner has contacted you because the patient has been injured, what would you do?
First of all, we would find out what the injury is and whether the risk of it occurring has been outlined in the consent form. While we don't write consent forms ourselves, we advise that practitioners consult manufacturer guidelines for the products they use, which usually have consenting advice within them. Anything that could happen should be noted on the consent form, regardless how insignificant it may seem. If it's not and a patient raises a complaint about, for instance, bruising following an injection – which as we know is to be expected – we would still have to class it as a formal claim.
What would happen if a practitioner contacted you about a complaint relating to their service?
While a practitioner's medical malpractice policy relates to issues with treatment, we offer a Cosmetic Redress Scheme (CRS) to manage any concerns with service. These could be things like cancelled appointments, issues with payments or general bad customer service. For a one-off payment to join (which will differ depending on the size of the clinic) any service complaints will be efficiently managed by our handlers on a practitioner's behalf. Each complaint is subject to a fee and practitioners can sign up to the CRS by visiting our website or giving us a call.
How can practitioners seek further advice from you and the Hamilton Fraser team?
Hamilton Fraser is here to guide practitioners through any complications or complaints that may arise and to help minimise the chances of things going wrong in the first place. We provide lots of advice in the form of guides and articles on our website, as well as in our monthly newsletters. We'd also encourage practitioners to attend our Aesthetic Business Conference (ABC) on September 26, which will be packed with educational sessions from leading industry experts in a variety of fields.