Treatment Modality
The gel is mixed and once the skin is cleansed, it is applied and illuminated under a multi-wavelength LED light for nine minutes each session. After the light session, the gel is removed. There is limited-to-no downtime after the treatment. Side effects are minimal and can include, redness, hyperpigmentation and slight discoloration of hair. All side effects are seen where transient. Kleresca® for active acne lesions is administered twice a week for six weeks and for skin rejuvenation the protocol is once per week for four weeks.
The Science In a randomised, multi-centre, split-face trial that investigated the safety and efficacy of Kleresca® in patients with moderate to severe acne, Kleresca® demonstrated high safety and efficacy:6,10
89% response rate (patients with ≥ 1 IGA grade improvement)10

52% of patients with ≥ 2 IGA grades improvement10

33% of patients reached clear or almost clear skin10

No serious adverse events reported10

All adverse events were transient and did not require any intervention by the clinic4,7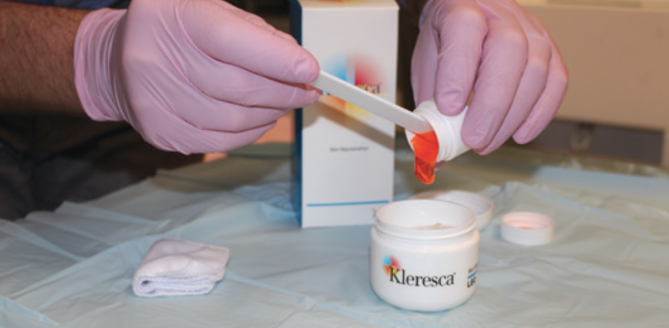 Kleresca® in Your Clinic
In the clinic, Kleresca® is cost effective and easy to use and requires minimal staff support and patient monitoring and trained professionals can administer the treatment. The company will offer partners access to a number of services and will assist with training of clinic personnel, provide medical advice, as well as other relevant training to facilitate the operations and workflow in a clinic. Kleresca® also aims to support practitioners on treatment optimisation, operations and communications on an ongoing basis to further enhance their practice.
Benefits of Kleresca®
Kleresca® provides patients with a pleasant, comfortable experience with studies showing high safety and efficacy5,7

The light device is compact, easy to manoeuvre and uses simple settings

Preparation of the gel is quick and only requires mixing the contents of two jars, which are easily stored at room temperature5,7

The treatment is non-invasive and non-abrasive, making it a comfortable experience10,11

The gel is well-tolerated as it is not absorbed into the skin10,11

The treatment has little downtime and10,11 fits conveniently into a patient's busy schedule with active treatment time taking only nine minutes5,7

No serious adverse events seen in clinical trials5,7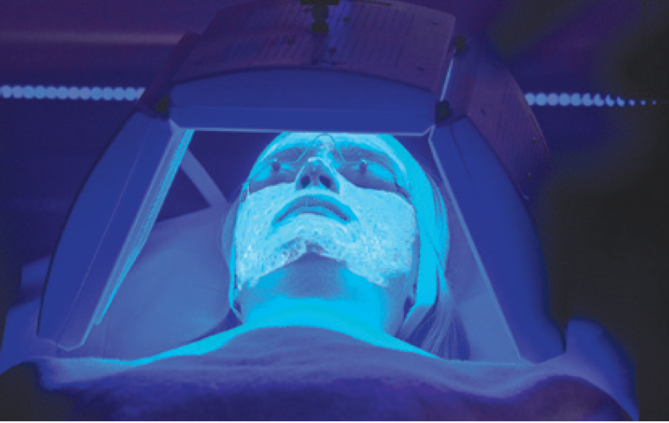 Lee Garrett's Experiences Using Kleresca®
Tell us about your new acne and skin rejuvenation treatment?
The new treatment I have introduced to my clinic for acne and skin rejuvenation is called Kleresca®, which is a chromophore gel that is applied to the skin before putting the patient underneath a LED lamp. When I heard about this treatment, which is really popular in countries like Australia, Germany and Italy, I knew I just had to try it on my patients who are suffering from acne and acne scars as these are notoriously hard conditions to treat. There are two different gels, one for active acne and the other for skin rejuvenation. For acne patients, we are looking for patients with moderate to severe acne and for rejuvenation patients they can be anyone from those with acne scars to those with fine lines and wrinkles.
What do you like most about Kleresca®?
Being an acne sufferer myself, who knows what it's like to be scarred from the acne lesions on my face, I think Kleresca® is a welcome breakthrough for all acne patients. We have many options available to us in terms of rejuvenation treatments, but nothing that's as non-invasive such as this that still gives such good results. When you are looking at treating patients with acne, the first thing that you have in your contraindications is lesions on the skin. Now, other than chemical peels, you have a treatment that you can apply to patients that have active lesions on their skin. I think that it's a very good add-on to have in your clinic and there aren't many treatments out there for acne that can offer what Kleresca® can. Why I say that is because other treatments can be quite painful and quite costly for patients and often once they have had the treatment their acne may come back. With Kleresca®, there is data to suggest that up to 54 weeks post treatment the patient is still spot-free, so I think that is a really good outcome.
What feedback have you had from your patients?
I have been using this in my clinic since February 2017, and initially patients seem a bit apprehensive because they need to be under a lamp for nine minutes, but once they have had the treatment I have found that they are absolutely thrilled with the results. The good thing about this treatment is that it treats all aspects of acne; you can do the acne course first, then you can take the patient onto the skin rejuvenation after the acne has cleared and address any scarring or healing issues. If the patient hasn't got acne you can take them straight onto the skin rejuvenation gel. As I've said, I have suffered from acne so I have tried the rejuvenation treatment myself and what I have noticed is that your skin does feel tighter and much more supple when you touch it; it feels thicker, firmer and more hydrated. I have seen patients go through the whole skin rejuvenation process and we have seen really good results in fine lines and wrinkles and overall skin texture. At my clinic we have acne patients that are on the treatments at the moment and the results so far are very promising.
Lee Garrett is an independent nurse prescriber and is the director of the Garrett Clinic in Harley Street, London and company security of FreedomHealth.
Garrett's understanding of the skin and bespoke treatments has made him one of the most respected practitioners in aesthetics, specialising in acne scarring, facial rejuvenation, dermal fillers, facial reconstructing, anti-winkle treatments and chemical peels.