Hyperpigmentation is high on the list of skin concerns affecting most people and in the summer UVA and UVB rays aggravate hyperpigmentation causing patches to become darker.
Patients will look to you as experts to provide advice and practical ways to help them manage their pigmentation problems and reduce the risk of further sun spots developing. Using clinically effective skincare, in combination with carefully selected aesthetic procedures such as peels, tackles pigmentation effectively to bestow healthier, younger looking skin.
SkinCeuticals: Prevention, Correction and Protection
SkinCeuticals is an advanced, professional skincare range that is clinically proven to improve skin health and appearance. Comprising in-clinic and at-home products, the range is designed to protect healthy looking skin, correct the signs of skin damage and prevent the onset of other skin concerns. Dr Uliana Gout, renowned Cosmetic Physician and founder of London Aesthetic Medicine Clinic & Academy (co-author of The Illustrated Guide to Chemical Peels, 2014 Quintessence) says, "When it comes to managing pigmentation of the face or body, patients should be advised of the importance of combining chemical peels or lasers with at-home cosmeceutical skincare. This is significant because it will enhance the post treatment results and longevity of treatment outcomes."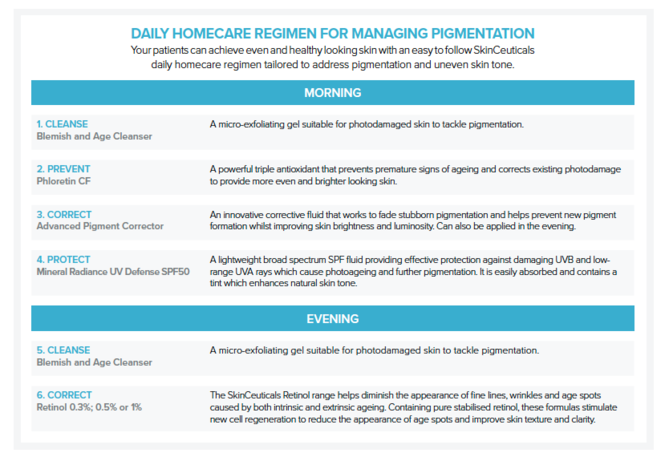 Expert tip for men
Don't forget your male patients! Recommend them to apply 2-3 pumps of Phloretin CF Gel after shaving to protect their skin against environmental aggressors and the formation of pigmentation whilst improving skin radiance and texture.
For more information about SkinCeuticals advanced skincare:
Email: contact@skinceuticals.co.uk
Twitter: @SkinCeuticalsUK • Instagram: @Skinceuticals_uki