AestheticSource outlines the value of its training courses and opportunities for practitioners.
Tell us about the training opportunities at AestheticSource. What makes your company unique?
Education is at the heart of the AestheticSource business. Lorna McDonnell-Bowes, Co- Founder of AestheticSource has been training in the industry since the early 1990s and is dedicated to furthering the understanding of skin and aesthetic possibilities for Aesthetic Practitioners. Since launching AestheticSource over seven years ago, Lorna with the help of a brilliant team of experts, provide a comprehensive theoretical and practical learning experience for customers and those new to skin fitness. The multi-disciplinary team of qualified professionals deliver the specific brand training covering skincare, peels from very superficial to deep, mesotherapy and injectable products. AestheticSource Training is designed to ensure our delegates are confident in the use of our ranges, covering all aspects from marketing to assessment, products and protocols, to successful outcomes including managing adverse events. We have carefully chosen experienced practitioners for our training team. AestheticSource is frequently approached by professionals wishing to join our training team and we expect our trainers to be passionate about the brands they train on. AestheticSource has a strong belief that we have chosen the best clinically proven options for clinics in the UK, and our trainers share this passion.
Who would benefit most from attending your training sessions?
Our evidence-based training courses are designed for specific target audiences such as aesthetic therapists and aesthetic medical practitioners. Depending on their experience and qualification level, there are multiple course options available. The registration process includes careful verification of appropriate qualifications in line with Health Education England, and manufacturer guidelines, which are stricter.
How is a typical training day structured?
AestheticSource courses all follow a similar format:
A full or half day CPD-approved training on the chosen course – NeoStrata, Exuviance®, Skin Tech® or RRS®
Pre-training reading one, two or three chapters with multiple choice questions to be completed prior to the training day
Comprehensive training manuals
Training day verification of prior learning then theory in the morning; a demonstration of relevant techniques being taught and practical hands-on learning throughout the afternoon
Follow-up support and optional refresher courses are available free of charge
What support do you offer once a practitioner's training has been completed?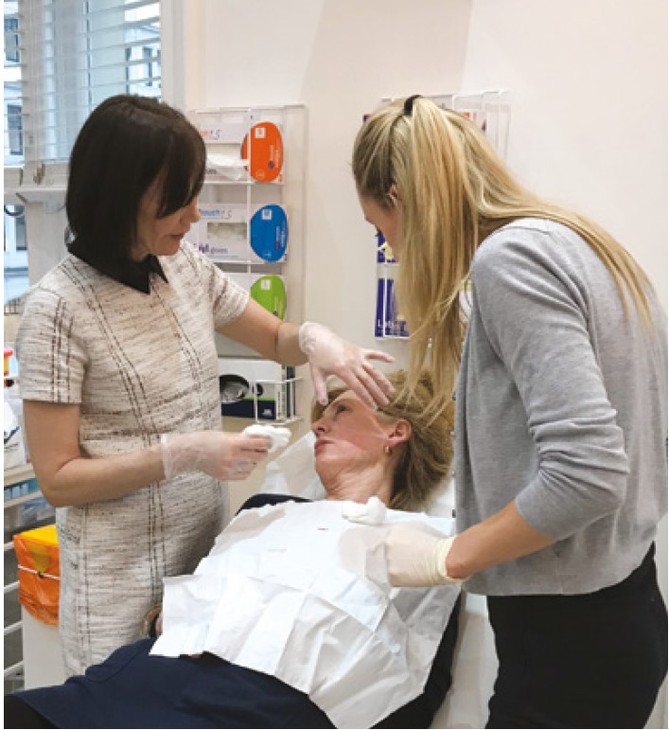 Taking on one of our brands is a journey and not just a one-day course. As well as the pre-course reading and core training modules, our team follow up with course attendees and offer in-clinic assistance as and when required. We also have a clinical member of staff available 24/7 for any adverse events or concerns. All delegates are welcome to attend refresher courses free of charge, with the opportunity to revisit the theory and have the opportunity to watch live demonstrations. The training pack the delegate receives is a comprehensive tool kit that provides them with protocols, FAQs, consent and medical history forms, marketing material, including direct-to-consumer advertising including social media assets and print materials, sachets of the skincare appropriate for post-treatment use, a USB with all relevant PDFs and in-clinic collateral.
What are the measurable outcomes for trainees and how are they assessed?
Depending on the course attended/ completed, delegates will receive CPD points for their development, as well as certification to state that they have completed the course and are trained in the given course. For example, the NeoStrata Products and Peels training attracts nine CPD points with the combination of pre-course reading and the one-day theory and practical course. The certificate is given at the end of the day once the trainer has confirmed that the delegate is competent. The NeoStrata Products and Peels one-day training course is preceded by three chapters of in-depth reading on skin anatomy and physiology, as well as terminology pertaining to skin and skin treatments. Each chapter is followed by a series of multiple-choice questions (MCQs). We ask delegates to complete the MCQs prior to the course, and to come armed with questions raised during the learning process. We send delegates a 10-day pre-peel prep pack so that they can bring their own model to the training, prepped and ready for a peel. This allows the delegate to follow up with their training model to observe the peeling process and create their own case study following the course.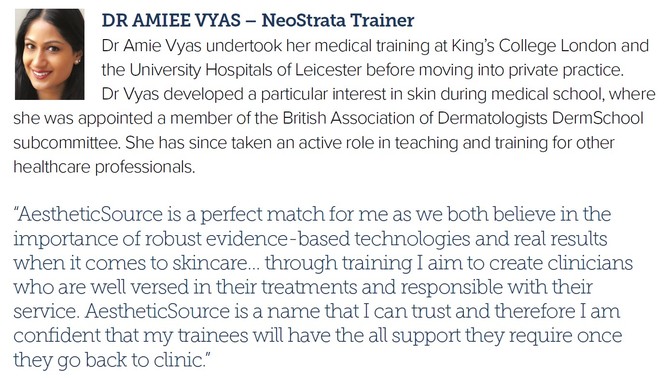 How do you ensure your training is kept up-to-date?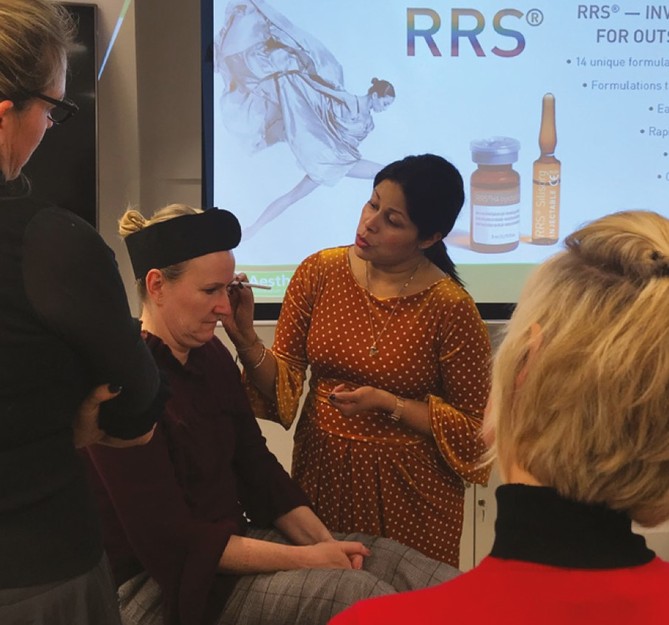 Both we and our delegates benefit that our brands that we work with are all equally passionate about on-going development and training. Updated training materials are delivered to us at European and International Distributor Meetings, as well as when new products are launched, changes in the legal framework require updates or when a new treatment protocol is launched; ensuring we have the latest materials and all EU specific updates.
Our training team, supported by the directors, and in conjunction with the manufacturers, ensure that all products adhere to current law, for example the EU Cosmetics Directive 1223/2009.