Aesthetic practitioner Dr Ryan Hamdy is the founder of the Cheshire International School of Cosmetology (CISC) and runs the Aesthetics Academy. He talks training days and after-course support.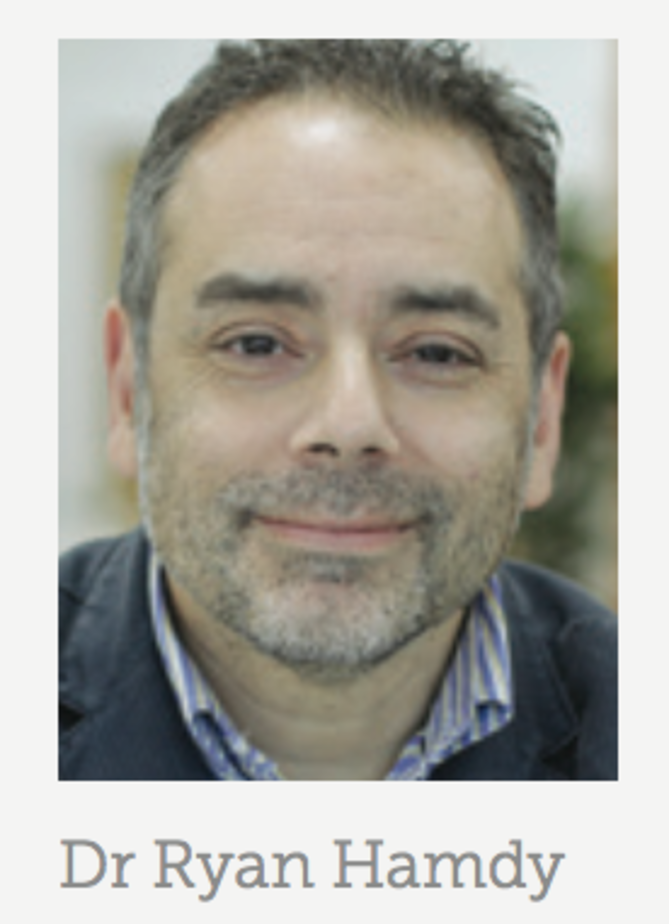 Tell us about your experience. How did you become an aesthetic trainer?
I qualified from Manchester Medical School as a medical practitioner in 1987. For about 20 years of my career I worked in general practice, where I also spent time as a clinical assistant at my local dermatology department, primarily removing skin cancers and lesions. About 10 years ago I decided to complete my first aesthetic training course to collect CPD points. I attended Cosmetic Courses, which is run by consultant plastic surgeon Mr Adrian Richards, where I learnt how to administer botulinum toxin and dermal fillers. I have since completed numerous other training courses to update my skills and learn new techniques. Following the initial course, I didn't practise for about three or four months, however that changed when a local beauty salon with a large client base and good reputation came up for sale. I took that over, which really propelled my aesthetic career as I now had an instant potential patient base. After growing the business, I eventually left the NHS in 2010 to practise aesthetics full-time in Nantwich, Cheshire. In terms of training, I've always enjoyed teaching. As a GP, I often taught junior doctors and supported nurses doing their prescribing course. I began running one-to- one confidence building workshops as I realised that a number of practitioners still sought support after completing their training. After doing this for a couple of years, I opened the Cheshire International School of Cosmetology (CISC) training facility in Chester last year.
What are the main training opportunities at the Aesthetics Academy?
Training takes place at our 3,500ft2 facility, which comprises a conference room, three spacious self-contained training rooms, clinical room and break-out area. Our excellent facilities offer an alternative to training that is run in a smaller clinic/meeting room environment. We offer foundation and advanced training in the use of botulinum toxin and dermal filler. Training groups are small – usually comprising between five and six practitioners – and consist of day-long courses. We also offer bespoke training, where practitioners can basically create their own agenda. They can bring their own models and we will tailor their training to their exact requirements.
Who would benefit most from attending your training sessions?
We only train medical professionals – so doctors, nurses and dentists – and all medical registers are checked to confirm this prior to training. We want to help people who aren't confident to start, so try to make the training as user-friendly and useful as possible. Our foundation course trains those with no experience in aesthetics, as well as practitioners wanting to brush up on their basic skills. To be accepted on the advanced course, delegates will need to have undergone previous training. This can be a slightly grey area, as some people may have been trained more than a year ago, but won't have practised at all during that time, while others may have undergone training just six months ago but have a lot more practical experience. We do get some people who are perhaps trying to run before they can walk, so we will recommend further foundation training if it is needed.
We ask questions to try and get an idea of each person's experience when they book, so we can tailor sessions to suit each of our trainees. The key thing for potential delegates to know is that they will feel 100% comfortable from the moment they start. They won't feel under pressure or embarrassed – we give each trainee personal attention, while supporting and encouraging practitioners throughout.
How is a typical training day structured?
The day will begin with a theory lesson, where we will explore the history of botulinum toxin/dermal filler, brand awareness, anatomy and physiology, dosing, preparation and marketing. The afternoon will then consist of live demonstrations and hands- on training on patient assessment, skin preparation, injection technique and aftercare. We also talk about indications, side effects, potential complications and how to successfully manage these.
For us, getting people to have as much hands-on experience as possible is essential. If you don't practise injecting under supervision, you're unlikely to do it when you're not being supervised and/or will face more challenges when you do start.
What support do you offer once a practitioner's training has been completed?
I'm a big advocate of post-course support. Following our training, delegates can join the Aesthetics Academy forum, which is a peer-to-peer support network that meets once a month to discuss recent cases, as well as share advice on both the clinical and business sides of running an aesthetic practice. Last month, Sally Taber from Treatments You Can Trust attended and gave a talk on developments within the Joint Council of Cosmetic Practitioners. We also have an active WhatsApp group in which we share useful tips and talk about our experiences. People tend to have their phones on all the time, so are generally very good at responding on WhatsApp, meaning each question or request will be responded to with an appropriate answer. Members also have access to a range of anatomical resources and how-to videos, which are particularly useful to practitioners wanting to refresh their knowledge following training. We have lots more exciting educational activities planned for the next 12 months!
Are there any other benefits of training with the Aesthetics Academy?
Yes! All delegates receive post-training mentorship and, if a delegate chooses to become a member of the Aesthetics Academy forum following their training, they will have access to our 'Prescribing Buddies' database, which they can use to pair up with an appropriate prescriber within their local area. In addition, most clinicians practise in isolation, yet they will have other commitments or need a holiday once in a while. As such, the network's members support each other with holiday cover. They can use the network to find a suitable practitioner within their area who will cover their patients' concerns, if they are going away.
Members love this support, as there's someone else who can keep an eye on things and give the practitioner peace of mind while they're away. Finally, all trainees are encouraged to speak to me directly. They will not be put through to a receptionist if they have a question following their training – I happily support, and always have time, for all my trainees. We've got to have new people entering the specialty, otherwise it runs out of steam, but I know that if something goes wrong, it could put practitioners off injecting again and can almost ruin a career before it's started. Being able to speak to a mentor during that formative stage of your career is hugely important.
What are the measurable outcomes for trainees and how are they assessed?
We provide certification that will allow delegates to obtain relevant insurance once they have successfully completed the course. Everyone gets certification and can practise on the strength of what they've learnt – if we have any concerns over a delegate's ability, then we will address these privately prior to issuing certification. We are also looking towards Level 7 accreditation in the near future.
What is the key message that practitioners should take away from your training?
You won't become an expert after one day of training, but we offer a training template that, at the very least, allows you to be safe when treating patients. The Aesthetics Academy offers good quality training, personal service, and excellent after-training support!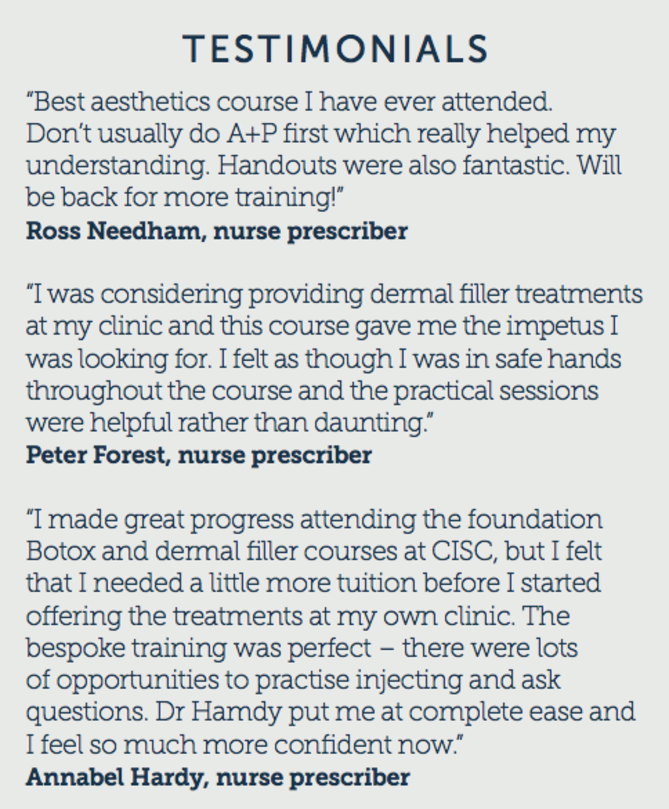 For a comprehensive range of facial aesthetics training, look out for the new Med-fx training portal – launching in November at medfx.co.uk