Today clinically proven skincare forms an integral part of aesthetic clinical practice, promoting healthy skin and optimising aesthetic treatment outcomes whilst minimising downtime.
Research shows that 85% of aesthetic patients want advice about skincare but this need is unmet in many cases which presents a huge opportunity for business growth. To this end SkinCeuticals offers a comprehensive 360˚ training programme to help educate your clinic staff so you can fulfil this unmet patient need, enhance patient outcomes and further develop your clinic customer base.
Academy Training
The three-day training course can be phased over time to suit or completed as a whole. It provides an in-depth introduction to the SkinCeuticals advanced skincare range and explains how the products and protocols work alongside in-clinic treatments to optimise visible results and support skin health. Participants benefit from a combination of theory and practical advice whilst enjoying the opportunity to share and learn from the experience of others. The programme also includes hands-on workshop sessions in the application of peels and facial techniques.
The course is highly valued by both the attendees and clinic owners. After attending the Birmingham Academy Training a delegate commented, "I now really understand the significance of clinically effective skincare. I am inspired by the SkinCeuticals' results-driven product range to encourage my patients to invest in their skin health, both through use of SkinCeuticals' in-clinic skin treatments and their daily homecare regimens. It is very rewarding to work with these products – my patients love the results too!"
The Academy Training is complemented by regular in-clinic training, as well as business building support from the SkinCeuticals team to ensure that the trainees are confident in their new knowledge and practical skills. Michael Bray, based at Cavendish Clinic in London, says, "I have found that since I attended the SkinCeuticals Academy Training I am more confident when assisting our patients with their skincare requirements, and also far better equipped to take care of my own! Working as a front of house team member it's really important to speak with conviction and experience; the training truly allows me to do this."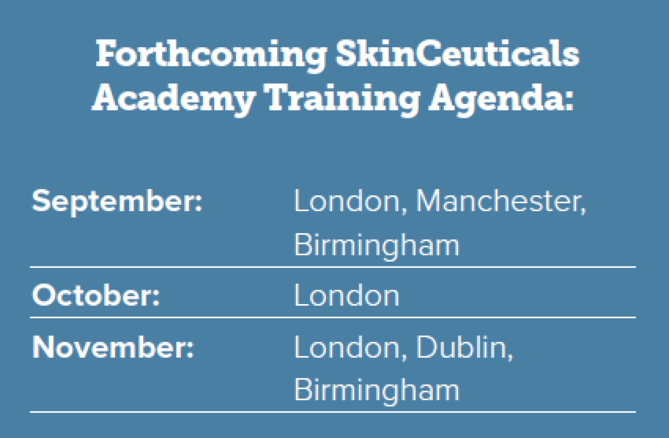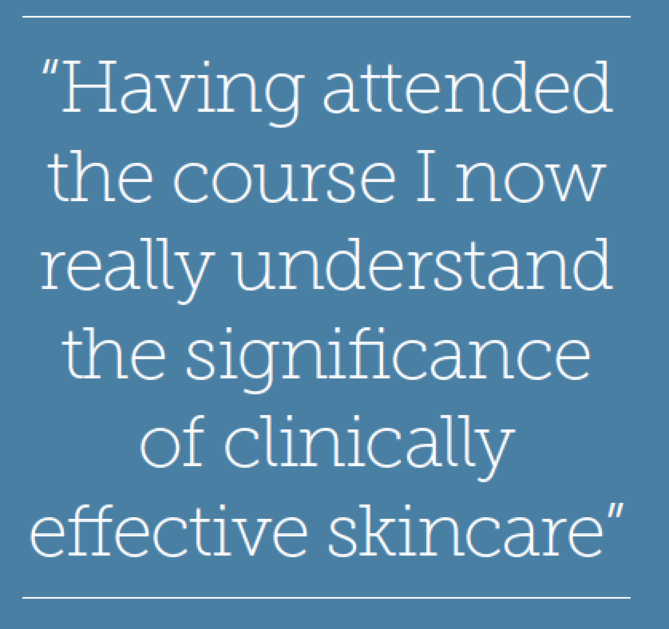 NEW for 2018 – The SkinCeuticals Masterclass in Business Development
In addition to the Academy and in-clinic training, this year SkinCeuticals is delighted to announce its first Local Master Physician Business Seminar taking place in late October 2018 in London. Created specifically for aesthetic practitioners, nurses and clinic owners and hosted by leading key industry experts from the medical and business world, this one day Masterclass will include advice and practical support on business management, development strategies and how to build a unique patient retail experience.
To register for one of the above educational offerings please contact your SkinCeuticals Business Development Manager or to enquire about becoming a SkinCeuticals stockist, please call: 0161-875-4274
For more information about SkinCeuticals advanced skincare:
Email: contact@skinceuticals.co.uk
Twitter: @SkinCeuticalsUK • Instagram: @Skinceuticals_uki