You see the science; your patients feel the results. A problem this intimate, deserves a device this innovative.
VIVEVE® is a women's intimate health company commercialising an innovative, clinically proven, proprietary platform technology (CMRF) to address multiple unmet medical needs. The Viveve® System is the only dual-mode device in its class specifically designed to renew vaginal tissue and is approved in over 60 countries.

Key Considerations – match technology to the issue and the tissue
What is the depth of tissue involved in the condition and what is the desired tissue effect?

What are the properties of the various energies, e.g. penetration depth and heat disposition

What is the required time on tissue to provide optimal benefit?

What are the system's strategies for preventing unintended damage?

Lasers directly impact epithelial layers but can't penetrate to the deeper layers of connective tissue. Treating laxity requires volumetric heating in the connective tissue layers, therefore sustained RF energy is required.
RF systems without cooling require brief contact with tissue to avoid burns, this results in a shallow treatment that requires multiple applications

Meaningful time on tissue requires active cooling in order to protect the surface tissue

Meaningful time on tissue enables significant and long-lasting results in a single treatment

The Viveve® System incorporates active cooling along with monopolar radiofrequency CMRF energy to create a reverse thermal gradient that cools and protects the surface tissue while delivering significant heat to the deeper tissue layers, resulting in a therapeutic endpoint that is achieved with a single treatment.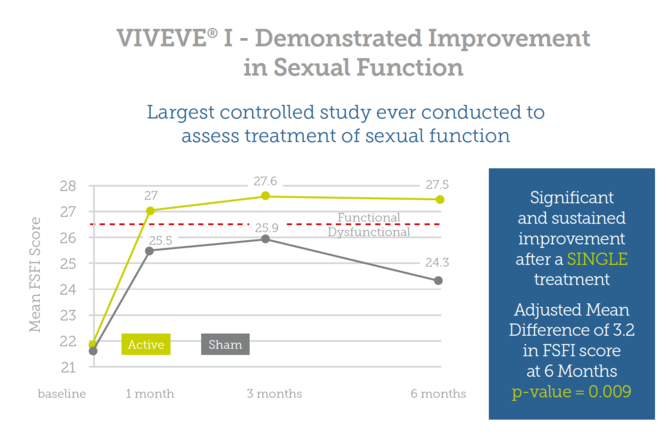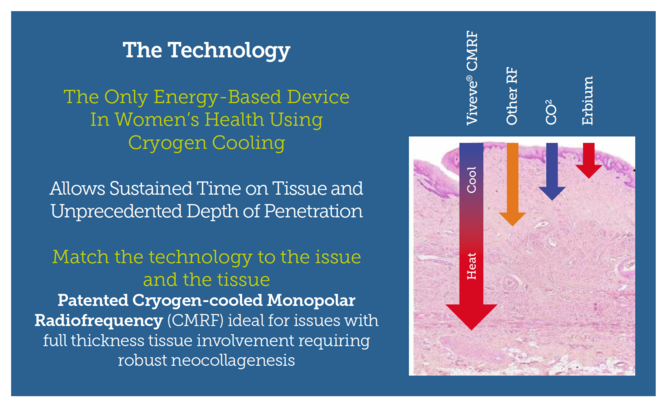 WHAT SETS US APART?
Women worldwide are increasingly demanding nonsurgical gynecologic treatments. However, there are a limited number of safe and effective technologies specifically designed for women's intimate health. Viveve® provides clinically proven, innovative, nonsurgical treatments to improve women's intimate health.
The Viveve® System was tested in three prospective clinical trials; one in the U.S., one in Japan and a large, multi-center randomized, sham controlled global clinical trial. The studies assessed the safety, effectiveness and meaningful benefit of the treatment. In all trials, statistically significant and sustained results were found.
Seven criteria for selecting the best device for treating
PRODUCT APPROVAL
CE Marked for treatment of vaginal laxity

FDA cleared for electrocoagulation and hemostasis

The only elective vaginal treatment backed by a multicentre, randomised, blinded, sham-controlled study data

PATIENT
The only single-treatment, non-surgical option

Reassuring safety and post-treatment profile

Comfortable and satisfying experience for patients

PRECISION
Patented controlled-cooling monopolar radiofrequency technology accomplishes what others can't

Reproduceable results

PLACE
Serves an existing, widespread need for a vaginal laxity treatment

PROFIT
Highest Return on Investment (ROI) per hour, net fixed costs, for face, body and vagina

PERFORMANCE
Volumetric heat at depth – cooling the surface allows greater energy deposition/heat at depth than possible with no surface protection

PEOPLE
Viveve® is focused on pioneering and perfecting clinically validated advances in women's health and wellness

The Viveve® System is indicated for treatment of the vaginal introitus, after vaginal childbirth, to improve sexual function in Australia, Brazil, Canada, Chile, Colombia, Costa Rica, Hong Kong, Japan, Malaysia, Panama, Philippines, Singapore, United Arab Emirates. The Viveve® System is indicated for the treatment of vaginal laxity in the EU, Iceland, Korea, Lebanon, Liechtenstein, Norway, Switzerland, Turkey. The Viveve® System is indicated for use in General Surgical procedures for electrocoagulation and hemostasis in Thailand, and the United States.

For more information contact:

Donna Ofsofke,
Regional Sales Manager-UK
+44 (0) 7340.124.762
dofsofke@viveve.com