Whether you are a practitioner, clinic owner, distributor or brand founder, at some point you may decide to hold a launch event.
Launch events offer the opportunity to showcase your clinic practice, treatment portfolio, expert team and retail product line with an audience, as well as allowing you to develop and strengthen beneficial relationships.
As with most marketing and public relations activity, there is a huge checklist of pre-event preparation to run through. In this article, I will outline the key points to consider to ensure your launch event runs smoothly to maximises the success of your clinic.
What are the benefits of hosting a launch event?
With so many practitioners, clinics, products and technologies now available for patients to choose from, you need to ensure that what you offer is 'seen' and not just 'heard' to make you stand out from the crowd.
By hosting a launch event, you create an opportunity to invite your current patients and/or target audience into your clinic and give them a 'brand experience', enabling you to develop a relationship with them first-hand. In addition, with careful planning and organisation, your launch event can include opportunities to increase your visibility and generate online brand awareness across various social platforms.
There are a number of different types of launch events that can be held, which can be hosted independently for patients and for press, or as a combination of the two, depending on relevance and format. Below I have detailed the main three launch events that you might host.
Clinic launch or re-launch
A clinic launch event enables patients to experience your new clinic, speak with the practitioners, network with fellow guests, book consultations or exclusive packages, and take away information to review. A re-launch provides the opportunity to refresh your brand/clinic and can involve rebranding by changing your name or logo or by changing your brand identity, proposition and offering.
A re-launch will enable current and new patients to be familiar with your brand/clinic's recent changes.
Ideally, it is worth waiting to 'officially' launch a clinic so that you can address any issues that would surface after you start trading, such as equipment malfunctions and product lines/treatments that aren't doing so well. I find that two to three months is an acceptable time to have an official launch after opening the doors – you can term this period between opening for business and the official launch date as the 'soft launch' period.
Treatment or product launch
Holding a dedicated new treatment or product launch event allows you to showcase what's now being offered in the clinic. You may promote this through presentations, live demonstrations and a question and answer session for patients to obtain information first-hand from the team and, potentially, the treatment/product partner.
The date on which you hold your event should be evaluated on a case-by-case basis, for example, if you are 100% confident in the product and its efficacy, then you can hold the event as soon as you take delivery. Otherwise, it is a good idea to allow enough time to get used to the brand and ensure that you and your team can confidently work with the product and flag any issues that may arise, before you launch it on a wider scale.
Meet the clinic experts
If you have a new member of staff in your clinic, you can do a 'meet the new resident expert' launch event. At this event, you can offer expertise and advice from this practitioner on concerns that can now be addressed at the clinic. For example, if you only specialise in injectables and were to employ a practitioner in your clinic who offers something that you do not, you could invite your patient base and other potential patients in your locality to meet the 'hormones doctor' or 'acne treatment specialist'.
This could encourage your injectable patients to book a treatment with your new practitioner for a separate concern and/or generate further word-of-mouth recommendations that could result in additional clinic revenue and a widened database.
Inviting press and media
Although there is often the opportunity to combine press with your customer-facing launch events, it is worth bearing in mind that journalists have a very specific information requirement and, to maximise results, it is worth dedicating this effort separately.
Generally, I would not advise combining the two, unless you were inviting celebrity/ high profile patients to your customer launch because this might encourage journalists to come. Note that celebrities may be happier to attend a specific press event rather than a patient event because press tend to be more familiar with interacting with celebrities.
A public relations launch event can increase your brand or clinic awareness within the press and media industry and can create a 'media buzz' on social platforms such as Instagram, Facebook and Twitter if they share pictures and posts from the event.
By inviting journalists and media professionals to visit and experience the brand it offers an opportunity to engage directly with them, with a view to receive potential press coverage and feature placement. You can choose to invite both consumer and trade press.
Consumer press coverage can support driving product and clinic demand as well as brand awareness to your consumer audience, while trade press will aim to cover a launch story within your industry, which can help establish your brand awareness or profile value. This can be useful if you wish to develop your value as a brand partner or key opinion leader.
How to organise your launch event
If you are planning your first launch event and have little or no experience in event organisation, I strongly suggest that you conduct research and devise a list of everything that you need to include, so that you do not forget anything.
If you are having trouble doing this yourself, you can choose to employ the services of an experienced consultant or agency to organise the event for you or even just to create a plan that you can implement. Their expertise could help you negotiate industry rates for elements of the launch such as catering, photography, artwork and design.
In addition, if you are inviting an audience that the consultant has pre-existing relationships with (such as press) then they might be able to increase your attendees and support the development of a long-term brand relationship and press coverage.
If you choose to work with an agency, ensure you outline your expectations and obtain a clear outline of their fees and breakdown of activity to avoid any unbudgeted costs, which can range depending on the agency and the event requirements.
In the circumstance that you plan the event yourself, you need to consider what you should do before and after the event. As a guide, you can structure your event planning as outlined below, which can be adapted based on the scale of the event.
Pre-launch
Objectives: Decide on key objectives for your launch event; do you want to generate awareness for a new treatment/practitioner on offer to existing patients? Attract new patients? Or generate sales for a specific seasonal treatment? Music, decorations and gifting can all enhance or detract from your launch objectives so consider the benefits before deciding to have these in place.
Budget: I recommend identifying how many guests you want to have at the event and then research costs for drinks, food and entertainment, investigating how much of this you can obtain sponsorship for. For catering, I estimate two to three drinks and four to five canapés per guest for a two-hour event will suffice. You can include an extra portion if you want to ensure you do not run out. Do not forget hidden costs like flowers to decorate the venue, printing invitations, staffing and goody bags. Work out what is essential and what you can go without.
Dates: Identify potential launch event dates and research when your invitees are likely to be available. If it takes place at your clinic, decide whether you do this during practice hours, out of hours and as a daytime or evening event. If you have a busy city clinic, an attractive time might be at the end of the day when people can stop by to enjoy refreshments and socialise whilst avoiding the peak-hour commute.
Location: Will you have your event at your clinic? Events for the press can take place in the clinic or in a centrally located venue (to maximise attendance) where guests can attend for a briefing and receive an invitation to view the clinic or experience a treatment at a later date. The benefits of hosting an event at your clinic include being able to offer the 'real' experience and awareness of your clinic, while developing an emotive relationship and direct engagement between your team and the press/patients.
Third parties: Research and shortlist all supplier options for the various elements that form the structure of your event, such as catering, and obtain confirmation of availability for all relevant parties. For most events, I'd recommend creating custom designs for communications and event materials, so be sure to brief your design team thoroughly and ensure they can make any necessary amends or updates in time for your deadline. It is worth contacting all your third-party suppliers again at least 24 hours before the event to reconfirm your event requirements and their point of contact on the day.
Invitations: Issue a save the date to customers and/or press six to eight weeks in advance or longer if the event takes place during key social periods of the year. Use a table detailing the guest list and their contact details with space to record notes. Request an RSVP via email or phone to a specific email address/number that is monitored throughout the day and ensure you send a follow-up invitation if you do not hear back. Once you have your guest list, extend a personalised invitation to make them feel valued four to six weeks before the event or as soon as the details are confirmed. You can also encourage your invitees to bring a friend or partner, which can potentially attract new patients. You may also wish to invite a celebrity patient or brand ambassador.
Press release: You should draft and issue a press release to notify journalists that the event is taking place. It should contain information about the launch event and communicate what is new, if there is any new clinical data, technology, ingredients, treatment information and before and after images and also showcase any experts with comments or question and answer content.
Schedule: Plan and check the order of your launch event with all the required parties (e.g. speakers, ribbon cutter, demonstrators) and confirm the checklist of activities to all parties involved, which may also include technicians in charge of the opening speech, spotlights and music. Ensure that delivery of all materials and elements required at the launch event is taken with enough time to set up, and confirm all speakers and announcement information the day before the event.
Set up: Aim to set up as many elements of the event as possible 24 hours in advance to avoid last minute issues such as printing and compiling press or information packs. Ideally, test any technologies such as presentations and logistics to ensure that they work the day before.
Event inclusions: Typically, you need to plan to ensure your launch event includes:
Registration upon arrival so you can keep track of your attendees

A dedicated person to meet and greet guests and take them into the event space to 'hand' them over to a clinic or brand representative, who will make them feel comfortable

A reasonable time for people to arrive, network and relax before the event starts (in my experience, this is usually about 30-40 minutes)

An opening speech to introduce guests and disclose the format of the event, ideally presented by the clinic owner

Any special offers or exclusives as an extra incentive to attend

A demonstration of treatments or products if relevant

An introduction to the team for further information at the event and/or a question and answer session if relevant

A leaving process where guests are thanked and handed a goody bag and/ or an invitation to contact you or your team for more information or to book a treatment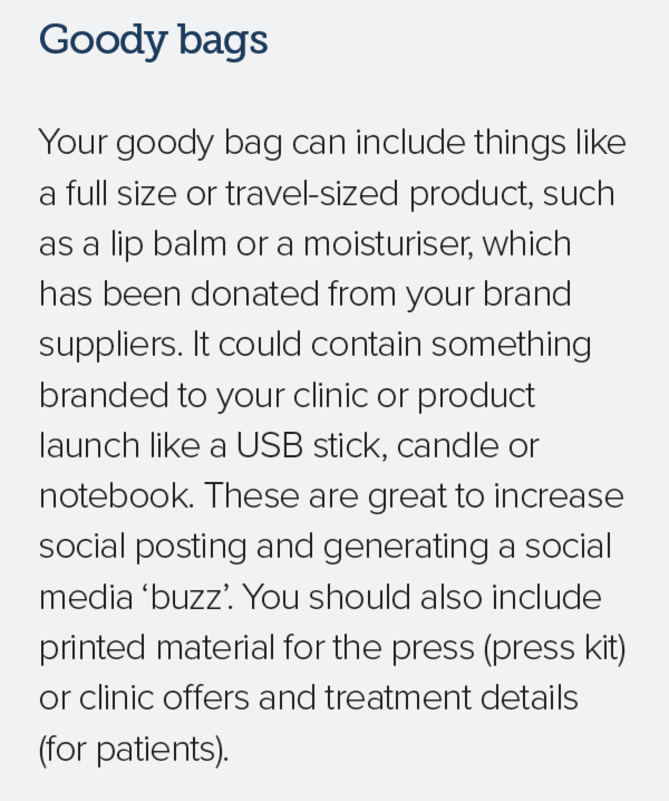 Post-launch
Communications: Ensure you thank all sponsors and event partners separately. Repost and showcase all social media coverage as appropriate, as this will continue to generate event awareness and will create a buzz, which could potentially increase your brand opportunity to connect and engage with a new audience.
Press: Issue a post-event press release containing images and quotes from the night to secure coverage in trade and local media. You should also individually thank each person and follow-up with an electronic version of the press pack supplied on the night. Offer to supply expert comment or additional information and invite them back to the clinic to experience a treatment or test a product to review it in their publication/media. Note that free treatments won't guarantee coverage, but might help build relationships and encourage further publicity.
Event evaluation: Conduct a post-event evaluation and run through the event management from beginning to end with your team to analyse any challenges and how to improve or avoid them in the future.
Do's and don'ts
DO allow enough time to plan: 16 weeks may seem indulgent, however attention to detail increases success and you need to factor in time for third party supplier and partner support such as copywriting, design, proofing, issuing a save the date and event supplier orders. People also need plenty of notice to fit the event into their busy schedules.
DO include brand partners: your skincare or other product providers may wish to support or sponsor elements of your launch to generate more awareness of their brand. Offer them the opportunity to sponsor parts of the event such as refreshments, entertainment or goody bags. They may even wish to bring their key opinion leaders or trainers to the event to conduct demonstrations or treatments for guests, which is potentially beneficial for your clinic sales and their repeat purchase sales from your clinic.
DO create an event hashtag: display your social media handle at the event or have a selfie spot to encourage your guests to post live from the event, using a designated hashtag. This will create engagement with your brand and could increase followers and traffic to your social media sites, where you can promote your products and services.
DON'T plan a date without research: there are set times of the year, days of the week and even times of the day that affect the probability of people attending an event. Find out if there are major local social or sporting events on that may reduce the availability of your target guest list attending.
DON'T assume people will turn up: do not assume your guests have received a save the date or event invitation. Ensure all invitations are followed up with a personalised email/text that contains the event details and give guests a call 24 hours in advance to confirm attendance. This will also help you to budget for costly items such as catering and goody bags.
DON'T centre the launch around something that is not guaranteed: ensure that the main 'hook' or attraction for your launch event is guaranteed to be in the clinic before the event and not expected to be delivered on the day. If this cannot be organised in advance, choose a different focus.
Conclusion
Once you have identified clear strategic launch objectives, with careful and creative planning, it is possible to execute a successful launch event. Your previous experience in event organising, as well as the format and scale of your event, will dictate whether you may want to consider external support to help you.
It is important to plan as far in advance as possible to ensure you are fully prepared so you do not to forget anything. Remember to thank guests and sponsors for their attendance and support, and keep the event buzz alive by showcasing the coverage on social media and following up with potential PR leads.