We report on the highlights from Monaco's international aesthetic conference
The beautiful seafront resort of Monte Carlo in Monaco played host to the 13th Aesthetic & Antiaging Medicine World Congress (AMWC) from March 26-28, 2015. More than 10,500 aesthetic professionals from around the globe met at the Grimaldi Forum conference and exhibition centre, where delegates engaged in three days of discovering the latest aesthetic developments and learning best practice techniques from world-renowned aesthetic practitioners.
Co-founders of AMWC, Catherine Decuyper and Christophe Luino, explained that in the past 13 years of organising the event, their main objective has been to encourage scientists to acquire a better understanding of anti-ageing treatment used around the world. Decuyper said, "This mission remains of fundamental importance and the scientific programme is touching on the prevention of ageing, by means of the aesthetic approach, and the use of anti-ageing medicine for the sake of inner wellbeing."
Over the weekend, delegates were invited to sessions on the updates in, and optimisation of, botulinum toxin, combination therapies, minimally-invasive body contouring, weight management, holistic approaches to aesthetics, home-use devices, and sexuality and ageing, amongst many others.
Friday, saw a day dedicated to the latest Allergan developments in a symposium entitled 'Achieving real expressions in challenging patients'. Experts in the fields of plastic surgery, aesthetic medicine and dermatology took to the stage to present to an audience of 1,200 delegates. Belgium-based dermatologist Dr Koenraad De Boulle began the proceedings at the symposium, outlining the learning agenda for the day, while CEO of Actavis Brent Saunders gave an engaging speech on the company's recent acquisition of Allergan. He explained that Actavis shareholders are expected to vote on acquiring 'Allergan' as their corporate name in the coming weeks and said, "Everyone at Actavis is looking forward to adopting the high qualities Allergan stands for."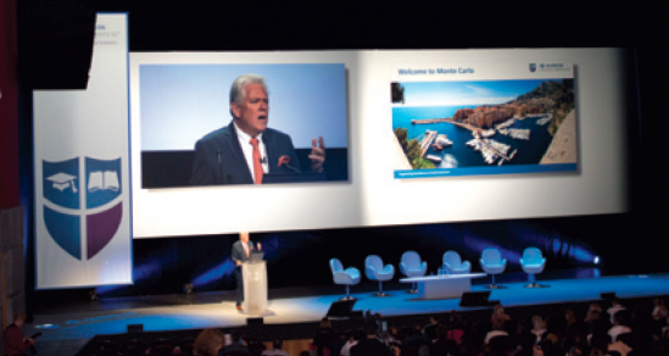 Following the introduction, Brazilian plastic surgeon Mr Mauricio de Maio discussed the importance of patient assessment in his presentation on 'What is a challenging case?'. Mr de Maio explained that when he began offering aesthetic treatments to patients, he didn't always know what equated to a good result. "The results that I delivered seemed ok," he said. "But today, I absolutely try to understand where the problems lie and achieve the best results." As well as emphasising the need to recognise the most appropriate procedures depending a patient's face shape, Mr de Maio noted that having knowledge of economical yet effective treatment plans, which will suit a range of patients' financial budgets, is also very important in successful aesthetic practise.
To simplify his patient assessment procedure, Mr de Maio explained it with the use of an acronym. FACT stands for Finances, Assessment, Communication and Technique, and Mr de Maio argued that each of these aspects of the treatment process were essential to a successful aesthetic outcome. For finances, he noted that practitioners should ensure patients understand the limitations of treatment with lower budgets, while for assessment Mr de Maio outlined his best consultation methods. "You should rotate and tilt the patient's face, and always take photographs to discuss treatment options with the patient," he said.
For communication, Mr de Maio said one of the biggest challenges for practitioners is when a patient seeks one particular treatment, but the practitioner recognises that they would be better served with an alternative. "Be understanding, offer different options and show them before and after photographs of other patients you have treated," he advised. Mr de Maio then performed a live treatment demonstration where he demonstrated his techniques for successful facial rejuvenation. Concluding the session he told delegates, "If you can ACT, then you can FACT – finance shouldn't become a major issue."
From the UK, aesthetic practitioner Dr Tapan Patel spoke on the importance of consultation, a session well received by delegates. In his presentation he referenced research from Allergan, which claimed 45% of patients had not had a repeat treatment in the last three years. He outlined why this may be and suggested methods for improvement. Dr Patel then highlighted the importance of a strategic patient journey, which comprised another acronym – this time CASE. For him, he explained, Consent, Attitudes, Strategy and Education are essential factors for successful treatment outcomes. As such, Dr Patel shared a range of before and after photographs with the audience, while explaining the patients' concerns, the technicality of treatment and the best methods of educating patients on procedure limitations and alternative options. "The more complex the case, the more important the consultation," he said, adding that, "The technical part of treatment is generally easier than the consultation."
Dr Patel also engaged the audience in a discussion on the appropriate length of consultation time, presenting a study from the Journal of the American Medical Association (JAMA), which found that consultation time has been reported as an independent predictor of physician malpractice claims.1 The data recorded suggests that an average consultation period of 18.3 minutes resulted in one or fewer lifetime malpractice claims, while two or more claims were associated with an average consultation of 15 minutes. As such, Dr Patel reinforced the significance of a thorough consultation.
Across the main AMWC conference agenda, there was a plethora of interesting presentations taking place for delegates to attend. From the UK, nurse prescriber Pam Cushing spoke on mesotherapy treatments for cellulite, while Mr Dalvi Humzah discussed an anatomical approach to jaw contouring. Dr Sherif Wakil, who presented on 'The White Box Revolution', said, "I had a great three days at the AMWC. My presentation and demonstration went extremely well as the audience were really interactive and hungry for knowledge. Of course, being in Monaco and catching up with friends from all over the world was a delight."
On the Friday evening, global pharmaceutical company Galderma launched their latest consumer campaign, 'Proof in Real Life', which aims to demonstrate natural results following treatment with Restylane and Restylane Skinboosters. London-based aesthetic practitioner Dr Ravi Jain presented the news to an audience of delegates, where he revealed that actress Sharon Stone is set to be the campaign's celebrity ambassador.
He said, "The aim of the campaign is to reassure consumers that facial aesthetics is not about extremes such as huge lips or altering someone's characteristics so that they are unrecognisable. Most of us restore or subtly enhance a patient's appearance so that they look great for their age." With more than 9,000 delegates in attendance, AMWC was a prime opportunity for exhibitors to showcase their latest products and scientific advancements.
Doris de Beer, the managing director of needle manufacturer TSK Laboratory Europe, said, "AMWC is the biggest event in our calendar. For us, this is a great time to release new products and explain our range of equipment to delegates. Every year we seem to double our business, which is quite unique to any show in the world."
Following the event, AMWC Scientific Committee member, speaker and aesthetic practitioner Dr Sabine Zenker emphasised that the aim of the conference was to celebrate natural aesthetic results. She said, "It is important to preserve the personality of any individual through minimally invasive and safe treatments." She believes this aim was achieved at the conference, and reiterated AMWC scientific director Dr Thierry Besins' motto for the event – 'Little gestures, big effects'.