We are delighted that the Aesthetics Media and CCR teams have joined to enable and support a full portfolio of media opportunities, encompassing the Aesthetics Conference and Exhibition (ACE), the CCR surgical and non-surgical conference/exhibition, the Aesthetics Awards, and the Aesthetics journal news and education platform both in print and online.

Now, working together, we are able to offer the very best content and environments for learning and showcasing the latest products and treatments within the medical aesthetic specialty. Collectively, we regularly reach more than 20,000 medical aesthetic practitioners to deliver the latest education and industry updates, as well as providing unrivaled opportunities to support brands in reaching their target customers throughout the year.
We are supported by our Clinical Advisory Board, who work with us to steer the educational content across the portfolio. The multidisciplinary board is led by consultant plastic, reconstructive and aesthetic surgeon Mr Dalvi Humzah and comprises practitioners from nursing, surgery, general practice and dermatology backgrounds, including Sharon Bennett, Jackie Partridge, Dr Christopher Rowland Payne, Mr Adrian Richards, Dr Raj Acquilla, Dr Tapan Patel, Dr Stefanie Williams and Dr Souphiyeh Samizadeh.
We also have an incredible CCR Medical Advisory Board, who you can find out more about here.
CCR is the only event to unite surgical and non-surgical aesthetic communities under one roof.
The CCR conference and exhibition is supported by leading medical aesthetic organisations who co-locate their events to bring all specialties together in one place; the British Association of Aesthetic Plastic Surgeons (BAAPS), the British Cosmetic Dermatology Group (BCDG), the Joint Council of Cosmetic Practitioners (JCCP) and following CCR, the International Society of Aesthetic Plastic Surgery (ISAPS).
Now in its seventh year, the two-day event dedicated to uniting professionals from both surgical and non-surgical aesthetic arenas is returning to Olympia, London on 10 & 11 October to discuss all things clinical, cosmetic and regenerative medicine.
Register now to attend CCR 2019.
ACE
ACE comprises an educational agenda focused on the latest non-surgical products and treatments, brought to you by the leading medical aesthetic providers. Key opinion leaders will advise on patient selection, techniques and treatment considerations, with unmissable live demonstrations. Featuring two full days of education and demonstrations, this event is focused on supplying industry-leading exclusive content, to boost practitioners' CPD points and enhance career progression opportunities.
Taking place on March 13 and 14, make sure this event is in your diary and register now!
Aesthetics journal
Practitioners and leading industry suppliers from across the specialty receive our monthly journal, packed with CPD-accredited education, treatment overviews, technique advice, product information, case studies, business support, and industry news. Articles are written by experienced aesthetic professionals and supported by the largest editorial team in the specialty. Each month more than 12,500 subscribers receive the publication, with this number is growing rapidly. Subscribe to the journal here.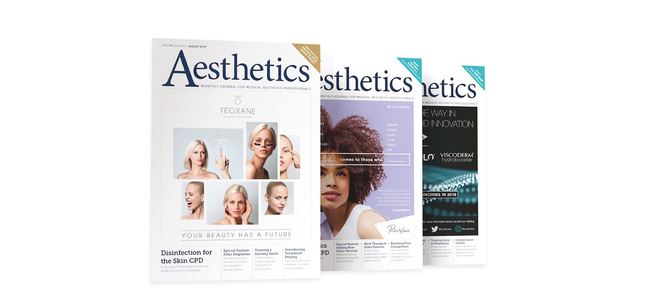 The journal is supported by our digital education and online platform www.aestheticjournal.com. With content updated daily and a vast library of information on all topics related to aesthetics, the website is viewed more than 65,000+ a month.
Aesthetics Awards
The Aesthetics Awards is the most prestigious event in the specialty. Awards are presented to clinics, individual practitioners, manufacturers, suppliers and other aesthetic companies who have worked hard to represent the highest standards in clinical excellence, product innovation, and practice achievement, while truly excelling in the field of aesthetic medicine.
On December 7, join the leading practitioners in aesthetics as we celebrate the year's achievements whilst enjoying a lavish awards ceremony. Over 800 people will come together to enjoy a delicious three-course meal and unmissable evening entertainment.
Tickets are still available for this distinguished event, find out more here.
Contact the team
If you are an industry supplier/company and would like to discuss commercial opportunities in the journal, digital platform, CCR or ACE please email our sales team sales@aestheticsjournal.com
If you are interested in writing for the journal or want to submit news for consideration please email the editorial team editorial@aestheticsjournal.com