Mr Raj Ragoowansi explains his technique for augmenting breasts using autologous fat injection and details the treatment outcome from a group of 12 patients
Since Dr Mel Bircoll first reported the use of autologous fat injections for breast augmentation in 1987,1 several reports of the technique, refinements, reproducibility, results and pitfalls have been reported.2,3,4 Given that implant-based breast augmentation is relatively safe, effective and reliable, yielding consistent and reproducible results, I have been judiciously deploying the fat grafting technique only to those seeking a 1-1.5 cup size enhancement, with good quality, supple skin, and those who have a particular aversion – physical and/or psychological – to silicone implants. In this article I will detail my experience in treating patients at my clinic.
Patient suitability
Patients who would not be suitable for treatment include those with breast cancer or a family history of it. However, use of fat grafting for reconstruction of post mastectomy and/or post radiotherapy is well established within a multi-disciplinary set up, and as an additional precautionary measure I carry out a baseline MRI scan for patients. The American Society of Plastic Surgeons (ASPS) review recently stated that although fat grafting to the breast can potentially interfere with breast cancer detection, there is no strong evidence to support this.5
Treatment
Over the past 40 months we have treated a limited series of 12 patients, with an average follow up of 14 months. The indications for treatment were mainly breast hypoplasia (10 patients); a condition where there is insufficient glandular tissue, and congenital breast deformity (one patient with Poland's Syndrome and one with a tuberous breast). On average, between 200-275 millilitres of fat, depending on the amount of enhancement, were injected into each breast, which was harvested from the anterior abdominal wall, flank and lateral thigh donor sites. Fat is preferentially harvested from firstly the flanks, followed by the periumbilical and lateral thighs, depending on availably of fat and volume required; roughly 100g of fat is needed for each breast for every cup size. Repeat injection to replenish the resorbed fat was carried out in seven patients, mainly in the hypoplasia group. On average the interval between the primary and secondary procedure was 10 months. In my experience, two in every three patients will require repeat treatment, approximately 18 months post the initial treatment.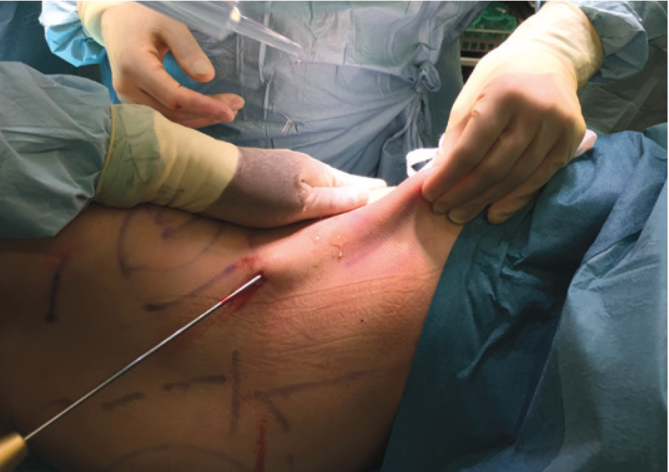 Technique
The patient is given a general anaesthesia and is sat in an upright position. The technique involves manual suction harvesting, using a 10ml syringe, a single use, sterile, disposable device (I use the Revolve system) and transfer via an adaptor into 5ml and 10ml syringes. The harvested fat is collected in the disposable device, where it is washed and processed, to separate the fatty tissue from fluid waste contaminates.6 After the fat is processed, I use 5ml and 10ml syringes, which allow for aliquot injection with a blunt cannula into the pectoralis major muscle, the pre-pectoral space and the subcutaneous tissue, avoiding breast parenchyma proper. The volume is built up sequentially, from the base of the breast to the nipple, ensuring symmetry by injecting layer by layer, one breast at a time, with regular inspection from the end of the operating table, with the patient sat up.
Throughout this process it is essential to minimise trauma to the adipocytes by using bespoke equipment and delicate handling. The system used in my practice is easy to use, reproducible, efficient, and obviates the need for centrifugation. This is because the three to four washes with normal saline helps to clear the oil droplets and blood, thus freeing the fat from substances that degrade it, such as lipases and proteases. The system we use renders a smooth, uniform and concentrated suspension of fat for transplant, which theoretically increases the density of adipose-derived stem cells, thus enhancing graft take.
Results
Results obtained from a patient questionnaire suggested that the overall satisfaction rate was 72% at a median follow up of 14 months, but all patients categorically advocated recommending the procedure to a friend or relative. The overall complication rate was 10-12% and included early recipient site inflammation/infection (one patient) and late formation of cysts/fat necrosis (four patients), none of which required any operative intervention. Infection was treated with antibiotics and inflammation settled after time, up to three months later. Rapid fat resorption was seen in one patient within five months, and two patients in the hypoplasia group were dissatisfied with the final cup size.
There are no direct studies that compare fat grafting with implant-based breast augmentation/reconstruction. The majority of studies on fat grafting for breast augmentation have low numbers of patients,2,3 with what I believe to be significant bias due to variation in technique, patient population and indications. Current studies do indicate high patient and surgeon satisfaction at 18 months median follow up with an average of 1.9 sessions. Overall, post-operative complication rate in the studies was 7.3%, with fat necrosis being the most common indication. A comprehensive meta-analysis on data available to date does not show that fat grafting promotes cancer recurrence or a new primary cancer.1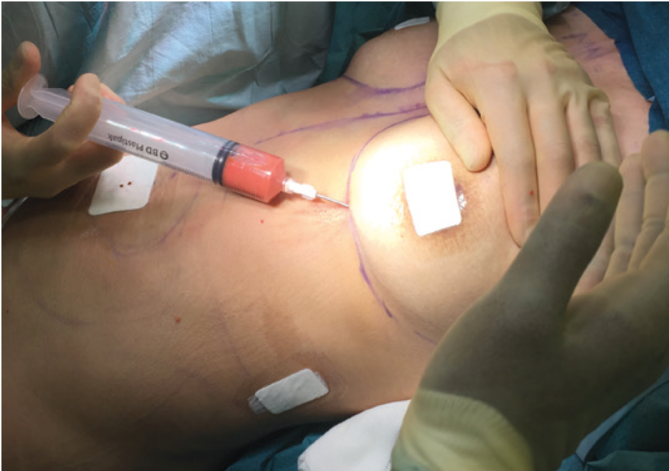 Conclusion
Breast augmentation using implants is relatively safe and effective but can potentially carry rare but real risks of capsular contracture, rupture, leakage and displacement.7 Also, of recent, cases of anaplastic large cell lymphoma (ALCL) associated with breast implants has been reported, albeit numbers are very low compared to the total number of implant-based augmentations/ reconstructions carried out worldwide – 200 cases reported since 1997 versus up to 10 million implants sold/inserted during this period worldwide.8 In our experience, fat grafting for primary breast augmentation has yielded favourable results in carefully selected and counselled patients who are seeking only a moderate enhancement. On average, two sessions are required (12-18 months apart) and the overall cost of the completed episode generally exceeds that of an implant-based augmentation – both factors playing an important role in the decision making process.