Aesthetic nurse prescriber Sarah Holness details the lip augmentation treatment of a mature patient
Beautification, enhancement and rejuvenation treatments for the lips date back to ancient Egypt. Coloured paste, olive oil, and beeswax were added to animal fat and applied to the lips to moisturise and enhance colour. It is also documented that the Japanese Geisha reddened their lips with crushed safflower petals.1
Today, there is a plethora of short duration plumping, moisturising, staining and glossing lip applications available; but, for a longer duration and for a lip that is more defined with more volume, a non-surgical lip augmentation can be offered. Full, shapely lips, with minimal perioral rhytids are considered attractive.2 However, I personally believe that achieving balance and harmony with other facial features, and resisting the request for an 'overdone' look, is more important.
Anatomy
Treating a mature lip, to enhance shape, support structure and add volume, can be more difficult than treating a younger patient, due to the natural ageing process, skin laxity, bone remodelling and the presence of perioral rhytids. Full examination of the anatomy prior to treatment is essential, including dentition. With age, teeth shorten, and bony remodelling of the mandible occurs. Bone density alteration has been attributed to age, nutrition, hormonal changes, comorbidities, and tooth loss.3
The main arterial blood supply to the lips is from the superior and inferior labial arteries, which are branches of the facial artery, that have, in turn, arisen from the external carotid. The facial artery becomes the angular artery lateral to the nose, merging with the dorsal nasal artery, which emerges from the ophthalmic artery, supplied by the internal carotid. The infraorbital artery has several anastomoses with the facial artery and tributaries supplying the cheek and lips. The mental artery supplies the chin and the lower lip.4 The blood supply, both arterial and venous, is complex and has natural variations.
Case Study
My patient was a 74-year-old female, with a previous history of upper face augmentation with another practitioner. On consultation, her request was for a lip enhancement, and addressing the fine perioral lines, which she felt made her appear older. She desired 'a natural and fresher appearance'.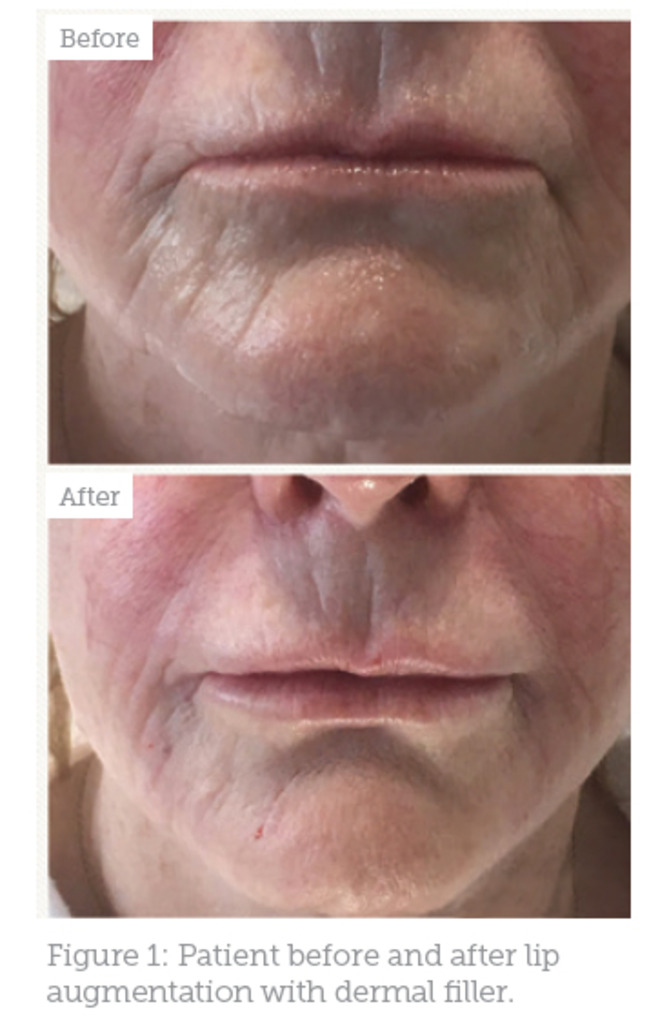 With lip augmentation, there is a propensity for swelling, and patients need to be reassured that this is a frequent side effect and will resolve within three to four days. I offer an oral antihistamine prior to treatment – unless contraindicated – and apply a single-use ice pack covered with a sterile gauze prior to injecting, both to reduce swelling and additional numbing of the lips. Everting the lips and palpating, and possibly visualising blood supply, plus checking the patient's natural 'bite', can be done at this stage. There are a multitude of hyaluronic acid fillers suitable for lip augmentation currently available, such as; Restylane Kysse, Belotero Balance/Intense and Teosyal RHA to name a few.
Some patients will present with a clear idea of the filler they wish to have, alternatively I will offer advice on which I feel is most suitable. After discussion, my patient opted for Belotero Balance + lidocaine, a polydensified cross-linked gel, with both high-density (high levels of cross linked hyaluronic acid) and low-density (lighter levels of cross-linked hyaluronic acid) zones, within the same product.5 This enables it to homogeneously integrate within the dermis and stay intact for an expected duration of six to twelve months, patient depending. Fine lines and wrinkles require superficial injection, but careful filler selection is necessary to avoid visible or palpable product and the Tyndall effect.6
Full medical history was discussed and documented, and an informed consent form completed and signed. Additionally, it's worth verbally checking that the patient doesn't have any recent or planned dental treatments, oral infections or antibiotics. Photography, without makeup, before and immediately after treatment is essential, so you can document the patient's treatment journey and refer back to them when needed.
Cannula versus needle; both have their advantages and cannula requires fewer entry or pre-hole points, and is considered a safer technique due to the blunt tip
Pre-treatment topical anaesthesia is my personal choice. Although most hyaluronic acids contain lidocaine, the lips are heavily innervated. By applying a topical anaesthetic, the lip enhancement experience is more comfortable, although dental infiltration is an option. For all my aesthetic treatments, I use a sterile dressing pack, complete with a sterile gauze and gloves. Once the topical anaesthetic is removed, scrupulous cleansing to the lips and surrounding tissues is paramount. In this instance, I used Clinisept+, which is a hypochlorous solution that is bactericidal, virucidal, sporicidal and has anti-inflammatory effects.7
Cannula versus needle; both have their advantages and cannula requires fewer entry or pre-hole points, and is considered a safer technique due to the blunt tip. I feel a needle is more precise, however I am comfortable with either technique. I chose the needle technique as I would also be using needle for the perioral area. Belotero Balance comes packed with 27g and 30g sterile needles. Using the 27g needle, I initially treated the upper vermillion border, commencing laterally, and using a retrograde technique. Generally, filler will flow into the potential space. Care should be taken not to place excessive extrusion force on the plunger.
With this patient, the Cupid's bow and philtral columns were not augmented, as the patient felt this may give her an over-done appearance. Once both sides of the upper vermillion border were augmented, a gentle smoothing of the product was done and symmetry was assessed. Aspirating prior to product placement is important and injection of the upper red lip should be done gradually. I continued by injecting the lower vermillion border and central lower red lip. In total, 0.7ml of product was used for the lips.
When undertaking dermal filler injections, the practitioner should be fully versed in the signs, symptoms and subsequent treatment protocols and management of complications
Changing to the 30g needle, the remaining 0.3ml of product was distributed in the perioral lines using the flat blanching technique. This requires stretching the skin with the non-dominant hand, placing the needle bevel up, at an approximate 10-degree angle to the skin, and placing a very small aliquot of product, observing the colour of the skin so that it blanches momentarily. The aliquot should not be raised, but flat. This technique requires some practise to perfect.
When undertaking dermal filler injections, the practitioner should be fully versed in the signs, symptoms and subsequent treatment protocols and management of complications. Fortunately, there are support networks available to join such such as the Aesthetic Complications Expert (ACE) Group, and an excellent reference book, such as the Expert Consensus on Complications of Botulinum Toxin and Dermal Filler Treatment (second edition).
During the treatment, I ask my patients to use a mirror to evaluate the upper lip once augmented, and again with the lower lip; at this stage more filler can be added. I believe a slightly fuller lower lip is deemed more aesthetically proportionate in Caucasians. Following treatment, the lips and surrounding tissues are cleansed again. Gentle palpating of the injected area checks for any accumulation of product. Post-treatment information is given to my patients, including advice on avoiding applying makeup to the treated area for 12 hours, general hygiene, and my contact details, reiterating the importance of contacting me regarding any concerns or changes, no matter how insignificant they may seem. Post-treatment photos are also taken. The patient was delighted with the results, and a follow-up appointment was arranged for two weeks time, at which time no further filler was required.
Summary
Lip augmentation is one of the most popular aesthetic treatments today, providing volume, definition and ultimately a more youthful appearance in a mature patient. Facial assessment and full patient consultation prior to treatment is essential. My personal mantra for all treatments is 'subtle enhancement; less is more'.