Aesthetics explores the stigma surrounding skin conditions and how they are slowly becoming more accepted and normalised in today's society
As you gaze upon the large, powerful images of 20 women it's hard to imagine what it must feel like to suffer from a severe or persistent skin condition; or perhaps you can relate?
In September, photographer Sophie Harris-Taylor and the Francesca Maffeo Gallery presented an exhibition in London called 'Epidermis'.1 Harris-Taylor told Aesthetics that her aim was to interview and photograph 20 bare-faced women across the UK to help normalise natural beauty and celebrate the imperfections so commonly seen those suffering from conditions like acne, rosacea and eczema.
"I suffered from severe acne throughout my teens and twenties and there were no images or role models in the media to relate to. This can make you feel isolated and as though you are the only one suffering," Harris-Taylor says, adding, "In my photographs, I wanted to create a series of work that empowers women and allows them to love the skin they're in, regardless of what condition they have and do so in a way to show that they are still incredibly beautiful. Normality is defined by the images we see all around us. We are led to believe all women have perfect flawless skin – they don't – and there are still so many stigmas surrounding skin conditions."
While the aesthetics specialty is fuelled by those wanting to improve their appearance, it's important for practitioners to understand the stigmas that patients may face and how they can help them become more confident in their own skin.
Consultant dermatologist Dr Anjali Mahto, emphasises, "In an industry where we as practitioners correct people's 'imperfections' I think we need to be very conscious of what our patients' motivations are for treatment, such as their psychological impacts and that we are not pushing an idea of unrealistic beauty. The important thing for practitioners I think is identifying if something is actually an 'imperfection' or not."
"In my photographs, I wanted to create a series of work that empowers women and allows them to love the skin they're in, regardless of what condition they have"
The stigmas of skin
According to The British Skin Foundation, 60% of the population currently suffer from, or have suffered with a skin disease at some point during their lifetime.2 Statistics from the British Association of Dermatologists (BAD) state that 24% of the population consult a GP each year because of a skin complaint and it is one of the most common reasons for a new consultation with GPs.3
However, even though skin conditions are relatively common, consultant dermatologist Dr Helen Robertshaw agrees that there is still a huge social stigma surrounding skin issues. "There are a lot of misunderstandings from both the public and people suffering from skin conditions. For example, it's commonly thought that people with acne have dirty skin or a poor diet, rosacea patients drink too much alcohol, or that people with hand eczema are contagious. Because of these beliefs, suffers are embarrassed and hide or cover up their skin conditions, and don't talk to anyone about it," she explains.
Harris-Taylor reiterates this, explaining that although some individuals she photographed had a skin-positive attitude and were confident in their own skin, others were not. "Some were really insecure, and self-conscious, never leaving the house without makeup and the photoshoot was a really big deal for them as their conditions have affected them in so many ways throughout their life," she explains.
Dr Mahto, who actively shares her own acne journey on social media, adds, "Skin can really affect an individual's mental health and people can feel very unattractive and unworthy due to the way they look. Unfortunately, I do think society still has a very narrow view of beauty – which is clear glowing skin – and this won't change until people see that not showcasing all kinds of diversity is a problem."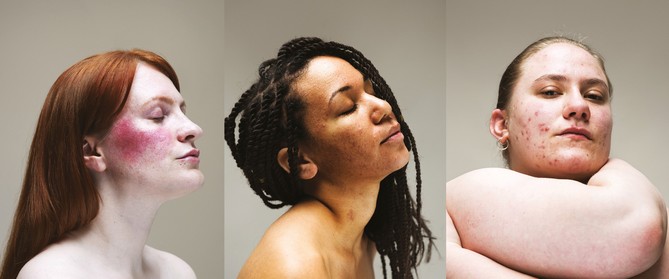 Changing the face of normality
Some brands have started to acknowledge diversity and encourage body and skin positivity and 2018 seemed like it was the year to do so. Early last year skincare brand Dove hired models with skin conditions for its 'Make Peace with Dry Skin' campaign to promote its DermaSeries collection,4 while a campaign by makeup brand CoverGirl titled 'I Am What I Make Up' featured a model with vitiligo.5
A few months later, retailer Missguided launched the #InYourOwnSkin campaign to celebrate female imperfections and flaws. It featured models with an array of skin conditions that the label felt authentically reflected its audience.6
Harris-Taylor, Dr Robertshaw and Dr Mahto all acknowledge that these campaigns are good steps towards promoting the beauty in skin diversity, but Harris-Taylor says that sometimes they have a large focus on extreme cases. She says, "Sometimes I feel like the skin condition has to be really apparent or even 'extreme' for it to be acknowledged, like model Winnie Harlow's vitiligo,7 and I think people like the 'shock' of that. We rarely see the in-between and I think that needs to be shown more – it's something that I wanted to portray in my photographs."
Both Dr Robertshaw and Dr Mahto applaud Harris-Taylor for shining a positive light on skin through this exhibition. Dr Mahto says, "I think what Sophie is doing is absolutely amazing, the amount of stigma that is still attached to skin disorders is immense and I agree that until we start normalising it, it won't go away."
"We need to be conscious of what our patients' motivations are for treatment and that we are not pushing an idea of unrealistic beauty"
To achieve this, Dr Robertshaw says the media, celebrities and advertisers need to show more 'normal' skin such as minor birth marks, scars, stretch marks, psoriasis, moles and even hyperhidrosis.
Harris-Taylor adds, "I think we just need to keep pushing for companies to show people with real skin more and bring more diversity into advertising, magazines and even on TV. The more this is done, the more I think people will feel like they can talk about their conditions, and will have less of a need to cover themselves in a mask and be more confident in the skin they are in."
Dr Mahto suggests that aesthetic practitioners can also help by supporting patients the best way they can when they present to clinic. "I advise practitioners to always show empathy and discuss the option of referring to a clinical psychologist if they think their patient will benefit from this. Practitioners can also help patients and prospective patients become more familiar and educated when it comes to skin conditions, and share accurate resources such as the BAD patient information leaflets for acne as there is a lot of misinformation on the internet," Dr Mahto says.
Harris-Taylor concludes, "Over the past 10 years I think we have seen a shift in people talking about mental health, so I would really love to see people opening up more and talking about their skin and I think this will help make skin conditions less taboo."