Christmas is not just an opportunity for retailers to increase their sales. The run-up to Christmas and New Year offers clinics a solid opportunity to boost profitability by leveraging treatment and product sales. Opportunities fall into two areas: retail sales of products and gift vouchers as presents, and party preparation treatments.
Patients are very busy at this time of year, and whilst looking good for the festivities may be on their mind, you can help by making it simple and easy to get the treatments and skincare they want, pushing it to the forefront of their minds. Of course, the only way potential and current patients will know about this is by promoting product and treatment sales through an integrated marketing and PR plan. Whilst being mindful not to devalue your clinic or 'cheapen' your brand, this is an ideal time to develop a plan and run special offers.
Gifts to go
If you do not currently sell ready-to-go product gift sets, then create your own bespoke Christmas gift boxes. This can be easily done by purchasing simple, yet classy, boxes in Christmas-themed colours such as white, silver or gold. Insert shredded tissue in a complementing colour and add a variation of products themed for differing gift recipients. For example:
The Groomed Gents' Box: an array of skincare for men that could include a cleansing wash, scrub, serum and moisturiser.

The Trouble-Spotting Box for Teens: an ideal purchase for mothers to give to their children. You could fill this box with the essential skincare products to leave their teen's skin clean and clear. Suggestions include a cleanser or facewash containing salicylic or glycolic acid, clay mask, blemish treatment for active blemishes and an oil-free moisturiser.

The 10 Years Younger Box: core products to help ageing skin (retinol, vitamin C, growth factor serum, hyaluronic acid etc.).

The 10 Wonders Box: a high value bumper box containing 10 must-have products to transform the skin. This could include cleansing, exfoliating and moisturising products, for example.

Each box can be defined and displayed using different coloured ribbon. Postcard-size information cards on the contents of each box can be inserted. These can be easily created by your local printers at a very low cost. You simply have to provide the copy, your logo, contact details and product images – you can obtain these from the distributor or brand – I advise to ask for 300dpi JPEGs.
Gift sets should be priced at a saving versus cost of purchasing individual products, and it's a great idea to include a voucher that offers a complimentary skin consultation. This entices the gift recipient into the clinic, with the view to achieving add-on sales via treatment bookings. It also gives the patient added value when buying a gift set.
If you do not currently sell ready-to-go product gift sets, then create your own bespoke Christmas gift boxes
Do not forget to promote gift vouchers too. It's best to make this simple by creating a short menu of treatments to select from. Depending on what treatments you offer, try and include at least four for the face (one aimed at creating glowing skin, one for skin perfecting, and ideally two antiageing) and two or three body treatments to select from (aimed at skin tightening and cellulite reduction). You can print this voucher menu and display it on reception. You will find that these are often last-minute purchases for those stuck for ideas or forgotten presents.
Special offers
Value package offers are a strategic way of attracting bookings but it's essential that you adhere to Keogh's recommendations when marketing these offers. The Keogh Review of the Regulation of Cosmetic Interventions states, 'Advertising and marketing practices should not trivialise the seriousness of procedures or encourage people to undergo them hastily'.1
Avoid offering, 'buy one get one free', 'refer a friend' or doing competitions for cosmetic treatments, and steer away from time-limited deals and financial inducements. Instead, think about offering a complimentary treatment when booking courses, either of the same or a different treatment, as an add-on. These add-ons can work to incentivise the patient into trying the new treatment and/or boost the results of the booked treatment.
Party perfect treatments
The run up to party season isn't just about shopping and getting nails polished. Patients are under pressure to look their best at work, events and family festivities despite feeling frazzled and run off their feet. Now is the time to offer solutions that will leave patients 'little black dress ready' or with an instant glow that exudes health and confidence, while wiping the stress away.
Develop a creative and catchy 'Festive Party Prep' menu that includes the face and the body:
Party prep face treatments
Festive Fillers: an instant fix to rejuvenate and plump the face.
Festive Facial: gentle lasers, microdermabrasion and radiofrequency treatments will provide skin with an instant lift and glow, ready to look youthful and fresh at the forthcoming parties.
Party Peel: a selection of light peels to leave skin glowing.
Little black dress treatments
Party Legs: skin toning, cellulite and/or circumferential reduction using cavitation, radiofrequency, body wraps or any other device you may have for leg treatments.
Bingo Wing Blitzer: decrease circumference and tone up bingo wings to have patients dance-floor ready. Radiofrequency and ultrasound treatments work well on this area.
Knee Raiser: uplift sagging knees using radiofrequency treatments.
Sore Shopper Feet: can you delegate an aesthetician or other suitably-trained employee to offer complimentary foot massages with every treatment during the month of December?
Other treatments
Sweat Shop: botulinum toxin or other treatments aimed at treating hyperhidrosis are ideal to promote this time of year. Patients will notice excess perspiration as they are out and layered up for the outdoors, which may lead them to build a sweat.
Winter Redness: winter is not a friend of the skin and many people will experience broken capillaries as they are subjecting their skin to extreme changes in temperature – hot to cold – as they leave parties, shops and work. This is an ideal time to offer remedies such as laser treatments for broken capillaries and products to improve dull skin.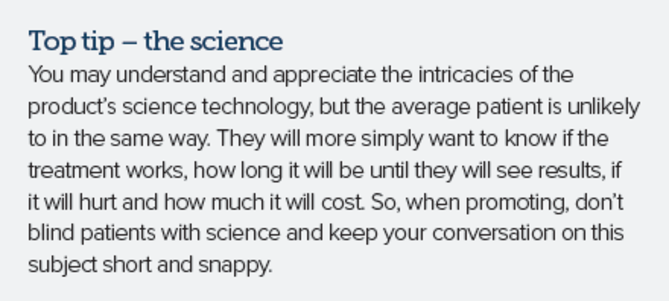 Festive taster treatment open day
Open up your clinic to patients by inviting them to drop in and experience a demonstration of your menu of treatments. This will help entice them to make a booking. Offer festive nibbles and drinks, decorate the clinic and scent the air with a festive fragrance to create atmosphere. Try and book talks and/or demonstrations from company representatives to add extra credibility; this should be fairly easy to organise as it would be of benefit to the company to attend, who will likely see increased sales on the evening. Also, have your lead practitioners provide short and snappy talks to guests about key treatments.
A nice touch is for the clinic owner to greet each guest personally where possible. Whilst you have guests there, encourage immediate bookings by offering special rates if they book a treatment or course on the day. Popular deals include receiving one treatment free when booking a course of six, or 20% off a course of six, should your margins allow this. Time your open day mid-November so that they have plenty of time for courses of treatment. Ensure each guest leaves with a goody bag of samples – you can ask your distributors to contribute to this which, again, is likely to be of benefit to them as it promotes their products. Also, be sure to have a good display of any gifts you are retailing.
Promotion
Now that you have a plan, you will need to professionally design the invitation and treatment menu. Bring the design to life with use of classic imagery that will appeal to your clinic's demographic such as a black and white shot of a Christmas drinks' party with women wearing cocktail dresses. You can purchase images from photo agencies at a very low cost. Search Google for 'photo agencies' and you will have a selection to shop from. The invite is best to be postcard-sized as A4 sheets of paper, from my experience, tend to get thrown away due to their size and don't look as professional.
Place the invite details on the front and the treatment menu on the reverse, with brief one-line descriptions of the treatment. If you prefer, you can create a separate post-card sized treatment menus that allow you to include a more detailed treatment description. House the invite and treatment menu in an envelope to depict quality rather than simply affixing a stamp to the invite.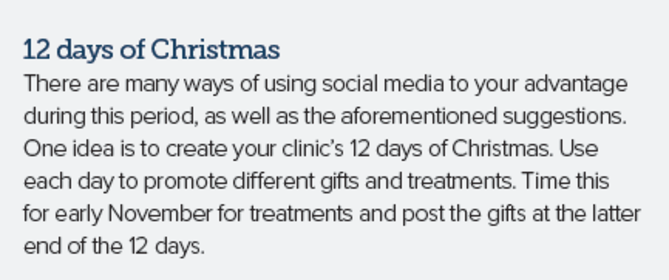 Delivering the message
Once you have designed these elements, you can market using a mix of mechanics:
Email and post to your patient database: the benefits of sending emails are that they are delivered instantly and make it easier for patients to respond straight back via email. However, it's a good idea to both email and post invites. There's nothing quite like receiving a quality invite in the post.
Post Office drops: to spread your outreach and target new patients not on your database, the Post Office offers a service whereby you can select surrounding postcodes and they can drop your invite to the homes in these areas. You can find information and costs of this service online, but once you have selected the areas, you simply provide the invites in envelopes and they do the delivery for you.
Social media: use all of your social media channels to talk about the Festive Taster Treatment Open Day, your menu of treatments, as well as the gifts and vouchers. It's a good idea to include a countdown to the event. Try and include a little bit of new information with each post such as the value of the goody bag, expert attendees that will be demonstrating treatments and special offers. You can start this two weeks prior to the event.
Press
Your starting point is to write a press release. This is a simple overview of the gifting and treatments you have to offer. By including your creative treatment menu, you will stand out from your competitors. Include a personal invite for journalists to come and try a treatment for free in return for an editorial review. Send this only to your local editorial consumer press as it's not something trade press would usually review. Note this is not paid-for advertising; so, what this means is that you cannot guarantee that they will include a review, and also, you cannot control the messaging, content of the copy or its tone. Editorial copy can reflect their honest opinion and so you have to be confident in your treatment outcome, the practitioner conducting the procedure and, of course, ensure the treatment is right for the journalist.
Ensure you have the correct journalist to send this to by browsing through the titles and noting the names of those who write about beauty or wellbeing
You must be prepared that they may write something negative as they have no obligation to write a purely positive review. To ensure the best possible write-up, look after your journalist from the second they walk in the door, make them comfortable and relaxed and don't rush them, though also be conscious they are often always short of time due to deadlines. Spend time explaining the treatment in detail so that they fully understand what is involved, including any discomfort and downtime, and when results may be visible. This manages their expectations and helps to guard against negative reviews. Follow up is critical. Call and email the day after and a week after, and be available to answer questions they may have, or to book them in for a further treatment should it be required. You should take before and after pictures, not only for the journalist to use in their publication, but it often helps illustrate treatment efficacy if questioned.
In terms of when to target press, time is of the essence as media professionals work far ahead, so, prepare your release as early as possible and mail to your local magazines and newspapers as soon as you can. Ensure you have the correct journalist to send this to by browsing through the titles and noting the names of those who write about beauty or wellbeing. Ensure your press release has the contact details of how to book an appointment or find out more information. Be prepared that they may ask for imagery to go alongside a story. The product/device companies may have shots you can use, so it's worth asking if you don't have your own pictures. You may need to follow up the mailing with a telephone call to the journalist. Once the article is out, scan or take a picture of the coverage and post on social media.
Summary
Making the most of marketing around the festive season requires planning and careful execution to deliver a creative, yet quality, offering, to appeal to your target market. This can not only boost your profits but secure new patients and make you stand out from the Christmas crowds.