Nurse prescriber Sharon Bennett highlights the need for practitioners to understand the rheology of different fillers when injecting hyaluronidase
As aesthetic practitioners are aware, hyaluronidase is an important drug that is commonly used off-label to dissolve hyaluronic acid (HA) dermal filler.1-3 Whether it be for the correction of an unaesthetic result, or, in more serious and time-sensitive situations, the resolution of a major complication such as a vascular occlusion, hyaluronidase is the only way we are able to remove a hyaluronic acid (HA) dermal filler without causing damage to the skin's surface.1,4 When it comes to hyaluronidase dosing, there are guidelines available for practitioners to refer to that outline its use for different anatomical areas,1 and dosing is often outlined in published papers.5-7
The Aesthetics Complications Expert (ACE) Group guidelines which, to my knowledge, are what most practitioners in the UK use, state that hyaluronidase dosage depends on several factors according to the individual filler's characteristics; for example, whether it is particulate or non-particulate (monophasic or biphasic), the amount of cross-linking it has and the concentration of hyaluronic acid. How exactly the different properties impact a filler's breakdown with hyaluronidsase is not explained. The Group therefore recommends to inject as much hyaluronidase as required to obtain the desired effect rather than following an absolute dosage.1,6
Through my own experiences of using hyaluronidase, training others, my involvement with the BACN and observing posts on social media groups, I have noticed that practitioners are commonly reporting that they need to inject far more hyaluronidase to get the desired result than is described in guidance (Table 1). The situations where I am seeing this are more evident for removal of lip fillers, where particularly larger amounts seem to be used in the event of an emergency procedure. Note that although there is guidance for the nasal and perioral skin, there is no official guidance available that specifically focuses on the lip. For this area, I am noticing that instead of injecting 15-30 units as per guidance for the perioral skin, injectors are suggesting the use of much higher doses from 150 units upwards. This is also acknowledged in Dr Saleena Zimri's article on p.36.8
With this in mind, I wanted to see how common fillers actually behave when they are injected with hyaluronidase and determine whether or not they differ.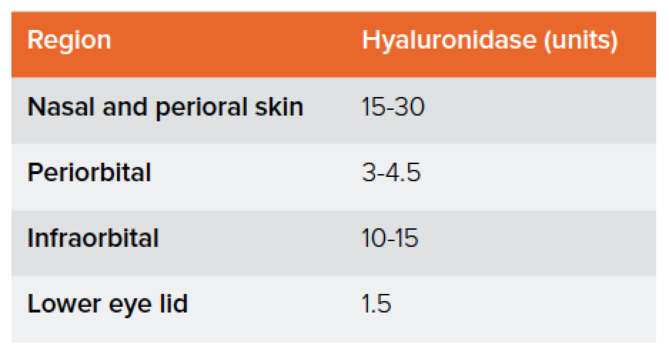 Current research
There is some, but not a lot, of research available that compares the dissolution of some of the different HA fillers available.9-14
One recent study published in 2018 analysed the interactions of three HA fillers and hyaluronidase (Hylase). The authors concluded that hyaluronidase showed a significant degradation of two of the fillers and no effect of hyaluronidase was observed for the third. In their analysis, they found that the filler with the highest content of HA was most resistant to degradation as compared to fillers with lower concentrations. They also observed that the monophasic gel was comparably sensitive to degradation as the biphasic gel.9 In line with other studies, they also noted stronger resistance to degradation for the highly cross-linked filler.9,11,14
However, for me to fully understand the concept of how the fillers dissolve differently, I decided to see it in practice and find out for myself, so I performed a small experiment in my clinic.
Experimenting with hyaluronidase
Limitations
I would firstly like to emphasise that this was not an official study, and there are certainly limitations to the results. Namely, I have not analysed the property differences between the fillers and how exactly each property may impact the interaction with hyaluronidase. The time was limited to five minutes; which I felt would give a general understanding of the filler behaviour. It would also be interesting to repeat the experiment several times to determine consistency of results.
Method
I chose four different HA dermal filler brands that are commonly used in the lip. I focused on fillers for this area because in general, when you look at the complication rates, and therefore the need for hyaluronidase, lips seem to have the most reported number of complications. This has certainly been reported in latest ACE Group and Save Face statistics.15
The brands I chose were all specifically indicated for injection into the body of the lip. The chosen fillers do have variations in particle size, cohesivity and different cross-linking methods, which as discussed above may explain different reactions. I placed 0.2ml of each dermal filler onto a flat mirror surface to obtain the best photographs possible. I reconstituted 1,500 of hyaluronidase (Hyalase) with 5ml of saline to give me 300 units per ml, equalling 30 units per 0.1ml. I then injected 30 units of hyaluronidase into each 0.2ml dermal filler. Upon injection, I observed the behaviour of the gels over a five-minute time-period (Table 2 and Figure 1).
I observed that out of the four HA gels, two of them (A and D) broke down very quickly, simply, and, in my opinion, satisfactorily. After five minutes, they resembled a liquid. The two others did have a reaction to the hyaluronidase (B and C), but less so in comparison to the others and I noticed that C reacted the slowest. Instead of liquefying, B and C separated into larger particles, or 'clumps', which suggests that more hyaluronidase would be required for these two fillers to breakdown, become less particulate and fully liquefy.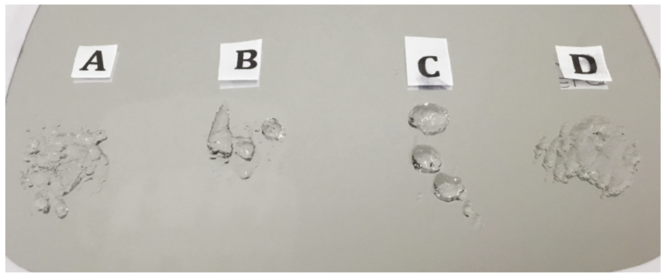 Discussion
My small experiment supports the findings of the aforementioned studies in that there are marked differences between how different HA products react to hyaluronidase.9,10 I believe this indicates that there will very likely be a difference in how quickly a dermal filler complication can be managed, which can be particularly problematic in emergency situations. Fillers that separate into larger particles or 'clumps', are likely to need to be treated with more units of hyaluronidase compared to those that don't, or practitioners will need to do more repeated treatments to get to the same point. The issue with repeated injections of hyaluronidase, as with other injectable treatments, is that there are more chances of inflammation, bruising and trauma to the area of injection.16
The concern with increasing the dose of hyaluronidase is that it carries some risks, such as allergic response.17-19 In my opinion, we should try to avoid injecting large doses of hyaluronidase units unnecessarily, and the least amount of hyaluronidase we can give someone to resolve an issue the better. One author acknowledges that it is necessary to over-inject hyaluronidase in the event of a clinical emergency,4 and this is because higher doses often result in more rapid resolution.20 In my experience, high doses are essential in an emergency. A protocol has been published for emergency vascular adverse events called the High-Dose Pulse Hyaluronidase Protocol (HDPH) and this is also being adopted and included within the ACE guidelines.1 This guidance involves repeated administration of relatively high doses of hyaluronidase (450-1,500 units) into the ischaemic tissue hourly until resolution.6
As discussed, dosing guidance for hyaluronidase does not currently specify exactly how practitioners may need to tailor the dosing according to the type and the brand of HA or their properties, and there is nothing specific to the lip. This is particularly challenging to novice injectors, who may strictly adhere to the guidelines and be inexperienced in identifying how exactly to amend their dosing.

Conclusion
Although I acknowledge that we don't always know what filler has been injected, my small experiment, as well as the few studies in this area, highlight the need for practitioners to understand and consider the fact that hyaluronidase interacts differently with various filler brands and properties. This is of particular importance due to the number of fillers available and of new fillers coming into the market.
This knowledge can influence how we approach emergency complications; if you are trying to maintain vascularisation and the skin is deteriorating, then the faster the product is dissolved the better the outcome is for the patient. If a certain filler takes longer to breakdown, then practitioners should have an understanding of why this is and recognise that higher and more concentrated hyaluronidase doses may be required to ensure patient outcomes are not affected.
It's particularly important for new practitioners to consider that the required dosing of hyaluronidase may be much higher than current guidelines recommend, and not assume that one HA filler is the same as another. By researching our chosen fillers, using peer group discussions, reading the research that is available and drawing from our medical understanding and clinical judgement, we can determine if, and how much, more hyaluronidase is needed.
I certainly think there is scope for large studies to be performed that really examine the interaction of different hyaluronic acid fillers with hyaluronidase. It would be beneficial for practitioners to have more clarity on hyaluronidase units and time required to break down each filler for different indications. Not only would it benefit us as practitioners but our patients will be managed appropriately.