Aesthetics is the UK's leading monthly journal for medical aesthetic professionals; designed to keep you up-to-date with product and industry news, clinical information, accredited education and commercial insights.
Each issue features a range of articles written by industry professionals, covering everything from clinical research and injection techniques to patient retention skills and using social media.
The Aesthetics editorial team is always on the lookout for new contributors who are keen to share their insight and expertise on how to enhance all aspects of an aesthetic practice!
Why write for Aesthetics?
72+ pages of high-quality content, created by the industry's largest dedicated, full-time editorial team

Supported by a multi-disciplinary team of external medical and specialty expert advisors

ABC accredited journal

What exposure can I receive?
Have your work read by 12,600+ subscribers through the monthly print issue

Reach our huge digital audience, comprising approximately 75,700 unique users and more than 139,000 visits every month

Who am I writing for?
The audience of the journal is made up of a range of medical and business development professionals working within the aesthetics specialty: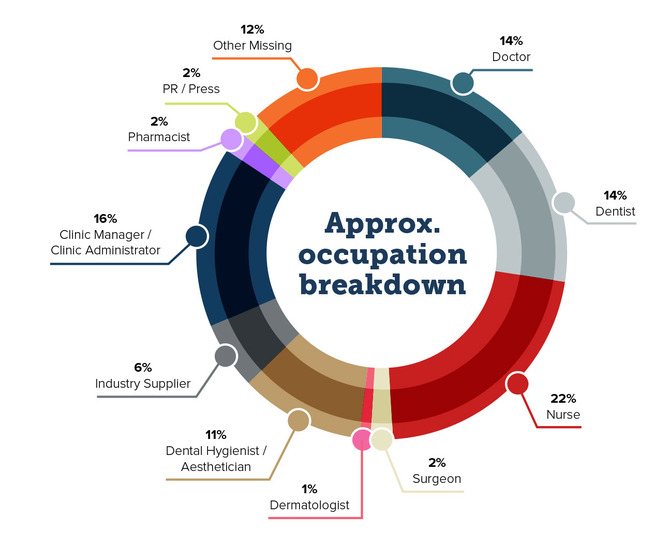 What should I write about?
Clinical articles include focus features on new and innovative products and treatments, sharing of expert techniques and best practice, as well as clinical study results and discussion.
Business features support practitioners in the commercial aspect of their profession by, amongst others, advising on marketing strategies, explaining employment law, highlighting important financial considerations, and discussing business development ideas.
Opinion pieces encourage debate and educate readers on the legal and ethical issues within medical aesthetics. Contributors are given the opportunity to articulate a clear and concise argument in the Last Word feature, creating a discussion surrounding a noteworthy topic within the specialty.
CPD articles encourage and enable readers to continue learning and develop in the field of medical aesthetics. Each month Aesthetics includes one fully-accredited CPD article, which provides an in-depth analysis and presentation of the literature surrounding an aesthetic topic, with discussion of the limitations of the research and areas for improvement. CPD articles often require a little more work than other submissions and go through a more stringent approval process.
How should my article be written?
Articles should not include branding or promotional messaging.

The tone you should use should be clinical, with use of medical terms, as it is intended for medical professionals to read.

You should also aim to be approachable and helpful, providing professional guidance and advice.

Articles should offer practical advice and examples where appropriate, with explanation of how points can be implemented in clinics.

Articles need to be educational and independent.

Facts stated and statistics presented should always be supported by references to offer further reading material to readers.

All articles should help the reader run a successful practice with satisfied patients.

The 10-step contribution process
Complete an editorial suggestion form explaining what your article will cover and why it is valuable to aesthetic professionals.

Send it to the Aesthetics editorial team via editorial@aestheticsjournal.com.
Indicate an approximate date the article could be prepared for.
Once a deadline is agreed, a member of the team will send you an editorial brief detailing your article concept, the Aesthetics style and tone, and information on copyright and referencing guidelines.
Read, sign and return the brief upon submission of your article (a scanned-in version or clear photograph of your signature on the page will be fine) stating any disclosures of interest (financial or otherwise) relating to the article.
Submit your article with any supporting images/graphs/tables.
Also submit a high-resolution image of yourself and 50-word biography to feature alongside the article.
Your article will be sub-edited by the editorial team, providing grammatical support and advising on areas that could be expanded upon.
Your editorial contact will liaise with you to agree a suitable final deadline for you to address any comments/provide final approval of the sub-edited article.
See your article in print, online and across our social media channels!