Deep peels
More aggressive peels containing phenol are now rarely used in the UK, because of the increased risk of complications and adverse effects, when compared with superficial and mediumdepth peels.
11
These occur because phenol is a stronger solution and penetrates several layers causing a second-degree burn; therefore there is a significant risk of hypopigmentation, even in lighter-skinned patients.
11
The advantage, says Dr Bhojani-Lynch, is that you can get the more advanced results associated with deeper penetration. Caution is crucial because of the toxicity profile of phenol, which is rapidly absorbed and can cause serious harm.
12
As it's a much more painful procedure than shallower peels, sedation or anaesthetic may be required.
13
"Most phenol peels are only done on very small areas, like under the eyes and across the top lip – and they tend to be performed in hospitals where there are resuscitation facilities," adds Dr Bhojani-Lynch. In fact, UK guidelines recommend phenol peels are carried out by an experienced surgeon or dermatologist on Care Quality Commission-registered premises.
13
APPLICATION OF PEELS
The procedure tends to be more or less standard, regardless of the type of peel. First, the face is fully cleansed, often with an acetoneor alcohol-based solution to degrease the skin. A barrier gel may also be applied to the more delicate areas, such as the nasolabial folds. The practitioner applies the peel and, with many types of peels, determines how long it is left on by observing the patient's response and monitoring changes in the skin's appearance. "We're looking for flushing, redness, and frosting of the skin, where it goes very pale," explains Nivern, "at which point we would immediately neutralise and wash off the peel." However, not all peel treatments have a visible endpoint that indicates that it has reached optimum success. Procter's glycolic system involves the peel being left on the treatment area for a set time of 10 minutes (assuming it is tolerated), before neutralising the acid with warm water sponges. After this, and depending on the specific protocol, a combination of serums, moisturisers and – most notably – a high-SPF (30 to 50+) sun cream is applied. Practitioners interviewed concurred that strict, continued use of sun protection and lifelong UV avoidance is the most important factor in the success of any resurfacing treatment, and in preventing and minimising complications.14
CONSIDERATIONS
Occasional side effects and complications are possible, as outlined below:
PEEL DEPTH

Potential side effects/complications3


SUPERFICIAL

Transient burning
Irritation
Erythema
Scarring (rare)
Post-inflammatory Hyperpigmentation
(PIH) (rare)
Infection (rare)

MEDIUM AND DEEP PEELS

Pigmentary changes
Infection
Allergic reactions
Compromised skin healing
Hypersensitivity
Lines of demarcation between treated and untreated areas
Scarring
Persistent redness
The practitioner's expertise is an important factor in preventing complications: they should identify patients who may be more at risk (those with PIH and keloid scars and people who are deemed potentially uncooperative), and select a peel depth that balances desired results with possible adverse events for each patient.3 Contraindications include isotretinoin, used to treat severe acne; guidelines suggest waiting six months after discontinuing the medication before undergoing chemical peeling.15 Notwithstanding, anecdotal evidence shows overwhelmingly that superficial and medium-depth peels are, for the most part, safe and relatively free of complications, hence their popularity. "Chemical peels are an important part of my treatment armamentarium, and I feel comfortable with this procedure because it has a long history," comments Dr Landau. Research supports this view, suggesting that dermatological uses date back as far as the 1870s.16 Dr Landau adds, "Patients understand the idea of renewing the skin by peeling off the old layers and the clinical results are impressive."
LASERS
The core component of laser resurfacing is heat, and most often uses light waves for its creation. When a wavelength of light is applied to the skin, it targets substances in the skin's molecules called chromophores, which absorb the light and turn it into heat energy. Different light wavelengths penetrate at different depths and target particular chromophores – haemoglobin for vascular lesions,17 melanin for pigmented lesions,18 and water for lines and wrinkles.19 Generally speaking, two types of lasers are used in skin resurfacing: ablative and non-ablative.
Ablative lasers – Ablative lasers cause wounding to the skin and, consequently, removal of its outermost layers, thereby stimulating renewal of collagen-rich skin beneath.
Non-ablative lasers – Non-ablative lasers also work by boosting collagen production, but they bypass the top skin layers and conduct heat deeper in the dermis. Targeting water chromophores, a cellular reaction is triggered that stimulates the production of collagen and elastin, thus firming and plumping the skin.20
Fractional lasers – A more recent development, the fractional laser is commonly used as an intermediate treatment between the former two, working at both the epidermal and dermal layers. The laser beam is divided into thousands of minuscule columns, each intensely targeting a tiny fraction of the skin at a time while leaving surrounding tissue unharmed. This promotes faster healing than the traditional laser procedures, in which the whole area is exposed.21 Consultant dermatologist and medical director of sk:n clinics, Dr Firas Al-Niaimi, offers a combination of full-area, fractional, ablative and non-ablative treatments, using erbium-doped yttrium aluminium garnet (Er:YAG) and carbon dioxide (CO2) as their media. "Depending on the severity of the condition treated, the patient's age and skin type, and the downtime request, we can choose the most appropriate laser," he comments. "The fractional non-ablative laser has a shorter downtime, but it will require a number of treatments because the effects are not as dramatic as ablative. But if someone has a severe form of wrinkling or acne scarring, and does not mind downtime, then obviously the ablative resurfacing will be quicker and give better results."
Radiofrequency lasers – These (non-ablative) lasers use radiofrequency (RF) energy, rather than light energy, to generate the heat required to affect the resurfacing process. Lucy Xu, treatment director at Premier Laser and Skin, explains, "The system we use utilises gold-plated isolated microneedles to deliver RF energy to the deep, middle and upper level dermis and the epidermal layer. This creates controlled thermal damage that generates a tightening effect, and triggers a healing response in the dermis to boost collagen production."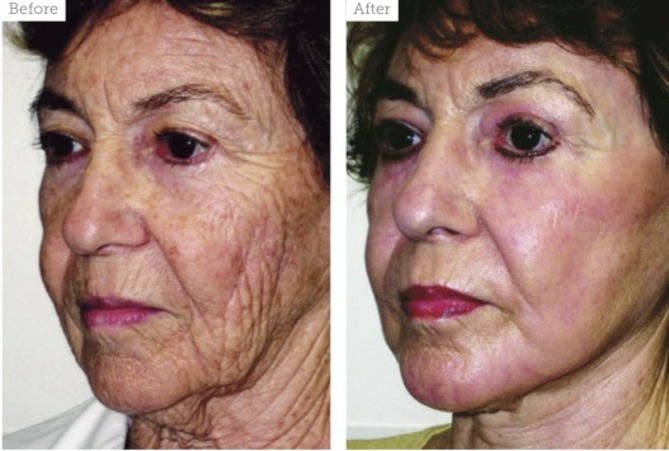 APPLICATION OF LASERS
Machines typically either have a rolling motion, whereby the head is rolled over the skin in a number of passes; a stamping motion, where the hand-piece is moved up and down between adjacent areas of skin to be treated; or a scanning-type mode. The skin is numbed with a topical solution for around 45 minutes: for full resurfacing, which is more painful and requires greater downtime, local anaesthetic is injected. Next, the skin is thoroughly cleansed and when goggles are in place to protect the patient's eyes, the treatment is applied. The skin is lasered one area at a time based on the laser's spot size, although, according to Dr Al-Niaimi, best results are achieved by treating the entire face to avoid visible demarcation. "The face is divided into so-called 'sub-units'. At a minimum, you would treat an entire sub-unit – the whole nose or the whole mouth unit – or, for optimum results, you treat the entire face, but you use a 'blending' technique," he explains. This involves applying a milder form of laser to the rest of the face, feathering the borders with low-pulse energy and density.22 As with peels, post-laser aftercare centres on sun protection. In addition, regular cleansing and moisturising is essential – using occlusive ointments following ablative procedures and lighter moisturisers for non-ablative. "A good antiseptic is the key component of good aftercare to prevent infection," explains Dr Al-Niaimi. "Patients are able to return to work the day after a RF resurfacing treatment," adds Xu.
COMPLICATIONS
Types of complications include:
Erythema




PIH




Infection




Scarring




Swelling




Severe itching




Acne



The severity of each complication can be classified as minor, intermediate or major and will vary depending on the type of patient and concern treated, as well as the strength of the laser used.22,23
Notwithstanding, most devices and types of laser are deemed safe and effective, balanced against the pain and downtime of the procedure itself. Most complications have been shown to be caused not by device malfunction, but by errors on the part of the practitioner.24 In the hands of experienced and reputable aestheticians, one can expect these complications to be minimal.
CONCLUSION
Skin resurfacing by application of chemical peels or lasers is a popular choice for patients. Like any aesthetic procedure, especially those that cross over into the realm of medical treatment, it is essential that clinicians fully understand the complexities and potential pitfalls of these options. In capable hands, however, skin resurfacing can be a safe and effective treatment and therefore, a valuable addition to the practitioner's toolbox.
FURTHER READING
Dr Firas Al-Niaimi, 'Laser complications in aesthetic procedures', Aesthetics, Volume 1/Issue 11, October 2014.