Professor Andy Pickett details the types of fake and counterfeit aesthetic products on the market and shares advice on how the industry can help to stop their global circulation
The global pharmaceutical market is currently valued at approximately US $1,000 billion a year, and has doubled within the last ten years.1,2,3 The industry is continuously growing, with, for example, around 7,000 biopharmaceutical products alone still in development.4 Unfortunately, however, the manufacture and distribution of fake and counterfeit pharma products is prevalent throughout the world. The urge to make quick money from the misfortune of patients, many of whom are in dire need of those products, seems irresistible to many. Figures from the Pharmaceutical Security Institute (PSI), established in 2002 as a joint industry activity to combat counterfeit products, show the extent of the issue. The PSI reports more than 2,000 incidents each year over the past five years on record; almost half the arrests in relation to the incidents have been in Asia.5 Large-scale police operations from international organisations such as INTERPOL have also reported significant illicit trade. In November 2008, INTERPOL began Operation Pangea I to target the sale of illegal medicines online. The organisation has since continued this operation every year, with Pangea VIII in 2015 resulting in a record 20.7 million illegal medicines seized, worth USD $81 million.6

Counterfeit vs. Fake
Types of illegal products fall into two categories, counterfeit products and fake products.7 Counterfeit products are designed to deceive the purchaser by branding the copy with the same name as the original. They are often difficult to tell apart from the original, as the packaging is carefully copied and almost indistinguishable from the branded product.8 Fake products, on the other hand, are given different names and branding but still make false claims to efficacy, purity and potency by pretending to be the same as the original – but cheaper.9 Enticing names are often used which could, through the direct-to-consumer sales on the internet, deceive clinicians, as well as the public, into buying them. These simple definitions make identifying illegal products, and what type they are, easier. Other definitions can be much more complex, such as those adopted by the World Health Organisation (spurious/falsely-labelled/ falsified/ counterfeit medicines),10 however these terms are not necessary within the medical aesthetic industry. In this article, two categories of illegal products that are regrettably now commonplace in the aesthetic industry are examined: botulinum toxin (BoNT) products and dermal fillers. Highly reputable distributors are a key element of the business chain integrity. Yet still, some practitioners buy directly from unnamed, illicit sources and deceive their patients into thinking that 'it's the same as the original'. Hopefully, by drawing attention to the dangers of administering fake and counterfeit products, we will eventually see the prevalence of this issue decrease.

Botulinum toxin
Since the subject was first highlighted in 2008,7 much has been written about illicit BoNT products that exist on the market. Even so, they still persist despite the warnings, alerts and information shared frequently with both practitioners and patients. Together with Dr Martin Mewies, I analysed nine unlicensed BoNT products in 2007-2008 and published our data as an alert to all.7
There were three counterfeit products found in Brazil, Iran and Russia, and a series of fake products that we found easily within Iran. We found no toxin activity in three of the products, which was as expected; why would you put real toxin into a fake product anyway?
Enticing names are often used which could, through the direct-to-consumer sales on the internet, deceive clinicians, as well as the public, into buying them
But, more alarmingly, we found up to five times the labelled potency in other product vials – three of the products contained more toxin than the labelled amount. This would result in an overdose to any patient given the material. We found no assurance of quality, safety or sterility for any of the products we examined, except for some nicely designed certification, apparently from regulatory authorities, which never existed anyway.7
Colleagues in other companies, coincidentally, published similar findings for a fake BoNT product of Chinese origin.11 In general, the illegal BoNT products seemed to mostly originate from Asia, in particular, China. We investigated further and discovered that even legal Chinese products, available in China, were also being illegally distributed in some countries under several product names.11 With no assurances of safety, these fake and counterfeit products can provide a serious risk to patients. We found that most of the 'data' supporting them on their websites was false, invented or even stolen from other genuine product literature.7 The products are mainly targeted at the patient, using direct selling to cut out the doctor and give a 'cheaper alternative'.
There has been one famous incident in the past where four patients were given 'research grade' BoNT at too high a dose. Subsequently, they suffered the terrible effects of full-blown botulism as a result (overdosing with BoNT leads to the same effects as food-poisoning botulism).12 Details of this 'Florida Incident' in 2004 have been published several times, including a patient's own terrible account of what she experienced.13 The incident has led the Food and Drug Administration (FDA) and the US Department of Justice (DoJ) to carry out a major investigation that has lasted many years due to the complexity and scale of the crimes being committed.14 Prosecutions are still being carried out today and are occasionally reported by the DoJ.
With no assurances of safety, these fake and counterfeit products can provide a serious risk to patients. We found that most of the 'data' supporting them on their websites was false, invented or even stolen from other genuine product literature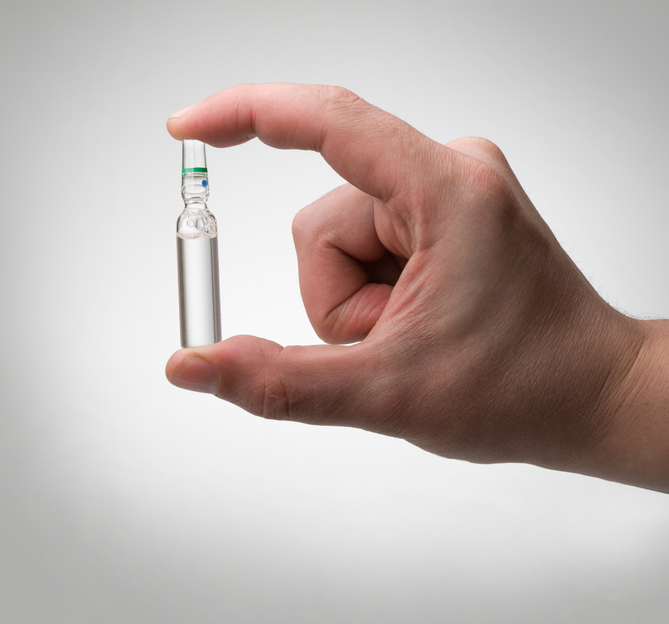 The extent of illegal use of this product from a research supplier was extraordinary; hundreds of doctors were involved as well as entire clinics, leading to receptionists, nurses and doctors being jailed.14 The FDA has recently issued another warning to the profession about counterfeit Botox being detected in the US.14 The counterfeits have very similar packaging to the original so the FDA has included details in its alert about the differences found. Botox, like all the BoNT products available in the US, is also used for therapeutic treatments of muscular conditions in doses far higher than used aesthetically. These higher doses of such illegal products pose great risk to the patient.
Dermal fillers
Given the very large numbers of dermal filler products available throughout the world, it is no surprise that counterfeit and fake versions are readily available. Like BoNT products, they are generally destined for the public, sold and distributed through the internet. Although dermal fillers based on modern, hyaluronic acid (HA) formulations are recognised as 'inert' materials, achieving temporary results by physically filling wrinkles and creases in the face, there are many so-called 'permanent' filler products available illegally.15
The original ideas, which led to the birth of the permanent versions, were to minimise the number of treatments a patient would need over the years. Unfortunately, they are also the cause of side effects and issues from reactions in facial tissues.16
Legal, licensed, permanent fillers do exist and, when used safely, can produce successful aesthetic results. However, some comprise complex mixtures including, for example, bovine collagen and plastic microspheres.17
The use of these is far smaller than the HA-based products and often, skill and special techniques are required from clinicians to achieve satisfactory results without side effects. Training of even highly experienced practitioners is vital with these products. Placing permanent fillers into the hands of patients for self-injection is, therefore, a high-risk activity. Even worse, as we are all aware, providing poor quality, potentially unsterile products can lead to serious complications. There are many clinicians who have had to physically remove these types of products from patients to eliminate the side effects of lumps, granulomas and other immune reactions.16
In 2011, together with colleagues Colin Stone and Sherry Knight from the BBC, I investigated the availability of permanent fillers on the internet. I easily purchased one, which was sent in a US Postal Service envelope from Chicago, Illinois, as a syringe in a package and disguised in a catalogue of garden products. I ordered a second syringe later, because the first one had leaked into the packet. The rather extraordinary findings were published the same year, together with photos of what the product looked like. The labelling of the syringes referred to a manufacturer that had gone out of business some years before – even the spelling of the labelling was incorrect.15
Working towards a solution
Given the extent of the issues concerning fake and counterfeit products within the aesthetic industry, it is essential to keep informing clinicians of all the issues involved, both frequently and in detail.
How can this be achieved when there are so many publications now available? One solution is through international congresses, where many attendees from both the industry and professions can hear, first-hand, what the situation really is. The providers are then also equipped to inform their patients and reinforce the issues surrounding the use of unsafe illegal products.
For some time now, the major International Master Course on Aging Skin (IMCAS) congresses, in both Paris and Asia, have regularly held sessions to update clinicians on fake and counterfeit products. These sessions have been dedicated to providing the latest information on these fake products that is available from different regions of the world, especially Asia. This has led to IMCAS sponsoring the formation of the Global Coalition Against Fake Medical Aesthetic Products, a group of manufacturers and clinicians who focus on informing colleagues, patients and the industry throughout the world about all the issues associated with counterfeit and fake products. The Coalition was presented at IMCAS 2014 in Paris following successful sessions in Singapore, Shanghai and later sessions in Hong Kong and Paris, which kept the information flow at a concentrated level.
Stop the purchase
There is really only one final solution to combat fake and counterfeit aesthetic products – stop their purchase. If there is no market and no demand for cheap copies, then there would be no such products. Constant education and information to highlight the issues, especially relating to safety, must be the way forward.
Informing both clinicians and patients about the risks being taken, and when and where these products are used, is of vital importance. The Coalition is a good example of how the industrycan band together to achieve these aims.
Disclosure: Professor Andy Pickett is the director and founder of Toxin Science Limited, UK, adjunct professor at the Botulinum Research Center, IAS, USA and senior program leader & scientific expert, Neurotoxins, at Galderma Aesthetic and Corrective Global Business Unit. The opinions and views expressed in this article are those of the author and Toxin Science Limited only.