While many topics in the November hair issue of the Aesthetics journal focus on stimulating and regenerating hair growth, we cannot ignore the popularity of the opposing treatment, the removal of unwanted hair.
Hair removal dates back to, and potentially pre-dates, ancient Egyptian times, where both men and women shaved their body and head hair for hygienic and fashion reasons.1
While researchers state that waxing using caramelised sugar and shaving using razors were the common means for removal in those times, today there are more modern methods.1 Although shaving, tweezing, epilating, waxing, chemical depilation, and other such methods are still widely used to remove hair, many people are now looking for more long-term solutions.
Why laser?
Generally speaking, aesthetic practitioners have three options for long-term hair reduction. Electrolysis, intense pulsed light (IPL) and laser hair removal (LHR).2
All practitioners interviewed for this article prefer to use LHR over IPL and electrolysis. The main reasons stated were that electrolysis can be very slow and painful,3,4 while the practitioners believe laser is more suitable, safer and more efficient for treating a wider variety of skin types, compared to IPL. Independent nurse prescriber and owner of Cosmex clinic in Cambridge, Lou Sommereux, explains, "Lasers have more fluence, or more power, but laser is also a concentrated, single wavelength, which means that we can choose specific wavelengths that will have better absorption by the melanin in the hair follicle. Comparatively, IPL has thousands of wavelengths; it's a wide spectrum of light and it doesn't focus its energy with that light for optimum wavelength – meaning that it's not quite as powerful."4,5,10
Dr Neil Sadick, clinical professor for dermatology at Weill Cornell Medical College and the head of Sadick dermatology and Sadick Research Group in the US, adds, "I think LHR is the most efficient way to safely remove hair for the long-term. IPL is also safe but I find that laser is the least painful, is more effective and has the best safety profile. I would assume that LHR is still the most popular aesthetic treatment performed on a global basis in 2018."
Consultant dermatologist Dr Firas Al-Niaimi, who practises privately in London's Harley Street and is group medical director at sk:n clinic, agrees, "We exclusively use lasers because we believe that lasers are better in the long-term and have more consistent results. These results vary between individuals, but following treatment most people will need one to two sessions of maintenance a year, depending on their factors such as hair growth, initial response and hormone status."5
Consultant dermatologist Dr Maria Gonzalez, owner of Specialist Skin Clinic in Cardiff, notes that although she hasn't used IPL for hair removal for many years, it shouldn't necessarily be ruled out. "I think IPL is more of a starter system. I find you can get good results using modern IPL systems in patients with skin types I-III, but you can't effectively and safely treat type IV skin and above, so if you don't have a very cosmopolitan population you can get away with IPL." But, she adds, "If you are really serious about getting good results for a variety of patients I think you need to invest in lasers, specifically the 755 nm and 1064 nm long pulse wavelengths." Dr Gonzalez's reasoning behind this is that these wavelengths can treat patients from skin type I-VI.
Choosing a device
Sommereux states that practitioners often feel overwhelmed by the sheer number of devices available to choose from. Sommereux states, "It's a bit like when patients come in and say that they are overwhelmed about skincare and they just don't know what to go for. I think choosing a laser device is about talking to the companies, getting a feel for what's out there and building a relationship with that company. Ensure that the technology ticks all the boxes that you are looking for." Dr Al-Niaimi suggests that practitioners need to assess the device's wavelength, spot size, power and cooling.
"What practitioners need to look for is, firstly, a suitable wavelength for the type of hair – I think for the lower skin types I-III you preferably you want an alexandrite [755 nm] or a diode [800-810 nm] laser. For the higher skin types, you should look at a Nd:YAG 1064 nm," he explains, adding, "Also you would want to look at a system that is reliable, with enough energy and enough power, a spot size that will allow you to get depth of penetration and speed. Efficient cooling is important as it increases the device's safety profile. If you require additional cooling, depending on the area, you can use cold air or ice packs before and after."8
All practitioners interviewed each have individual preference for LHR devices. Dr Sadick's lasers of choice are the Venus Velocity 800 nm diode and Cutera Xeo 1064 nm Nd:YAG machines. He states, "Many companies produce excellent technologies, but these are the ones I have researched and have had the most experience in. I am particularly excited by the Venus Velocity as it's a high-powered diode laser, is very fast, has very little discomfort and has a very high hair removal efficiency."
Dr Al-Niaimi uses the Candela GentleMax Pro, which is a dual wavelength system, with 755 nm and 1064 nm, and the Cynosure Apogee Elite laser systems. To him, the clinical studies regarding safety and efficacy matter the most. He explains, "These systems are very well established in the market in terms of studies and safety profile and they have the right wavelengths. They also have different spot sizes and we are very happy with the results that we are getting." Speaking specifically about the GentleMax Pro, Dr Al-Niaimi states, "I like this device because of its dual wavelengths, multiple spot sizes, which are large, high power and its dynamic cooling device, which increases safety."
Senior aesthetician Musharraf (Mo) Ashraf, managing director of New Life Medical Aesthetics, adds, "I have had a few lasers but my absolute favourite is the Cynosure Apogee Elite. I use it because it's got two wavelengths, an alexandrite 755 nm wavelength and a 1064 nm Nd:YAG. I use the alexandrite to treat light skin types and the Nd:YAG for darker. That means that we can treat almost every skin type and it gives fantastic results."
Dr Gonzalez also uses the Apogee Elite, stating that she thinks these two wavelengths are usually all that most practitioners will need. She adds, "I also have the ABC Soprano ICE Platinum diode system with an 810 nm wavelength. This device has technology that is slightly different from the Elite laser as you are treating a field, rather than one spot at a time. This theoretically means you are using lower energy for a wider area and so it should be less painful." Dr Gonzalez says she will therefore choose this laser when patients have a low pain threshold and when treating larger areas like the legs and back.
She also notes that she uses this to treat difficult cases, such as fine facial hair in Asian patients, and if a patient comes back from holiday with a slight tan, because she says the technology used in this device is less likely to cause complications.
Sommereux's laser of choice is the Aluna Supreme dual wavelength 810 nm diode and 1064 Nd:YAG laser from Cambridge Stratum. She says, "I choose this because of its safety, efficacy, reliability and price – an affordable price is very important to me. It's also very easy to use – it's got great pictures of different areas of the body and you just programme that area so it's very user-friendly and feels very safe. I think it's also nice to look at – some of the machines can be quite chunky and ugly and this is quite nice and slender." Sommereux also notes that practitioners should consider the weight of the handpiece, as some can be quite heavy, which can tire the user after extended use.
To complement laser treatment, Dr Al-Niaimi and Dr Gonzalez consider combining laser treatments with eflornithine hydrochloride 13.9% cream, sold under the brand name Vaniqa, for particularly challenging facial cases.9 Dr Gonzalez states, "Some patients, who need a bit of extra assistance and take a bit longer to respond to treatment get improvement because it slows down the hair growth, so can be used in combination with laser treatment."
For patients with red, white or grey hair, all practitioners interviewed note that the best approach is to recommend alternative short-term hair removal methods, or to refer for electrolysis.3,4 This is because, despite technological developments, it is still not possible to treat these hair colours using LHR or even IPL. Dr Al-Niaimi explains, "It's because laser and IPL needs a chromophore, or target, to be absorbed and white, red or blonde hairs lack this target."4,5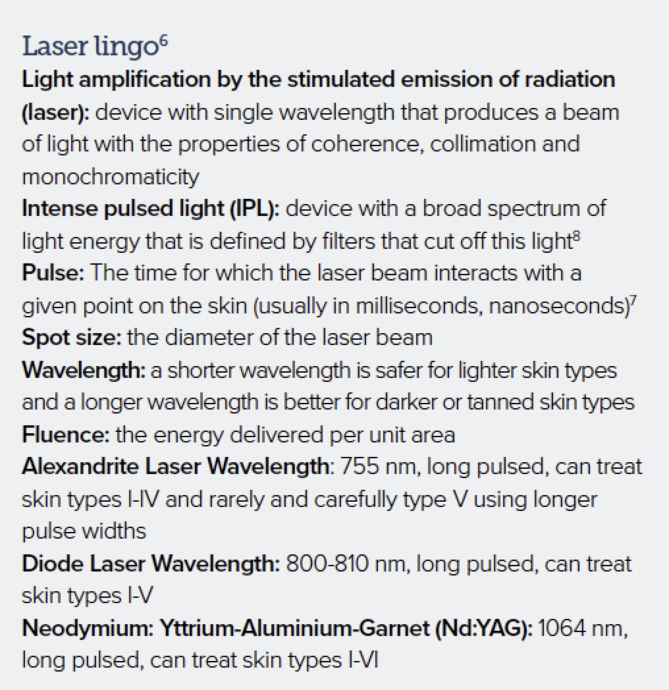 Laser treatment tips and considerations
Dr Gonzalez claims that the majority of patients are easy to treat. "I would say about 70% of people get very good results, but around 30% of patients will be more challenging," she says, adding, "Three factors contribute to successful results: skin colour, hair colour and hair calibre, which is the thickness of the hair. These factors will determine how challenging the patient is and what you will use to treat them."
Dr Gonzalez says patients with dark brown or black hair will get the best results, while those with lighter and thinner hair are more challenging. Although patients with pigmented skin can get good results, they can also be challenging to treat because they are more likely to result in complications, discussed below.5
Ashraf highlights that one must assess a patient's tan and sun exposure. She explains, "If I am in doubt about the patient's skin type, I will always assess an area that has not been exposed, for example the buttock or bikini area. I make it very clear in the consultation that they can't have any sun exposure before or after the treatment to prevent pigmentation. We send out a pre-care treatment form and an aftercare treatment form to remind patients." Ashraf advises patients to avoid sun exposure for three weeks before and after treatment, although there are differing recommendations. The NHS recommends one week, while some authors recommend six or 12 weeks.5,6,10
Ashraf states that because the UK summer was so hot this year, she delayed many treatments. "I postponed about 70% of my facial laser treatments because even though people say they're wearing SPF, I find that most don't reapply every two hours. Even for patients who wear scarfs around their face, the lip area could still be exposed, for example, so I refused treatment."
Reiterating the importance of skin colour, the biggest tip Sommereux gives is to never guess patients' skin type. "Always use the Fitzpatrick skin scale and always make sure that it's documented," she advises.
Dr Sadick notes the importance of ensuring the patient's expectations are not too high, reiterating that results are 'partial permanent' rather than 'permanent' and each patient is likely to have different outcomes. "Results vary between patients and I find that it takes between four to 10 treatments to give a significant amount of long-term hair removal. I also advise patients not to shave immediately before they come in – you don't want long hairs, but you don't want it totally shaved – so I advise they shave a day before," he says.
Adverse events
Complications and side effects caused by experienced, appropriately trained aestheticians or medical professionals are rare, according to the interviewees. However, most commonly erythema, hyper and hypopigmentation, and burns can occur, among others.11,12 Dr Sadick adds, "There is also an entity called paradoxical hyperplasia, which needs to be discussed with the patient. This is where hair will increase in length – it is a rare side effect of the procedure."8
As mentioned, the darker the skin, the higher the risk of complications. Dr Gonzalez states, "I have never had any complications in Caucasian skin, and that tells you where all your complications lie – in pigmented skin." She adds, "You need to be particularly careful with Asian patients as some are darker skinned than others. If you are unsure where they fit, always go with the safer 1064 nm wavelength first. There are also patients of nebular skin types, meaning they look very fair but if you saw them tan you will be shocked at how easily they colour and they can get serious inflammatory hyperpigmentation following laser treatments."
To prevent complications, Sommereux highlights the importance of a patch test 48 hours before the first treatment to check for unwanted skin responses. Dr Sadick adds that if someone doesn't respond to the patch test or even a treatment as one would expect, they may need to be referred to their GP or a gynaecologist. He says, "They might have some androgen problems or polycystic ovary syndrome. This needs to be treated prior for efficient hair removal."
Dr Gonzalez states that out of all the treatments she offers, most of her complications arise following LHR. "It's not that we have many complications, but they stand out next to everything else that we do," she says. Therefore, practitioners note that choosing the right device and technology is paramount, as is training in each new device you acquire.
Marketing LHR in clinic
According to Sommereux, now is a good time of year to market LHR treatments. She says, "From autumn into the winter is the best time to treat patients so that the skin is ready for summer. LHR is usually a course of around six to eight treatments so it's really important to plan ahead and think about summer holidays and market accordingly."
Interestingly, while Dr Gonzalez notes that LHR is the most popular treatment in her clinic, she puts a lot more effort into marketing other treatments. She says, "Even if I do no marketing we find that at the end of the year it's still the most popular treatment. I don't tend to market LHR because I don't want to try and compete with large clinics. Instead, I just ride the crest that they have created because they are pushing it so much that people just assume that it's offered anywhere." If Dr Gonzalez does decide to do any LHR marketing, she targets her current patients rather than attempt to bring in new ones. She says, "The market is very consumed by the biggest players so I find this approach works best for my clinic."
Dr Sadick agrees that in-clinic marketing is a good approach, stating, "Let your own patients know you have the technology by holding evening workshops and always have some kind of professional information available in your clinic to let your patients know you have it available." LHR is actually the only treatment Dr Gonzalez offers a 'package' for, as she is generally against marketing discounts, and doesn't use this term. She says, "I think discounts or packages can make the treatment very retail-like. I think discounts can undervalue the medical importance of the treatment – it might be a cosmetic treatment, but the complications are certainly very medical." She adds, "We let patients ask us about pricing for packages. We explain the treatment in detail and then when they bring up the price we say they can get a discount if they book several treatments."
All practitioners interviewed state that they do not market on discount websites such as Groupon, despite its popularity. For example, when typing in 'laser hair removal London' more than 200 results are generated.13 Ashraf says, "We never go through sites like Groupon. This is because when you get somebody who is coming in for a cheap treatment they are just going to go somewhere else later for a cheap treatment. Apart from not being able to keep the patient, you also don't know where they have gone for their last laser and when."
Summary
Practitioners interviewed reiterate the importance of training, knowing each device's parameters and knowing which patients need extra care. As Dr Gonzalez states, the highest risk of LHR complications is with patients of darker skin types so take even more care with these patients. She reiterates, "Don't take skin types for granted, especially if there is pigmentation." As with many other non-surgical aesthetic treatments, managing patient expectations is also critical, and practitioners stress the importance of informing patients that LHR is not 'permanent', despite the marketing of such by some clinics.