Sales manager Sally-Anne Whybrow examines how finance options can help to keep aesthetic clinics on track for expansion.
It's a well-known fact that the aesthetic market is growing.1 As the specialty is becoming so saturated, with new clinics opening every day, businesses need to be able to up-scale their treatment offering to remain competitive and meet patient demand. Keeping pace with technological advancements – especially in the new world of developing products and technologies – requires considerable capital expenditure, which clinics may struggle to achieve.

This is where finance options come into play. Clinics have a number of options that can help to spread the cost of purchasing new equipment and technologies. The range of financing techniques available is described later in this article, but they would typically be available for new equipment and technology including lasers, imaging systems and other aesthetic devices.
Not only that but making use of finance options also allows clinics to deploy precious funds into other areas, for example to improve service quality, like staff development and marketing.
Working with financers
In order to get funds to add your new treatment into clinic, you will have to go through a third party finance company, some of which are specialist and some are not.
A financer's main role is to help your business acquire the technology you need, in a way that's affordable and sustainable, and fits in with the revenues that the equipment is likely to generate. Sometimes the finance is 'integrated' – offered as part of the equipment sales package. At other times, it is 'referred' – where the technology vendor recommends a particular financier.
I would personally recommend that if you are looking for a more tailored financing package, then it may be more beneficial for you to go with a specialist healthcare financer as they usually have an in-depth understanding of aesthetic technology production and the demand for the latest devices. For example, if a clinic wants to purchase a laser device, then the financer might be able to amend the financing period from three years to five years to suit the organisation's cash flow.
Whichever finance provider you chose to go with, they are likely to have the following options available to you.
Pay to use
This option is specifically designed to enable the acquisition of a system, piece of equipment or technology. Usually there will be some form of either a finance lease,2 where the financer purchases and owns the asset then leases it to you, an operating lease,3 where the products and equipment is owned by the financer but is accounted for as a rental expense with no asset or liability appearing on your balance sheet, or a hire purchase arrangement,4 which is where your business can acquire an asset by paying an initial instalment. An example of this would be by paying 30% of the total price upfront and repaying the remaining balance as an agreed monthly instalment cost. You will then have full ownership of the equipment. Some financiers will be happy to flex the finance period and terms and conditions to align with the likely benefits the clinic will gain from the technology. In other words, one clinic's predicted usage rate for a given piece of equipment – say a fractional laser skin resurfacing unit – may be twice that of another clinic. A smart financier will recognise this and agree a financing period that aligns payments with the rate of earnings that is particular to the individual clinic. Often pay-to-use financing will cover associated costs of ownership, such as maintenance, into a 'bundled' monthly payment.
Of course, a clinic can always buy technology outright if the cash is available. Many, however, prefer to invest their working capital in, say, marketing and advertising, or other activities that will generate new business, rather than tying those funds up in depreciating technology assets.

Results based
Financing agreements are increasingly being set up where payments are predicated on the expected benefits of the business, or 'outcomes', that the technology makes possible. Savings or gains from access to the technology are used to fund monthly payments, making the technology cost-neutral for the manufacturer. For example, where energy-efficient equipment delivers cost savings from lower energy consumption, a financing plan may align payments to the rate of energy savings made each month.
Both the financier and the clinic must be sure that there are clearly definable outcomes on which to base such payments, so this option is only available in those circumstances.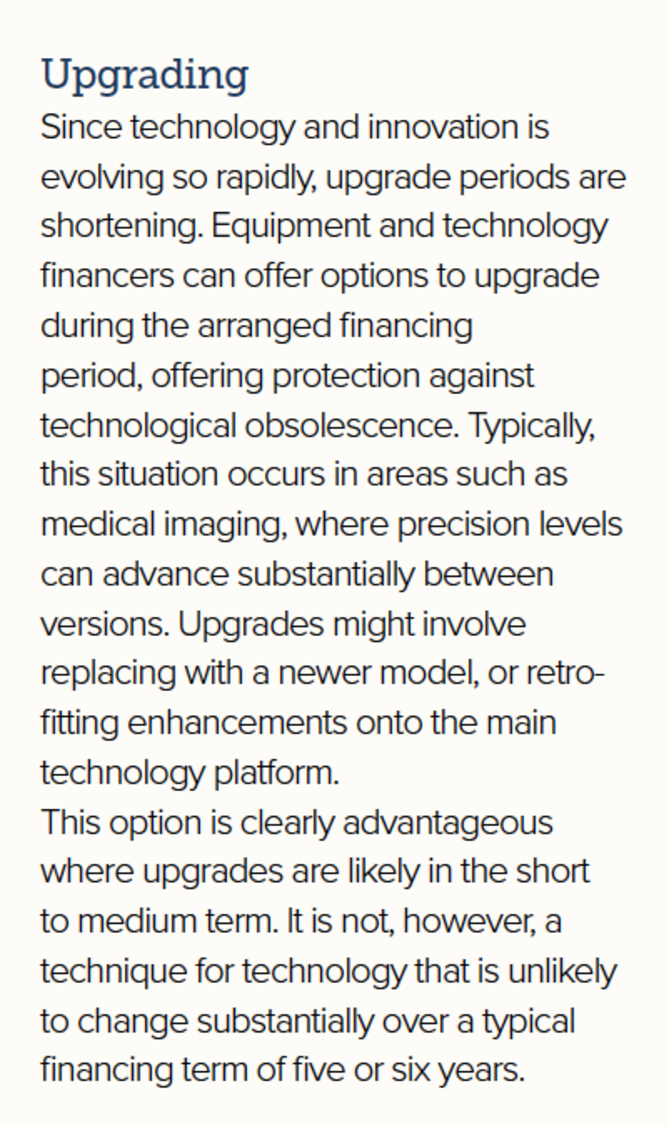 Working capital solutions
Cash flow and working capital challenges do not only arise at the point of acquiring new (often digitalised) technology. New technology may increase throughout capacity and productivity, while improving price competitiveness to the extent that a clinic's appointments experience a sudden and/or significant upswing. A good example is non-surgical laser technology that can be used for the aesthetic treatment of many vascular lesions, unwanted hair, tattoo removal and pigmented lesions, enabling clinics to attract more potential patients. The latest laser technology halves treatment sessions, reduces downtime, treats all skin colours and achieves far better clearance than previous technology. This is good news, but brings its own challenges – such as suddenly having to bring in more clinicians or to rapidly extend facilities, which will obviously have an impact on working capital.
Financing services, usually based on some form of invoice finance, are available to help manage the cash flow challenges that success through technological advancements brings. Invoice finance basically means that the financier buys the clinic's outgoing bills, so that the clinic gets the money earlier. Invoice finance, for example, can enable clinics to leverage unpaid invoices to unlock funding. With invoice finance, when a clinic invoices its customer, usually around 85% of the approved invoice total is directly advanced by the finance provider, with the remaining percentage paid once their customer settles the balance.5 Invoice finance provides the clinic with essential working capital so it can invest in expanding its business without having to wait for bills to be paid. Of course, for this to beneficial to the clinic, management must have a very clear view of how and where that faster cash flow can be deployed.
Conclusion
I believe that access to state-of-the-art technology is an important part of the development of a clinic's brand and its marketing. Yet, there is no denying that sudden peaks of investment can be difficult to handle. The answer is not only access to finance, but access to the right kind of finance. Clinic owners that are considering deferring investment in new technology due to high costs could benefit from specialist finance options to enhance resources without using precious capital.
Disclosure: Sally-Anne Whybrow is the sales manager for Siemens Financial Services in the UK, which offers finance options for clinics.