The ACE agenda promises to suit all educational needs with its free business and clinical sessions
The Aesthetics Conference and Exhibition (ACE) 2016 will host a variety of exciting, free, practical content spread across the two- day event on 15 and 16 April. Alongside the premium Conference programme with focused sessions on key anatomical areas, the free sessions will allow professionals to enhance their clinical and business skills within the CPD accredited Masterclass, Expert Clinic, Treatments on Trial and Business Track. ACE programme organiser and Aesthetics editor, Amanda Cameron, says the comprehensive free agenda is not to be missed. "Hundreds have already registered to attend the event," she adds, explaining, "the free sessions are a great opportunity for practitioners to bring their entire clinic team to ACE because, not only are they all CPD accredited, for a total of 50 points available, but they allow the team to learn about different aspects of running a successful practice. We worked very hard to ensure the free clinical and business programme maintains its standards in delivering top content to delegates." Cameron adds, "I think delegates will find the free sessions, which include guidance on both clinical and business skills extremely worthwhile."

The Masterclass agenda, which will be supported by Galderma and HA-DERMA among other top medical aesthetic companies, will feature leading professionals demonstrating how to use the most popular products and treatments, while discussing the best ways to incorporate them in to a daily practice. Each 90 minute Masterclass will allow practitioners to build on their skills and understanding through informative and focused guidance.
At the Expert Clinics delegates can enhance their knowledge on the latest injectables, lasers, radiofrequency, and much more. Top practitioners including Dr Daron Seukeran, Dr Sarah Tonks, Mr Adrian Richards, Dr Jullian De Silva and Dr Victoria Dobbie will discuss and perform live demonstrations of the best treatment options and techniques in the industry. There willalso be sponsored sessions over the two days supported by AestheticSource, AesthetiCare, Rosmetics, Naturastudios, Fusion GT, Healthxchange Pharmacy, BTL Aesthetics, SkinCeuticals and Lynton Lasers. Engaging debates and insightful discussions are to be expected at the Treatments on Trial programme on Saturday 16 April. Delegates will have the opportunity to discuss the benefits of the latest products and learn how and when to use each treatment. BTL Aesthetics and Lumenis will be supporting Treatments on Trial, where professionals can listen to presentations and demonstrations on treatments and devices with similar indications and directly compare these to discover the best option for their practice.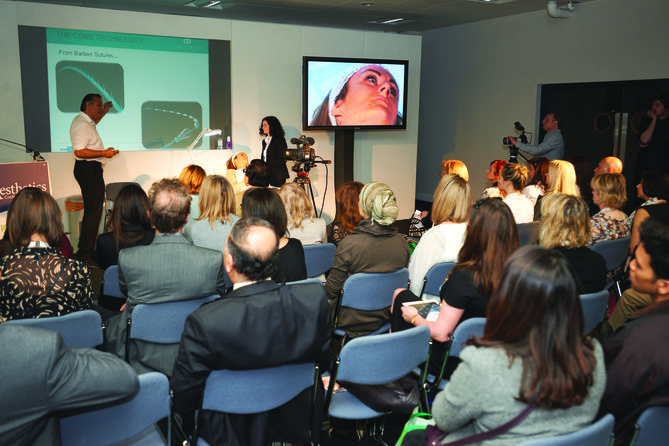 With the huge success of the Business Track in 2015, non-clinical sessions will run throughout the Conference. There will be a dedicated area for the Business Track on the exhibition floor
with focused sessions on marketing, social media, patient loyalty, clinic management, taxation, regulation and patient consent. ACE will welcome US based author and business consultant Wendy Lewis, PR expert Julia Kendrick and experienced VAT partner Veronica Donnelly, as well as Liz Bardolph, Gary Conroy, Mark Lainchbury, Professor Mark Whiteley and Dr Paul Charlson, among others, presenting on topics to support healthcare professionals in enhancing their practice and attracting more patients.
ACE 2016 features 2,500m2 of exhibition space, allowing delegates to freely explore the top medical aesthetic suppliers and manufacturers and discover the latest innovations. Visitors will be able to try new products, watch live demonstrations and talk to knowledgeable representatives about the best way to incorporate popular products and treatments in their clinics
To access the Masterclass, Expert Clinics, Treatments on Trial, Business Track sessions and the Exhibition floor, practitioners can register online for free. Once registered, they can choose
to purchase the premium Conference Pass for a full and comprehensive learning experience. The new website also allows delegates to create their own personalised programme with the 'My Agenda' function. The Aesthetics Conference and Exhibition will once again attract thousands of practitioners from across the industry, so be sure not to miss out on this key event in the professional calendar. To find out more and to book your place at ACE 2016 visit www.aestheticsconference.com