Dental surgeon and Aesthetics Clinical Advisory Board member Dr Souphiyeh Samizadeh shares her journey into the specialty
Even throughout her childhood, Persian-British dental surgeon and aesthetic practitioner Dr Souphiyeh Samizadeh loved learning and had a natural flair for caring about others – fundamental qualities for the aesthetics field. "I was known for having a caring attitude towards everyone around me, even as a very young child. I would happily try to help ease their pain if anyone had a headache, and I'd love to observe people's symptoms, body language and do my best to bring positivity and wellness to others," she explains.
Dr Samizadeh started her journey by completing a Bachelor of Science in Medical Biochemistry in 2007 and graduated from King's College London with a Bachelor of Dental Surgery in 2011. She started practising dental surgery at several clinics in London and soon after also started training in the field of medical aesthetics, which she says was just a natural progression. She explains, "I learnt how small positive physical changes can affect one's confidence and wellbeing which, in turn, can change one's outlook on life. I knew that offering facial aesthetic treatments would complement my primary skillset and in turn help more patients."
Dr Samizadeh attended multiple aesthetic courses, and completed her Master's in Aesthetic Medicine at Queen Mary University of London with distinction, as well as her Postgraduate Certificate in Clinical Education at King's College London in 2015. Soon after she opened Revivify London Medical Aesthetic Clinic in Mayfair. "This was very exciting, but challenging, and scary all at the same time," she says, adding, "When I got into aesthetics, I quickly became very passionate about learning, teaching and research in this field and have dedicated much of my life to it. I have been practising for eight years and over this time I have written many articles and papers that have been published in peer-reviewed journals and presented at many national and international conferences. I am also a committee member of The Royal Society of Medicine Aesthetics Conference."
But Dr Samizadeh didn't stop there. In 2016 she founded the Great British Academy of Aesthetic Medicine (GBAAM) to help further the education and raise standards of training and practice. Recently, Dr Samizadeh has spent a particularly large amount of time providing injectable training in Asia, and is the visiting associate professor for Shanghai Jiao Tong University. "The differences in facial morphology, ideals of beauty, demand for targeted aesthetic treatments, the sheer number of patients, and the standards of practice in Asia is fascinating. With each country I travel to, every hospital I visit, every practitioner I meet, and every conference I attend, my knowledge and understanding of aesthetics evolves and my practise improves. The constant challenge and learning are immensely enjoyable to me and a huge motivator," she says.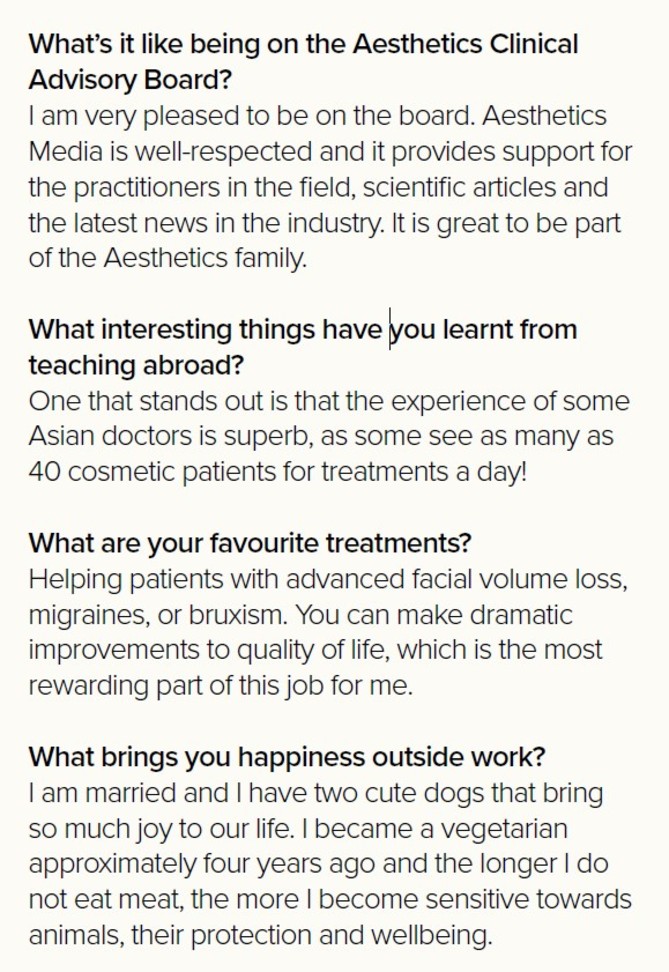 When asked about the views of some in the industry who believe that dentists or dental surgeons may not fit in the aesthetics arena, Dr Samizadeh simply says that, "This is an ignorant view." She explains, "In many countries, including many US states, dental surgeons have been successfully providing non-surgical aesthetic procedures for years. Dental surgeons have a unique position in that they have advanced knowledge of face and neck anatomy, facial assessment, excellent manual dexterity, good clinical diagnostic and communication skills. In addition, they see patients with bruxism, temporomandibular disorder or facial-oral-mandibular spasms, for example, who could benefit from such treatments and that could possibly be overlooked by other practitioners." The other thing, Dr Samizadeh explains, is that those with a dental background have a huge amount of knowledge of the dentofacial complex and the lower facial third. She says, "The lower face plays a key role on the perception of beauty and facial aesthetics and this area is, in turn, directly affected by the dentofacial complex," she says. When asked about advice for success, Dr Samizadeh recommends, "Never look for shortcuts or cheaper ways of doing things." Research and writing is also useful, she adds. When asked what the fundamental part of her aesthetic practice is, Dr Samizadeh shares, "Ethics, and to remember that these treatments are still medical procedures. Good patient-centred care should not be compromised and should be the core of our practice with the same ethics that we would carry out for other medical procedures."