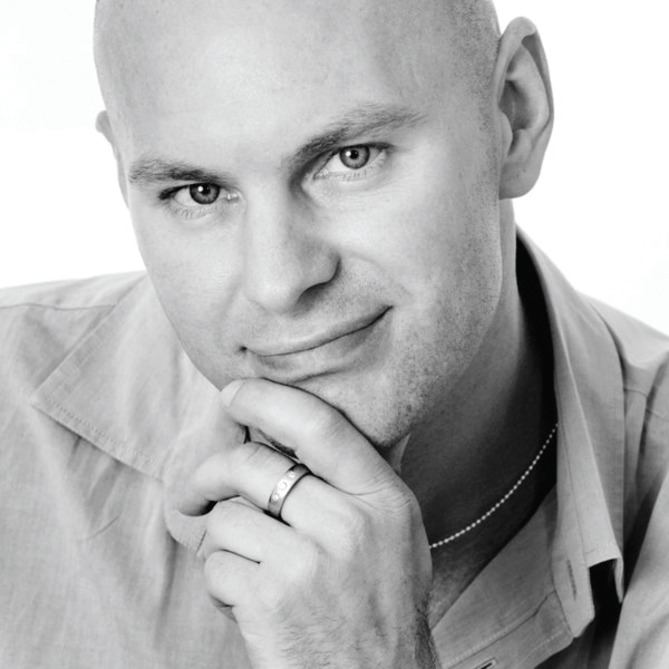 Lee Garrett is an aesthetic nurse with a successful Harley Street clinic and a host of high pro le patients. He reveals his unusual route into the industry.
There aren't many aesthetic medical practitioners who also have the skills to x a roof. But Lee Garrett is the first to agree that he had an unconventional career path into the industry. His first job, at the age of 18, was as a roofer but by the age of 24, Garrett was looking for a new path. "I was coming out as gay" he explains, "and I wanted a career where I could t in as a gay man. I had wanted to be a nurse for a while, but the wages were so low I went into hairdressing instead." This led to a 14-year career in hair and beauty, during which Garrett developed his aesthetic eye, people and management skills. He also met his partner, Dr Se?an Cummings, a doctor then working in the NHS, but keen to set up a private practice aimed at the gay community. In 2003 the Freedomhealth clinic was born and Garrett sold his salon to become the clinic manager. Many of Freedomhealth's early clients were men with HIV who suffered from facial lipodystrophy, which is treated with filler injections. This meant Dr Cummings attended dermal filler training courses, and Garrett often went with him, sometimes acting as a model for students and to learn more about the profession. He introduced skin treatments to the clinic, and then in 2004 completed a six-month NVQ course at St George's Hospital in London to become a qualified Health Care Assistant. After further training and mentoring Garrett introduced lasers for hair removal to his clinic, but he was still ambitious and wanted to perform injectable treatments. So at the age of 37, Garrett decided to take a nursing degree, whilst continuing to work at Freedomhealth one or two days a week. On qualifying in March 2008, Lee found a post as a full-time critical care nurse at a large London hospital but the experience left him deeply disillusioned. "I would have stayed if the NHS was a better place to work, but within six months I was back at Freedomhealth." Garrett soon found himself fully booked, but two years ago, again returned to education to gain an independent nurse prescriber qualification.
"I realised there would be a move to only allowing nurse prescribers to inject Botox, and that the change was likely to come in very quickly," he explains. However, he says, "Even now some courses are worryingly poor quality and focus too narrowly on prescribing Botox. I think it is very important that aesthetic nurse training is rigorous. It is vital we can treat any complications, so we need to be con dent prescribing pain relief, Aciclovir, hyaluronidase and antibiotics. My course at South Bank University, where I obtained my nursing degree, was aimed at NHS nurses. Now as the head of Freedomhealth SKIN division I can care for all my patients the way I always wanted to." The clinic was unusual in marketing itself directly at men, successfully advertising in magazines such as Attitude before a word of mouth recommendation led to journalist Amanda Platell seeking treatment, which she subsequently wrote about positively in the national press.
There is not enough

emphasis on

training to treat men
This had an instant and dramatic effect on the numbers of inquiries and drove more female patients to the clinic. However, Garrett's clinic still has a large number of male clients, and Garrett feels strongly that the industry does not yet understand the potential of this growing market. "There is not enough emphasis on training to treat men," he says. "It's very rare to see a male model on training courses, yet male facial anatomy is quite different to women's. Even the packaging for dermal fillers tends to be in feminine pinks and purples. That has to change as increasing numbers of men seek aesthetic treatments." Garrett is well placed to spearhead a change and his skills have been noticed within the industry. He sat on the Steering Committee for the Aesthetic Nurses Forum, is a UK moderator for Sciton Laser Technology and is involved in Educational Road shows for Q-Med and Allergan. Garrett also teaches other medical professionals to use Allergan's new vicross range, Voluma, Volift and Vobella. And for the future he hopes to teach, mentor and help raise standards.
"My aim for the industry is that we all work together to insist on minimum standards; rather than surgeons, doctors and nurses continually turning against each other on who should be doing what. When we fight the Government sees us as weak. Together we can be strong and take this industry forward as one of excellence and trust."