Miss Priyanka Chadha and Miss Lara Watson discuss their passion for patient safety, explain why they believe cosmetic surgery and non-surgical aesthetics correlate, and explore their joint venture of promoting excellence in aesthetics training.
A colleague and mutual friend once told surgeons Miss Priyanka (Priya) Chadha and Miss Lara Watson that they would never see eye-to-eye because of their competitive nature. However, much to this individual's disbelief, when they met on their first day of foundation training in 2012 it was like 'Love at first sight', laughs Miss Watson. She explains, "I can remember the very moment I met Priya and can even recall what she was wearing! We clicked straight away as we found we had a lot in common, like our aspiration to pursue surgical careers." Since then, the pair have remained firm friends as well as becoming business partners.

Although they are relatively new to the non-surgical aesthetic sector, they have achieved a lot in both their surgical and academic careers so far. Their combined accomplishments include eight degrees, over 50 academic prizes and countless national and international presentations. As junior doctors, they both secured full membership to the Royal College of Surgeons early on in their training and have since founded a successful aesthetics training academy, which received a commendation for the Enhance Insurance Award for Best Independent Training Provider in 2017. It's safe to say that education is more than simply a requirement for the pair, who clearly demonstrate a passion for academia and further education. Miss Chadha jokes, "We're both geeky academics at heart."
So, where did their passions come from? For Miss Chadha, it all started at Imperial College London, where she studied medicine. "I have two older siblings who are also both surgeons," she says, explaining, "I decided to do plastic surgery within the first year of entering medical school, simply because it fitted with me and my personality perfectly." She graduated in 2012 with a distinction in both Medicine and Surgery. After scoring in the top 1% of the country for Core Surgical Training, Miss Chadha proceeded to secure a registrar number with a number one ranking.
Miss Chadha also completed a Diploma in Philosophy and Ethics of Healthcare in 2015, which she says has allowed her to better understand the legalities surrounding consent, something that she has found can be challenging for many practitioners. "I think it's one of the most poorly understood areas within both medicine and aesthetics. Understanding the legalities and ethics around consent is really important – my background in medical ethics and law makes me appreciate that," she explains. Miss Chadha also completed her Master's in Teaching and Surgical Education from Imperial College London, as well as gaining a Diploma in the Ethics and Philosophy of Healthcare.
Miss Watson graduated from medical school in 2012, by which time she had also achieved a Bachelor of Sciences in Advanced Anatomy and a Bachelor of Medical Sciences in research. After discovering she had, "A real draw to surgery of the head and neck" during her foundation training, Miss Watson returned to studying in pursuit of a career in oral and maxillofacial surgery. She has since been awarded a Bachelor of Dental Surgery with Honours from King's College London. Miss Watson describes how she always had an interest in art, which she considers closely related to aspects of surgical practice. "I have a real love of art and enjoy dabbling in figurative sculpture. I actually considered studying the History of Art at BSc level before deciding that anatomy would be a safer choice!" She notes, adding, "I feel that an understanding of artistic principles can really help the training surgeon, especially those working on the head and neck." Miss Watson is now pursuing higher training in her chosen specialty of oral and maxillofacial (OMFS) surgery, having secured the only OMFS-themed core surgical rotation in London, at King's College Hospital.
A few years following their own aesthetic training, the pair were inspired by a sense of duty to respond to a seeming gap in the industry and decided to establish their own training academy. "The conception of our training academy came following a complication that I had, which made me notice that there was really limited support out there when it came to complications," said Miss Chadha. She adds, "I consulted Lara for assistance and we had a really long discussion about the general inadequacy of support for complications in aesthetics and that there was a gap that needed to be filled. We decided to bring a multidisciplinary group of practitioners together who could fill this gap; doctors, surgeons and dentists. We have a lot of support and guidance ourselves from senior colleagues too."

In 2016, the pair launched Acquisition Aesthetics, aiming to assist doctors, dentists and nurses in furthering their clinical education to become more confident in their skills to help promote patient safety and practitioner support. Their team consists of more than 15 trainers, each specialising in different areas, including dermatology, dentistry, plastic and maxillofacial surgery, regenerative medicine, and more.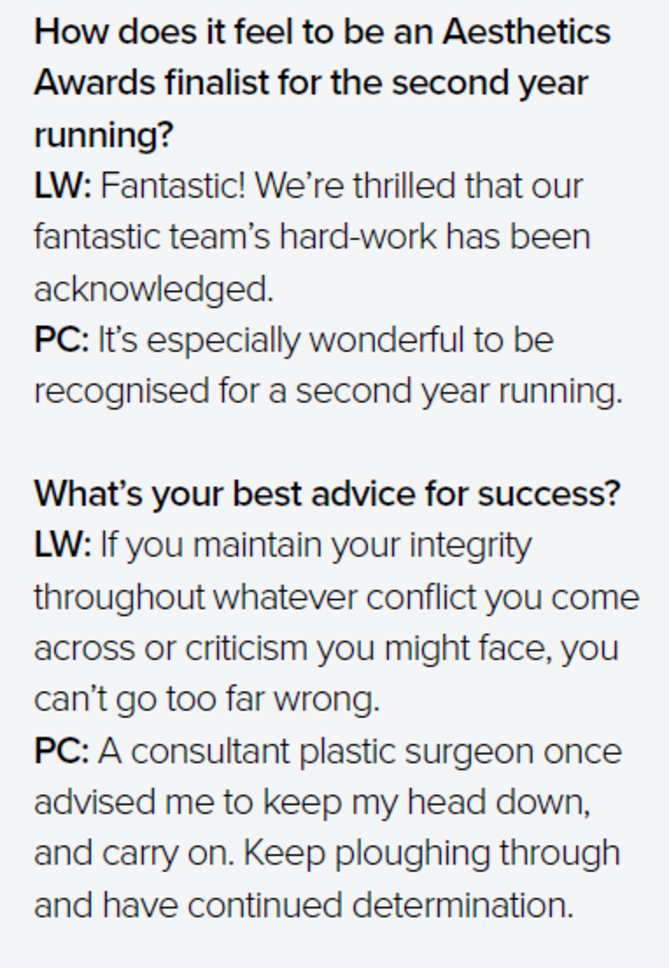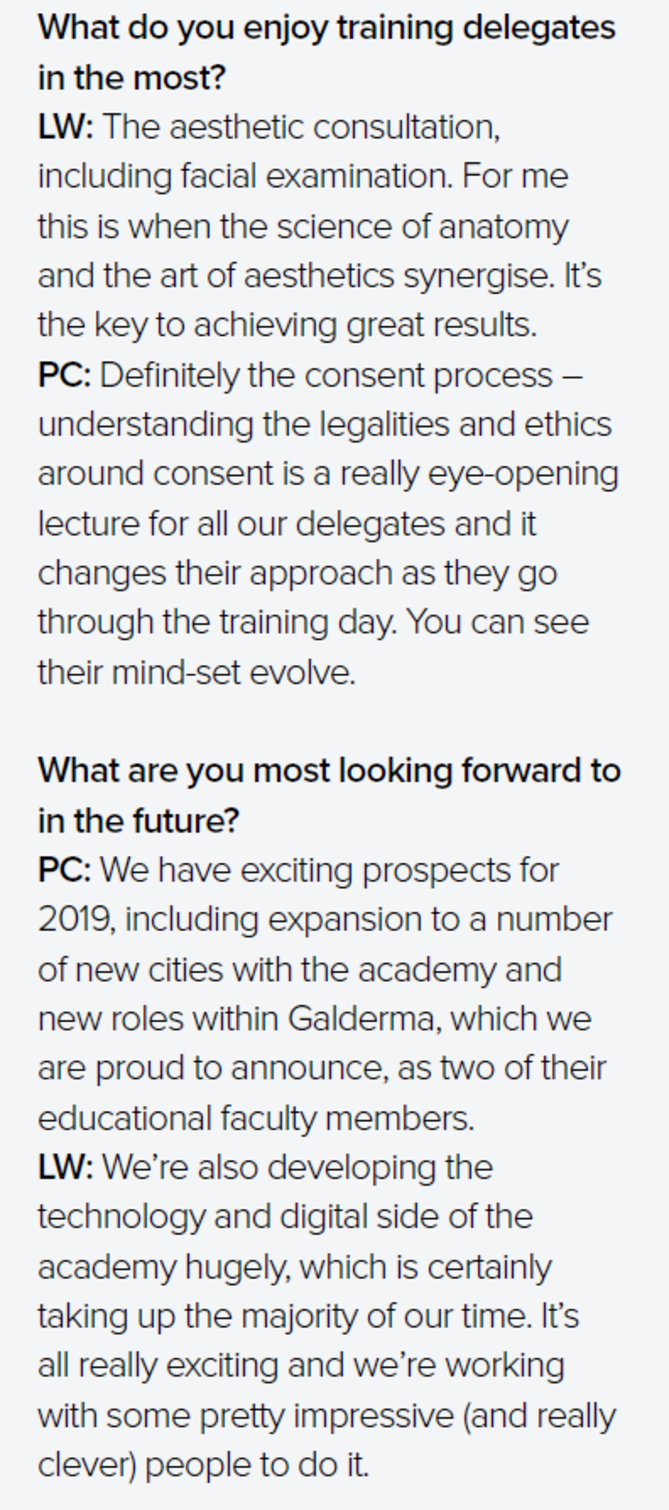 "We have found that people want to be empowered by an in-depth understanding of anatomy and grasp concepts around this really well," Miss Chadha notes, explaining, "At the end of the day that is what leads to safe practice, and I feel like our delegates leave feeling confident that they can deliver safe treatments. They also leave feeling supported, which is one of the principles of our academy and something we have carried through right from the beginning." Miss Watson adds, "One of our aims is to improve the communication and collaboration between the surgical and the non-surgical aesthetic specialties. We believe that better communication between these two modalities could pave the way towards safer practice in the non-surgical sector and perhaps enhanced cosmetic results in the surgical sector. Through our academy we try to incorporate what we have learnt from the surgical side in order to provide a special insight to our training delegates, which includes a strong anatomical focus. We also utilise training methods we have experienced ourselves in surgery to create cutting-edge teaching programmes in aesthetic medicine."
Miss Watson notes that her and Miss Chadha get a real 'buzz' from training, "We love that feeling at the end of a course when we know we have trained an empowered group of people who feel ready to start out in the industry with a set of skills that they feel confident with. We also get comfort from knowing that they are going to deliver beautiful results to their patients in a way that is going to support public safety."
While many practitioners choose to say goodbye to the NHS to pursue private aesthetic practice, Miss Chadha and Miss Watson continue to dedicate the majority of their time to the health service. As well as their academy, the pair have an unwavering commitment to the NHS, although they say that coordinating their commitments can be a challenge. However, Miss Chadha says, "Between the two of us we manage to balance our training commitments on top of our NHS commitments. That said, we are also extremely lucky to have a fantastic group of people who support us at our training academy, from administrative staff to trainers and advisory consultants."
For those looking to succeed in aesthetics, Miss Chadha and Miss Watson agree it's important to never underestimate the depth and significance of learning. Miss Watson says, "One of our mottos is 'knowledge is power', so never stop learning and never stop asking questions. Try not to isolate yourself, join forums and discussion groups, share your ideas and concerns and seek help with difficult cases." She adds, "Get yourself out there. There are so many courses, conferences and opportunities for further learning available to today's practitioners. It's a really exciting time for the aesthetics sector."
While the pair have an extensive education portfolio, they practise what they preach and are continuing to train and learn. When asked about their five-year plan, Miss Watson says, "I will be continuing to train in maxillofacial surgery and hope that Acquisition Aesthetics continues to grow in the way that it has. Looking towards the future, we would love to see the non-surgical aesthetics field more aligned with the surgical field, including enhanced regulation. We very much hope we can be part of that change."
Miss Chadha echoes this vision, adding, "Collaboration is key and when heads are put together, what can be achieved is pretty impressive. Collaboration between surgical and non-surgical aesthetics will contribute to safety and clinical progression in the industry. I also believe supporting peers and new practitioners entering aesthetics would be a really nice thing to see more of."