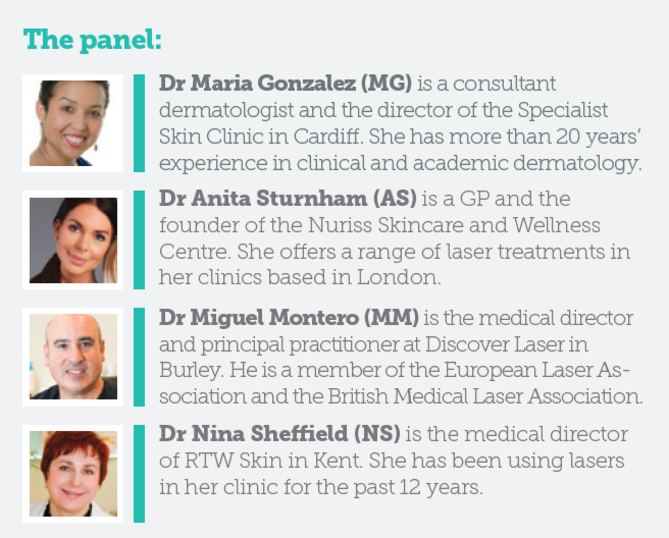 Why do you advocate the use of lasers in your clinic?
MG: In order to achieve thorough facial rejuvenation, you need to get adequate stimulation of collagen and, to do that, you need to wound the skin. I think lasers, in particular non-ablative lasers, are able to do this well and the downtime is not significant. Using lasers is my favourite way of rejuvenating skin because the majority of my patients will get a good result.
AS: Ablative lasers have been shown to be effective in counteracting photoageing through entire epidermal ablation, stimulation of neocollagenesis, and dermal remodelling. The controlled thermal injury to the epidermis and the dermis triggers a wound-healing response. The end result, re-epithelisation and dermal remodelling, leads to smoother, more youthful looking skin.
What facial concerns can you rejuvenate with lasers?
AS: We use lasers to treat acne, rosacea, birthmarks, melasma, photoageing, irregular pigmentation, ectatic vessels and erythema, pilosebaceous inflammation, loss of volume and elasticity.
MG: In my clinic, people fall into three broad categories – those who have predominantly pigmentary problems such as solar lentigines; those who have predominantly facial redness issues, such as telangiectasia or weathering of the cheek area, and then those whose concern is predominantly related to wrinkles.
"Big concerns in my male patients, however, are broken veins, sun damage and rosacea" - Dr Miguel Montero
You may find someone with terribly wrinkled skin and not one pigmented lesion, but then, of course, you can have any of the three mixed up. All patients tend to have some textural problems, slightly rougher skin, and pores that are more open.

MM: Aesthetic concerns often depend on a patient's age group and sex. Men are generally the easier ones to treat as they're not really that worried about having too many lines and wrinkles. Big concerns in my male patients, however, are broken veins, sun damage and rosacea.
For women, they are more concerned with lines and wrinkles, however, very often, they are also concerned with the pigmentation associated with sun damage, redness and broken veins. In particular, I see female patients after or around the time of their menopause as that's when major skin changes generally occur.1
How do you consult a patient prior to a laser treatment?
AS: Prior to performing any laser treatment, we take a full medical and dermatological history, we scan and examine the skin and work hard to understand our patient's agenda.
MG: In my group of patients, who are generally 45+ and less experienced with aesthetic treatments, they want your opinion during the consultation and do not come in demanding particular treatments – I think that's more common amongst younger patients. My patients are open to suggestions of what will make their skin look better. Patients will want to know what results they can expect, as laser treatments are expensive, so the first thing I do is show examples of my own patients who have got reasonable results. They're not stock photos from a company where you never know where they came from; I get permission from my own patients to use their before and afters.
Then we go through a very long information leaflet on all the possible issues around lasers – typical ones include pain, redness, and the fact that pigmentation will darken immediately after treatment. I also always mention the potential for scarring in all laser consultations, even though I've never seen scarring with any of my patients. You have to inform patients of the worst possibilities
MM: We have a discussion of what their problem is and what I think is going to help them make it better. We also plan for possible downtime. Patients can't have treatment if they have an important event coming up as they will need to be prepared for swelling and redness for at least 24 hours.
You also have to discuss their day-to-day lifestyle – people have very active lives nowadays so they can't have a laser treatment and go for a 10K run on a sunny day – that would be an absolute nightmare. You also have to consider things like sports, saunas and swimming – patients may need to adjust their life a little bit when they go to have treatment.
"I never tell patients that they will have one procedure and achieve all of their expectations" - Dr Nina Sheffield
MG: If people are going to bruise they need to know about it in the consultation because bruising cannot be covered up easily; even by the best makeup. For me I think this is the worst side effect for women, even though it's not harmful – you need to tell them what to expect in case they want to take time off work or change plans.
NS: I never tell patients that they will have one procedure and achieve all of their expectations – the response of the skin can be very difficult to judge. If somebody in their late 60s comes to me and has never had anything done before, I can't make them look 20 years younger. You need to repair skin slowly to make it work again.
How do you decide which laser to use?
AS: When considering our treatment options, we assess a number of factors, such as whether we need to be targeting the epidermis or superficial dermis. We consider our patient's skin type, sensitivity, skin concerns, medical history and lifestyle history before commencing laser treatments.
We also consider our endpoint when selecting the laser. For example, we may want to stimulate collagen, reduce pores and outbreaks, and break down uneven pigmentation. The laser is carefully selected considering all of these factors. There are many laser devices on the market. For example, vascular pigmentation and other pigment irregularities can be treated by lasers emitting light at 532, 585, 595, 755, 800, and 1064 nm wavelengths. Lasers emitting 1,320-1,540 nm use intracellular and interstitial water as target chromophores.
Pulsed dye lasers can work well to treat photoageing. I enjoy the multi-functional modalities of the Harmony XL pro, manufactured by Alma lasers. I find this platform allows me to deliver such a broad spectrum of treatments including both ablative and non-ablative treatments.
MM: We should also consider how deep the skin concerns are to decide how to effectively target them. For general rejuvenation in patients who want tighter, fresher skin, I tend to combine IPL with fractional laser for best results. I don't think there's a single tool that will tackle all the concerns in one go.
Very often when we have pigmentation it affects different levels of the skin, so there isn't a single wavelength that is going to tackle those concerns. There are also different degrees of redness and wrinkling. Unless you are able to tackle different layers you are not going to be able to deliver a good result.
"I think you get excellent results with non-ablative devices with shorter downtime" - Dr Maria Gonzalez
I am currently using the fractional non-ablative ResurFX by Lumenis as it allows me not only the flexibility to select the energy, shape and density of every shot, but the non-sequential scanning keeps the skin protected, allowing the minimal downtime that our patients demand nowadays, while still delivering good results. I find the results I am getting are very similar to those shown in published papers – so in my opinion the claims the company makes are based on very good science.
MG: My personal preference is to use the targeted treatments for pigmentation – I think you get excellent results with non-ablative devices with shorter downtime. For more weathered skin types, you have to address the telangiectasia as that is usually their main problem. My first choice for this would be a pulsed dye laser, however IPL is also useful – obviously it's not a laser, but it can be used for pigmentation as well. Wrinkling is a difficult one and much harder to treat with lasers. In my opinion, you have to use an ablative laser or you won't get very far.
What does treatment involve?
NS: Before treatment we find out if patients are prone to cold sores or viral infections and prescribe anti-viral medication for five days prior to treatment as it may risk further infection if treated with a laser. Then on the day of treatment they come one hour earlier than the appointment, so we can apply numbing cream and take pictures from different angles before the procedure begins. You could apply a nerve block but, to be honest, after doing this procedure for many years, I find that numbing cream works as well as any nerve blocker.
In my clinic, the Madonna eye lift for periorbital resurfacing is popular. Lower parameters on the DEKA laser can be used to achieve good results following three treatments. Around the eyes, the procedure takes about half hour, while full face rejuvenation takes about 45 minutes. Treating the periorbital area can be a little bit fiddly – practitioners need to be more careful and precise. The procedure is not pleasant but it's not painful; patients will feel a little pin-prick sensation. Immediately after, they will feel a sunburn sensation and tightness around the eyes so we should warn them to expect this, as it will last about 90 minutes to two hours.
What pre-procedure preparation do you recommend?
AS: Skin will typically be prepared with four to six weeks of cosmeceutical grade skincare, prior to having laser treatment, to ensure optimum safety and results. We advise our patients to have a consistent skincare regimen and encourage them to use products that start to target their areas of concern.
"We advise avoiding sun exposure prior to any laser treatment and throughout their treatment course" - Dr Anita Sturnham
For example, if we are treating hyperpigmentation, we would encourage bi-daily use of a serum rich in pigment stabilisers, such as alpha arbutin or L-ascorbic acid. A good quality SPF product – minimum SPF 30 – is essential for daily use and adding in a night product, ideally with retinol will be beneficial. We advise avoiding sun exposure prior to any laser treatment and throughout their treatment course, and certainly look to stop sensitising skin products in the days leading up to the laser treatment.
MM: Vitamin A can sensitise skin to lasers so I recommend patients stop using it a couple of days before a laser treatment.
MG: Usually I don't mind what people are using up until the day. I don't stop people using retinoid cream because they are likely to have been using it for a while so, in my opinion, when they show up to me it doesn't really matter. My main advice is if they were never using sun protection, then they should start using it. We will have to delay treatment if they have a tan.
NS: If skin is sun damaged, not very elastic, has lost tone or has very little texture, then we advise them to use prescribed products. They will be on this product for at least four weeks prior to a resurfacing procedure. Ensure skin is cleaned properly and all makeup is removed prior to treatment.
Choosing a laser can be difficult. What should practitioners look out for in clinical studies and are there any other key considerations they should make?
AS: Clinical studies provide useful data and enable clinicians to practise evidence-based medicine. In order to assess
the relevance of a study to your patient demographic,
you should identify the study population used. Are the patients in the study similar to your own patients in terms of demographic, skin type and skin concerns? Assess factors such as the method in which patients were recruited, dropout rate and look at the study design.
Identifying possible sources of bias is also essential to establishing
the validity of a study. It is useful to assess the outcome measures and whether these were statistically significant.
MG: It's important to make sure that the paper you're reading isn't just sponsored by the company itself. Also consider the number of studies – sometimes studies are not reproducible so you can't rely on one study. A year on after you bought the system there could be two or three studies pop up that don't match the original results. If you can get data from more than one unbiased study that would be helpful.
MM: I'm looking for two types of results – clinical papers based on good science on how results are achieved, but also papers based on real experiences in a case series; practitioners who have been treating patients for eight months to a year and then reviewed and compared all of this data, are useful.
NS: In addition, I'd recommend considering the cost of servicing for the type of device you purchase, as lasers should be serviced regularly.
What results can patients expect to see?
MG: I think you really need to wait four to five weeks after a facial rejuvenation treatment to see the best results. After a treatment for telangiectasia, it looks like nothing has happened at first and then four weeks later there's suddenly a big improvement. Patients need to be realistic about how long to wait before they see results. For solar lentigines, lasers are brilliant because they just flake off and then they're gone.
MM: For epidermal pigmentation, you could see results after one treatment as it's very easy to target. For deeper pigmentation or rosacea, it could take three to four treatments. For concerns such as lines and wrinkles that require collagen stimulation with fractional lasers, the average number of treatments in my clinic is four, based a month apart.
You can never say you will see 100% improvement – results can vary depending on pre-existing skin conditions, severity of concerns and the age of the patient. In my experience, though, about 80-90% of patients are satisfied with results. I believe this is based on managing their expectations in the consultation. I tell them that this is never going to have the same effect as plastic surgery; we're also never going to cure any disease. Having a frank, honest conversation about what is achievable with a laser is important. If you undersell and over deliver then you're onto a winner – patients will generally be very satisfied with results.
What about aftercare?
AS: Sun avoidance and a good quality SPF are essential. We encourage continuing the cosmeceutical skincare programme throughout the laser programme. Depending on the type of laser used, some products such as alpha hydroxy acids, beta hydroxy acids and retinol may be stopped for a few days post-laser treatment and replaced with very gentle emollient-based products instead.
MG: I usually ask patients not to use any of the things they use normally for three days after non-ablative treatments such as glycolic or salycylic acid. I recommend using only bland emollients; honestly, they can just use E45 cream. For ablative treatments, they can't use anything until the skin has actually healed, which can be about a week later. I've never found patients were missing out on using a more expensive 'post-laser' cream. E45 is easy to use and people know it – they don't have to look very far to buy it either.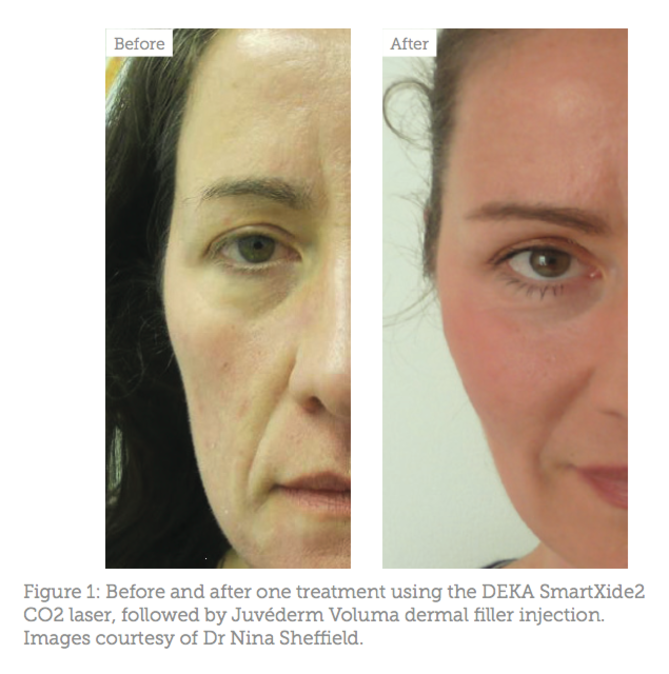 MM: We work with AesthetiCare and use the Heliocare suncare range which I find really good, as the products can be used on very different skin types. I also recommend vitamin C and retinol products, in association with a glycolic acid wash. I'll tailor a skincare recommendation to each individual patient post laser treatment.
NS: We supply patients with an aftercare kit which will include sterile wipes and moisturising cream. We also invite them back to clinic for a complementary hydrating facial – offering them a bit of pampering after the discomfort of the procedure and to give back moisture to the skin. As well as this, it helps for us to remove the tiny flakes as their skin rejuvenates, as I really don't want patients to pick and remove them themselves.
What side effects/complications could occur?
MM: You can risk damage to the deep tissue, causing deep pitted scarring – although this has never happened to me. Darkening of pigmentation can be an issue for a few days. There's also a risk of blisters and burns so it's important to cool the skin. The erythema and swelling can last about 24 hours but in some patients, it may last a little longer. It's vital that practitioners learn how much energy you can apply to a particular skin type, although this is something that is becoming less of an issue the more patients we treat with fractional laser.
NS: Usually complications are avoidable if the proper consultation has been done and a proper medical history has been taken. Practitioners should first check skin types as some lasers are not suitable for darker skin. For example, if you use an alexandrite on a Fitzpatrick skin type V then you are likely to burn the patient.
Some patients may be on medication that could be photosensitive leading to burns, so it's important you have all their medical history correct. Some patients may forget to tell you what medication they're on or be embarrassed to tell you that they take recreational drugs such as cannabis, which could be photosensitive and lead to a burn.2 You should also avoid treating over moles as we don't want to disturb or irritate them.
MG: For ablative lasers you shouldn't even treat patients under three to four months from their first treatment – that tells you how long it takes the skin to completely settle.
For practitioners starting out, what advice do you give?
MG: The key point is knowing how to assess photoageing effectively. When you can do that you can recommend the appropriate laser for that presentation on that particular day.
MM: My best tip for new practitioners is to think of layering and combining treatments for best results. We have to get better at combining treatments to deliver the best outcomes for our patients.
NS: Getting your website right is also important – ensure you describe and promote your treatments appropriately in a way that patients will understand. I try all treatments in my clinic – I know exactly how it feels and the outcome you can expect. This means that I am sympathetic to the patient's discomfort. Patients can see my before and after pictures as well.
MG: I would add that, generally, the protocols set by the laser manufacturer are meant to guide you, but you should develop your own approach, based on safe practice. Use more than just what you see – for example, I find that with my Q-switch laser, I also listen to the sound of it as you find it tells you when you are being too aggressive or when the skin type is not appropriate. Use all of your senses to ensure that you are getting the best results and that the patient is safe.