Non-surgical procedures comprise 90% of all cosmetic surgery treatments in the UK, and are worth more than £2.75 billion.1 Two of the most popular are dermal fillers and botulinum toxin, thanks in large to celebrity endorsements, high patient satisfaction and low downtime associated with the treatments. The fact that minimally-invasive procedures such as fillers remain mostly unregulated means consumers can find a practitioner performing injectables on almost every high street – and a saturated market makes it harder than ever to stand out from the crowd.
So, it's increasingly important that aesthetic practitioners promote themselves, their services and products in the best and most effective way. When it comes to marketing dermal fillers and botulinum toxin injections, doing so involves a certain amount of due diligence to ensure practitioners comply with a series of standards that are in line with General Data Protection Regulation (GDPR), as well as advertising guidelines. This article will focus primarily on best practice guidance for content marketing, however to find out more about compliance with GDPR, regulation around data you hold and who you can market to, readers should visit aestheticsjournal.com/hub/GDPR.
Legal minefield
"There is governmental guidance and there is also guidance published by individual professional bodies," says director of Kendrick PR, Julia Kendrick, adding, "This is one of the things that makes marketing injectables a bit overwhelming when you're starting out." The governmental guidance to which Kendrick refers is the Blue Guide: advertising and promotion of medicines in the UK, published by the Medicines and Healthcare products Regulatory Agency (MHRA). The most salient aspect of marketing injectable procedures is laid out in this guidance; namely, the prohibition of 'the issue of any advertisement wholly or mainly directed to the general public which is likely to lead to the use of a prescription-only medicine (POM)'.2 Thus, advertising botulinum toxin – a prescription injectable – to patients is against the law. "Yet, some practitioners are very overt about promoting botulinum toxin, and even advertise deals like three areas of toxin for a certain price – and that directly contravenes the advertising regulations," Kendrick adds. "The term 'Botox' has slipped into the collective conscious, and people fall into the trap of talking about botulinum toxin in the same way they talk about non-prescription fillers." Sanctions for breaching this rule can include a fine and even a custodial sentence for severe breaches.2
No such stringent advertising regulation is in place for non-prescription injectables, which is arguably both a blessing and a curse. The risk of an advertising transgression is significantly reduced, but there exists a host of more general statutory, regulatory and ethical requirements practitioners must adhere to.
Background reading
When planning a marketing strategy for injectable procedures, the professionals interviewed for this article agree that practitioners should first read up on all available guidance. "I would advise people to read the Blue Guide in the first instance, as well as guidelines set out by the relevant professional bodies," suggests Steve Joyce, marketing and technology director at Healthxchange Pharmacy. The latter is the General Medical Council's Guidance for doctors who offer cosmetic interventions3 (for doctors); a series of best practice guidance published by the Nursing and Midwifery Council4 (for nurses); and the Guidance on advertising5 from the General Dental Council (for cosmetic dentists).
In addition, Joyce recommends that practitioners familiarise themselves with the UK Code of Non-Broadcast Advertising and Direct and Promotional Marketing, known as the Committee of Advertising Practice (CAP) Code,6 which outlines rules for marketing communications and is enforced by the Advertising Standards Authority (ASA). Undoubtedly, this is a lot of information to take in, but according to Kendrick, it largely comes down to a simple principle. "The rule of thumb is that, as practitioners, it's important to strike the fine balance between education and promotion," she says.
Different channels
A successful strategy for marketing injectable procedures will most likely incorporate a number of different platforms, including direct mail and print advertising, but for most practitioners, it will focus on digital marketing. "You have to adopt a multi-channel approach to communications and marketing and that usually includes website and social media, most commonly Facebook, Twitter and Instagram," says Kendrick. "It's practical for practitioners to be active on those sites because that's where their target customers are most likely to be looking for them." Maintaining a consistent profile across all channels is crucial to get your name and your services out in the public domain, she adds.
For some clinics, developing a strong social media following and using it strategically to showcase the injectables they offer can directly drive custom. But for Dr Bhavjit Kaur, medical director at the Health and Aesthetic Clinic, the benefits are generally further reaching. "It might not bring people into your clinic but it does help to create brand awareness, and that's why it's important to invest time, however busy you are, to build a following," she says.
Social media is a good platform to market injectables, not least because you can showcase products and procedures in an easily accessible format – and for free – to a potentially unlimited audience. The drawback is that, unlike marketing to your own database of patients, you don't know who is viewing the material. "With social media, you need to be aware of the breadth of the audience, which means giving consideration to the fact that it may include vulnerable people," Joyce points out.
In the same way, Joyce advises, practitioners should avoid marketing fillers and other injectables with the use of offers and deals, and avoid selling procedures on deal sites like Groupon because of the risk of trivialising such treatments. In fact, Sir Bruce Keogh, in his Review of the Regulation of Cosmetic Interventions back in 2013, said, "The use of financial inducements and time-limited deals to promote cosmetic interventions should be prohibited to avoid inappropriate influencing of vulnerable consumers."7 Promoting time-limited offers is also in direct contravention of the CAP Code,6 because, as Joyce highlights, "It may well encourage an ill-considered decision to proceed with treatment or otherwise be seen as targeting vulnerable people."
More than words
The language of advertising and marketing is crucial in any industry. The words and phrases you use must not only get across the message you want to convey, but do so in a responsible way that makes you as a practitioner stand out from the crowd. "In marketing, it's not about what you want to say; it's about what your audience wants to hear," says Dr Kaur. "With injectables, it should be educational rather than salesy. The criteria for advertising should always be to give people information so they can make an informed decision."
Importantly, consumers don't want to get bogged down in technical language and jargon – and that's where some marketeers may be going wrong, Kendrick says. "A lot of practitioners are very good at providing that clinical element – the function of the product – but in fact that's not what consumers want to hear," she points out. "Most people don't want to know details about the depth and size of the needle, and neither do they want a product that will 'banish wrinkles' or 'turn back the clock'. More and more these days, patients are not looking for those extreme results; they want a more subtle look." The language used in marketing injectable procedures ought to reflect that, Kendrick says. She recommends using softer, more aspirational language that describes, for example, a 'well-rested' and 'refreshed' look.
Moreover, she says, by the time a patient walks through the clinic doors for a consultation, they will have already chosen the practitioner they want to use, based on the marketing they've been exposed to in the lead up to that point. "All of the language they will have seen before they actually get to talk to the practitioner is the important thing, because that's what makes them decide to choose one over another," Kendrick says. "So the language people use in their marketing is really important; if it's not tailored in their marketing and it's not applied consistently across the channels, it won't have the impact with people who are at the stage of thinking about the treatment."
Joyce's advice is to keep it simple. "Use of clear English is important. Avoid jargon, exaggeration and hyperbole, and be very factual," he says, adding, "If there is clinical data, it's good practice to present that as graphs and images, as they can be helpful in that regard."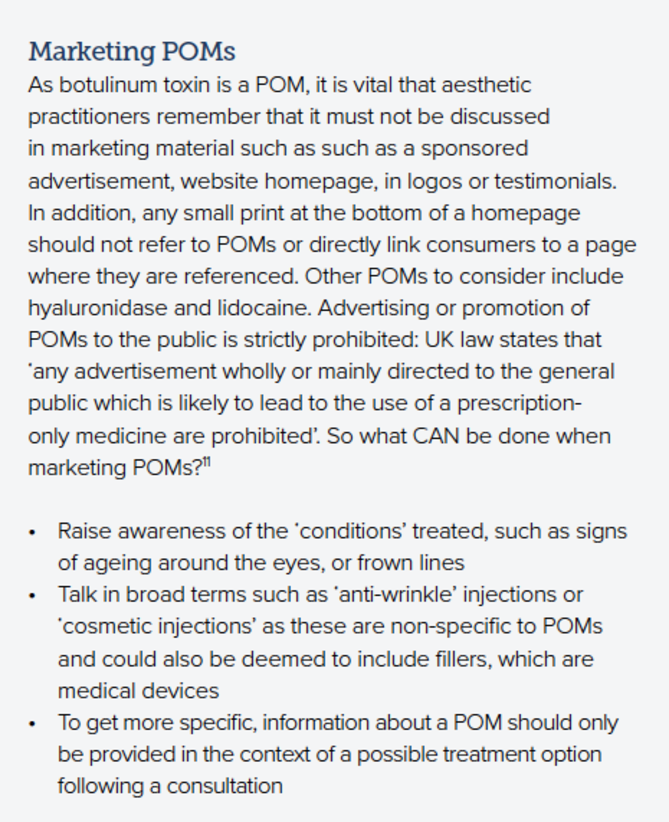 Picture this
Undoubtedly, one of the best methods of marketing procedures like dermal fillers and botulinum toxin injections is to visually demonstrate the results they can achieve. Use of before and after images is the perfect way to do this. But there are a number of precautions to bear in mind to avoid falling foul of advertising regulations. The CAP, the ASA's sister organisation that is responsible for writing the Advertising Codes, has an online advice section dedicated to appropriate use of before and after photos in advertising.8
On the issue of consent, it's essential that you hold signed, dated proof that the patient agrees to you using their photographs for the purposes and under the terms set out in the agreement.8 As of May 2018, any data you hold on a patient, including photographs, must also comply with the General Data Protection Regulations (GDPR).9
Once consent has been dealt with, first and foremost practitioners should ensure that photographs do not exaggerate the efficacy of a product. As Kendrick points out, a set of photos doesn't have to be deliberately or maliciously deceptive to be misleading: it could be that the lighting or angle of one image is subtly different or that the patient is wearing makeup in one photo and not the other. "It's crucial that you take the time to ensure the before and after photos are as similar as possible, and that includes making sure they're properly aligned and consistent," she says.
While editing of photos to enhance the results of a procedure is prohibited,8 some digital manipulation is acceptable, Joyce says. "You can use Photoshop to anonymise a photo, for example to block out the eyes, but you should always make it clear that it has been altered to protect the anonymity of the patient," he comments. It is also permissible to edit some elements of a photograph to make before and after images consistent, so long as it does not in any way overstate the results of the treatment; an example might be to edit out a necklace. In terms of production techniques, CAP counsels against 're-touching related to any characteristics directly relevant to the apparent performance of the product, for example, removing or reducing the appearance of lines and wrinkles around the eyes for an eye cream advertisement'.8 The professionals interviewed agree that the same would hold true of an injectable treatment.
They emphasise that it's crucial to make clear that every patient is different; while the images you use in marketing injectables can demonstrate the results in one patient, those results might not be replicated in all patients. Similarly, Kendrick advises that practitioners should give careful consideration to the end result they want to convey in an 'after' image and says it's a good idea to think about your audience. "You often see Instagram awash with images of over-inflated, glossy lips taken straight after they've been injected, for example," she says. "If your patient demographic tends to prefer a subtle look, then you'd probably want to avoid using photographs taken immediately after the treatment, when there might be initial post-procedural swelling." Instead, opt for follow-up photographs taken a week or two later, and captioned as such, when the swelling and bruising has gone down, to give a realistic expectation of the longer-term result, she adds.
Dr Tom van Eijk, who runs an aesthetic clinic in the Netherlands and teaches courses on injectables internationally, agrees and says that the simple rule of thumb is to ensure before and after images strike a chord with the audience. "I think the best before and after examples are the ones that patients can relate to," he says. "Most of my patients are looking for natural results. They're of real people – nothing dramatic – but faces you can relate to and results that are discreet."
Using videos
Some practitioners choose to include video footage of injectable procedures in their marketing materials. "In my experience, video creates a lot more engagement on social media and generates a lot more clicks and views than still images," Kendrick says, adding, "So if they're done in the right way videos can be very effective marketing tools." As well as giving consent to having their procedure filmed, and to the practitioner using the footage for the purposes of marketing, Dr Kaur suggests the patient should be able to view the video themselves before it's uploaded. "It's good practise to make sure the patient is happy with the video and what is shown, and having them give consent after seeing the film gives another layer of protection," she says.
Moreover, practitioners should take appropriate steps to maintain the patient's dignity. This extends beyond simply ensuring that intimate areas are covered and patients cannot be identified, and includes behaving in a professional manner while being filmed. In the US, a medical practitioner is facing complaints from more than 100 women, after she uploaded videos to promote her procedures and clinic to YouTube showing her dancing and rapping during surgical procedures. At least three women have claimed they suffered complications because Dr Windell Boutte did not pay appropriate attention while they were on the operating table.10 "Videos must be within the bounds of education; they should not be used as entertainment," Kendrick says. "Practitioners must give due clinical deference to the content of the video, and remember first and foremost that they are clinicians," she adds.
Similarly, it's good practice to avoid using videos that are gratuitously graphic, adds Joyce. "Videos are useful to help convey what will actually happen during a treatment, so they should be factual in nature and not sensationalise the procedure," he says. If a filmed procedure is graphic in nature, it's important to include warnings on the video. Putting yourself in the shoes of the patient viewing the video can help give you perspective on what you're sharing, says Dr van Eijk. "As normal as it seems to us as doctors, remember it is perceived as creepy to put a needle in someone's face by the general public," he comments. "For that reason, I personally limit the intensity of the procedure footage within marketing in order not to scare anyone," he adds.
Top tips for marketing success
These days, injectable procedures are common, so when it comes to marketing, it's not sufficient to simply focus on the product, according to Kendrick. She says, "That is not enough to differentiate you or your clinic; you need an educational and informative piece about which products you use and why, but I would always counsel practitioners to put time and effort into developing messages that truly set them apart from the competition." According to Dr Kaur, it all boils down to marketing yourself as well as the products and procedures. "If you are able to instil confidence in the public that you are properly educated and trained, take appropriate precautions and can manage complications if they happen, your patients will then know they can trust you," she says, concluding, "Your accreditation, reputation, passion, awards and reviews – they are all more important than good photos and a strong social media following, because that is what makes you different from everybody else."