Karen Betts details how medical tattooing can help build the confidence of people affected by facial deformity and shares some of her most successful case studies
Medical tattoo treatments
Occasionally people experience an event in their life that results in a change to a feature in their appearance. Some may have a medical condition, or the results of a medical condition that has affected their appearance, and they have a desire to improve this aesthetically. Medical tattooing, an advanced form of cosmetic tattooing, is an option that can facilitate a desired change or restoration of appearance. It works hand-in-hand with the plastic reconstructive industry. Firmly established as being part of the medical aesthetics genre, medical tattooing offers a range of treatments for people who have experienced medical conditions including:
Enhancement of lip symmetry due to a cleft lip

Restoration of the areola complex

Restoration of the appearance of hair loss due to alopecia (includes restoration of eyebrows, eyelash definition, simulation of scalp hair)

The diminishment of the appearance of scar tissue due to skin trauma, including burns

Vitiligo colour restoration (typically very minor areas and most successfully performed on lips)

Treatments are carried out using a computerised permanent cosmetics device, which has individual programme settings. Using advanced technology, these settings accommodate specialist needle configurations and automatically adjust needle speed and frequencies. This is crucial when performing medical tattooing treatments to suit the different structure and tolerance of the skin. All pigments used in the field of permanent cosmetics and medical tattooing are produced under extremely tight guidelines to ensure they are of the highest industry standard and quality. They use medical technology to ensure they are more hygienic, cost effective and altogether safer for performing treatments and adding colour in to the skin. A permanent cosmetic artist must be professionally trained by a reputable company who specialise in the field of paramedical permanent cosmetics in order to carry out medical tattooing treatments.
In this article I focus on two frequently requested medical tattoo treatments; the improvement of the appearance and symmetry to a cleft lip, and the restoration of eyebrows on a burns victim.
It is important to note that in both of the following case studies I performed a consultation prior to the treatment to determine patient expectations, to ensure that there were no further surgeries scheduled, that the skin was healthy and that there were no other medical contraindications.
Case study one – cleft lip
Cleft palate affects 1 in 700 births worldwide.1 It occurs when the two plates of the skull that form the hard palate (roof of the mouth) are not completely joined, and in most cases, a cleft lip is present.2 The appearance of cleft lip can affect a person's confidence throughout their life.
Medical tattooing can serve to improve the appearance and symmetry of the lip, which in turn helps diminish the visual effects and promotes a new found feeling of self-assurance. I believe cleft lip treatments to be one of the most challenging and rewarding treatments in the medical tattooing industry.
Patient A was born with a cleft lip. It affected her confidence throughout her life, but through medical tattooing treatment I was able to improve this by altering the appearance and symmetry of her lips.
The first consideration for Patient A's treatment was the pigment colour; it's incredibly important to select a colour that blends well with the patient's own natural lip tone (Figure 1). This can provide an improved shape with the same or similar colour. Next, I considered an appropriate approach to drawing the new lip line and the various techniques for achieving the appearance of symmetry (Figure 2). Once I have established a template (using a conventional lip pencil) and confirmed the symmetry, the line was lightly tattooed into the skin using a gentle pressure (Figure 3).
Needle selection is a critical consideration for any treatment. Initially, in order to work through scar tissue I selected smaller needle groupings; the smaller the needle the more crisp the result. I used a '3-micro' needle which enabled me to create a fine line. The finer the line, the less noticeable the tattooing will appear. I then used a '9-magnum' needle, which has a larger needle grouping to give softer results, for the blending in of the full colour of the lips inside the parameters of the new lip contours.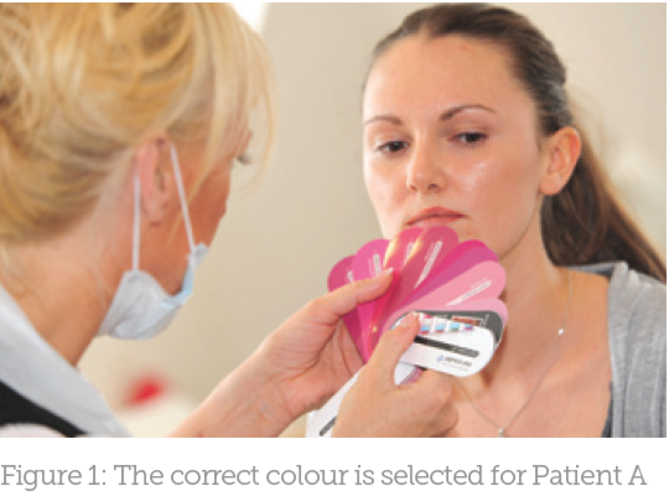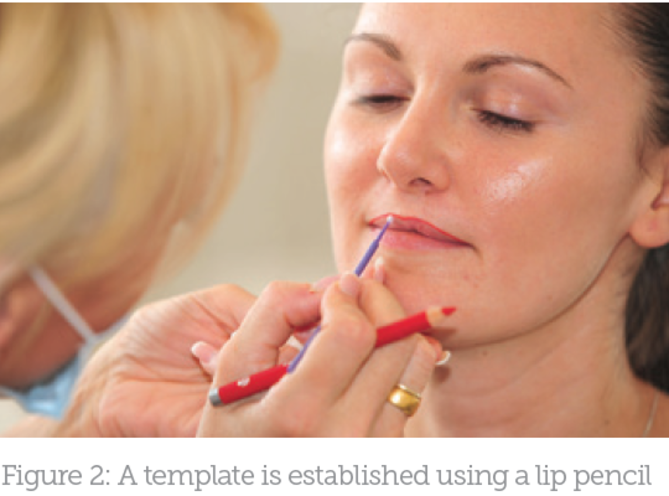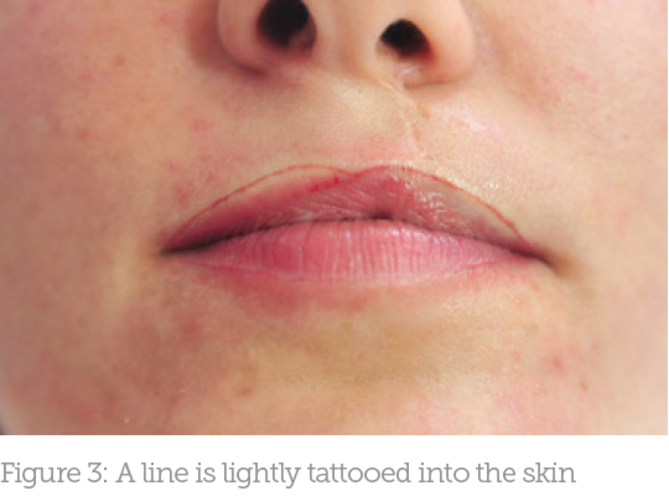 The speed in which the hand moves is very important; the slower the hand speed, the more consistent the pressure will be on the skin, whereas a firm stretch will result in more even distribution of pigment. I used tight circular motions close to the template line that was drawn on the skin above the patient's natural lip line, throughout the treatment I performed routine checks for the boundaries established. This was to ensure the shading movements were placed adjacent to the border of the newly tattooed lip line. Accuracy and attention to detail is of paramount importance. Once the treatment was complete I took photographs to compare the before and immediately after and ensure the treatment was aesthetically agreeable for Patient A.
At this juncture Patient A was provided with detailed aftercare instructions to optimise the healed result including the use of a barrier cream healing balm to keep the area moist and hydrated, as the area tends to exfoliate and peel a few days following the treatment. A top-up appointment was scheduled for 45-60 days post procedure. As illustrated in Figure 4 the visual appearance of Patient A's lips was dramatically improved.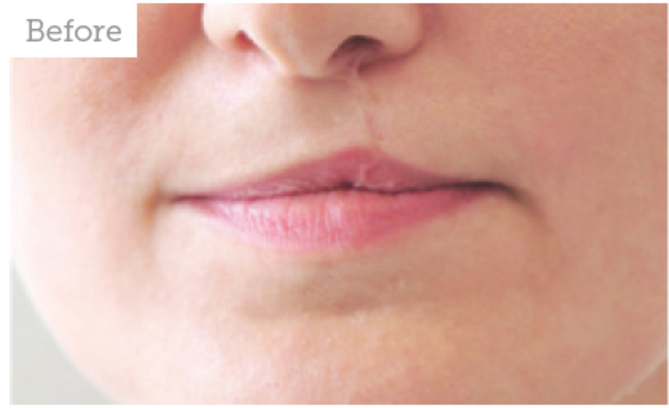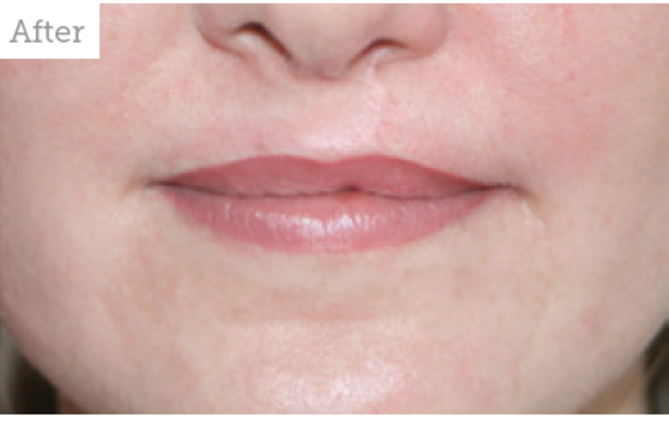 Patient A's response to her new appearance was extremely positive. She said the treatment had 'changed her life' and she had become much more 'confident and happy when meeting new people'. Some complications can arise following medical tattooing, but as long as the skin being tattooed is healthy and any surgical treatments are well healed with a doctor or medical practitioner's clearance to proceed, complications are not anticipated. There is always the possibility of a herpes simplex virus 1 (HSV-1) breakout when tattooing the lips. If that were to occur, the patient would be advised to see their general practitioner for direction and medication. Additional medical tattooing treatment(s) to achieve the desired density and consistency of colour over the scar tissue may also be needed – this is determined at the top up appointment. Scar tissue can be unpredictable when it comes to retaining pigment, which is why a second application is always scheduled to fine tune the colour and add more pigment to any areas that may have healed unevenly. Generally, a review is not needed for another 12-18 months following this.
Case study two – burns patient
The next case study is Patient B, who was 10 years old when she was in a plane crash that killed her family and left her with severe scarring. Skin that has been burned must be evaluated to determine what needle grouping and pigment colours will accommodate the texture of the scar and the temperature of the skin colour. Most patients have a 'cool' skin undertone (placed further along the Fitzpatrick scale). But once burn damaged, the temperature is even cooler and pigment will appear differently through the scar tissue.
It is vital to understand the history of the scar treatment received and the degree of the burn, and whether any further treatments are planned. Patient B received second (injury extending into the underlying layers of the skin) and third-degree (injury extending to all layers of the skin) burns to 45% of her face and body. She has had more than 50 operations since the plane crash; including surgery to separate her fingers where the skin had melted, fusing them together, and pins to straighten her bones.
Having experienced body image distress for many years Patient B decided she would like her eyebrows medically tattooed.
I worked with Patient B's medical care providers to understand as much as possible about her medical history, and with the information I was able to devise a suitable plan for Patient B's treatment. When treating scarred skin it is always crucial to manage the patient's expectations. I always advise that they may need more than two sessions and that some areas of the damaged skin may never hold pigment. The same applies to burn survivor work; it's important not to over-promise and to always be realistic with the probable results that can be achieved. I always consider the language I use, the questions I ask and how I proceed with each and every treatment. With this in mind, the following considerations were taken into account for Patient B:
Burns survivors all experience different levels of body image distress which may involve grief, sadness, anxiety and worry. All these feelings are normal but don't assume you know what they are feeling.

Do not ask intrusive questions: remember, the patient may not wish to discuss or explain what happened to them.

Give the patient time to get used to the area where you have drawn the template before you start the treatment. Take into consideration that this may be an emotional experience for them so leave yourself plenty of time for the consultation and aftercare.

For any type of scarring, a skin needling procedure is recommended. Skin needling can soften and reduce raised scars and provide a number of benefits to skin that has been traumatised.

The treatment entailed the following:
Selecting a pigment colour appropriate for Patient B's skin undertone and desired result.

Drawing an eyebrow template design that would be followed during the tattoo procedure.

Selecting an appropriate size needle grouping to ensure proper penetration through scar tissue; remember, smaller needles can penetrate the skin better if there is obvious scar tissue, however, some scar tissue can also be fragile as the structure of the skin is unstable, and this would warrant using a larger needle causing less trauma to the skin.

Tattooing the eyebrows in a natural, realistic pattern using a hairline stroke technique.

Following the treatment I checked Patient B's eyebrows for symmetry and shading coverage. The eyebrows were then photographed and the before and after results were compared (Figure 5).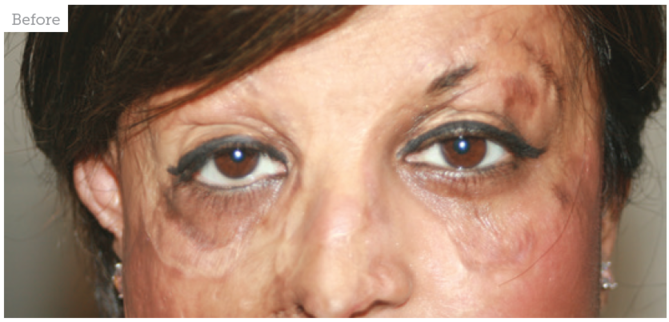 As with Patient A, aftercare instructions were provided with a companion aftercare product to enable the area to heal, and a top-up appointment was scheduled for 45-60 days post procedure.
Follwing her eyebrow treatment Patient B had two more medical tattooing treatments: eyeliner and her nipple and areola. Patient B was extreamly happy with the results, saying she couldn't 'believe the transformation' and that her eyes 'look so much more lifted and the eyebrows help express emotions' now.
As previously expressed, some complications can arise with medical tattooing treatments. For burns patients the hairline eyebrow strokes can blur due to the condition of the skin, it can sometimes even exfoliate out completely. Although medical complications are not anticipated, if healing was delayed or the area required medical attention, the patient would be advised to see her general practitioner. For any type of scarring, I always also recommend a skin needling procedure. Skin needling can soften the whiteness of scarring through the introduction of natural melanin, reduce raised scars and provide a number of benefits to skin that has been traumatised.3
Conclusion
As you can see from the case studies outlined, medical tattooing has benefits on many levels for different people. It is not just skin deep; it's about giving people back their confidence and boosting their self esteem. Medical tattooing is a passion of mine and I feel honoured that my skills in this area enable me to work with medical patients and support chosen charities, helping people affected by cancer and those living with altered facial appearance.