Natali Kelly discusses how to rejuvenate the skin and treat acne scarring using a microneedling device in combination with stem cells
The skin is the body's largest and fastest growing organ and the advancements in the aesthetic industry have given rise to consumer demand for skin rejuvenation treatments. Treatment for acne remains a common request, as the prevalent skin condition is said to affect between 70-96% of individuals.1 Although acne scars can be largely preventable, once the scarring occurs, a patient's quality of life can be greatly impacted. In my clinic we are seeing an increase in patients seeking treatment to improve scarring and their wellbeing.
In this article, I shall be discussing how using a microneedling device along with a plant stem cell serum can help to rejuvenate skin and improve the appearance of acne scars.
Microneedling and stem cells
The advantages of microneedling were first observed by Dr Andre Camirand in the 1990s, who experimented by treating post-surgical scars with a tattoo gun; this was further developed by Dr Des Fernandes who introduced skin needling using a roller in 1996.3
Microneedling can be used to treat a number of skin complaints, including pigmentation, wrinkles, acne, scarring and stretch marks, and is also known as 'collagen induction therapy' for skin rejuvenation.4 It is a minimally invasive treatment that causes controlled micro-injuries to the skin to stimulate new collagen and elastin in the reticular dermis. This natural wound-healing process involves activation of neutrophils and the release of cytokines and growth factors that stimulate fibroblast proliferation, re-epithelialisation and collagen remodelling.5
In my opinion the popularity of automated needling devices reduces the risks of trauma and scarring often caused by handheld devices and human error. Vertical needle insertions can reduce pain and create hundreds of micro channels, enhancing the delivery of topical serums. Microneedles have been used in transdermal and dermal drug delivery for more than a decade.6
Stem cells contain growth factors that may help to heal wounds, repair damaged tissues, regenerate aged skin, and reinvigorate growth of skin, hair, nails, and mucous membranes.7 There are various types of stem cells, including human stem cell-conditioned medium, and plant stem cells. However it is worth noting that only patented plant cell activators are scientifically proven to stimulate dermal cells.13 This combined treatment is an emerging antiageing treatment and recent studies suggest that, statistically, there is significant improvement in hydration, melanin, skin texture, dermal thickness and collagen, compared to microneedling alone.8,9
Microneedling using plant stem cells can be used to treat the face, neck, décolletage and, in particular, the areas of the face that are difficult to treat; such as the periorbital and perioral regions. I often see patients who have had treatment elsewhere and have been over-treated with dermal fillers. With this treatment, however, there are reduced risks and, in my opinion, natural and elegant results can be achieved.
Treatment
In terms of patient selection, the treatment is suitable for most skin colours and types and doesn't carry the risks of burns and downtime associated with chemical peels and lasers.3 It is unsuitable for active acne, as bacteria can be spread, hence exacerbating the condition. From the 'organic patients' who are not ready for injectables but want more results than facials and skincare, to your regular injectable patients who realise the limitations of botulinum toxin and dermal fillers – this treatment is suitable for a wide range of patients. A topical local anaesthetic should be applied to the skin for comfort and left on for up to 30 minutes depending on needle depth. Needle depth is decided depending on the severity of the scarring and skin rejuvenation required.
Recent studies suggest that, statistically, there is significant improvement in hydration, melanin, skin texture, dermal thickness and collagen, compared to microneedling alone
Skin should also be thoroughly disinfected with isopropyl alcohol prior to needling. I prefer to use an electronic microneedling pen; this allows me to personalise my treatment specifically when treating different parts of the face, as well as different skin types and concerns. A thin layer of stem cell serum is applied to the patient's skin by hand and delivered into the dermis with circular movements. I usually start at the forehead, moving downwards. Once erythema and pinpoint bleeding are achieved, I apply more stem cells to the treated area and repeat the process on each side of the face. I adjust the needle length when treating areas of concern. The treatment takes one hour. I then go on to treat the neck and décolletage if the patient has requested treatment in these areas. Post treatment, a cold hyaluronic acid facemask will be applied to hydrate and soothe the inflammation. Additionally, I have heard anecdotally that patients can have LED light therapy to further activate the stem cells and reduce erythema; this was mentioned in a talk by Dr Kwon Han Jin at a recent conference.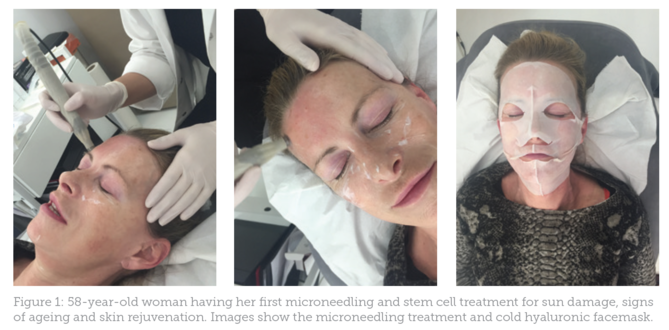 The treatment is usually well tolerated and offers a fast recovery. However, mild to moderate erythema is expected and mild swelling around the periorbital region can present itself; this may last a few days. The skin can feel tight and dry for a few days after the treatment, due to re-epithelialisation as the skin orchestrates itself to re-establish barrier function and integrity.5 Patients can expect to see a clinical improvement in collagen synthesis, photoaged skin, texture, tone and firmness.
Patients can expect to see a clinical improvement in collagen synthesis, photoaged skin, texture, tone and firmness
Bear in mind that results are variable in patients with scarring and a good consultation is key in managing a patient's expectations. For aftercare, patients should reduce their use of active skincare, such as retinol and exfoliants for 24-48 hours until any redness subsides. Depending on the patient's budget, aftercare can consist of topical stem cells or vitamin C and E and a good SPF; which has beneficial hydrating, antioxidant properties and can reduce the risks of post-inflammatory hyperpigmentation.10 Respectively, vitamin A and hydroquinone may be prescribed pre and post treatment, depending on the severity of pigmentation and scarring.12 I recommend three treatments at an interval of four to six weeks apart for skin rejuvenation. For acne scarring, depending on severity, I would recommend a minimum of five treatments, with maintenance treatments every three to six months, depending on the patient's needs.

Conclusion
Microneedling alone is a successful treatment for skin rejuvenation, however, used in combination with stem cells, it can accelerate the natural wound-healing response, providing more stimulation of growth factors with a faster healing response and reduced downtime. This, in turn, maximises patient outcomes and overall satisfaction. In terms of business, it proves to be a cost-effective treatment and it can also be a means of excellent patient retention, in the education of maintaining healthy skin and promoting combination treatments. Patient education is key, and you should see your pro-active patients returning to clinic in between their usual injectable visits. As with most treatments that filter from medicine to aesthetics, growth factors in wound healing is well established. I do believe, however, that we need more controlled trials in skin rejuvenation to ultimately prove efficacy.11