Aesthetics reports on the JCCP's latest announcement proposing a change to the HEE training framework for injectable procedures.
In March this year, the Joint Council for Cosmetic Practitioners (JCCP) was officially launched at the House of Lords alongside the Cosmetic Practice Standards Authority (CPSA). The stated aim was to provide a 'new and comprehensive evidence-based set of practice and education standards', to 'protect the public' and eventually gain statutory regulation from the Government.1 Both organisations are encouraging practitioners and training providers to join the voluntary registers by asking them to demonstrate that they can meet the standards set originally by, and contained within, the Health Education England (HEE) framework.
In April 2013, Sir Bruce Keogh published an analysis of the regulation of cosmetic interventions, commonly known as the Keogh review. Following this, HEE guidance was commissioned by the Department of Health to produce an education and training framework for the medical aesthetics specialty. In 2016, Part Two of these guidelines were published establishing the qualification requirements for delivery of non-surgical cosmetic interventions.2 The Keogh review indicated that there was a lack of regulation and protection for both the practitioner and the patient, especially in regards to dermal fillers, which the report stated was 'a crisis waiting to happen'.2
The 2016 HEE guidelines, which are voluntarily followed by practitioners and training providers, indicate what 'level' a practitioner should be at to safely and effectively perform a particular aesthetic treatment. It uses a minimum training grading system from Level 4 to Level 7, with various education routes to each of these grades.3 Within each grade there are different treatment modalities, which require different levels of qualifications, knowledge and practice competencies; these were deigned for both healthcare professionals (HCPs) and non-HCPs.
The guidelines also suggest that training courses should be regulated by qualification regulator Ofqual,4 or by education providers who have their own degree of awarding powers. They recommend that a minimum of 50% of the curriculum must be devoted to practical skills, particularly for botulinum toxin and dermal filler training.3
However, Aesthetics has learnt that, at the time of publication, changes to the HEE framework are being proposed by the JCCP Council to the members of the JCCP Board of Trustees. The main proposal, which is being endorsed by Professor David Sines, chair of the JCCP, is to review the decision whether non-HCPs should be eligible to register for Level 7 injectable and dermal filler procedures. At the moment, technically, a non-HCP could register at Level 7 in injectable treatments, providing they have had undergone the required training prescribed by HEE and the JCCP.
Why has the change been proposed?
Not only mentioned in the Keogh review, but more recently in the form of social media and national news coverage,5,6 is the discussion around 'who should be allowed to inject?'. Questions around who should be injecting for aesthetic procedures have also been highlighted since the launch of the JCCP, according to Professor Sines, who shares this concern.
The original 2016 HEE education and training framework places certain injectable procedures at Level 6 under supervision. Professor Sines states, "Many healthcare professionals have agreed that injectables should only be administered by HCPs and have voiced their concerns. It is therefore as a result of this feedback and in the interests of public safety that the JCCP and CPSA wish to review this earlier decision and consider whether to restrict access to Level 7 injectable procedures to registered HCPs only for those modalities."
According to the JCCP and CPSA, Level 7 training must be undertaken at a post-graduate level and must be carried out by attendance at relevant training courses that have been approved for the specific modality.7
If what Professor Sines is proposing is accepted by the JCCP Board of Trustees, it will mean that practitioners joining the register for injectable procedures at Level 7 will have to provide evidence that they are registered HCPs. It is important to note, however, that this does not mean that non-HCPs cannot register at Level 7 (or Levels 4-6) for other modalities, which do not involve injectable procedures. If a non-HCP has had the relevant training through approved or accredited Level 7 courses, in lasers for example, then they will still be able to register with the JCCP for this modality.
At the time of going to print, an updated framework is due to be published on the JCCP website confirming the decicisons made.
The main proposal is to review the decision whether non-HCPs should be eligible to register for Level 7 injectable procedures
What about those who don't join the register?
When asked what difference this will make for those who aren't on the voluntary register, beauticians who inject for example, Professor Sines explains that the end goal was to publicise the register in order for patients to check their practitioner before having a treatment. He says, "We will be undertaking a publicity campaign to make members of the public aware of the need to seek treatment only from those practitioners who are able to evidence that they have the required level of training and practice proficiently to deliver safest possible care to patients and consumers."
He adds, "Plans are currently being made to not only continue our work with the UK government, but to also create a steering group to lead the work on a publicity campaign. We will also seek to encourage as many practitioners as possible to adopt our standards and to join the JCCP Register in the interest of public protection."
Aware that there may be non-HCPs who continue to inject despite these changes being made, Professor Sines believes that the best way to overcome this is to push a drive for the practitioner register to be publicised, which he confirms will begin in the autumn.
Additional updates
In addition to this new plan to update the HEE guidelines, the JCCP is also aiming to amend their registration process.
Currently, practitioners can join the register on a full or provisional licence, based on their qualifications, training and experience. The JCCP is now planning to allow all practitioners to join on a full licence, however it will still require them to demonstrate that they meet all of the CPSA and JCCP pre-requisite standards for proficient practice. In accordance with the JCCP's previously agreed 'grandparenting' procedure (where previous qualifications and experience will be considered when being assessed) all registrants will, after a two-year period, provide evidence that they remain 'fit for practice' and meet all of the JCCP and CPSA standards of proficiency. The cost of registration, currently £450, will not change as a result of this new development.8
The JCCP has also formally approved a new set of education and training competencies, called the JCCP Education and Training Competence Framework. These newly approved standards will replace the HEE standards, incorporate the CPSA standards and the outcomes of three providers who have already trialled the updated guidelines. Training providers will be required to show that:
Trainees meet all of the knowledge practice requirements specified in the JCCP Education and Training Competence Framework and are able to demonstrate practice proficiency in accordance with the CPSA practice standards

Trainers and those assessing trainees also need to meet practice requirements and obtain proficiency in the level of the specific modality being taught and assessed by them

Delegates have access to a suitable learning environment (i.e. online resources, clinical learning space, library support)

There is access to audited and 'fit for purpose' practice learning placements/environments, whether this is in clinic or on the training site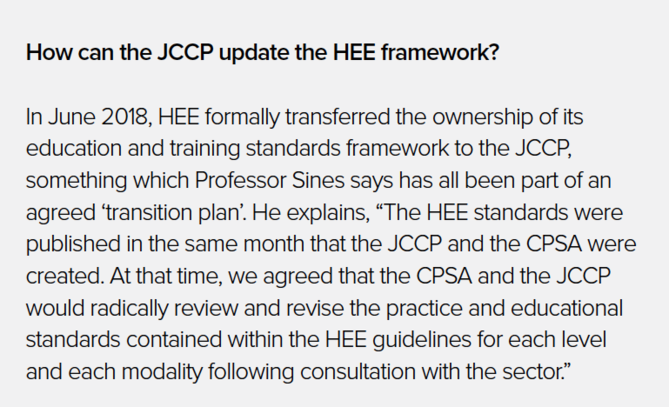 Site audits will be carried out by the JCCP to ensure that these standards are being met prior to any determination of being awarded the training provider 'Approved' educator status.

Professor Sines explains, "If you think about it, if in three years' time there are 3,000 people on our register who are newly recruited from their JCCP-approved training courses, that will start to make a big difference and have an impact on the specialty. The future really starts with the training providers and I believe that getting their support is the best way to protect the public."
"Many healthcare professionals have agreed that injectables should only be administered by HCPs and have voiced their concerns"
- Professor David Sines
Moving forward
The JCCP now has full ownership of the HEE guidelines, has made updates to the training register and is proposing a significant change to the injectables modality of the practitioner register.
According to Professor Sines, revising the eligibility to register under Level 7 for injectable procedures means that there will be a much higher bar for minimum training requirements for dermal filler and botulinum toxin procedures. This will also aim to protect the public even further, Professor Sines says, reiterating that this is at the core of the JCCP's values.
He says, "I think the JCCP has been regarded previously as a closed system and I am very keen to reach out to open this Council to a wider group of constituents, so that they have a voice and can help us to influence change in the interests of patient safety and public protection."