When you assess a face, what is it that you notice first?
Research has suggested that the nose, which has a prominent and central facial position, has a direct effect on our evaluation of attractiveness,1 and when one has a prominent nose, or a small nasal deformity of some kind, then it is something that is often noticed, especially by the individual affected.
It is therefore no surprise that there is a large market for cosmetic alterations of the nose, with rhinoplasty being among the top 10 cosmetic surgical procedures in the UK in 2016.2
Rhinoplasty
Rhinoplasty, derived from two Greek words, rhino (nose) and plastikos (to shape or mould),3,4 has been a surgical option for patients for some time. In fact, its early descriptions date back to ancient Egypt and India.3,4
Ear, Nose and Throat (ENT) surgeon and aesthetic practitioner Mr Simon Ravichandran explains that there are two general aims of surgical procedures, "One is reconstructive, to create a functioning working nose that is also aesthetically pleasing, while the other approach is purely to camouflage deformities, where you can insert grafts into the nose to smooth things out, which doesn't actually affect the function of the nose in any way or restore the anatomy, it camouflages it to make it look normal."
While over the years, rhinoplasty protocols have developed, since the introduction of dermal filler treatments a whole new option for patients has arisen. Mr Ravichandran explains, "We use dermal filler as a camouflage in the place of grafts and the advantage is that it can take away the need for a surgical procedure."
Independent nurse prescriber Emma Chan, adds, "Non-surgical rhinoplasty (NSR) usually produces quite dramatic results and it can resolve problems that patients probably deemed as surgical because in the past only surgery could fix their concerns. The big selling points are that it's a minimally-invasive treatment with reduced downtime and you can see the results immediately, without having to wait for the swelling and bruising to subside. Although there are risks involved and practitioners performing it will need to be very experienced, the risks are much lower than surgery."
Characteristics of the nose
Mr Ravichandran explains that there are certain elements which define an attractive nose, "When you are looking at the frontal profile view, the attractive nose is defined by something called the eyebrow tip aesthetic line, which is a specific unbroken curved line that's narrow in the middle and spreads out a little towards the base of the nose (Figure 1). If there is a problem with that line and it's broken somewhere or blunted or flattened, then you are going to have a slightly less attractive nose."6,7
From the side view, Mr Ravichandran adds that the radix, which is the deepest part over the bridge of the nose, needs to be considered, "Lots of people like a straight nose from the radix to the nasal tip, but there should actually be a very slight, natural depression just above the tip called the supratip depression, so the radix tip line should be ever so slightly curved and should dip down then dip up ever so slightly towards the tip of the nose."7
Some practitioners also use certain angles to guide them when assessing the nose, the scope of which is too vast to specify in this article; however, Chan notes, "When you are looking at the nose you need to consider the angles. In the nasolabial angle, which is between the lips and the nose, you want to see elevation, which varies between genders. Males tend to be a bit closer to 90 degrees and females tend to want more of an open-angled nose with a slightly elevated tip at around 105 degrees."6
Mr Ravichandran adds, "You have to take into consideration ethnicity, culture and gender when you are looking at lines and angles of the nose and you also have to consider fashion. If you look back to the 1940s and 50s, a fashionable nose had a much higher angle and was curved more upwards – the 'button nose'.
"Today, we want something different, it's a much more natural approach that is consistent with the genetics that we have. You are looking to restore the nasal tip line and create a nice, smooth, well projected nasal dorsum, a relatively straight line to the nasal tip and a columella angle that is appropriate to each individual," Mr Ravichandran says.
ENT surgeon Mr Ash Labib also explains that practitioners need to be aware that it might not be the nose that needs treating, "Sometimes the nose might look prominent to patients but it's actually the chin that is precluded. So, by treating the chin you get the harmony in the face that's requested without even touching the nose."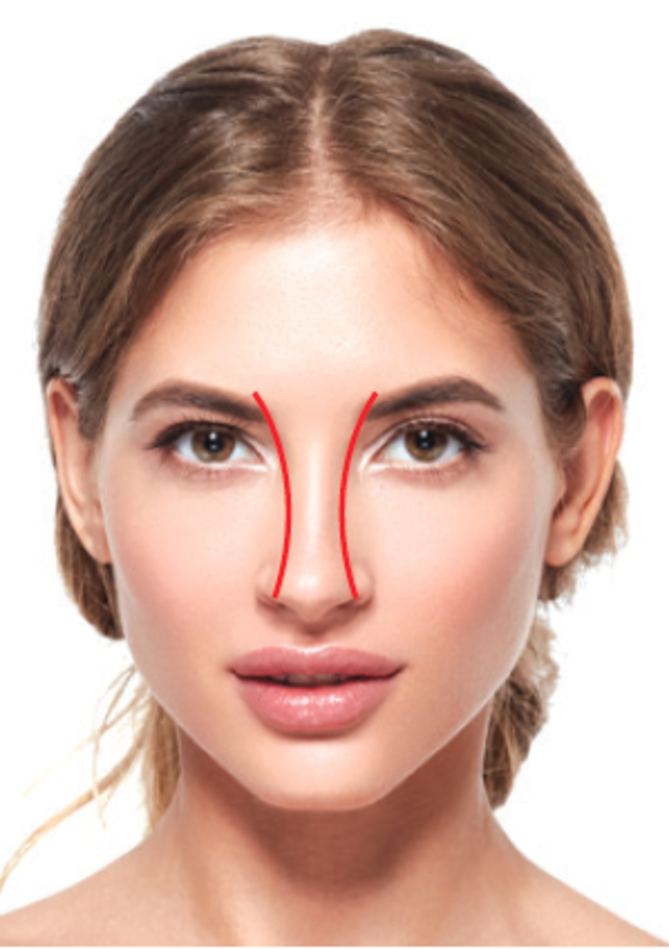 Patient requests
Patients request NSR treatments for a variety of reasons. Mr Labib says he typically gets two types of patients, "The first are those who have a deformity or a disfigurement, who may not have had treatment before. They are feeling insecure about the shape of their nose because it is either out of proportion from the rest of the face, or has some sort of deviation." He says the second type of patients he sees are those who are unhappy with surgical rhinoplasty results, explaining, "They may still have a slight deformity and they come to me for advice; the majority of those are candidates for NSR."
Aesthetic practitioner Dr Beatriz Molina adds, "Some people have uneven noses that are slightly deviated right or left, or have quite a high dorsal hump in the middle or on the tip and they want to make it look straighter. I have a few Asian patients and they tend to want to make their nose narrower as their noses are naturally wider than Caucasians."5
For patients presenting in clinic for nose alterations, Chan says, "You want a uniformed, nice, straight nose with good light reflection in the centre of the nose, with the width of the nose being in proportion with the chin and the intercanthal distance between the eyes as well. The most common complaint I see is the dorsal hump."
Patient suitability
Practitioners interviewed for this article said that it is paramount that patient suitability is determined before going ahead with NSR treatment. Mr Ravichandran says, "The NSR is only appropriate for patients who have a defect that can be corrected by a camouflage technique, so it has to be a structural defect not a functional defect. It also has to be able to be corrected without affecting the functionality of the nose, for example, if correcting it is going to restrict breathing through the nose then you have to discard this treatment."
Mr Labib says it is important that patients understand the limitations to NSR, "I would assess the nose with a thorough consultation and examination. There are some cases where the deformity is so severe or the size of the nose is totally disproportionate that surgery is their answer. Having said that, I would say that about 90% of patients I see could actually improve part of, or all of, their nasal framework without surgery."
While Mr Labib has noted that he does treat post-surgery patients for NSR, Chan explains that if you are someone who is not surgically trained then you need to be very wary, "I wouldn't suggest treating patients who have had multiple surgeries or any rhinoplasty surgery in the past because of the increased risk in the change of anatomy."10
Dr Molina adds, "If you are treating a post-surgery patient you need to be seriously experienced at treating noses already and know your anatomy extremely well, know the type of surgery they have had and how many interventions, and you have to put a minute amount of product in and carefully watch the skin rise with the filler insertion."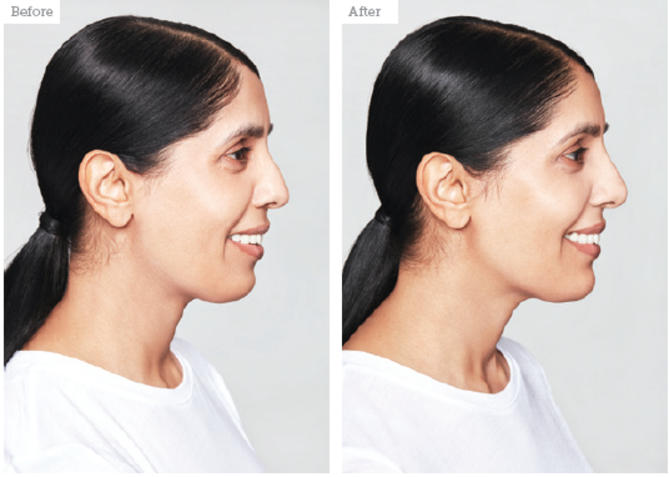 Product selection
Due to the threat of complications in this area, which are discussed below, the practitioners interviewed say that they all only use hyaluronic acid (HA) dermal fillers. Chan explains, "It's a high-risk area, I want to be able to reverse the treatment in the event of any complication."
Mr Labib adds, "The product must be a HA in my opinion, because that's safer than any other semi-permanent fillers – if something goes wrong, you can dissolve the product. My product of choice is Juvéderm Voluma because I find it has a great lifting capacity and, in my experience, it lasts longer."
Chan also uses Juvéderm, but prefers Ultra. "You want the product to be slightly stiffer because it's got to replicate bone when you are correcting indentations and, from the safety point of view, you want to use as little product as possible. HA tends to get broken down quicker in high movement areas, such as the lips, so around the nose and the eyes, where there is very little movement, you tend to see good longevity of at least 12 months," she says.
Unlike Mr Labib and Chan, Dr Molina prefers Restylane Lyft, "You want a high G prime product that is not easily deformed under pressure and has lifting properties. Don't use a gel that's too soft as it's not going to lift and will flatten and move. Restylane Lyft has a high G prime and very good longevity and, because of its characteristics, it lifts and stays put. If I'm treating a dorsal hump, Lyft is the best product, however if I'm treating mild deformities, I may use Restylane Refyne, which is good for tiny little deformities as it's got good product integration."
Mr Ravichandran uses HAs in the Belotero range, "If I am doing significant structural work and have to revolumise the nose then I am going to use Belotero Intense, but if I am looking at very fine soft tissue defects, for example a post-trauma nose, where the very fine cartilage is damaged or where there are depressions in the nasal tip and the side of the nose, then I will use a softer product – I tend to use Belotero Balance. This is because any pressure you put on the soft cartilage of the nose may actually erode through that cartilage and make any defect worse, so you have to use something that's not too lifting, just very smooth and soft."
Treatment methods
When treating, Chan mainly uses cannula after the application of topical anaesthesia and her insertion point is in the tip of the nose. "For dorsal hump correction, it's important to tell patients that you are building on the depressions so you maintain the existing bone structure. The aim is to bring the depressions in line with the actual hump itself to create a better transition between the two areas with the dermal filler," she says.
Dr Molina has a similar technique, "My insertion point will be in the tip of the nose; I use a 32G needle to prick the skin and insert a 25G cannula that is 38mm long. From there you can guide it all the way to the top of the nose and fill the areas where the deformity is. When you are inserting the product, you can see that the skin is lifting, so do the injections very slowly. You shouldn't really need more than 0.5ml for most procedures. I generally only ever use one entry point because, with a cannula, you can reach anywhere you need."
Mr Ravichandran says the dorsal hump and depressions are the easiest to correct, but care must be taken to achieve natural results, "If we are correcting the dorsal hump, generally we are injecting above and below the hump; when we inject above the dorsum, what we are doing is bringing the radix forward. If you bring that forward too much it looks really artificial. I use a cannula at the tip of the nose after very thoroughly cleaning the nose with chlorhexidine. I use a strict aseptic technique and my cannula slides over the septal cartilage and over the hump. When you are in the top part of the nose you can start layering little bits of filler very slowly and gently until you achieve correction. You can do pretty much everything from that one insertion point."
Mr Labib says he prefers to use a needle, "I think it's more precise and produces a greater amount of correction for the product. My injection points tend to vary – I use my own code for noses according to what type of correction the patient needs and some are more advanced than others. Point of injection is very important and the injection has to be done precisely and gently. I trace between the skin and the bone, as well as the skin and the cartilaginous plane, and massage it. In 15 minutes the procedure is done and results last between 12-18 months. The amount of filler required varies, but I never use more than a syringe so the absolute maximum is 1ml."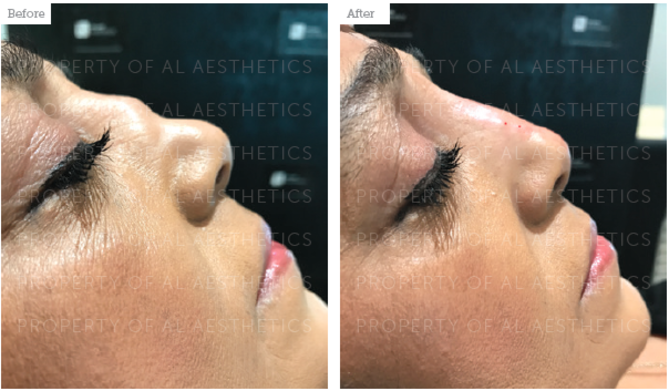 Treatment considerations
The complications and side effects for NSR are the same as any other HA dermal filler procedure, however practitioners note that the nose is an extremely risky area and a high level of anatomical knowledge is needed. Chan says, "There is a rich vascular blood supply so our biggest concern is vascular compromise and anatomical structure damage; it's very important to observe the patient after the treatment."
Mr Ravichandran adds, "The midline on the face is where you have blood vessels joining other blood vessels so there is a high risk of plugging an artery that can cause blindness and tip necrosis of the nose." In 2015, a review of the world literature on all reported cases of vision changes from filler (98 cases) suggested that the nasal region was the second highest risk for complications, after the glabella.9,10
He continues, "The other thing you have to consider is the infection rate, infections in nasal tissues can be catastrophic if you don't treat them properly and can go on to cause serious cosmetic defects, which is likely to require reconstructive surgery." Mr Labib says aftercare is simple, "I would advise patients to not wear glasses or sunglasses, no makeup and not to massage for 24-48 hours. I'd also tell them to contact me immediately if they have any issues with skin discolouration or prolonged bruising, and if practitioners find that the product is causing vascular occlusion, use hyaluronidase immediately to dissolve the product and reverse the potential complication. Ensure that the patient knows that it's paramount that if their injector is not available then they should contact accident and emergency."
Knowledge is paramount
Although, technically, any practitioner is legally allowed to perform NSR with dermal fillers, Mr Labib says, "Practitioners have to be experienced injectors – I would say at least five years' experience. They also have to have a really good degree of knowledge of the anatomy, particularly the blood supply to the nose, and they need to have theoretical and hands-on training."
Mr Ravichandran explains that NSR is not for everyone, "I know a lot of people who are incredibly experienced in facial aesthetics and still won't go near a nose because it's just not within their confidence or skill set – it's wise to be cautious."
Chan concludes, "It's an advanced procedure – be sure you've got good protocols and guidelines in place for adverse event management and support within your own clinic and don't do it too soon! It's a very high risk procedure and you have to be an expert in facial anatomy and injectables before you even consider taking on the treatment."