As every aesthetic practitioner knows, the skin around the eye is the most delicate on the body; in fact, it is said to be up to 10 times thinner compared to the skin on the rest of the face.1 Yet, treatments in the periorbita are popular requests from aesthetic patients, as the appearance of the eye area can be one of the least forgiving when it comes to ageing. One common periorbital concern, with patients complaining of looking run-down, tired and older than their years, is dark under-eye circles.
Dark circles, according to practitioners interviewed for this feature, are notoriously hard to treat, with a very small margin for error. They therefore all assert that periorbital treatments should only be carried out by advanced practitioners with a thorough understanding of the anatomy of the area. There is an assortment of treatments available for the periorbital area, and in this article, practitioners focus on the use of injectable treatments – explaining their best treatment methods for rejuvenation and how to manage any complications.
What causes dark circles?
There are many reasons why patients might appear to have dark circles under their eyes. However, consultant ENT and facial plastic surgeon Mr Kambiz Golchin believes there are two main reasons. "The number one reason is hyperpigmentation of the skin and the second reason is to do with the anatomy of the area. As the skin is very thin, you don't have a huge amount of subcutaneous or fatty tissue to 'bulk it out', therefore you are just looking at skin and blood vessels, which gives that dark appearance." Aside from these reasons, the practitioners will also discuss how lifestyle can have an impact.
Anatomy and general ageing
In youth, the intersection between the lower eyelid and the check junction blends , and the area is naturally convex. But as we start to age, soft tissue breaks down, showing more of the underlying bone.2
Consultant aesthetic oculoplastic surgeon Mrs Sabrina Shah-Desai explains how changes in the anatomy can create the appearance of dark circles. "By the time patients are in their 30s, they will start to see the appearance of mild under-eye dark circles due to the loss of the subcutaneous fat in the eyelid tissue, thinning skin and hyperpigmentation."
She continues, "By the mid 30s and early 40s, bony changes commence; the eye sockets will start expanding, and the mid-face will start collapsing. The maxillary bone, which is responsible for projection of the anterior cheek, starts collapsing. Due to soft tissue and bony loss, the appearance of a dark circle worsens due to volume loss under the eye. These anatomical changes also contribute to the appearance of an 'eye bag', the fat bulge casts a shadow on the hollow lid cheek junction, creating an illusion of a worsening dark circle."2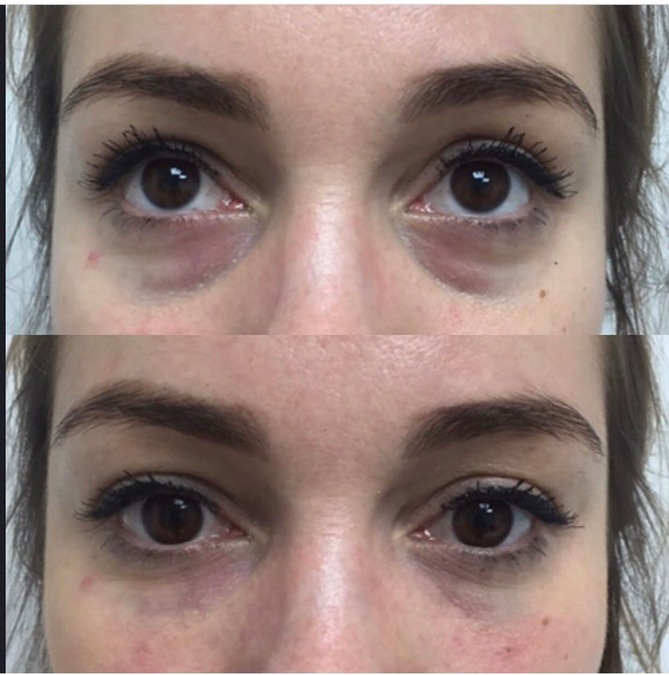 Hyperpigmentation
When it comes to hyperpigmentation around the eye, a huge contributing factor is ethnicity, with patients of darker skin types being genetically more prone to developing periorbital hyperpigmentation.3 Aesthetic nurse prescriber Natali Kelly explains, "In my clinic, I see a lot of Asian and darker Fitzpatrick skin type patients as they are more genetically inclined to develop hyperpigmentation.3 It is harder to treat and it takes longer to see the results. And you're rarely just treating the dark circles, they usually have other concerns with general skintone; sun exposure has played a big role."
Hyperpigmentation occurs when the cells that contain melanin are damaged or over-stimulated. This, in turn, can lead the affected cells to begin to produce too much melanin. Therefore, practitioners advise that those of darker skin types need to be extra careful with the amount of sun exposure they have.4
Although Indian-Asian and Hispanic ethnicities can have dark circles in their 20s, it is not common in Caucasians
Dermatologist Dr Jane Ranneva, who practises in Spain, says, "In my clinic, most of the patients who suffer from periorbital hyperpigmentation have a skin type of 4 or more. Their skin reacts more easily to any irritation, which can lead to hyperpigmentation."5
Kelly explains that patients suffering from hyperpigmentation in the periorbita are likely to need a combination of treatments over a long period of time, as there is not one 'perfect' treatment. "It would need to be a long-term programme of treatments," she emphasises.
Lifestyle
Lifestyle is another important factor to consider, as a dark under-eye can be a reflection of the patient's general health. "If a patient is in their 20s and has dark circles, it may be due to poor diet, anaemia, eye rubbing and late nights," says Mrs Shah-Desai. "Often the patient needs to address their lifestyle. Although Indian-Asian and Hispanic ethnicities can have dark circles in their 20s, it is not common in Caucasians."
Dr Ranneva adds, "There are so many reasons why patients develop dark under-eye circles. Commonly, it is due to a circulation problem, or a genetic disorder. But much can come down to lifestyle factors, whether the patient suffers with chronic fatigue, has a poor diet and is constantly dehydrated. So this is something I discuss with patients."6
Consultation is key
Mr Golchin explains that the only way to see beneficial results is to ensure you have as much patient history as possible in order to make the correct diagnosis. He says, "The key to treating the periorbital area is assessment; assessment is probably the most important step because it is crucial to figure out what is actually causing the majority of that darkness."
He continues, "For example, if it is more of a pigmentation problem, then you can treat the pigmentation either using peels, creams or lasers. If it is to do more with the appearance of the blood vessels, and they don't have pigmentation, but they have got very thin skin, then you can treat this differently with the likes of injectables."
Mrs Shah-Desai agrees, "You have to take a detailed history; find out if they have allergies, or if they have recurrent colds or sinus disease – if they rub their eyes a lot temporary dark circles could become permanent dark circles, as they will constantly have engorged veins."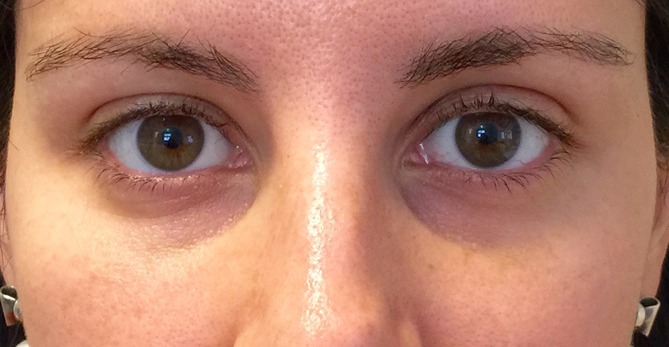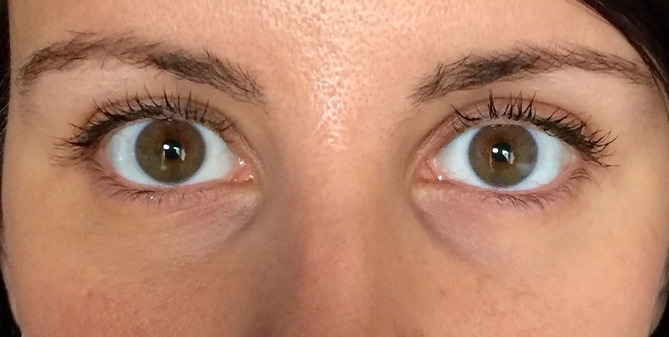 Treatment options
Hyaluronic acid (HA)
The elimination of dark circles can be effectively achieved by volume augmentation of the tear trough, and this seems to be the most common treatment choice amongst practitioners.7 Using a non-crosslinked HA in this area is what Dr Ranneva refers to as a 'camouflage treatment'. "If patients have hyperpigmentation we can create a camouflage treatment, where we use volumising product to reflect the light from the face, so you don't see that shadow." Dr Ranneva uses RRS HA Eyes, that also aims to stimulate lymphatic drainage as well as volumise. "I inject deep and superficial and inject 0.65ml around each eye," she says.
Kelly also uses HA filler in her practise, "Most of the time in my clinic, we are replacing the volume with a light-reflecting HA dermal filler, which can build support and soften the dark circles. I would use a small amount, I would never inject more than half a syringe in each side. In most cases I will usually provide some structure and support in the cheek; usually the tear trough is quite sunken because the cheek has lost volume, especially in patients that are very slim and don't have as much body fat on the face."
Kelly continues, "If you provide support around the cheekbone and the eye, it pulls the skin tighter to support it, and means you might only need a small amount in the actual tear trough. If you imagine, under the eye, the cheek should be like a lovely ski slope, whereas if someone is really hollow under the eyes, and in the cheeks, and someone just treats the eyes, you will find that they end up looking puffy."
The anatomy is complicated, so you do see complications even from the most astute practitioners
Mrs Shah-Desai uses her own trademarked technique when using HA in the tear trough, the 'Eye Boost'. "I use a very light filler and I give very tiny injections. I find that if you put a heavy filler on the bone medially it will become a 'speed bump', but if you use a very soft hydrating product it just hydrates the skin and it won't become a visible bump," she explains.
"I inject deep and superficial, most patients need this 'sandwich' technique in order to get a natural result. Between the medial canthus and the medial limbus, dictated by the anatomy of the tear trough ligament, I place superficial injections of a hydrating filler, in a very small quantity. In the central and lateral parts of the trough, I use a cohesive filler, placed preperiosteally below the orbicularis retaining ligament. As the unique tear trough anatomy is respected, I don't see the 'speed bumps' associated with placing a bolus of filler in the tear trough."
It is important to remember that even in the most qualified and experienced hands, complications can occur and every practitioner should be prepared. "The anatomy is complicated, so you do see complications even from the most astute practitioners," says Mr Golchin.
"Any complications in this area can be quite upsetting, which at the one end includes bruising, swelling, the Tyndall effect, puffiness and lumpiness, and at the other end, albeit much more rare, skin necrosis and blindness – thankfully, for most people, we can do something about the majority of these side effects."8 He explains that the HA needs to be dissolved, "We use an injection of an enzyme to dissolve the filler. It starts working instantly and takes two to three days to complete and see full resolution."
Enquiries from patients regarding PRP rose 67% last year according to WhatClinic.com
PRP
Another treatment option for this area is to use stem cells to regenerate the skin in the form of platelet rich plasma (PRP). This is becoming a more popular addition to the aesthetic practitioner's repertoire – enquiries from patients regarding PRP rose 67% last year according to WhatClinic.com.9
Kelly uses PRP in conjunction with microneedling and says she has seen good results from this combination. "The plasma is your own body's growth factors, so when you use this under the eyes – and I like to treat the full face at the same time – you can actually see improvement in the texture of the under-eye skin, you can provide some hydration and some stimulation; you will never get lifting or volume replacement like you would from dermal fillers, but it does work nicely on the dark circles to provide skin rejuvenation."
Kelly applies the PRP around the eyes by gently dropping the plasma from a syringe on to the skin and then using her hand to cover the treatment area. Using roughly 1ml of PRP for the eyes, or up to 5ml for the full face, Kelly then moderately runs the microneedling device over it. "The microneedling pen causes micro-trauma, it stimulates collagen and tightens the skin; it's fractional, so it pushes all of the tiny micro droplets of the PRP deeper into the skin. Usually 0.5mm would be the maximum needle size I would use around the eyes."
Smoking is toxic to the blood so there is absolutely no point doing a PRP treatment for smokers as we are depending on the blood to have growth factors to stimulate
She adds, "In my experience, it usually gives less bruising, swelling and downtime than filler treatment and you get more stimulation than if you just applied the PRP with a syringe." Kelly says she would generally offer a course of three treatments about four to six weeks apart for best results.
PRP is a common treatment in Mr Golchin's clinic for tear trough concerns, "I use a very super-concentrated PRP and I inject with a cannula technique at two different levels – one injection just beneath the skin and one deeper. By doing this we are trying to improve the vasculature and the area around the blood vessels, to improve collagen.10
It takes about three to six months to see the best results; it is not a treatment that works instantly but it works beautifully, it just takes time. Generally, I do two treatments; I do one and then another three months later."
When using PRP, it is even more important to check the health of the patient first, in order to ensure the treatment will provide positive results. "As long as the patient has a healthy diet and they don't drink too much and they don't smoke, then they are suitable for treatment," says Kelly. "Smoking is toxic to the blood so there is absolutely no point doing a PRP treatment for smokers as we are depending on the blood to have growth factors to stimulate. In this case, I would possibly use a mesotherapy product instead."
Mr Golchin adds that in his experience, the only complication with PRP is bruising, "The only way of avoiding that is technique and careful, precise injection."
Fat transfer
Using fat is another way of using stem cells in the tear trough, although this would require a surgical procedure. "The nice thing with fat is that it is what you would have had there in the first place, so you are replacing like with like," says Mr Golchin. "Because fat is full of stem cells, it can regenerate the skin to help with the dark circles and quality of skin in the long term. That's the advantage."11
This risk of complication in the delicate eye area also shouldn't be underestimated
Another advantage, according to Mr Golchin, is that one treatment produces benefits in two areas, as they will also have fat taken from an area of concern, such as the abdomen or hips. "You don't need much for the eye area, a tiny amount, but most people have a little bit they would like to get rid of from the abdomen."
Practitioners must also ensure they use a sufficient technique because, according to Mr Golchin, "If too much is done, and the surgeon is too aggressive, or if the fat is not processed properly, it can be left a little bit lumpy. It is a very technical procedure to do, but if done properly, the results can be stunning."
Conclusion
In conclusion, there are many different and successful treatment options at the practitioner's disposal for the treatment of this common eye-concern. In order to achieve the best results, however, practitioners must provide a detailed assessment of the patient to discover the reasons behind their dark under-eye circles. Otherwise, the wrong treatment method may be selected, leading to patient dissatisfaction.
This risk of complication in the delicate eye area also shouldn't be underestimated, and even those practitioners who practise at an advanced level should ensure they are prepared for any adverse events. "I speak candidly with my patients about the risk of complications, and ensure they have made more than enough time for downtime, just in case something was to occur," says Dr Ranneva, adding, "And I only go ahead with treatment if they fully understand these risks."
Mrs Shah-Desai adds, "To avoid unsuccessful outcomes, tear trough treatments should ideally be undertaken by advanced practitioners who understand why the periorbital area ages the way it does, have a good knowledge of the anatomy and be able to customise treatment, as this area can age differently based on ethnicity, systemic conditions and environmental factors."
Regular training in both the periorbital area and handling complications can help to ensure best practice and minimise trauma for the patient. Mr Golchin concludes, "The periorbita is not an area your 'average injector' could or should inject. It is definitely a more advanced area and needs to be treated with more respect."