"I want to look less tired" is a phrase that aesthetic practitioners are likely to hear on a daily basis. Increased skin laxity, volume depletion and the development of fine lines and wrinkles all contribute to the ageing face. When these factors affect the periorbital region, they often have a significant impact on a person's aesthetic appearance. As well as making a person look older, research has suggested that variations in eyebrow shape, eyelid position and wrinkles greatly influence how others perceive your facial expressions, as well as your subsequent mood.1
And while there are numerous reliable periorbital treatment options on the market, the popularity and success rate of injectable treatments in particular continues to grow. According to the American Society for Aesthetic Plastic Surgery, there was a 21% increase in injectable treatments performed in 2015, and botulinum toxin and hyaluronic acid (HA) dermal filler treatments topped the list of the most performed non-surgical procedures in the same year.2
Patient concerns and causes
According to the practitioners interviewed for this article, there's little surprise that the demand for non-surgical injectable treatments is so popular compared to traditional blepharoplasty surgery. "We find now that a large percentage of patients do not want to undergo surgery," explains Dr Beatriz Molina, founder and medical director of the Medikas clinics in Bristol and Somerset. As a result, she explains, practitioners are developing their skills to offer bespoke treatments that offer safe results with minimal downtime.
The interviewees also agree that the most common periorbital concerns are loose skin, eye bags, hollowness and dark circles. Other concerns include excess eyelid skin, saggy eyebrows, crepey skin, fine lines and wrinkles. Laser technician and aesthetic practitioner Shadi Danin notes that it is important that practitioners identify the cause of the concern before offering treatment. She says, "Dark circles under the eyes can be an inherited trait, caused by fatigue, or a lack of sleep.3 With age, the skin loses collagen, becomes thinner and more translucent, which allows the darker blood vessels to be seen. Other causes include anaemia, diet and a lack of oxygen in the blood."3 Danin continues, "Eye bags can be caused by sleep deprivation, diet, alcohol and tobacco use, allergies, local water retention caused by the salt in tears, hyperthyroidism and periorbital cellulitis."3
Choosing treatment
Creating a suitable treatment plan and advising patients on the expected results is the next step practitioners need to take on the periorbital rejuvenation journey. "Patients don't always know what they need, but they know what they want," explains Dr Gertrude Huss, founder and medical director of Hill Clinic in Jersey. As such, she recommends practitioners offer a thorough examination and discussion about the risks and benefits of a treatment to establish realistic expectations of likely results.
With such variable concerns, and a wide range of causes, consultant ophthalmologist and oculoplastic surgeon Mrs Sabrina Shah- Desai recommends a personal approach to treatment. She says, "The consultation is essential, treatment is bespoke and highly individualised, based on each person's unique anatomy, taking into consideration skin, soft tissue and bony changes, budget and psychological assessment."
Dr Molina also notes that the choice of treatment is often dependent on the age of the patient. "We have to distinguish between the younger patient and the older patient, even though they often complain of the same things when they present to us," she explains. According to Dr Molina, the majority of younger patients will be suitable for dermal filler treatment as the reason they have periorbital concerns may be due to a deficiency in natural hyaluronic acid. She explains, "You can just plump them a little bit and the results will be very natural and subtle." Older patients, however, may require more invasive treatment. "Sometimes, we have to advise patients that their concerns are more of a 'surgical case', however some still like us to try to make them look a little more refreshed using non-surgical treatments." Dr Molina notes that while non-surgical treatments can produce excellent results, practitioners need to develop their experience in treating the region in order to ensure they offer the most appropriate and effective treatment.
Treatment options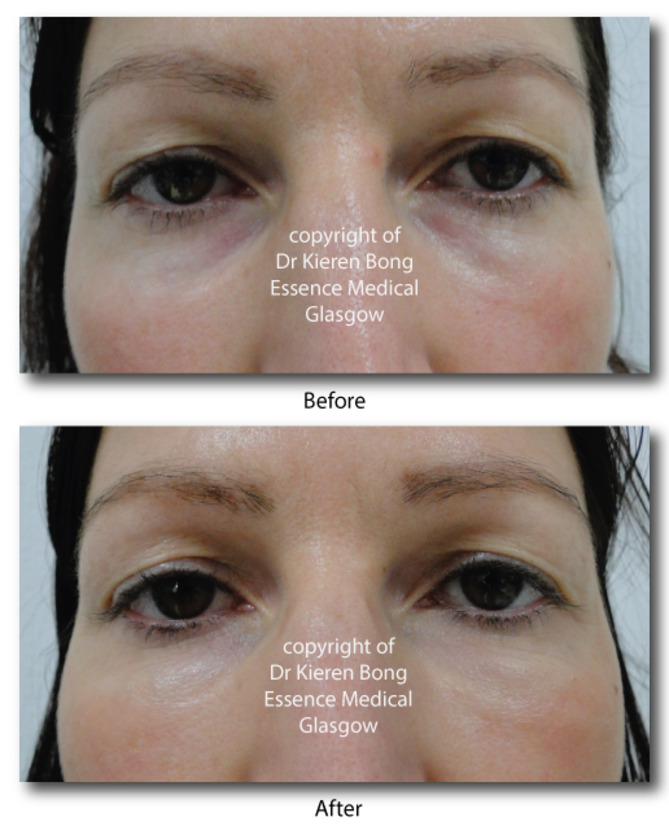 For many practitioners, HA dermal fillers are their preferred choice of treatment. Dr Kieren Bong, founder and medical director of Essence Medical in Glasgow, said, "When it comes to the infra-orbital hollowness, one of the most effective and safe treatment modalities is with hyaluronic acid dermal filler." Mrs Shah-Desai adds, "Dermal fillers act as 'injectable spacers' that improve bony projection, augment soft tissue volume and improve the hydration and structure of the skin. Evidence has shown that these products can improve collagen and elastin, and alter the SMAS."4
For Dr Bong, Teosyal's Redensity II is his filler of choice. "This is a product that has been specifically formulated for the under eye hollows," he says, explaining that Redensity II's balance of cross-linked and non-cross-linked HA means that it's viscous enough to provide lifting capability without causing lumpiness. He adds, "It also has the right balance of bio-chemical specification that coats the under eye area smoothly without the risk of migration." On the other hand, Dr Huss uses the Belotero range of HA fillers from Merz Aesthetics.
She explains, "Belotero has a unique cohesive polydensified matrix technology that allows optimal dermal integration." Similarly to Dr Bong, Dr Huss has chosen this range to lower the risk of product migration. She says, "My product of choice for the periorbital area is Belotero Balance, because of its dynamic cross-linking, allowing homogenous tissue integration and its high cohesivity, which reduces the risk of the product migrating or becoming displaced." According to Dr Huss, its low viscosity makes it easy to inject and its high elasticity provides good support.
For Dr Molina, Galderma's Restylane is her preferred HA range, again because it is not as hydrophilic as other products on the market. The selection of products, which last month integrated the Emervel range and launched new branding and packaging, incorporates nine different textures that aim to enable the practitioner to choose the most appropriate product for the patient's individual concerns.
Dr Molina explains, "Depending on the quality of skin, the age and sex of the patient, I will choose the most suitable product within the range. For example, if I have a male patient with good quality skin in his mid 40s, who obviously has thicker skin because he is male, then I will probably use Restylane Lyft." According to Galderma, Restylane Lyft aims to enhance facial balance and harmony by providing shape and contour. For a younger female patient, Dr Molina says she could choose Restylane Refyne, which aims to restore a healthy, youthful appearance.
As well as offering dermal filler treatments for periorbital rejuvenation, Dr Huss also offers her patients botulinum toxin to soften the dynamic lines in the area. She says, "You can't just separate the eyes – you've got to look at the areas around them and frown lines fall into that area because they impact on other muscles. As such, there is definitely a dynamic component for which the treatment is botulinum toxin."
Alternatively, Danin offers her patients mesotherapy and carboxytherapy treatments. She explains that the Toskani ECPR (Eye Complex Poli Revitalising) mesotherapy formulation from Vida Aesthetics, designed specifically for the periorbital region, aims to increase hydration, regenerate collagen and elastin fibres, stimulate collagen synthesis in fibroblasts, inhibit the formation of free radicals and prevent melanin production. "Mesotherapy helps damaged cells repair themselves, decelerates the degradation of the skin matrix and stimulates replenishment, inhibits glycation in the skin around the eyes and decreases the amount of fluid that accumulates in eye bags,"5 she says.
Danin also offers her patients carboxytherapy treatment, which aims to reduce the appearance of dark circles. She explains, "Carbon dioxide is injected in very small amounts at very low pressure. It forces the capillaries to open allowing more oxygen to the area and assist the toxins to drain away."6 As CO2 is naturally occurring in the body, there are no contraindications according to Danin. She notes, "Side effects might be a small bruise or some local swelling that subsides with a few hours."
Technique
A number of practitioners have created their own techniques to offer optimal periorbital rejuvenation results to patients. Four years ago Dr Bong trademarked the Two-Point Eyelift, which utilises only two injection points to aim to reduce the risk of complications occurring from incorrect injection placement and technique. "It is a structured technique, which allows the practitioner to establish the depth of injection correctly and confidently," he explains. According to Dr Bong, complications can arise if the filler has been placed too superficially, rather than under the orbicularis oculi muscle in the deep fat compartment where it is designed to be injected. Dr Molina adds that practitioners need to have a thorough understanding of the periorbital anatomy before offering these treatments.
Mrs Shah-Desai also uses toxin for smile and frown lines, as well as for brow lifts. To treat dark circles, however, her preferred method involves the use of skin boosters. She has pioneered her own technique called the Eye-Boost, which aims to rejuvenate the tear trough. She explains that she will inject a skin-boosting filler in the under-eye skin and/or place a hydrating filler deep in the inner tear trough hollow. "I use a softer product for the inner tear trough and a firmer product for the lateral trough, but the ultimate decision is based on individual soft tissue and bony changes," she explains.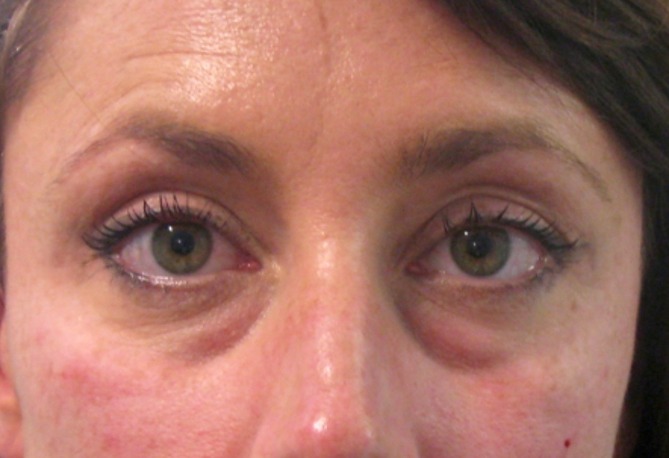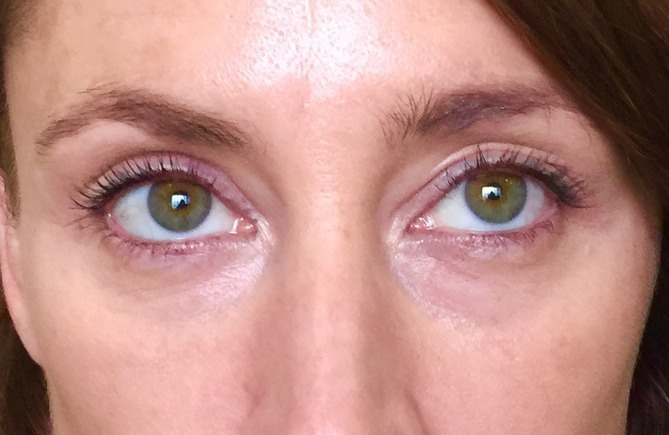 Dr Huss notes that it is important to make patients aware that the lid-cheek junction is part of the normal anatomy and that the aim is not to eliminate it. When using HA dermal fillers, she explains that she always aims to under correct the tear trough to avoid over volumisation as the area settles over time. Dr Molina adopts a similar approach, commenting that she has had many unhappy patients come to her for correction after different practitioners have used too much filler. Dr Huss explains that her technique is to inject the filler very slowly, using a 25G needle for entry point and a 25G cannula for injections. She injects in slow boluses, combined with a threading and retrograde technique for the medial and middle part of the tear trough. For orbital rim correction, she then administers supraperiosteal injections with a 30G needle laterally.
Mrs Shah-Desai agrees with Dr Huss that a combination of needle and cannula can produce optimum results, explaining that she believes needles give her the precision required to achieve successful results. Dr Bong, however, prefers to use a cannula exclusively. He says, "Bruising is usually a result of sharp hypo-derma needles, so we use a blunt-tip cannula, especially if it's a bigger gauge such as 25G, so we can drastically reduce the risk of bruising our patients."
According to Dr Huss it is important to consider the face as a whole, and not just focus on the periorbital area. She explains, "Facial rejuvenation requires a global approach. Although the periorbital area is a facial unit, it cannot be addressed in isolation and neither can other facial areas be treated without considering the eyes." Dr Huss explains that she sometimes finds volume loss in the periorbital area is highlighted when the mid-face of a patient has been repeatedly treated, emphasising, "You can't just treat the eyes without the cheeks." Dr Huss also notes that the periorbital area can sometimes be enhanced indirectly by treating the mid-face. "This is especially the case in patients with a central cheek deformity," she says, explaining, "this is when they may have lost a bit of volume in the cheek and that emphasises the tear trough. To restore that sometimes restores the whole area. This is obviously case dependent."
Side effects and complications
Bruising, swelling and lumpiness are all common side effects of undergoing periorbital treatment with injectables. According to Dr Bong, however, these can be avoided with the correct injection technique and correct product selection. "To make a procedure safe and successful, one would have to fulfil two variables – product and skill," he explains, adding, "One would have to choose the product carefully and have the skills and technique to perform the procedure successfully." Mrs Shah-Desai emphasises that practitioners can also reduce the risk of side effects and complications by providing valuable pre- and post-procedure care. She advises that practitioners should tell their patients to not drink alcohol for 48 hours before and after treatment, avoid aspirin7 or herbal supplements8 that can increase the risk of bruising, not undergo exercise for 24 hours and avoid facial massage for one week after treatment. She adds, "There is a negligible risk of infection as I perform these treatments as sterile procedures, however the patient can help by ensuring they do not apply makeup on the day and for a few hours after to reduce the risk of infection."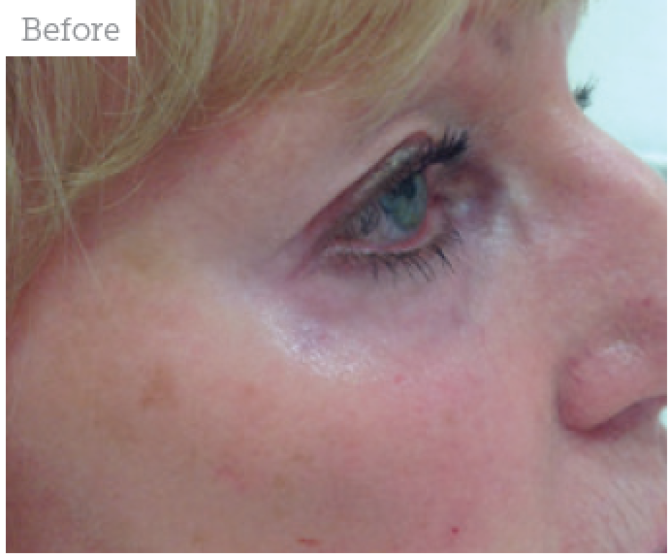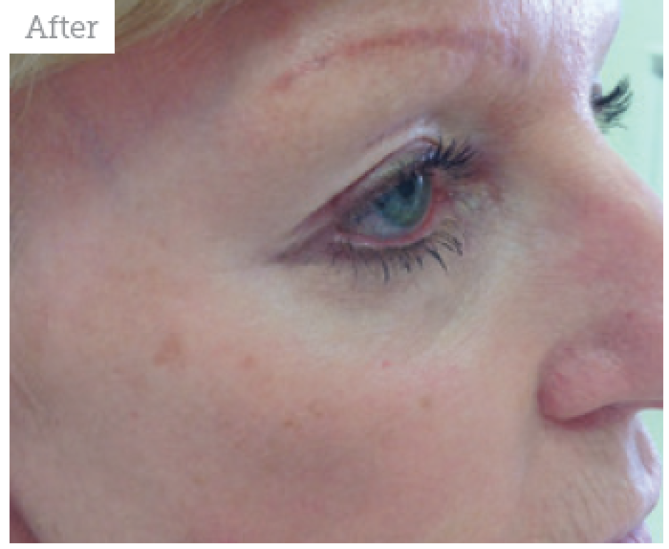 Dr Huss recommends practitioners apply firm pressure and ice packs before and after the treatment session to further reduce the risk of bruising and swelling. "They should also use a cannula where indicated, inject slowly with minimal pressure and minute quantities, and adopt an aseptic technique to reduce the risk of infection," she advises. For Danin offering mesotherapy and carboxytherapy treatments, she advocates that practitioners do not overtreat the area and follow protocol precisely. "If the protocol is followed, there should be no complications," she says.
Other potential issues include oedema, Tyndall effect, asymmetry, post-inflammatory hyperpigmentation, migraines and nodules. If complications do occur, hyaluronidase is the most common treatment used to dissolve the HA filler. Dr Molina explains that the substance, which usually comes in a powder form, is diluted when a patient presents with a complication and should be injected very superficially. "It works very quickly; you can see it working in front of your eyes and it continues working for 24 hours,"9 she says, adding, "You have to understand how to deal with hyaluronidase because if you inject too much it could get rid of the whole filler, which may be unnecessary."
The majority of practitioners will be aware that the most serious risk of using dermal fillers is blindness. Dr Bong explains that, although rare, a patient could lose their sight if a practitioner injects dermal filler into the blood vessel. "This can result in two possible outcomes," he says, explaining, "Firstly, if the obstruction is localised, it may result in localised necrosis. If the accidental injection results in the formation of an embolism then there may be a risk of it travelling to the back of the eye and obstructing one of the blood vessels that supply oxygen and blood to the eye, potentially causing blindness."10 In the event of this happening, Dr Bong advises practitioners employ measures that promote vasodilation such as introducing localised heat, use of an anticoagulant or the application of localised glyceryl trinitrate. He says that they should also seek emergency help from an ophthalmologist.
Considerations
For practitioners hoping to add periorbital rejuvenation to their repertoire, Dr Bong advises that they should be patient with their training; ensuring they are competent and understand the different clinical characteristics of HA dermal fillers on the market before offering treatment. He also emphasises that practitioners should take note that the tissues and anatomical structures in the periorbital area are not the same as other parts of the face, so treating around the eye should not be trivialised. Dr Molina adds, "Periorbital rejuvenation can offer amazing results but it is a very advanced technique." Dr Huss suggests, "I think, when you look at the tear trough, it's not just a technique where you put a needle in and inject a filler – it's really the whole history, the assessment, the procedure, the expectation. Every little bit adds to a good treatment, because if your assessment is not right, you're not going to get a good treatment."
It is apparent that being a confident injector, having a thorough understanding of the anatomy of the area and knowing how to handle complications is essential if you are to begin offering these eye-enhancing treatments. Dr Bong concludes by emphasising, "Periorbital rejuvenation should be considered as an advanced procedure and therefore only practitioners who have had considerable experience should offer treatments in this area."