As an aesthetic practitioner, you could be forgiven for thinking that your job begins when the patient walks into your clinic and ends when they walk out of the door, post procedure. However, as life and business coach Sloan Sheridan Williams explains, the aftercare that you provide can make the difference between a successful treatment that brings the patient back for more, and a mediocre experience that they may decide is not worth the expense of a return visit. "The expectations of the public are often driven by the media portraying the dramatic results that celebrities have achieved," says Sheridan Williams. "These results often come from using a range of aftercare options. The reality of the situation is that aftercare provides an integral role in the success of any treatment, be that physical or psychological." Of course, good aftercare doesn't merely promote a better aesthetic result; many aesthetic procedures carry a risk of product migration, infection or swelling if patients do not follow correct instruction.
In clinic or at home?
Most treatments will require a degree of effort from the patient to ensure an effective result, and this will mean complying with certain rules and following an aftercare protocol in their homes. There are, however, some therapies that can be performed in clinic to enhance the effect of certain procedures. Naturopathic doctor Nigma Talib, who has holistic aesthetic practices in both London and New York, believes in the use of light therapy to provide a post-procedure dermal boost. "After most dermatological treatments I use LED, as it helps with inflammation, wound healing and regenerates and repairs the skin," explains Talib. "Alongside this, I will use a gel with botanical ingredients."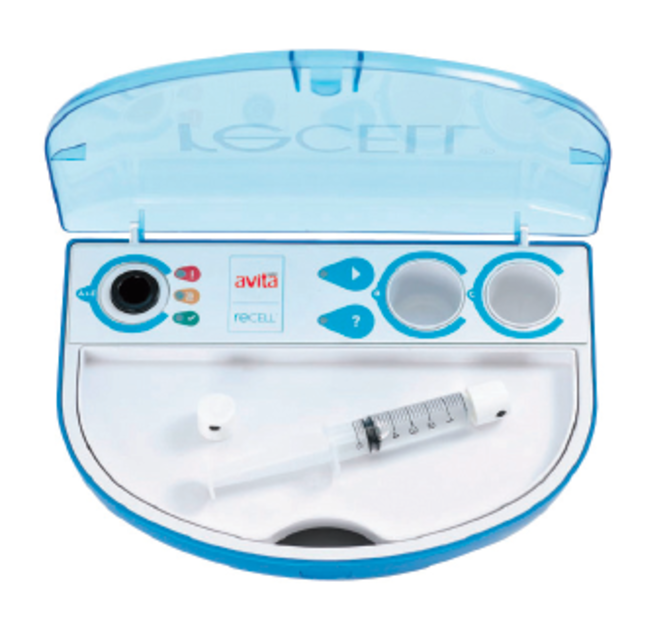 ReCell Spray-On Skin, from Avita Medical, which can be used as an aesthetic treatment in its own right, is now also being promoted for use post procedure to enable rapid wound healing. Developed as an "off the shelf" kit, ReCell is an autologous cell harvesting, processing and delivery technology, which transforms a thin, splitthickness biopsy from the patient's own skin into a cell suspension that can be sprayed directly on to wounds to stimulate the growth of new skin. One advocate for the use of ReCell in her clinic post procedure is Dr Zahida Butt, owner and director of The Cosmetic Clinic in Kings Lynn and Peterborough. She says, "I use ReCell after fractional CO2 laser resurfacing, fractional micro-needling and fractional micro-needling RF procedures. This helps injure the tissues in a controlled fashion, so that the patient's cells from the split skin graft can then be activated once injury is perceived." ReCell itself requires fairly stringent aftercare, with a clear dressing placed over the treatment area, followed by sterile swab dressings. The sterile swab dressings are removed after three days, and the clear dressing removed in the clinic, seven days post procedure. Patients must not remove the dressing themselves and must keep the area clean and dry at all times. Whether as a practitioner you prefer to perform post-procedure therapies in clinic, or to send patients away with detailed advice for what to do at home, Sheridan Williams advises that to be successful you should try to ensure consistency across the board: "Specific protocols are very helpful to have in place as they ensure the delivery and continuity of a high standard of care across all patients, no matter who they are." Specific treatments, however, will require specific aftercare plans. We asked leading voices in the field to share their advice on post procedure protocol following the four most popular aesthetic procedures: botulinum toxin, fillers and chemical peels.
Botulinum toxin
"In my experience, I believe botulinum toxin requires the most aftercare [of all the injectables]," says Dr Preema Vig, medical director of Dr Preema London Clinic and Beyond MediSpa in Harvey Nichols, Knightsbridge. She explains, "This is due to the fact that if the injected botulinum toxin were to migrate then this may cause another muscle to drop". Toxin injections are the most popular of all the non-surgical aesthetic treatments, topping the mostperformed procedures lists year after year, but they also have the most extensive list of dos and don'ts if patients really want to get the best result. "With regards to Botox, this is a different kind of aftercare," says Dr Vig. "You are not supposed to lie down for four hours afterwards; you should not do any exercise that day, because you do not want the muscles to be overactive as that will cause the toxin to wear off more quickly. You should not fly for at least 12 hours, and if you want to be really safe you should avoid facials for at least a fortnight and, for the first couple of days, wash and cleanse the face using an upward motion, to avoid migration of the product."
Fillers
Dr Kathryn Taylor-Barnes, who performs a wide range of filler injections at her practice in Surrey, has the following advice to offer: "Do not apply ice to fillers after injection. This is to prevent the surrounding tissue blood supply from being diminished due to cold blanching. We want the surrounding tissue and its blood supply to embrace the filler, to help it 'bed down'. Do not massage the area, unless of course Sculptra has just been injected. Massage to HA fillers is not advisable as it may cause position shift and degradation of the new filler, and increase the risk of swelling." However, opinions differ as to whether HA fillers should be massaged post injection – Dr Vig contends that, "Fillers are of a gel-like consistency and so I massage the area straight afterwards to sculpt the product into position. I advise patients not to massage at all except for when the lips are injected. Only in this case do I advise my patients to massage at home at home once or twice a day to prevent lumps of product forming in the lips."
Most experts seem to agree that arnica offers an effective solution if bruising is likely to occur, although Dr Vig recommends taking an oral dose – "two tablets a day, four times a day, ideally starting a good five days before treatment and continuing for a few days thereafter" – whilst Dr Taylor-Barnes prefers a topical application. "I recommend an overthe-counter arnica gel that has been kept in the fridge so that it is applied cooler for soothing," she says. "I advise application two to three times daily if bruising post procedure is likely. This is continued until the bruise resolves." Alternatively, Dr Sarah Tonks, who practices in West Kensington and in Harvey Nicholls Knightsbridge, has a slightly more unusual approach to the problem of bruising. She says, "I tell my patients to eat pineapple – I had an Iranian patient once who told me pineapple is used in Iran for post-operative bruising and it seems to work!" Dr Taylor-Barnes has recently introduced the new USOFT massage gel, from Sinclair Pharmaceuticals, into her practice. Specifically formulated for use after filler injections, USOFT contains arnica, aloe vera, ginseng, and tea tree to help soothe the skin. "Now that the new USOFT gel is available I anticipate I will use this routinely in my clinic, applied to injection sites immediately post treatment, with the option for patients to purchase the product to take home," she says.
Shinso Skincare, developed by Nao Tsuruta, is based on Japanese herbal remedies and claims to minimise the appearance of bruising and swelling post aesthetic procedure. Active ingredients in Shinso Essence include argireline (acetyl hexapeptide-8), which according to the manufacturer, acts as a topical botulinum toxin. SOD (superoxide dismutase) neutralises free radicals, whilst Fullerene and EGF (epidermal growth factor), both of which are Nobel prizewinning discoveries, aid detoxification and cell regeneration. Nao recommends that patients apply Shinso Essence morning and night, and spray Shinso Mist on to the treated area at regular intervals throughout the day, for a period of two to three weeks after a treatment. "I was curious about Shinso when it first came on my radar, as I was looking for the ultimate in aftercare for my patients who have had a non-ablative laser treatment," says Harley Street dermatologist Dr Ariel Haus. "I tried it myself first and was impressed at how quickly it smoothed out wrinkles and softened the skin's texture." He explains that, unlike women in his home city of Rio de Janeiro, London women have less time to spend on their morning skincare regime. "My patients tell me that they love Shinso because it's the only product they require. With one application they can be set for the day. I also like to use it as part of the aftercare for my patients who have had a non-ablative laser treatment, because of the anti-oxidant and anti-inflammatory properties of the ingredients."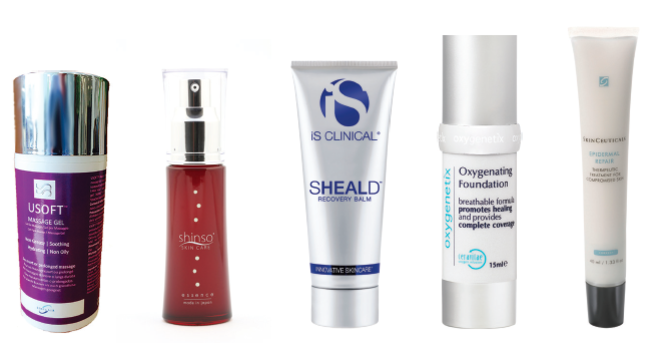 Peels
Dr Vig believes that, for peels in particular, aftercare should begin at the consultation stage. "You need to find out beforehand exactly what skincare regime they are using," she affirms. "This is because if a peel is performed and they are already using high strength products – although their skin will be well prepped – you risk aggravating the skin too much.
"After a peel, iS Clinical Sheald is perfect with its reparative formula. Whilst calming and soothing the skin, I advise my patients to reintroduce glycolics slowly into their regime as it may over-stimulate the skin." Both Talib and Dr Tonks recommend the use of SkinCeuticals Epidermal Repair Cream post peel. Specifically formulated for use post aesthetic procedure, the manufacturers claim that the occlusive properties of beta glucan, contained within the epidermal repair cream, form a protective veil over the skin surface to support the reformation of the natural barrier function and prevent environmental aggression. According to SkinCeuticals claim that extracts of medicinal herb, centella asiatica, support epidermal and dermal tissue renewal, while encouraging the remodelling of collagen types I and III.
Meanwhile, extracts of a flowering aquatic plant, nymphea alba, are said to provide effective anti-inflammatory action. One product that seems popular with most of the doctors we spoke to is Oxygenetix foundation, which promises to cover and protect sensitive post-procedure skin with an SPF of 25, whilst also allowing it to breathe and heal. Available in 14 shades, which can be mixed to match the patient's skin tone, Oxygenetix contains a patent-pending technology called Ceravitae. Dr Terry Loong explains: "Ceravitae is a charged oxygen complex that delivers oxygen molecules to the cell in a drip feed throughout the day. Before I started using Oxygenetix, after a peel, skin would get more reactive. Since using this, I've not seen that. Skin is still hydrated, oil free and controlled, they [patients] have less downtime."
A holistic approach
Some practitioners believe that aftercare is not just about what you put on your skin, but that what you imbibe can also have a big impact on the effectiveness of an aesthetic procedure. "As a general rule, I prescribe vitamin A, C and E supplements to help heal the skin and boost the immune system," says Talib. "I also advocate a diet rich in fish for all my clients, as omega 3 is such an amazing anti-inflammatory."
There is also a psychological element to ensuring your patient gets the best from their treatment. "It is extremely important to manage the expectations of your patient," Sheridan Williams asserts. "Good aftercare aids in providing optimal conditions for the treatment to work, while also reinforcing that patience is often needed to see results." Dr Taylor-Barnes agrees.
"My patients are constantly psychologically assessed pre, during and post treatment and reassured regarding the positive but realistic overall outcome aesthetic treatments can achieve. If a patient is anxious at their swollen appearance immediately post-filler injection, I often have to gently remind them that the treatment involved a significant insult to the skin and this causes the usual inflammatory reaction in the short term."
"I also advocate a diet rich in fish for all my clients, as omega 3 is such an amazing anti-inflammatory."
The take-home message
In conclusion, whilst some measures can be taken in clinic to improve the results of a treatment, the onus really lies on the patient to maximise the benefits of their aesthetic procedure by adhering to an aftercare regime at home.
So how can practitioners ensure that they are motivated to do that? "When suggesting action points, it helps to stick to things that are easy to implement," says Sheridan Williams. "The easier you make the positive actions for your patient the more likely they will follow through and better results will be seen by all." If the use of certain skincare products is an essential part of your prescribed aftercare programme, it can be helpful to include the products in the price of the procedure, so that patients do not feel they are incurring any additional costs.
It is also crucial to be available for patients to speak to post procedure, as Dr Tonks confirms: "I see everyone after two weeks. If they have had a reasonable amount of work done, I will usually give them a call myself to clarify and answer questions. Post-procedure care goes on forever if you want to maintain the results – I want them coming back for more."