It's been almost two years since the Department of Health published its Review of the Regulation of Cosmetic Interventions,1 which sets out recommendations for safeguarding patients and practitioners in the largely unregulated industry. The review, led by Professor Sir Bruce Keogh, also highlighted important issues about who may perform non-surgical cosmetic procedures and what qualifications they should have as a minimum.
As a consequence of the report's key recommendations for high-quality care, which included the development of accredited qualifications for providers of aesthetic procedures and standards for practice and training, the focus is more sharply fixed on training than ever before. In the landscape of tighter regulation of an industry that is forecast to be worth £3.6bn this year,2 practitioners now have to better their services – and undertaking new, innovative and more advanced training is one way forward.
The Academy of Advanced Beauty is just one training provider working to improve training standards. Provided by a medically qualified lecturer, their method allows practitioners to gain CPD points. "For us, the most important aspect is to take training more seriously, and to make 'core knowledge' a more important part of the training, rather than just machine operation," says Academy founder Barbara Freytag. But, as Freytag highlights, how can practitioners objectively judge the quality of the courses available?
There are numerous types of training on offer across the industry. From one-day broad-spectrum courses, to high-level, formal qualifications and interactive workshops, it's far from a one-size-fits-all approach – but whatever format training takes, the consensus is that it's essential.
Duty of care?
According to Steve Joyce, director of marketing and business development at Healthxchange Pharmacy, practitioners must maintain their skills through training to, "underpin the industry both in terms of the professionalism of those working hard in it, and the desire for excellent and consistent patient outcomes". When things go wrong, Joyce says the ramifications can be far-reaching, especially if incidents are played out in the public eye. "This affects the whole industry, and there is a collective responsibility upon everyone in the profession to undertake appropriate training, so they can best advise their patients and deliver the expected outcomes from treatments."
Last year, Healthxchange capitalised on this and opened its own academy in Manchester, providing product and business-focused training programmes suitable for a range of skill and experience levels, from practitioners new to the industry, to experienced doctors wanting to develop new techniques and master specific products.
Education in such a diverse industry differs immensely. While the Healthxchange concept focuses on a wide audience, other providers instead concentrate on specific skill levels. Dr Raj Acquilla delivers training only at 'masterclass' level, explaining that "typically, people achieve masterclass level after a year of practice, sometimes longer." He adds, "Ideally, they'd have performed between 50 and 100 procedures in these areas, to achieve competency with a needle." His face-to-face training sessions in botulinum toxin and dermal fillers comprise in-depth study of the anatomy from the skull, up through the fat compartments, muscles and skin, including blood and nerve supply and lymphatic drainage.
The one-day courses cover risks and complications and how products interact with tissue in their various compartments, leading into a technical strategy for injecting in each anatomical region. Attendees are certified following a successful practical assessment, overseen by Dr Acquilla.
Practise makes perfect
Many concede that practical training is paramount, and should be carried out under the watchful eye of an experienced course leader before the student performs in clinical practice. "The old technique of seeing a treatment, then going to practise on friends before carrying it out for real can no longer be sustained," comments Mr Dalvi Humzah, cosmetic surgeon and founder of Facial Anatomy Teaching. Of his training, he says, "We go through tutorial-based teaching before doing demonstrations and a hands-on practical, using unembalmed specimens. Practitioners have a chance to inject, and you can see where the injection is in terms of the underlying anatomy." From an initial course designed for practitioners with a non-surgical background, Mr Humzah developed a second, separate course focusing on complications. As such, the 'technical' aspects of anatomy are central to both. "The result is that, because students know about the anatomy and how to assess it carefully – as well as the complications that can arise – they can perform their treatments safely and reduce the risk of any major adverse events," he adds.
The depth of content often varies depending on the student – and as independent educator and practitioner Pam Cushing points out, this can be difficult to balance. She delivers one-day training in botulinum toxin, dermal fillers, peels, mesotherapy, platelet-rich plasma (PRP) injections and derma roller, largely to audiences with different backgrounds, but believes less can be more. "We don't go into too much muscle detail – I think the problem with doing so is that those are unfamiliar with it can get frightened, and people who already have that knowledge will get bored," Cushing explains. "It's much better that they understand the different types of toxin, their indications, the correct injection sites, doses, dilutions, and patient selection. More than anything, I aim to give people a broad-base understanding."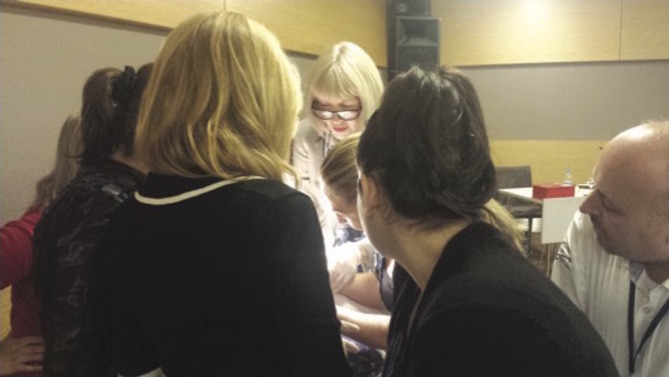 Evaluation methods
Assessment and accreditation methods are as diverse as the training available – an inevitable consequence (for good or bad) of lack of regulation. All courses provided by the European College of Aesthetic Medicine and Surgery (ECAMS), for example, culminate in an exam, which delegates must pass to receive their certificate of completion. Similarly, courses delivered by Innomed Training Academy, which are CPD accredited, incorporate a formal, marked assessment. For others, like Dr Acquilla's masterclasses and Mr Humzah's Royal College of Surgeons-run courses, successful completion is determined by delegates' skills being tested under the subjective supervision of the highly qualified and experienced course leader.
Arguably, the difficulty with formal assessment in such training is that it would imply a level of competency on the part of the trainee in delivering that treatment: yet, with no industry-wide, nationally recognised standards for education and training, 'levels of competency' can be fairly open to interpretation. Moreover, as stated in the Keogh report, "In the absence of accredited training courses, anyone can set up a training course purporting to offer a qualification".3
However, some assurance is accumulated by courses offering a recognised general qualification, such as national vocational qualifications (NVQs). An example is the NVQ Level 4 course in laser and IPL/light treatment, offered by Advance Clinic, Training and Consultancy and accredited by international awarding organisation VTCT. Advance's founder, Annalouise Kenny, testifies that the nature of the ever-changing aesthetics industry has resulted in an abundance of self-accredited training. "When I started up, there were very few private training centres, but even in the last three years it's expanded," she says. "You used to have medical on one side, and beauty on the other, but aesthetics is still separating itself as a sector on its own." In doing so, it is attracting ever more beauty practitioners, which is perhaps where validation of training and education is most pertinent. In this way, an NVQ provides a qualification whose content, though not overseen by an industry- wide body, is endorsed by a recognised accreditor of skills and training. This option can be further supported by the Skin Ageing and Aesthetic Medicine Masters at the University of Manchester. This three-year part-time degree allows training practitioners, and those already working in the industry, to learn by incorporating practical and theoretical practise within a multidisciplinary programme. Clinical programme director Dr Tamara Griffiths says, "The most effective form of training will encompass both knowledge as well as practical exposure. Educational programmes can deliver a solid and comprehensive foundation of knowledge to students, but the safe development of practical skills will require an apprenticeship or mentorship form of training."
Consulting the experts
More providers are anticipating a regulatory training framework, as outlined in draft in the Health Education England (HEE) report: Review of qualifications required for delivery of non-surgical cosmetic interventions,4 commissioned in response to the Keogh report. Following a stakeholder consultation in December, a final version of this report will be published in April this year. At Sally Durant Training and Consultancy, a range of Level 4 qualifications have been developed "to address the concerns of the HEE". "We designed the courses to be competency-based and nationally accredited," explains managing director Sally Durant, "and the competencies we've put in place are those reflected in the HEE report." This training uses assessment via a competency framework, testing practical application, consultation and verbal skills.
"Educational programmes can

deliver a solid and comprehensive

foundation of knowledge to students,

but the safe development of practical

skills will require an apprenticeship

or mentorship form of training."

Dr Tamara Griffiths
For Durant, it pays to be ahead of the curve, and others are taking similar steps in the spirit of HEE's work. Exemplary of this foresight is the CPD-accredited Advanced Consultation Training (ACT) course, devised by micropigmentation specialist Anouska Cassano alongside Professor Glenn Callaghan, a psychologist and director of clinical training at San Jose State University. Cassano explains that the course aims to minimise patient dissatisfaction – and therefore potential litigation – by providing a framework for the consultation process. "There is no standard format for consultation – even on the surgical side, where there are very robust guidelines for practice," she says. The training comprises a one-day interactive course and workshop, assessing delegates via written and practical elements, providing a raft of pre-course literature and online resources, which practitioners may refer back to in clinic. "The key to successful treatment outcomes is transparency," Cassano adds. "ACT is designed for the practitioner to determine whether someone is likely to be happy with the outcome of the treatment. The framework is there to manage expectations, for the protection of clients and patients."
Getting out what you put in
One tangible outcome of ACT certification is the potential for discounted insurance. Similar offers may be a particular attraction for practitioners who are comparing the value of different courses, especially if new to the industry. "We've negotiated special offers with key suppliers for our delegates, which includes discounts on products to help them stock up more easily as they start," comments Innomed's Martin MacKenzie. "We can also o er sources of other support and professional advice – such as industry publications and journals as well as professional industry associations that they should join, such as BCAM [British College of Aesthetic Medicine] and BACN [British Association of Cosmetic Nurses]." These incentives may well be a consideration when cost of training is an issue, which, according to Dr Elisabeth Dancey, is sometimes the case. Dr Dancey offers specialist one-to-one training in PDO thread lifts and PRP, and says that while such techniques that demand mastery and dexterity require a personal approach, it is not always financially attractive. "Training provided by larger companies will be less expensive, maybe free of charge, and this is the way I see training developing in the future," she adds. "Relatively simple procedures or those with a lot of theory content can be effectively taught in relatively large groups – and it also makes economic sense for the practitioner and trainee alike." But Dr Dancey urges caution when it comes to training in advanced and complex techniques, like PRP, suspension thread lifts and injectable lipolysis 'en masse'. "These are best taught one to one – or at the very least one to two. Supervision or further training should also be offered," she says, adding that one-to-one training enhances one's CV in an increasingly competitive profession.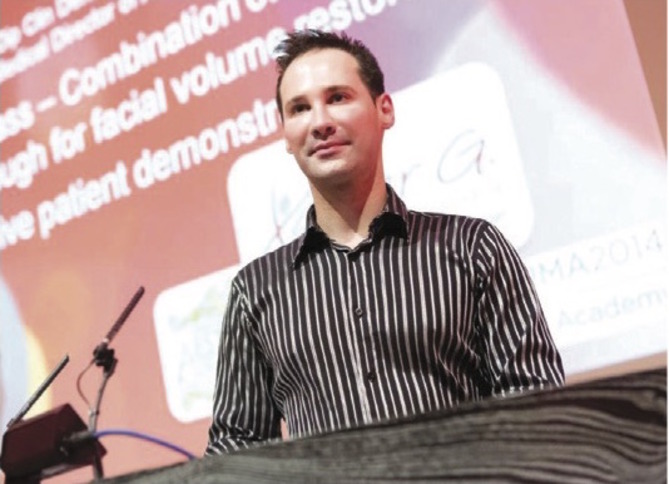 Continuing education
Under the General Medical Council (GMC)'s Good Medical Practice (GMP),5 medical doctors are duty-bound to "develop and maintain [their] professional performance", which includes
the obligation to maintain competency, professional knowledge and skills, and to take part in regular activities and "structured support".6 Arguably the best way to satisfy this requirement is to undertake training and education that's certified as continuing professional development (CPD). CPD points or hours are a benefit of a great number of training options, and are an essential part of a practitioner's portfolio in a changing sector, says Rachel Gofton from the Royal Society of Medicine, whose courses are all CPD- certified. "Such training is important to ensure good practice, as the industry is rapidly developing," she says. "As products, technology and needs develop, the training will have to change and new guidelines and laws will mould the way training is delivered." In its very nature, good-quality CPD is perfectly placed to reflect these changes and developments. It can also make training transferrable internationally, in a climate where practice and regulation varies from one country to another. ECAMS is one provider addressing this, explains its president, Dr Peter Prendergast. "Many of our injectable training courses in the past included CPD points," he says. "And due to the requirements now for doctors in most countries to accumulate adequate CPD points, we intend to apply to the European Accreditation Commission for Continuous Medical Education (EACCME) to offer CPD points for all future ECAMS courses, as well as for our annual Congress in Barcelona."
The advantage of CPD is its variety of forms – as structured/active learning, reflective learning and self-directed learning7 – making it accessible and flexible: it can often be accrued at
an individual's own pace, for example, by reading journals and articles such as those in Aesthetics (see page 24 for this month's CPD article). However, more interactive training is, for many, the most essential form of ongoing education. According to Cushing, the best route is live conferences and exhibitions, and she suggests that practitioners should invest in attending at least two of these events – like the Aesthetics Conference and Exhibition (ACE) – every year to make sure they're up to date. "I think these conferences are vitally important: I can't see how any practitioner who works in aesthetics – however long they've been in it – can't gain something from going to a presentation or a workshop," she a rms. "Every single person who presents will always have some nugget of information or clinical experience that you've not thought of before."
Similarly, Joyce's top tip for successful training is to "make it interactive: there is nothing more disengaging than having to sit for hours trying to absorb reams of content. Involve delegates in activities, get them to interact and show videos, demonstrations or role play". ACE 2015, taking place next month, fully embraces this interactivity, offering delegates the chance to participate in the main sessions through virtual clinics and multi-screen demonstrations, for example. Moreover, the main Conference sessions, Masterclasses, Expert Clinics and Business Track elements all offer one CPD point per hour and, with sessions that are 0.5 to 3 hours each,8 there is a total of 50 CPD points available. Whilst aesthetics is still a largely unregulated industry, there is clearly a good variation of safe, reliable and professional training courses available to practitioners from a wide range of backgrounds and fields of experience. Qualified professionals are on-hand to offer training and support to newcomers to the industry as well as to some of the most experienced practitioners in need of advice. Until the findings of the Keogh review and the following HEE draft guidance are fully implemented and embraced, this is at least a step in the right direction.