Private label cosmeceutical company director Gary Conroy explains why it's important to create a value proposition when rebranding and how this should be linked to your long-term business development
I have come to realise that many professionals working in medical aesthetics have spent a long time becoming very skilled at aesthetic rejuvenation treatments but have often been able to spend less time on truly developing their clinic's brand.
In this article, I will discuss the importance of brand development to motivate your team, increase client retention, loyalty and word of mouth referrals, and create a sustainable and scalable business.
What is a brand?
In its most literal sense a brand is a type of product manufactured by a particular company under a particular name.1 It is therefore easy to understand why a business that decides to develop a new clinic name or logo claims they are 'rebranding', the results of which can sometimes be very positive but on other occasions may not be successful, and sometimes can seem illogical!
As such, to truly develop a prosperous brand, it is important to think of it at a more emotional level. Applying relevance to a medical aesthetics practice is what CEO of one of the largest promotional products distributor, Jerry McLaughlin, outlines in Forbes Magazine.2 He asserts that a brand is what your patients feel or think when your business name is mentioned or they see your logo.
A value proposition is defined as 'a promise of value to be delivered'
We all have emotional relationships with products or services that we have experienced. Successful companies tend to be so because the brand that they have created evokes positive emotional responses, however the contrary is also true. For me, a great personal example of this is the telecommunications company Talk Talk.
When they were a new company, they offered a low cost, appealing, all-in-one communication package. My initial emotional relationship with them was positive, I thought they were disruptive and offered a great service. I was loyal and recommended to friends and family that they switch from other providers. Then, they got hacked and I got hacked,7 and my service failed.
My emotional relationship changed forever and it appears, by looking at their share price, I was not alone. Between March 2010, when they launched, and May 2015 their share price rose by almost 400% from £1.24 to £4.03, but by January 2016 it had plummeted to £1.943 (with the hacking having taken place in October 2015) – the love affair was over because their external service proposition no longer matched the customer experience. By April 2016 it was up to £2.67, but continued to plummet once more, with it currently standing at £1.90 as of April 2017.3
For all consumers of products or services, that's what a brand is – it is the emotional intersection where the promise meets the consumers' experience and that intersection can be good or bad, depending on whether you deliver what you promise or not.
Why rebrand?
If you are considering rebranding, the first thing to consider is why you feel the need to do this. Here is a list of questions that may help:
What is my current value proposition?
A value proposition is defined as 'a promise of value to be delivered'. It is a clear statement that explains how your product solves customers' problems or improves their situation, delivers specific benefits, and tells the ideal customer why they should buy from you and not from the competition.4 If you are specifically clear about what you offer and it is unique and different from your competitors, rebranding may not be right for you, unless of course customer visits are decreasing.
What do my staff think our value proposition is?
This is an interesting project that should be conducted at all staff appraisals. It is the staff who will be delivering the proposition so clarity in understanding it is key. However, perhaps they are not empowered to deliver it or maybe they have tried and the proposition is not what customers want, so your staff are attempting something else. If this is the case, it may be worth looking into rebranding.
How does the value proposition meet my current, most loyal patients' experience?
What qualitative feedback have you conducted recently to better understand your customers' experience? If it matched your value proposition then you already have a brand – you should only reconsider rebranding if the experience does not match your proposition or your proposition is only attracting a small number of patients.
What was the experience of my lapsed or lost patients?
To what extent have you tried to understand why patients stopped visiting your clinic? Again, does the feedback match your proposition? If it does, perhaps you have the wrong proposition and you should consider rebranding. Consider that your proposition may be correct but the customer experience does not meet the proposition and it may be an internal issue that needs to be addressed, not a re-brand.
Can I reach a large enough demographic who would value my proposition?
Is your current proposition too niche or too broad and therefore only attracting a select or non-targeted patient cohort? How many people live in your catchment area that fit the profile of patients who would be attracted to your proposition? If not many, you need to physically move your clinic to an area where there are more of your target audience or you could re-brand. If there are plenty, there may be something wrong with your proposition or communication strategy.
What is a good value proposition?
In my view this is often miscommunicated by many medical aesthetic businesses as the focus tends to be on products delivered or equipment in stock; just scroll through your Facebook timeline or Twitter feed and count the number of practitioners proudly showing off a new piece of expensive equipment. By Googling 'Anti-ageing clinic London' it delivers 648,000 results in 0.86 seconds, yet, I couldn't spot one clinic offering a promise of service to be delivered, the vast majority have a list of treatments or products for sale.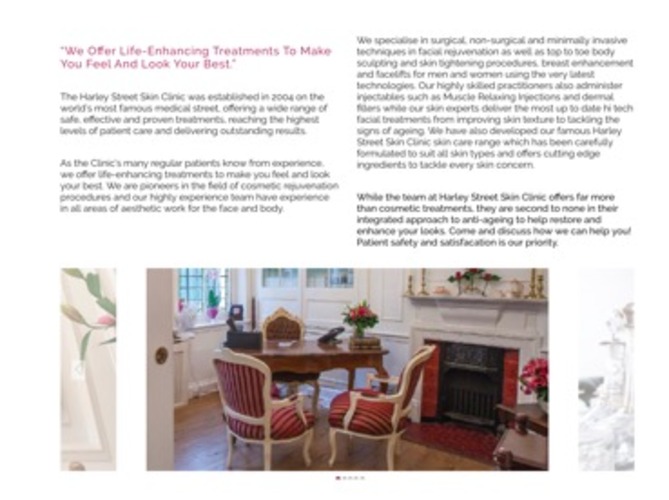 A great example of a powerful value proposition is The Harley Street Skin Clinic, which states 'Look your best, feel your best, expect the best'. (Figure 1) 5 Whilst this may be successful in Harley Street, a similar promise may not work for everyone; your patients may not want 'the best' and you may not be the best, it may be off-putting as they may feel you would be too expensive or you may not feel confident enough to promise you are the best. This is fine and there are plenty of other options. The most important thing is that your value proposition matches your brand ethos.
So ask yourself, 'What is it that I can promise to deliver that my patients are guaranteed to get and, more importantly, enough of them want?'
Here are a few other key words that patients may value: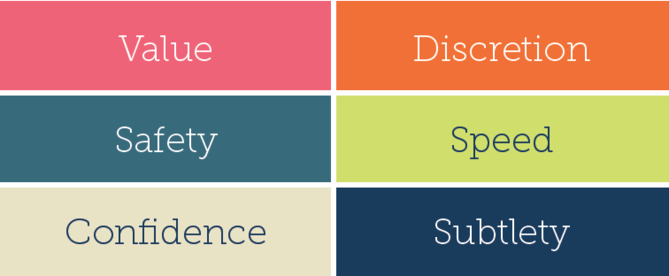 However, if you do have something unique to offer that is in demand, your existing patients will tell you what it is – and it may not be what you think. Organising regular focus groups with your patients will help you understand what attracts them to the clinic; I would personally advise using a third party to chair these groups without the clinic staff members' attendance, so that bias is removed and true insight is delivered.
It is also worth remembering that the greater the level of uniqueness you can offer to attract the largest cohort of patients, the more successful you are likely to be. This may also stave off competition, giving you competitive leverage and the chance to meet the needs of local patients that are not currently being met by other clinics in your area, and allow you an advantage to remain established for longer.
Implementing your value proposition
When you have understood what your patients love about you, why your lapsed patients left you and what those who have never considered using your services would need to know before they would choose you, you will be in a good place to consider whether you and your team are equipped to deliver a new value proposition; this may involve retraining, coaching and, in some instances, recruiting.
It is crucially important that the internal communication is clear to all members of your team and that they know what promise they need to deliver. This includes external suppliers who engage with your patients directly or indirectly. There is little point in developing a promise that is only offered to some patients at some touch points by some staff members or suppliers.
To drive and maintain the initial growth from all your hard work, at the very least a full 12-month business plan should be put in place
Staff who know what they must promise and who are well trained to deliver on this promise will usually be happier and more productive as they will be confident in what they're delivering, feel engaged and commited to the brand. If they are not, you may have the wrong staff, the wrong service proposition, poor communication or poor development strategies in place.
When your team is delivering on a promise that your patients value, they will be more likely to remain loyal and bring their friends and this will go a long way towards you having a sustainable business. This is well documented by Harvard Business School in the Service Profit Chain, which highlights how internal communication can lead quickly to retained customers and increased word-of-mouth referral.6
How do you maximise growth?
Now that you have your promise and are delivering on it, your staff should feel empowered and have high job satisfaction and your patients should be referring your services to their friends. However, the job is only half done.
Do you have a business plan in place?
A long-term business plan needs to be developed in order to set yourself goals to attract the largest share of patients you are trying to include, what milestones you will set in what timeframe, and what tactics you will use to attract them.
I am amazed at the number of businesses that get by from month to month with short term tactical plans or a few bullet points in a note pad. Business planning should include dedicated time away from the clinic each year to create; attempting to do this between seeing patients whenever you have a spare five minutes will often lead to an incomplete job. Some may well know the difference in sales from one year to the next but have no idea on what is driving sales, what is profitable and what is loss-making. It comes as a surprise to many when the initial influx of new patients begins to dry up and seasonality or the economy is the only rationale they can offer.
Many of the manufacturers and service providers within the aesthetic industry can support you through a business plan process – ensure this is part of the service you expect from your suppliers, if it is not offered, ask for it, and if it is not supplied on request, consider what their value proposition is for you and perhaps shop elsewhere.
To drive and maintain the initial growth from all your hard work, at the very least a full 12-month business plan should be put in place, to implement your tactics to attract your target audience and to monitor success. There is a lot of seasonality in aesthetics due to consumer lifestyle and many patient's treatment cycle is annual or six-monthly dependant on the treatments they have and their longevity of action. If you are considering scaling or exiting, a five-year plan must be in place.
Conclusion
Rebranding in medical aesthetics is not something to be taken lightly; a new logo or buying a new reception desk are only elements of your brand's anatomy; rebranding is redefining your clinic's core promise to its intended patients on a long-term basis. It is a thorough, lengthy and often expensive process which involves every member of your team and every touch point you have with your patients or intended target audience. When done well it will set you apart and set your business up for success, but it must be maintained with a solid plan.