OVERVIEW
Cryolipolysis, a new technique for non-invasive fat removal, was investigated for safety, tolerance, and patient satisfaction. A retrospective study was performed at clinical sites in Belgium and France. Safety was assessed according to reports of side effects. Tolerance was evaluated according to pain scores and patient perception of treatment duration. Clinical outcomes were assessed according to patient surveys, caliper measurements, and assessment of photographs. Five hundred and eighteen patients were treated (73% female, 27% male; mean age 42.7). A variety of treatment areas were studied in an effort to assess safety and efficacy. There were 891 total areas treated, comprising the flanks (love handles) (59%), abdomen (28%), back (12%), inner thighs and knees (1%), and buttocks (1%). The majority of sites were treated once (86.5%), although some areas were treated two (13%) or three (0.5%) times.
SAFETY AND TOLERABILITY: RESULTS
Side effects from the cryolipolysis treatment were minor. Erythema was reported in 100% of cases. The skin aspect immediately after treatment was observed to be clay-like (52%), as illustrated in Figure 1, or stiff (48%), as shown in Figure 2. Additional side effects observed immediately after treatment included rare vasovagal reaction (2.1%) after anterior abdominal area treatment and varying levels of pain. In 96% of patients, the pain was reported as minimal to tolerable. Severe pain was reported in 4% of patients, occurring only during the initial ve minutes of cryolipolysis, with no interruption of treatment required. Tolerability of the cryolipolysis treatment was assessed by querying patients on their perception of treatment duration. The procedure was well tolerated, with 77% feeling the time was 'about right,' 11% feeling the procedure was shorter, and 1% feeling the treatment was much shorter than the actual treatment time.

Only 11% of respondents felt the procedure was too long. Of the total patient population, 92% (n = 479) were assessed for short-term side effects one month after treatment, but 8% (n = 39) could not be located for assessment. In those assessed, there were few short-term side effects noted; 9.8% of patients reported bruising in the treatment area, which was determined to be caused by the vacuum handpiece. Transient changes in sensitivity were reported in a small number of patients. Decreased sensitivity in the treatment area was reported in 0.4% (n=2) of patients, and both cases resolved spontaneously in one to ve weeks. Transient increased sensitivity in the treatment area was reported in a larger percentage of patients-2.5% (n=12) within the first few days after treatment. One case of increased sensitivity was reported after treatment of the flanks and the remaining 11 cases after treatment of the abdomen. All cases of increased sensitivity spontaneously resolved in three weeks or less. Recommended treatment was ibuprofen (400 mg twice daily) until resolution. 12 patients (2.5%) also reported nodular or diffuse infiltration in the treatment area within a few days after treatment. Erythema and pain accompanied infiltration, which lasted eight to 25 days. Recommended treatment was ibuprofen (400mg twice daily) or acetaminophen (2-4g once daily). All cases resolved spontaneously, with complete regression. Anecdotal evidence suggests that these patients experienced greater efficacy than those who did not experience infiltration. It is hypothesised that a more pronounced inflammatory response triggered a more pronounced response to treatment.
(Figure 3 demonstrates a case of nodular infiltration, with the pretreatment photograph and a three-month follow-up photograph showing a region of red, indurated, sensitive plaque in the treatment area.)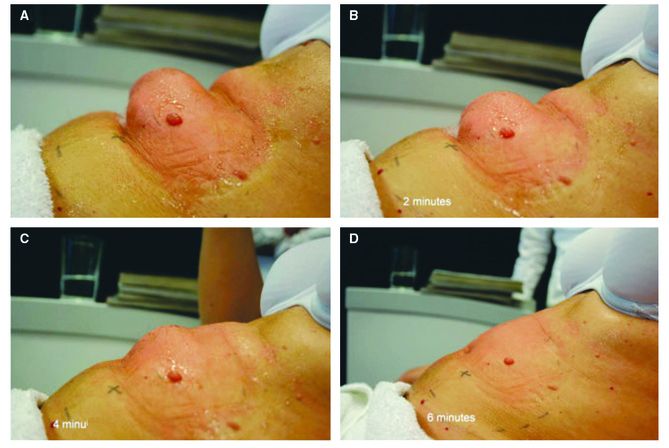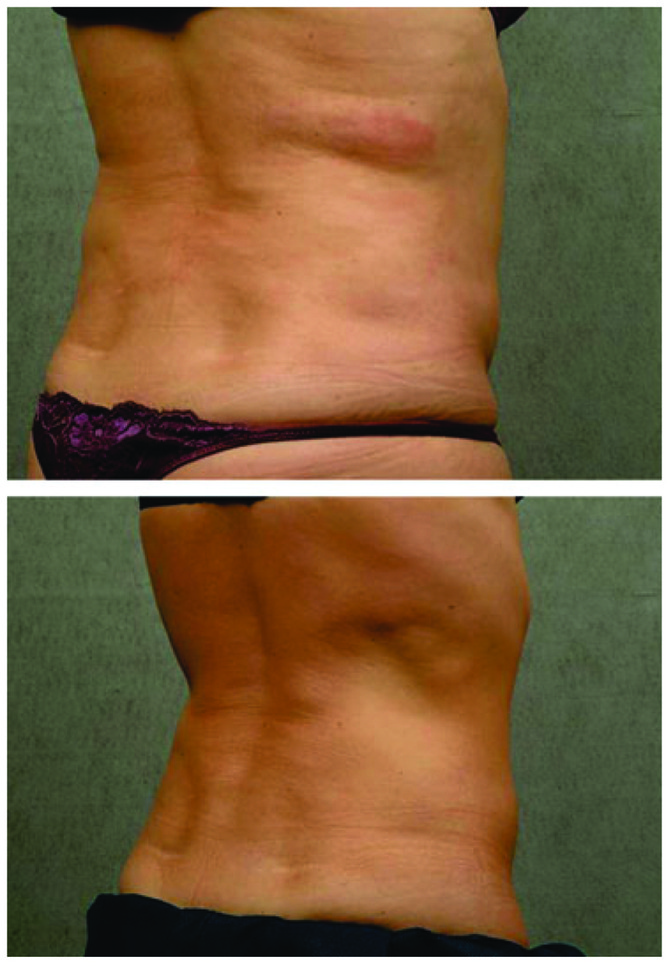 In summary, short-term side effects included bruising, transient changes in sensitivity, and nodular or diffuse infiltration at the treatment site. All reported short- term side effects resolved spontaneously. There were no reports of persistent erythema, blistering, or skin necrosis. There were no cases of dyschromia. There were no long-term side effects. No adverse events were reported.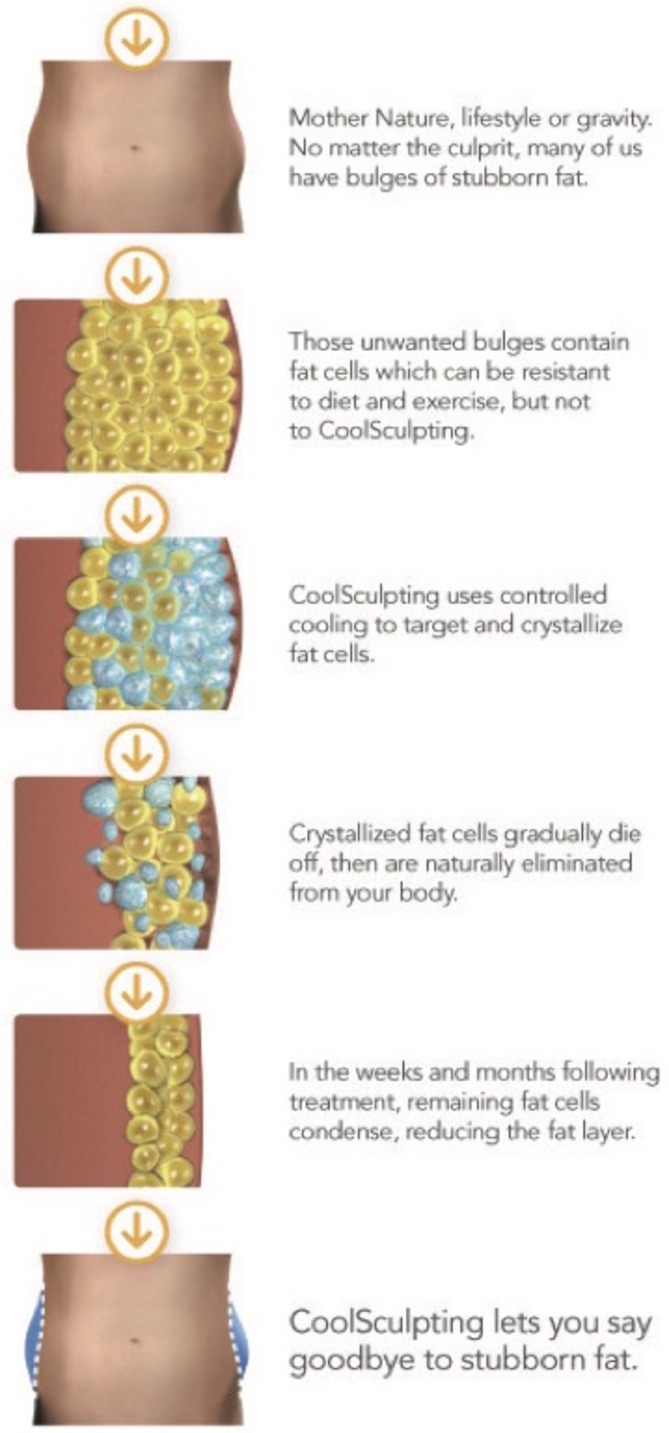 RESULTS: EFFECTIVENESS
Efficacy assessment was a secondary endpoint for this study and was gauged using three metrics: patient-reported satisfaction scores, caliper measurement of fat layer reduction, and investigator assessment from standardised pre- and post-treatment photographs. Treatment efficacy was evaluated by consultation three months after the procedure at the Belgian clinical centre, which treated 75 of the 518 patients in this study; 66% of these patients (n=49) were evaluated at three months, and 34% (n=26) could not be located. The French clinical centre, which treated 443 of the 518 patients in the study, also evaluated treatment efficacy in telephone follow-up; 44% of these patients (n=194) were evaluated more than 3 months after treatment, and 56% (n=249) could not be located. The results reported here represent the combination of patients from both sites (n=243). Patients were asked whether they were extremely satisfied, satisfied, neutral, or disappointed in their results.
73% reported being extremely satisfied or satisfied. 82% said they would recommend the procedure to a friend. 14% said they were unsure, and 5%
said no. Treatment efficacy was assessed according to caliper measurements before treatment and at the three-month follow-up consultation (n=49). Patients were instructed not to change diet or exercise habits in order to maintain stable weight during the study. Attention was given to proper patient selection; only non-obese, t patients with localised fat deposits were included. Weight was measured before treatment and at the follow-up visit. Mean weight was 65.9 ± 11.3 kg before treatment and 66.0 ± 11.7 kg at the follow-up visit - a statistically insignificant change. Caliper measurements were taken at the treatment site and a control site. When comparing the treated site with the control site, 94% of subjects showed a reduction in fat thickness. On average, the subjects had a 23% reduction in fat thickness at the treated site. In contrast, the control site showed a statistically insignificant change in fat thickness, with mean caliper measurements of 3.18 ± 1.02 cm before treatment and 3.14 ± 1.02 cm at follow-up. Finally, the investigator performed an efficacy assessment by grading pre- and three-month post-treatment photographs (n=49). Based on the investigator's analysis, 73% of the subjects displayed reduction of fat thickness in the treated area. The most effective treatments seemed to occur in the abdomen and flank sites - 85.5% of subjects showed improvement in these two treatment sites. In comparison, there seemed to be little to no visual indication of treatment response in the thigh, knee, and buttock areas.
CONCLUSIONS
The investigators also found that careful patient selection, proper anatomic site selection, and adequate number of treatment cycles are critical for achieving successful patient outcome. The most effective treatment was noted in the abdomen and flank sites. The investigators observed limited treatment response with fibrous bulges in areas such as the thighs, knees, and buttocks.
Further research should be performed to optimise treatment time, number of cycles, and perhaps hand-piece shapes to improve cryolipolysis efficacy in brous bulges, which are typically difficult to treat. Additional fundamental research should be performed to establish the mechanism of action by which cryolipolysis damages adipocytes. It is not known why adipocytes are more sensitive to cold than other cell types and how adipocyte apoptosis occurs and leads to inflammatory infiltration at the treatment site.
Authors: Christine C. Dierickx, Md, Jean-Michel Mazer, Md, Mila Sand, Md, Sylvie Koenig, Md, and Valerie Arigon, Md.