Dan Travis measures the benefits of advertising via search engine results for medical aesthetic clinics
Paying Google to display your advert is an interesting option for clinics. The notion behind Google AdWords is that when someone types a relevant keyword into the Google search engine your advert appears and – hopefully – potential patients will click on it, visit your website and make a booking. Google AdWords is the name for this kind of paid-for-advertising system, and 'AdWords' is the terms given to these searched keywords. The resulting advert, which appears by this method, is called a Google Ad. This all seems simple enough, but the benefits of this method in terms of profit may not be so clear cut, and clinic owners that I work with find the concept of Google AdWords confusing. This confusion revolves around two key issues: "Is paying for Google Ads going to work for my business?" And "If I don't use Google Ads, maybe my competition will gain an advantage."
What is most important to understand before considering such an investment is how people interact with Google searches
The use of Google AdWords certainly works for some businesses and clinics and can be very effective in selling products nationally and internationally. They can also be useful when selling digital products such as online courses or business information. But will they work for your clinic? Google Ads are search results that are displayed at the top or to the side of a Google search results page. Businesses pay Google to display the advert when a search term such as 'Hotel London' is typed into the search bar. The Ads appear in a box-out on the search results page and, if you have typed in the search term 'London Hotels', they usually look something like this:
½ Price London Hotels – Lowest Price Guarantee
www.hotelchain1.com/London-Hotels
4.6 advertiser rating
Book your hotel in London online
Hotel Chain 2 London Sale
www.hotelchain2.co.uk/Summer-Sale
Book your Summer Holiday at Hotel Chain 2 from only £99
in the Summer Sale!
Google Advertising first became widely available in the UK in 2006. For the first time it offered anyone the possibility of being able to see how many people were clicking on their paid-for advert; this provided instant, useful information to the seller. Up until this point, this kind of information was only available via direct-response marketing agencies that would record the results from print-based advertising – which could take weeks to come through. Google recognized this gap in the market and through the provision of Google AdWords, was able to supply results instantly. This Google advertising system allowed marketers, such as myself, to tweak adverts and test them against each other, to judge the best results. We were able to study the information that the data gave us and discover which words encouraged people to click on the advert, actively displaying interest.
This novel approach to advertising was a massive advance in direct marketing and is still of great value to the marketers and businesses that use it. I use Google AdWords to test the potential market share for products and services. Print advertising can be very effective but with Google AdWords clinics can change, remove or update an Ad instantly, allowing for a fluid and more effective method of marketing services to the desired audience.
How potential patients use search engines
From the outset it is important to note that your resulting advert will appear in front of potential patients who are searching for your clinic's services for the first time. These people are the target of your Google AdWords investment, and should be your sole reason for paying Google for this service. However, what is most important to understand before considering such an investment is how people interact with Google searches. The way information is digested is important. If a potential patient is searching for a treatment, clinic or doctor using the Google search engine from a laptop or PC, the results pages will feature the Google Ads relevant to the particular search either on the top of the page or on the right hand side. Below the Ads the potential patient will then be presented with the 'organic' or 'natural' listings (i.e the non-paid for results, generally those sites with the best traffic results and the best SEO). Below the natural listings, the viewer is shown the local search results, which will have a red pin next to them.
Google Ads, natural listings, and local results comprise the 'anatomy' of a Google search results page. The table below shows the percentage of clicks that each part produces:
Google Ads – between 5% and 10%
Organic Search – 55% to 65%
Local search – 35% to 40%1
Using Google AdWords to gain exposure for your business is an on-going process.
It's interesting to note that the figures for Google Ads clicks are relatively small. However, this does not mean they are ineffective. The numbers of click rates for Google Ads are significant when considering the amount of searches carried out.
For example, if the majority of your client base comes from a 30-mile radius then you have a local business. Due to the flexible nature of a Google AdWords account (account holders have access to numerous payment methods and numerous ways of tailoring their advertising reach), clinics are able to specify the 'local' option within their Google AdWords accounts.
This means a clinic can choose to have their adverts shown only to those within a radius of 30 miles of the clinic's physical location. This targeted method of marketing means that, on average, the number of the targeted audience reached may be higher, and yet the actual number of clicks may be low as the advert is restricted to a specific population.
Using Google Adwords with mobile devices
When considering the impact of Google Ads, an important factor to take into account is that, judging by my own research on websites and data from Google Analytics, approximately 65% of online searches for clinics are conducted on a mobile device.
Search results on a mobile phone are displayed differently to those on a PC or laptop, and the results will often compress the Google Ads, giving priority to the local Google search results. Crucially, the local results displayed are those where the clinics have registered their businesses with Google Plus. On a mobile phone screen, 'natural' listings are displayed first, there is no paid advertising displayed and the local listings take centre stage. This is a display that you will be familiar with and this is what your customers will see when they are searching for you. I would predict that most people would probably phone the company that has the most reviews included in their local listing.
Using Google AdWords seems to have little or no impact on a mobile phone, and when it comes to local businesses, local listings here have priority over Google Ads. Take advantage of this, and whether or not you decide to take out a Google AdWords account, you should register with Google Plus Local, which at the moment is free.
Careful monitoring is crucial
In order to maximise the impact of your investment you will need to monitor your account and response rate closely, and make every penny you spend count. You need to know how Google AdWords work, or train someone in your company to become competent at running your Google AdWords programme.
This article is a broad introduction to this method of marketing, and detailed guidance on how best to utilise a Google AdWords account and its options for tailoring can be found on the Google AdWords website (www.google.co.uk/intl/en/adwords) or via numerous online video tutorials.
You may have been approached by a Google AdWords 'agency' that, for a fee, has offered to place you at the top of the search results. Outsourcing your advertising to these agencies can encourage you to simply leave these agencies to it, which could be costly and ineffective. There are far less of these agencies operating than there were five years ago and I often hear that they do not produce results for clinics. The use of Google AdWords can easily become expensive, especially when you are competing for generic keywords like 'London Skin Treatments'. You only have to look at the search results for 'London Hotel' to see that it is the chains and top brands that occupy the top positions.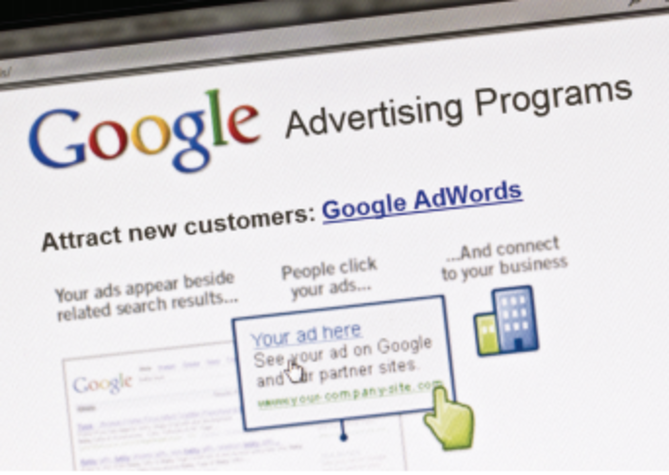 Google does not operate a meritocracy with AdWords. Instead, the more you pay the higher you reach. I have known businesses pay thousands of pounds per month for the privilege of their Ad being top of a Google search. Fortunately, I have not met any clinic owners who indulge in such wasteful activity. Using Google AdWords to gain exposure for your business is an on-going process, and an initial (large) sum of money will not provide the solution.
It is important to recognise the use of Google AdWords as links in a chain, and if these links are not carefully monitored and constantly reviewed (the words in your Ad, your targeted audience, the quality of you website) then money can be wasted. The aim is to carefully use your budget to keep cost per link and conversion rate low.

Trying out Google AdWords, even if this method doesn't ultimately prove to be of enough benefit for your clinic, can be a highly valuable (and not too costly) experiment, in terms of conversions. Google AdWords can give you an insight into what people are searching for online, and this knowledge can be very valuable when you are assessing the local market for your services. Using Google AdWords also offers the opportunity to learn how to handle an advertising budget, as well as providing you with the perfect model to understand how Return On Investment (ROI) really works. Attention to detail and monitoring the process closely is key to its success.