In 1975 Dr Thomas Fitzpatrick developed a system to evaluate a patient's response to ultraviolet (UV) exposure in terms of the degree of burning and tanning.1 This system became known as the Fitzpatrick scale and, since then, it has been widely used by aesthetic practitioners to help them determine the strength of certain treatments such as chemical peels and lasers.
In this article, Aesthetics speaks to five practitioners about how different skin types react to overexposure to the sun and how to most effectively and safely treat pigmentation.
The Fitzpatrick scale
The Fitzpatrick skin type system specifies six skin types, ranging from type I, which is skin that never tans and always burns through to type VI, which always tans and never burns (Figure 1). Aesthetic practitioner Dr Askari Townshend explains, "Type I is much more likely to develop a skin cancer than a type VI, and this is because it doesn't have the same protection, as the melanin in the skin is what protects it."2 He explains, "I tell patients that a tan is your skin telling you it is damaged – you've gone out in the sun, damaged your skin, and your skin has responded by 'throwing up' its protection, which it does by creating more pigment in the skin."
How skin types react to UV
Skin types I-IV
Light and dark skins can react differently to sun exposure. Consultant dermatologist Dr Justine Hextall explains how skin types I-IV respond, "In lighter skins, signs of sun damage include wrinkling and sagging, thread vein formation and solar lentigines, amongst others. For those who have skin type I and red hair, they produce pheomelanin and that is largely ineffective in protecting the skin against UV exposure."3
"It is a common misconception in patients that skin types IV to VI do not need sun protection"

- Dr Hextall
Those with lighter skin types are also more likely to present with signs of ageing before their dark-skinned counterparts. Consultant dermatologist Dr Sandeep Cliff says, "Dark skinned patients look much more youthful for longer; they have inherent protection, therefore ageing is much more delayed then it would be in Caucasians." He adds, "Generally, I am seeing younger and younger patients with sun damage – recently I saw a patient aged 14 with skin cancer and I am also seeing patients with premature skin ageing at the age of 21."
Skin types V-VI
When it comes to darker skin types, Dr Hextall says, "How the skin reacts to sun exposure is dictated mainly by the amount of melanin produced by melanocytes and the type of melanin. Those with type VI skin produce mainly all eumelanin that is very dark and highly effective at blocking UV photons and protecting the skin against UV damage."
However, she points out that, "It is a common misconception in patients that skin types IV to VI do not need sun protection. Whilst darker skin has less skin wrinkling and sagging, skin pigmentation is more of an issue. This can present, for example, as sun spots or melasma."
Kaidbey et al4 demonstrated that the black epidermis (Fitzpatrick type not specified), on average, provided a SPF of 13.4. The photoprotective role of melanin was evaluated by comparing the transmission of UV radiation through black and Caucasian skin samples. UVA transmission was measured using fluoranthene, which causes a phototoxic response to UVA wavelength.
UVB was measured by monitoring erythema produced by either a 150-watt xenon arc or FS-20 sunlamps. It was found that on average, five times as much ultraviolet light (UVB and UVA) reaches the upper dermis of Caucasians as reaches that of black skin.
Skin Type

I

II

III
IV
V
V1
Skin Colour





White or very pale (usually with freckles)

Pale white

Pale to light olive


Light to moderate brown

Medium to dark brown

Black

Hair Colour


Red or blonde


Blonde (can be dark)

Dark brown

Brown or black


Dark brown or black

Black

Eye Colour

Blue, green, grey

Blue or brown

Brown or green

Brown

Brown

Dark brown

Description


Burns very easily, rarely tans

Usually burns, tans gradually

Sometimes burns, average tanning

Rarely burns, tans with ease

Very rarely burns, tans very easily

Does not burn, tans

very easily
Figure 1: The Fitzpatrick Scale13

Pigmentation
Pigmentation, defined simply as 'colouring', can present differently, depending on the skin type. Nurse prescriber Elizabeth Rimmer explains, "All skin types can develop pigmentation. Those with more fair skin (I-IV) may have freckles, and when they are younger, people may say 'how cute' these make a person look, but then as they get older and are exposed to more UV rays, they enlarge and age a person's face."
Dr Townshend says, "The patients I see who have skin types IV to VI have often spent their lives not using sun protection because they thought they didn't need it and now they have dyschromia, in other words, their skin is no longer that nice even brown or black tone. Instead, they have developed areas of light or dark patches, giving a mottled appearance."
Treatment
Preparation
Before any treatments take place, practitioners say that preparation must be considered to achieve the best results. They also advise that it is vital to ensure that any treatments chosen will not cause further damage to the skin.
Aesthetic practitioner Dr Rita Rakus advises, "I firstly do a Visia scan to see what's going on beneath the skin. Then, preparation can vary and it depends at what level the skin is damaged. Vitamin A is great for preparing the skin and you would use different strengths depending on the extent of the damage. I use the Obagi Nu-Derm system as the key ingredient is vitamin A, which targets dark spots effectively." Rimmer says using something that will begin to reduce the pigmentation is ideal, "Something with hydroquinone or a retinol and a tretinoin that will get the skin as healthy as possible. Fairer skin can sometimes have treatment without preparation but the best results have had some."
Lasers and IPL
When it comes to treating dyschromias using lasers or lights, Dr Townshend splits patients into two groups: light skinned patients (I-IV) and dark skinned (V-VI). He says, "Intense pulsed light (IPL) and lasers are very good for treating pigmentation, however, you do need to be careful because if you treat melasma with lasers or lights you can make it worse."
Dr Hextall advises to, "Make sure you carry out a patch test if using IPL or laser therapy and always ask about pain. Discomfort can be a very important indicator of a safety issue. If you are concerned, stop and wait and assess the skin. Consider cooling the skin and maybe apply an anti-inflammatory treatment."
Dr Townshend uses the 3JUVE in his clinic, which has a 585 nm IPL handpiece. He says, "It is a simple and straightforward system and not only treats the brown marks but you can treat broken vessels and photodamage, and also red and brown marks at the same time, which is a condition called poikiloderma."
"if used in the right way, with the right protocol, hydroquinone is a fantastic treatment for anyone with photodamage"- Dr Townshend
Poikiloderma is a skin condition that consists of areas of hypopigmentation (loss of colour), hyperpigmentation (excess of colour), telangiectasias (spider veins) and atrophy. It is most frequently seen on the chest or the neck.9 Dr Townshend explains, "IPL is fantastic for this condition, whereas, in my experience, lasers generally treat either dark or red marks, not both at the same time."
Dr Townshend also notes that, "If you have dark skin, the laser or IPL unit doesn't know how to differentiate between the pigment in the skin and the mark you want to get rid of. You don't want to leave patients even worse because you have punched a hole in the pigment they wanted to keep – so light skin can be treated with these devices much more easily and safely."
Dr Hextall treats her patients with the Lumenis M22, a modular multi-application platform. She explains, "It is an incredibly versatile platform that allows me to treat an individual with IPL followed by fractional laser with no more effort than pressing a button on the screen. I am more confident to use the M22 on skin types IV to VI because I can choose my specific wavelength with the multiple filters available to me. As the pulses are fractionated, I can deliver optimal energy to a specific target safely."
Skin cancer
Chemical peels
An alternative to lasers and IPL is chemical peels. Dr Hextall says, "I have had some success with The Perfect Peel (medium depth) that combines glutathione, kojic acid, TCA (trichloroacetic acid), retinoic acid, salicylic acid, phenol, and a blend of minerals and vitamins. However, I am always very cautious about chemical peels on skin types IV to VI – due to the risk of post-inflammatory hyperpigmentation – and I will always pre-treat with a tyrosinase inhibitor as this blocks the production of melanin."
For Rimmer, skin peels are her preferred choice, "I offer chemical peels and tend to use The Perfect Peel or pHformula, depending on the individual. Some peels are fine to use without preparation but if the patient has dark skin then they would definitely need a few weeks of preparation in order to avoid further risks of pigmentation."
Hydroquinone
For some patients with skin dispigmentation and melasma, Dr Hextall will advocate a short course of skin lightening cream. She explains, "I will either use Pigmanorm or The Perfect Peel Bleaching Cream; this prescription-only lightening cream combines 4% hydroquinone with liquorice, arbutin and kojic acid." Dr Townshend is also an advocate of hydroquinone products, saying, "A big mainstay for me in my practice is hydroquinone; if used in the right way, with the right protocol, hydroquinone is a fantastic treatment for anyone with photodamage." He continues, "It doesn't matter whether you have light or dark skin, it can be used for everyone, it is relatively safe, has no downtime, is reasonably affordable and they can do it at home rather than coming to the clinic."
When treating with hydroquinone, Dr Townshend uses ZO products Melamin and Melamix, and recommends applying twice a day, every day. He says, "It needs to be used for several weeks to see any change. I tell my patients they won't see anything at all for four to six weeks and then they will get improvement for several months." Patients must avoid continued strong sunlight and wear SPF. Those who are pregnant or breastfeeding should not use the product.10
Dr Rakus uses the Obagi CRX system for her patients, which contains a 4% hydroquinone. "They are great products because you can wear them all summer," she continues, "The CRX also contains vitamin C, glycolic acid and an SPF. It is a nice, gentle help and you won't go red, peel or get dry skin." Dr Rakus also recommends the Obagi CRX because, "It is one of the few products that will rejuvenate the internal DNA structure of the cell – so it gives you true, repaired, newer skin."11, 12
For those who have more severe pigmentation, Dr Rakus uses the Obagi Nu-Derm, "You've still got the hydroquinone in it and you also have hyaluronic acid, tretinoin, and SPF and it is slightly stronger." Dr Rakus uses this on darker skin types but says it is very patient dependent, "It depends on the patient's social life, because there is sometimes a teething period initially, and it can cause skin to become a little dry and a little red. So you can choose a lighter, slightly weaker regime but it will take longer – the patient has to make the choice."
Maintenance
Once patients have been treated and their skin has improved, it is essential they use maintenance treatments to retain the results. Dr Hextall says, "I would recommend sun cream and advise on active topical serums, depending on issues we are trying to correct. I may recommend some LED light therapy as a maintenance therapy, around six treatments over six months. A top-up treatment with IPL or photo-fractional laser may only be needed once or twice a year, but it will depend on the individual and, as always, requirements may change with time."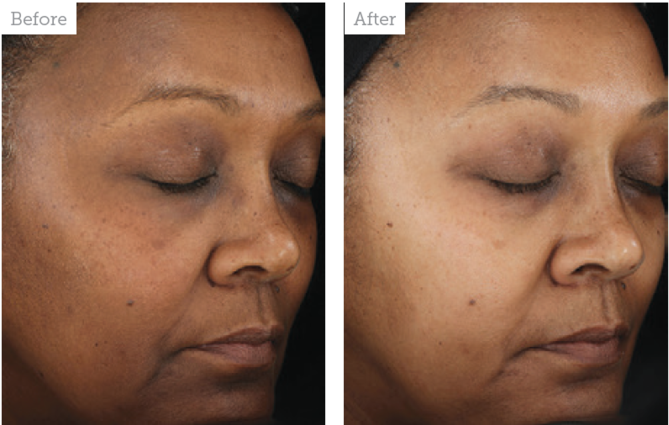 Dr Rakus says, "I would tell patients they must wear SPF 50+. I advise they use the Obagi Sun Shield Matte SPF 50." Dr Cliff adds, "I offer patients the NeoStrata Sheer Physical Protection SPF 50. It is a broad-spectrum UVA/UVB protection with a sheer tint that blends with the skin's natural tone. It has additional antioxidant benefits, so you have the sunblock to protect against more UV exposure, but at the same time you have antioxidants to help prevent damage to DNA, so it is a double whammy. It is also suitable for all skin types and it doesn't leave a white sheen on the skin."
Summary
In summary, Dr Townshend says, "The first thing is 'a stitch in time saves nine'. Protecting at an earlier age is really important, and the problem is that the messages so far have all been about skin cancer. That is a really important message but we all know that young people don't respond to those types of messages because when you are young, you think are going to live forever."
He continues, "I think as an add on to the skin cancer message, it should say 'do you want to look as good as you can for as long as you can? If so, cover up'." Dr Cliff agrees, saying, "If you put pictures in front of patients of people with excess wrinkling, photoageing and said to them, 'this person had too much sun exposure' I guarantee they would stop using sunbeds and having excess sun exposure – this is the big trick that has been missed by advertising campaigns. Young people don't think about the prospect of skin cancer, but they are very tuned into their appearance and looks, so if you tell them that by doing this you will look aged, they will avoid it."
Dr Townshend concludes, "A slow bake is better than a quick fry – I explain to patients you will still tan with your sun cream on, just take it easy; you will still look golden and lovely. Doctors are very good at telling people off, but actually, I love to tan, I look healthier and I feel good – but let's just tell our patients to do it sensibly, not to burn, and do it without getting the pigmentation."