Aesthetics looks at the findings from the Nuffield Council on Bioethics report and asks what can be done to stop social media's influence on appearance anxiety
The Nuffield Council on Bioethics, an independent body that examines and reports on ethical issues in biology and medicine, has published a new report: Cosmetic procedures: ethical issues.1 The report makes a series of recommendations that aim to address areas of concern for aesthetic practice and the promotion of cosmetic procedures in the UK.
One of these recommendations is that social media companies should collaborate with each other to carry out independent research, to better understand how social media contributes to anxiety about one's appearance, and to 'act on the findings'.
Jeanette Edwards, professor of Social Anthropology from the University of Manchester, who chaired the Council's inquiry, says in the report, "There is a daily bombardment from advertising and through social media channels like Facebook, Instagram and Snapchat that relentlessly promote unrealistic and often discriminatory messages on how people, especially girls and women, 'should' look."1
While the Nuffield Council on Bioethics is still in talks with social media providers to see how they can help towards this issue, we ask: how much of an issue is this and what can the aesthetics specialty do to curb the problem?
The report
The task that the Nuffield Council on Bioethics set itself was to investigate the use and provision of invasive and non-reconstructive cosmetic procedures following the Keogh report. Through people spoken to by the council's Working Party and a review of literature, it found that there was an increasing availability of cosmetic procedures and that this could potentially pose social and communal harms. These harms included: encouraging a focus on appearance and adding to levels of appearance anxiety; shifting perceptions of what is 'normal' and reinforcing discriminatory attitudes; constructing ideals that can only be met through invasive means; and adding to the pressures on those who might like to, but cannot, meet these ideals.
Some of the council's subsequent recommendations included: a ban on offering 'walk-in' cosmetic procedures to under 18s, more data and improved testing for unproven products and procedures, and a more responsible approach from social and broadcast media platforms.1
"There are some very good cosmetic clinics that stick within the advertising boundaries and guidelines and then there are others that will promote irresponsible offers on injectable treatments"
Aesthetic nurse prescriber Sharron Brown, who was on the Working Party panel for the committee, explains, "We looked at the ethics around cosmetic treatment, both surgical and non-surgical, and one area we looked at was the psychological impact social media has on people; the drivers that push these people down the route of appearance-related treatment."
The council spent more than a year putting together its recommendations, seeking advice and the opinions of a range of professionals. Brown adds, "We had so many people come and speak to us; women affected by the PIP implants, advertising regulators, industry professionals, people from social media companies – a wide range of groups."
Social media and appearance
Existing research has demonstrated a positive correlation between Facebook usage and body dissatisfaction. In a study by Fardouly et al. in 2015, 112 female participants aged between 17-25 years old were randomly assigned to spend 10 minutes browsing either their Facebook account, a magazine website, or an appearance-neutral control website. Afterwards, computer-based visual analogue scales (VAS) were used to measure their mood, body dissatisfaction, and appearance discrepancies, which were weight-related, as well as face, hair, and skin-related. It was found that participants who spent time on Facebook reported being in a more 'negative mood' than those who spent time on the magazine and control website. Furthermore, participants reported more facial, hair, and skin-related discrepancies after Facebook exposure than exposure to the other websites.2
"We are well-aware of the impact social media has on people's perception of their appearance," says Brown, "When you look at celebrities on social media such as Kylie Jenner, who famously had lip fillers at the age of 16, she has millions of young followers and a lot of them are going to be pretty impressionable. Having this procedure could be seen by them as 'normal'."
Aesthetic nurse prescriber and clinic director of Aspire Clinic, Jenny O'Neill, who avidly uses social media to market her clinic, says, "The media has caused appearance anxiety for decades, from stick-thin fashion models used in advertising campaigns, to celebrities being air-brushed." She adds, "However, with the popularity of sharing one's life on social media and showing the world how great one is, social media causes a false sense of reality, which in turn exacerbates appearance anxiety."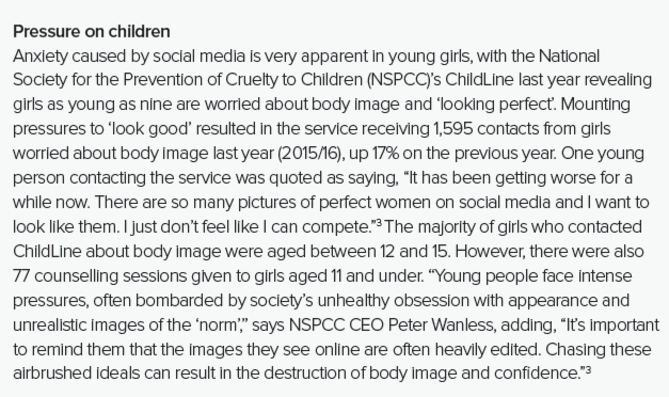 Who's at fault?
When asked if the issue of social media and appearance is linked to the posts of certain people, groups or organisations, Brown says, "I think it is a bit of both celebrity endorsement and some aesthetic clinics being misleading with their advertising. There are some very good cosmetic clinics that stick within the advertising boundaries and guidelines4 and then there are others that will promote irresponsible offers on injectable treatments.
When taking up these offers, patients are often not being properly consulted and these treatments are trivialised and made to sound the same as having your eyebrows or nails done. They should be seen as medical procedures and it should be known that there is a chance you could react to the substances being injected and there is a potential for harm."
"It is essential that clinics follow the General Medical Council (GMC) guidelines and adhere to the CAP code when marketing any products and services, and this should extend to social media practises"
However, O'Neill believes that clinics have a much smaller reach than most, often limited to their patients and business associates. She says, "The risk of communicating potentially damaging messages is much lower. I firmly believe ethical clinics wouldn't use their social media channels to push misleading messages in order to increase sales. For instance, at Aspire Clinic we aim for our messages to be educational in order to give our patients an informed choice."
She adds, "With their huge followings – sometimes in the millions – celebrities are reaching the masses, therefore the potential for causing feelings of inadequacy or people wanting to replicate their look is far higher."
The recommendation
The recommendation from the Nuffield Council on Bioethics regarding social media states: 'We recommend that the social media industry (including Facebook, Instagram, Snapchat, Twitter and YouTube) collaborate to establish and fund an independent programme of work, in order to understand better how social media contributes to appearance anxiety, and how this can be minimised; and to take action accordingly'.
The report 'welcomes the fact' that social media companies such as Facebook and Instagram have informed them that they are beginning to include concerns about body image in the campaigning and educational work they undertake among adolescents. However, the council believes 'much more needs to be done'.1
Resolving the issue
In the UK, the Advertising Standards Authority (ASA) enforces and regulates the Committee of Advertising Practice (CAP), which includes commercial advertising online and on social media, but it does not cover unsolicited endorsements in tweets or blogs, or images shared by social media users.1 As well as this, the ASA only investigates claims brought to it, and does not actively police sites.5
According to O'Neill, aesthetic clinics can play their part by ensuring that what they share on social media is ethical and responsible. She says, "It is essential that clinics follow the General Medical Council (GMC) guidelines6 and adhere to the CAP code7 when marketing any products and services, and this should extend to social media practises." As well as the GMC guidelines, dentists and nurses have guidelines through the General Dental Council (GDC)8 and the Nursing and Midwifery Council (NMC).9
"This report has got us thinking about not only what we do, but why we do it, who we do it to and how best we can protect the vulnerable from being exploited and not cared for in the right way"
Brown adds, "When speaking with representatives from social media companies, they said this sort of advertising is difficult to monitor and that there is nothing they can do until something has actually been posted. It's like waiting for the horse to bolt before closing the door, instead of closing the door before the horse has bolted."
The Nuffield Council on Bioethics believes that an essential element in empowering users to make choices that are right for them is access to 'high quality information'. There is much concern that vigorous marketing of cosmetic procedures by the commercial sector has led to aesthetic treatments being seen as trivial or potential risks downplayed. Therefore, the council suggests that the major providers (suppliers) of cosmetic procedures collaborate with both the relevant professional bodies, and practitioners who offer cosmetic procedures, to fund the independent development and wide dissemination of detailed information for users about both surgical and non-surgical procedures.
A representative of the council said that a meeting with Facebook and Instagram was held in the run up to the publication of the report and that they are currently organising a second one. Since the report was published, the Nuffield Council on Bioethics has also written to these companies, as well as Snapchat and Twitter, to discuss how they can work together to implement the recommendations, however they are yet to receive a response.
Summary
Brown believes that the publication of these recommendations will hopefully raise awareness of the issue amongst the medical aesthetic community and ensure they are acting responsibly on social media. She says, "This report has got us thinking about not only what we do, but why we do it, who we do it to and how best we can protect the vulnerable from being exploited and not cared for in the right way."
Assistant director of the Nuffield Council on Bioethics, Katharine Wright concludes, "Our report makes a series of recommendations that highlight areas of concern for the practice and promotion of invasive cosmetic procedures in the UK. We want everyone to consider how they can contribute solutions including practitioners and commercial providers of procedures."