From status updates and image posts, to videos and now stories, social media is ever-changing and for many, it can often feel overwhelming. Available on smartphones and tablets, stories are one of the newest media formats at our disposal across multiple platforms including Snapchat, Instagram and Facebook. A regularly updated social media page is crucial for marketing any clinic, and implementing stories as part of your social media strategy can improve your engagement, content, and visibility.
While it may seem daunting to tackle this new media plan, it is actually very simple and straightforward. So, let's look further into stories and find out how they work, and what advantages they might bring to your clinic.
What is a story?
A 'story' in social media terms is a collection of images and/or short videos that are linked together and broadcasted as they happen in real-time. Stories are shown in a continuous reel and, once uploaded, automatically delete after 24 hours.1 It might all sound a bit bizarre and perhaps slightly pointless when you think that the content you produce vanishes for good after 24 hours. However, between Snapchat and Instagram – which are the two biggest platforms for this kind of sharing – more than 400 million people view stories each day, so it is worth producing content that reaches these individuals.1
Why are they popular?
It is generally thought that the reason why stories are so popular is because they are incredibly quick and easy for followers to take in.2 Followers can navigate through each story, on both Instagram and Snapchat, by tapping on the image or video, which plays back the content in the order it was posted. Stories are temporary, and users can add features such as filters, text, and doodles directly onto the image. The content is always short and snappy and videos can be no longer than 15 seconds in length.
Stories allow users to share in-the-moment updates and document their daily life. For Instagram, using stories prevents clogging up the user's main news feed or profile. Therefore, I believe this can be a very powerful tool, as people tend to take great care on the consistency of their brand. They often carefully curate their feed and profile and may not want to disorganise it with everyday comings and goings.
In my opinion, the separation between posts and stories on Instagram works brilliantly; not only can your dedicated patients, clients, and followers stay up-to-date on whatever is going on at your clinic, they won't feel overwhelmed or annoyed by any over-posting. Plus, in my experience, there are now many people who prefer the stories sections of platforms such as Instagram as the content is quicker to consume.
What platforms use stories?
There are three main social media platforms that have the story feature: Snapchat, Instagram, and Facebook. Instagram is the largest photo sharing site in the world, with more than 800 million active users each month,5 while Snapchat, in comparison, has 301 million active users per month.6
While Facebook is the latest social network to add the story feature, recent articles3 suggest that Facebook Stories is under-performing – although there are no reported usage figures. Perhaps because of this, Instagram users now have the option to cross-share their Instagram stories to Facebook instead, as Facebook owns Instagram.4 Due to Snapchat and Instagram being the most widely used, this article will mainly focus on these platforms.
How do you use stories?
Regardless of which platform you are using, stories are relatively easy to work.
Snapchat stories
Snapchat stories appear on the story feed, which can be accessed by swiping from right to left until a screen labelled 'Stories' appears. On this page, users can broadcast their own story by clicking the 'My Story' box, or watch stories from the people they follow under 'Recent Updates'. To post a story, simply take a photo or video by tapping the shutter button on the camera within the app. You can also add text, draw on the photo, or add stickers.
Popular features on Snapchat include 'Geofilters', a sticker that appears based on a user's location, which may be useful for practitioners holding an event or a product launch at their clinic. You can also pay a social media agency to custom make an 'On-demand Geofilter' for your business, or, if you have the technical skills, you can create one for free yourself. On-demand Geofilters for businesses can use branding, business marks, business names, business logos, or other promotional content for a business or brand. They cannot, however, use photographs of people, URLs, phone numbers, emails, drug-related content, or content that you don't own or have the authorisation to use.7
Another popular option is 'Lenses', which are fun facial filters that pop-up on the screen. These filters let you add lenses such as flower crowns, puppy ears and voice changers to your images and videos. Although you probably won't want to use these filters too often in order to remain professional, they can be used on staff members for example, to show a fun side to your clinic, if you feel this is appropriate. You can also upload images and videos from your camera roll, however videos will be automatically cropped to fit the 10-second format, so it's worth editing the video beforehand. To view a user's story, simply tap on their name. Users posting a story have the option to save the image or video to 'Memories', a cloud-like storage device built into Snapchat that stores all the content you want to save. Doing this allows you to keep a record of your published content, allowing you to access it at a future date.
Instagram stories
Instagram stories are found on the main homepage at the top left of the feed where you will see a small camera icon. Press this and your camera is activated. You can also access your stories by swiping left on Instagram. Like Snapchat, you can add text, stickers, and draw on the image. You can also access 'selfie filters', which let you add features such as virtual koala ears, a butterfly crown or smooth skin and makeup, among others, as well as your location and customised hashtag stickers. You should absolutely not use filters to enhance and/or alter results on patients however, as that would be highly misleading to the public. According to the Advertising Standards Authority (ASA), advertising claims, including visual claims, should not mislead by exaggerating the effect the product is capable of achieving. Marketers should ensure they retain appropriate material to be able to demonstrate whether any re-touching has been carried out, in the event of an investigation.8
One of the most popular options on Instagram is Boomerangs, which are short one-to-three second picture bursts that endlessly loop back and forth
Instagram stories also offer the option to tag someone, much like the platform allows you to tag a user in a photo caption when posting on your feed. You may want to target certain patients and tag them in a story, although it's important to use this with discretion so your followers don't feel like you're 'spamming' them. You can also add clickable hashtags and interactive polls. One of the most popular options on Instagram is Boomerangs, which are short one-to-three second picture bursts that endlessly loop back and forth. You may wish to use this feature to promote a new product in your clinic. Additionally, you have the option to upload content from your camera roll to your Instagram story. To do this, you need to tap on the camera icon in the upper left of your screen to add a story, then swipe up and an image-picker will appear. You can then choose your image and edit it as you wish.

When a story has been uploaded, a pink and orange circle will appear around the user's profile picture. To view it, simply tap on the picture. You can view exactly how many people, and who viewed your story by clicking on it, which is a great way to monitor the content's reach. To make your story more popular, use location hashtags, such as 'London' or 'Harley Street' or a result like 'YouthfulSkin'. This enables viewers to discover your clinic's stories when typing in these hashtags. It's important to remember that if your profile is set to 'public', then Instagram stories appear publicly on your profile, and can be discovered by anybody. If your profile is on 'private', only your authorised followers can view your stories.
What are the benefits of stories?
There are many reasons why stories can benefit aesthetic clinics.
Visibility
Stories help you avoid the algorithms – Instagram updated their feed to a popularity-based algorithm last year, meaning that the platform decides what type of content an Instagram user should see based on their interests, relationships and timeliness of posts.9 When using stories, you can still be visible to viewers, as they will always appear at the top of the screen. This will help you and your brand remain in your followers' minds, even if your main profile photo content isn't at the top on their feed.
Personality
Offering a behind-the-scenes look at your clinic can draw in potential patients. In my opinion, this works better in story-form than on a regular profile page/news feed, because stories tend to feel more personal. Capturing photos and videos of daily life at the clinic, as well as showing off the personalities of the doctors and clinic staff, will make patients feel as if they know you and will help build a rapport.
Promotion
Offering giveaways and exclusive offers for people who view your stories will increase engagement as well as purchase intent. For example, you could record a video of a facial and say 'If you've seen this video, you can get 10% off your next facial. Contact us to book'. It is important to bear in mind, however, the recent General Medical Council (GMC) guidance report, which encourages cosmetic interventions to always be given their due gravitas and, by extension, has banned marketing gimmicks, such as offering medical treatments as prizes.10 Therefore, I recommend to only use offers for treatments considered non-medical.
Stories can also redirect users to your website. For Instagram, verified accounts with more than 10,000 followers get the option to add links directly to their stories;11 however, by ensuring you have a link on your biography, you can alternatively type 'link in bio' onto the content to redirect viewers – this can still work effectively. Snapchat has also recently introduced the link option, which, unlike Instagram, is available for all users, and is accessed by clicking on the little paper clip icon when taking a Snapchat photo or video. This is great for promoting your website as well as any blog posts, testimonials, or linking to a specific treatment option.
Immediacy
Social media stories are an excellent platform for any live event. If your clinic is hosting an event or if you are attending a seminar or giving a talk, posting it as a story will allow you to broadcast what is going on, without having to continually upload pictures and videos to your profile or feed. If you follow a very particular posting strategy on Instagram and Facebook, something like an event or a talk can really throw off the balance of a carefully curated feed. However, posting it as a story can let viewers see the event unfold live, without having to navigate through multiple photos and videos.
Choosing a platform to use
Now you know a bit more about the different platforms, it's time to decide which platform(s) to use. If you don't have Snapchat but already have a following on Instagram, I believe that using Instagram stories may be a better fit for you to begin with. Even if you're new to Instagram, from my experience, it's easier to build an audience and following in comparison to Snapchat. There is no generic search feature to find users on Snapchat, so any potential followers must have your exact username to follow you and discover your stories, whereas on Instagram they can find you by using hashtags, or even your location.
If the two platforms work, then you don't have to choose – use both
Snapchat does give users better control over their privacy as you are able to choose exactly who can view your content. To do this, from the camera tab, you can tap the little ghost icon at the top, then tap the gear icon in the top right to access your settings. Scroll down to the 'Who Can...' section to:12
Allow everyone, just your friends or a custom group of users to be able to view your stories (by tapping 'View My Story')

Select whether you want to allow everyone or just your friends to be able to contact you (by tapping 'Contact Me')

This makes Snapchat more of an intimate social platform, and viewers may find it more personable in comparison to Instagram stories.
If you already use both platforms in your clinic, upload stories to both and test the engagement between the two. If the two platforms work, then you don't have to choose – use both.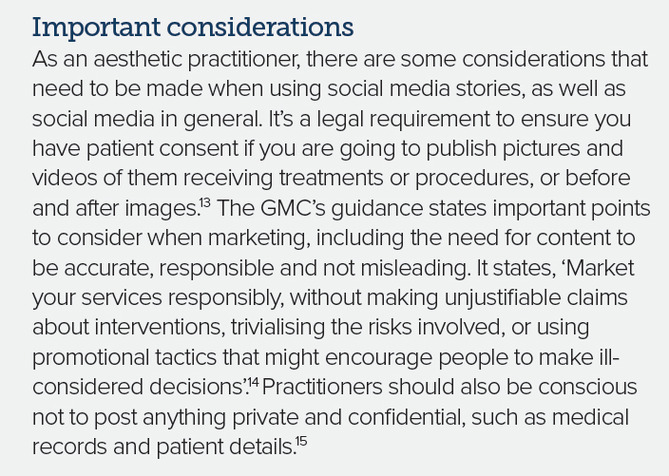 Conclusion
Social media stories are a great way for your clinic or brand to build awareness and engage with your audience, alongside your regular social content. They give you the chance to connect with your followers in a fun and unique way without overcrowding your own profiles or carefully crafted feeds. They cost nothing, and can act as anything from a behind-the-scenes video to an advertisement.