Hot summer holidays abroad might be put on hold this year, but that doesn't mean sun care shouldn't be at the forefront of your patients' minds.
In fact, because they are more likely to be holidaying in the UK this summer, they might have the misconception that SPF isn't needed!
Here, dermatology and aesthetic nurse prescriber Anna Baker, aesthetic practitioner Dr Dev Patel and consultant dermatologist Dr Maria Gonzalez share their advice for recommending sun protection to patients and detail their top tips for patient education.
The importance of SPF
First and foremost, sun protection factor (SPF) is crucial for melanoma skin cancer prevention, which has more than doubled (135% increase) in the UK since the early 1990s.1 Dr Gonzalez says, "Before you think about aesthetics, life-threatening skin cancer caused by UV rays is crucial to prevent and it's probably the most important reason for recommending sun protection to your patients. From a cosmetic standpoint, excessive sun exposure is one of the most damaging things your patients can do to accelerate their skin ageing."
According to a study involving 298 Caucasian women, UV exposure accounted for around 80% of the signs of ageing – known as photoageing.2
Baker adds, "UV can also lead to polymorphic light eruption, solar urticaria, and can aggravate symptoms of rosacea, as well as skin lesions of lupus erythematosus – even herpes simplex. The prolonged effects of unprotected sun exposure over time can include irreversible damage, such as skin cancers, as well as triggering photodamage dyschromias, the appearance of uneven pigmentation, textural skin changes (roughness), the appearance of visible pores, in addition to visible lines and wrinkles."
With all of these factors to consider, Dr Patel reiterates that it's no surprise aesthetic professionals are re-enforcing the importance of using an effective SPF formula every day to maximise skin health and further enhance the impact of patients' cosmetic interventions. He says, "SPF is also a critical part of the aftercare for so many treatments, including chemical peels, laser and intense pulsed light, to help prevent hyperpigmentation and encourage successful healing."
Choosing sun protection
There are many different factors to consider when it comes to sun protection, the practitioners note. The UVA and UVB protection capacity, the type of filter, and cosmetic appeal are just some of the considerations they make when choosing products to stock in their clinics and recommend to patients.
UVB protection
Sunscreens contain substances which protect the skin from UVA and UVB radiation (Figures 1 & 2). Baker explains, "SPF provides an indication of the degree of protection offered against UVB specifically; the multiples of protection provided against burning, compared with unprotected skin." The SPF value will protect the skin from a certain percentage of the UVB rays. For example, Dr Patel explains, "SPF 15 will protect the skin from 94% of the UVB rays. If we jump up to factor 30 it offers 97% protection, for factor 50 it is 98% and for SPF 100 it is 99%.6 What many people don't realise is that although the factor number jumps to a higher value, realistically the percentage of protection increases at a much smaller percentage."
Although a minimum of factor 15 is often recommended and is the lowest factor endorsed by the US Food and Drug Association,7 the British Association of Dermatologists (BAD) recommends a sunscreen with an SPF of 30 as a satisfactory form of sun protection, in addition to protective shade and clothing.8 This aligns with advice from the American Academy of Dermatology Association.7 According to The Australasian College of Dermatologists, individuals should use SPF 30 or 50 because sunscreens with higher SPF have been shown in real world settings to be more resistant to wearing off due to factors such as sweating, wiping off with towels, and not applying sunscreen thickly enough.9
Of course, SPF recommendation should also consider the Fitzpatrick skin type of patients. Dr Gonzalez suggests, "Those of higher Fitzpatrick skin types will require less SPF protection than those with lower types from a burning and skin cancer perspective due to the melanin in the skin, but application for all skin types, particularly those with pigmentation, will help reduce the signs of ageing." According to the BAD, skin types V-VI should wear sunscreen during periods of prolonged or intense sun exposure, but it's not needed routinely.10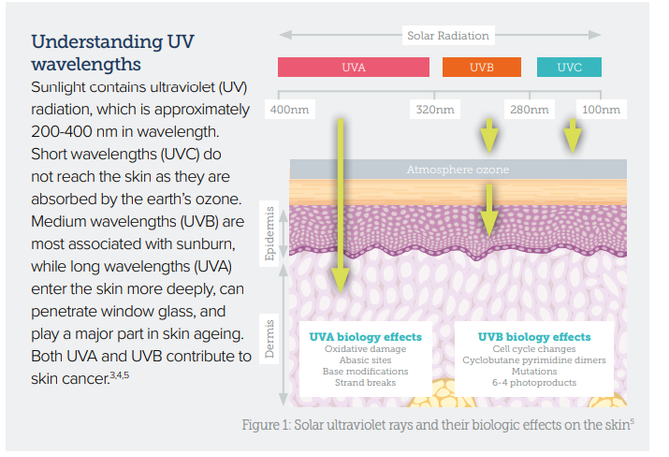 UVA protection
Practitioners note that it's also important patients are using a product containing UVA protection, not just UVB. The UVA ingredients are shown in Figure 2.
In the UK, many sunscreen manufacturers use the UVA star rating on the packaging to demonstrate it also protects against the rays commonly causing the signs of ageing. It ranges from 0-5 stars and refers to the ratio of UVA protection compared with UVB. Baker says, "Star rating systems have become contentious regarding their usefulness. It's important to remain mindful that in using a low SPF, it may still have a high level of stars – not because it is providing lots of UVA protection, but because the ratio between the UVA and UVB protection is about the same."
Sunscreens which comply to this stipulation can be labelled with a UVA logo alongside the SPF classification, she says. "Evidence suggests that formulations which contain reflective substances, such as titanium dioxide, provide superior levels of protection against UVA. Current evidence supports the recommendation to consider choosing a high SPF as well as a high UVA protection – for example a product with a high number of stars. SPFs providing both UVA and UVB protection are called 'broad spectrum'."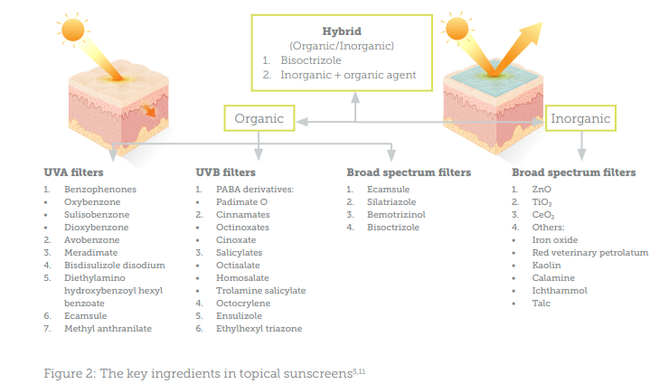 Organic vs. inorganic filters
There are two different types of filters that will be included in a sunscreen – organic/ chemical and inorganic/physical – see Figure 2 for more information on filter ingredients. Baker explains, "Organic filters absorb harmful UV radiation, convert it and give this energy back out as infrared. These are sometimes referred to as 'absorbers', or 'chemical' sunscreens, such as avobenzone and octisalate-organic. It does not mean 'organic' in the environmental sense, which can be confusing for patients!" She adds, "Inorganic filters (often described as 'physical', 'natural', 'reflective' or 'zinc') reflect the UV rays."
When Baker educates patients about the difference, she says organic/chemical filters can be considered as sponges that mop up the UV radiation, and inorganic/physical filters can be thought of as mirrors, which bounce UV straight back off the skin, which she says resonates well with them.
So, should you choose or recommend organic or inorganic filters for your patients? The practitioners reiterate that it depends on their skin.
Dr Patel says, "As organic/chemical filters release energy as heat or light, this may have a pro-inflammatory effect on the skin and encourage inflammation."
Dr Gonzalez adds that this is particularly crucial to consider from a dermatology perspective. "There is a higher possibility of causing skin sensitivity with organic/ chemical sunscreens so for patients with any skin condition, such as rosacea who report sensitive skin, I would avoid. In my clinic, I see a lot of patients with rosacea, and these patients tend to have very dry, sensitive skin so it can be tricky to find sun protection which they can tolerant, so it is important to make sure you have sun protection which includes more inorganic components. In my experience, inorganic/physical sunblocks tends to be better tolerated by patients of all skin types, whether they are sensitive or not sensitive. For acne-prone patients, I also tend to avoid oil-based sunscreens." Of course, she notes, the cosmetic appeal of the product also needs to be considered for maximum compliance, which is where organic/chemical sunscreens have typically excelled. Dr Gonzalez also suggests that a combination of both organic and inorganic filters can be beneficial for patients with pigmentary problems. "Melasma for example is such a stubborn condition that it's useful to try everything you can to prevent and further cause the discolouration, if there are no issues with sensitivity."
Dr Patel prefers to recommend inorganic/ physical filters to his patients for the above reasons, because he finds them less irritating following cosmetic interventions. "I think a combination of the two filters is ok, but I would always look at the ingredients' list to identify if there is a decent percentage of the physical filter." If the percentage is not specified, Dr Patel says you can have an idea of the amount according to where it appears in the ingredients' list – with the top usually appearing first, and lowest last. He adds, "The most important thing for me is a product which has zinc oxide in it as this protects from UVA as well as the UVB rays. I also check that the product is free of fragrance to avoid irritation."
Another consideration Dr Patel says, is the longevity of the product. "Organic/ chemical sunscreen also tends to not be as photostable, so may deplete quicker than inorganic/physical which tends to last longer on the skin. If you have a patient who is less likely to reapply their sunscreen then I would recommend they use inorganic/physical," Dr Patel explains.
Product cosmetic appeal
It's easy to recommend an SPF to your patients and educate them in its use, but they also need to like using the product from a cosmetic standpoint, otherwise they just won't bother. "This is a big consideration. What I have found is that one SPF product does not fit the needs of all my patients as there are lots of different preferences when it comes to the cosmetic appeal of the product," says Dr Patel, adding that patients must enjoy using the product and be happy to use it long-term. "This is why I choose to include several different brands of SPFs in my clinic."
Although Dr Patel prefers to recommend inorganic/physical SPFs, they have traditionally had a thick, chalky appearance, which can cause the skin to look white or have a greyish hue. "We tend to sell a lot of tinted sunscreens to compensate for this. Nanotechnology has been an advancement to reduce the particle size of the filters, which is improving the thickness and chalkiness, but there are still advances to be made in this area." Dr Gonzalez says that patients with darker skin often don't like to use inorganic/ physical sunscreens because they are cosmetically unacceptable appearing very white on darker skin. This is challenging and should be considered, but notes that tinted sunscreens can help.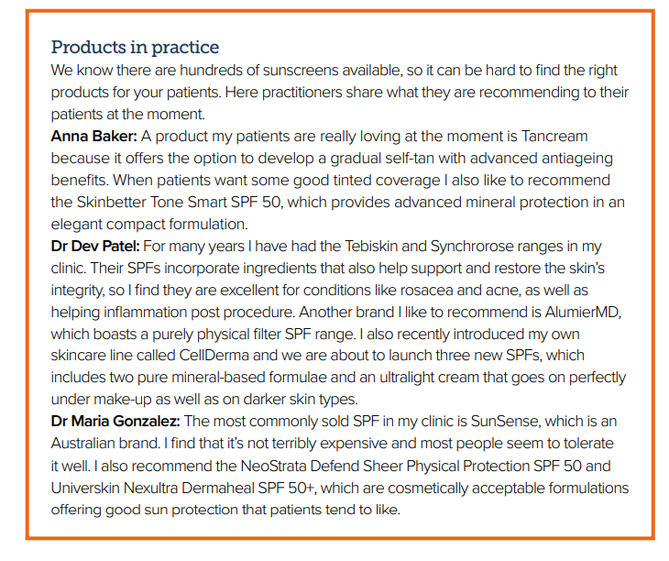 Educating patients
Firstly, studies looking into the application of sunscreen emphasises the importance of educating patients about using it generously and frequently.
According to one study of 16 participants, sunscreen users received less than half the sun protection they think based on their topical use.12 Other research involving 57 participants found that when applying sunscreen people miss, on average, 10% of their face, with the most commonly missed areas being the eyelids (13%) and the area between the inner corner of the eye and the bridge of the nose (77%).13
The BAD notes that with so many different types of sun protection products available (including lotions, mousses, sprays and gels) it's difficult to give set guidance on application. However, it recommends that when using lotions, patients should apply at least six full teaspoons to cover the body of an average adult, which is more than half a teaspoon of sunscreen to each arm and the face/neck (including ears). It should be reapplied at least every two hours, and immediately after swimming, perspiring and towel drying, or if it has rubbed off.14
Whilst Baker emphasises that practitioners should work to gold standard UK and international dermatology guidelines,7,8 a bespoke approach to education is key. "Patients should be counselled on an individual basis with regard to Fitzpatrick skin type, and condition of their skin when deciding the specific SPF that's most suited to them, with advice on frequency of application/reapplication depending on their medical history and day-to-day lifestyle considerations," she says.
Educating patients on the impact of the sun and ageing really encourages compliance, according to Dr Patel. "Patients still don't often understand the relationship between the sun and pigmentation, for example. When you explain that pigmentation from the sun causes a loss of skin vitality and an aged appearance, and utilising SPF religiously will help slow down the process of pigmentation in their skin, it helps motivate them," he notes. Of course, it's also important to educate yourself and your patients on the importance of vitamin D and the fact that supplementation might be needed, especially in the winter months and for those with a high Fitzpatrick skin type, practitioners highlight.
SPF in makeup and moisturisers
There is a huge misconception that SPF in makeup and moisturisers is the same as regular sunscreen, practitioners say. "It's important to remain mindful that an SPF in a moisturiser is not considered sufficient broad-spectrum protection and may not contain any UVA protection. SPF used in moisturisers is usually tested the same way as sunscreens, however, many formulations are less likely to be water resistant, rub-resistant, and are likely to be applied more thinly than SPF," Baker states. This point is also emphasised by the BAD.15
When it comes to makeup, Dr Patel says that many patients believe their SPF 15 foundation is sufficient protection for burning and ageing prevention. "It's better to educate patients to apply makeup after their sunscreen because makeup is very dose dependent; someone might want light makeup, for example.
We know that most people don't apply SPF properly and don't use enough, but interestingly, it has been reported in the past that the average person needs to use seven to 14 times the normal amount of powder or foundation to get the SPF coverage required."16 Of course, tinted SPFs can also be recommended as a substitute to makeup, as long as they apply enough for sufficient protection, practitioners note.
A new study suggests that combining the two might be a good approach, finding that layering sunscreen with makeup containing SPF may compensate for insufficient sunscreen application in real-life conditions by providing an additional source of UV protection and improving the homogeneity of coverage.17
Shining light on sun protection
Choosing the right sun care for your patients will help increase compliance, and thus reduce their chances of skin cancer and photoageing. Educating patients is key and due to different cosmetic aspects of products, it might be useful to integrate and recommend several brands in your practice. Outside the scope of this article is the evolving understanding and research around sunscreens to protect the skin against blue light, as well as the inclusion of ingredients such as antioxidants and vitamins to further support skin health.