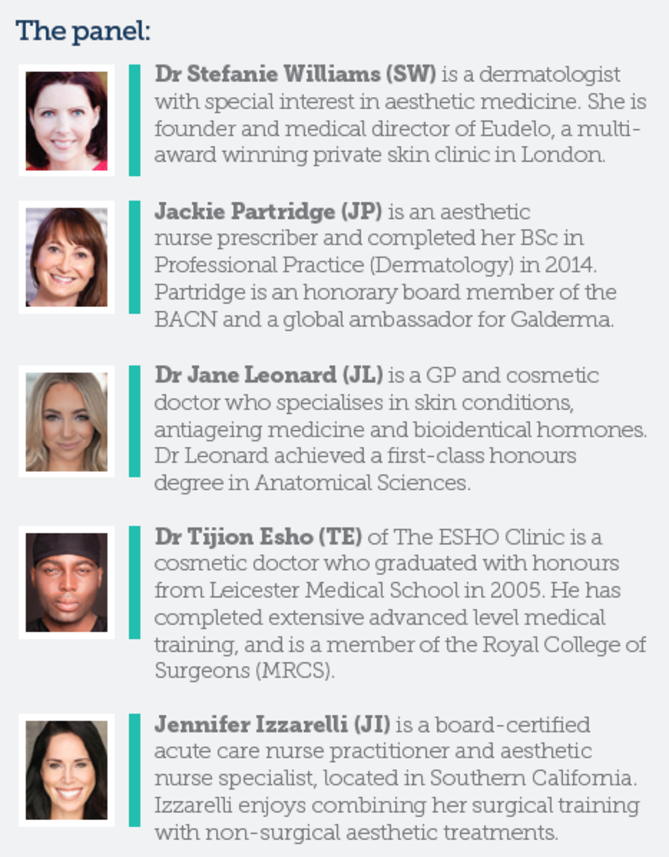 Every practitioner knows the importance of a thorough and detailed consultation. Gathering the patient's medical history and understanding their requests is not only imperative to assure their safety during the procedure or treatment, but also to ensure the best possible results.
Another significant aspect of the consultation is allowing time for patients to ask questions. Most of the time, for experienced practitioners, queries are easily answered. However, there may be occasions when more challenging questions are asked, where there is no straightforward answer.
In this article, we ask five aesthetic practitioners how they make sure patients feel comfortable enough to ask questions during their initial consultation, pose eight questions that commonly arise and ask, how do you say 'no' to treatment requests?
Creating the setting
Aesthetic nurse prescriber Jennifer Izzarelli believes time is the principal factor in making sure patients have the chance to ask questions, "I schedule all of my consultations for 45 minutes and in that time, I let my patients lead the conversation. I hand them a mirror, sit next to them and together we discuss what brought them in to the clinic, their concerns, their fears and any questions they have."
Asking the patient questions will also prompt the patient to think of their own, according to aesthetic nurse prescriber Jackie Partridge. "We prep the patient by asking them specific questions, which gives them an opportunity to think, 'Why are they asking that?' Which may trigger questions of their own," she explains.
Aesthetic practitioner Dr Tijion Esho ensures his consultations are very patient-focused, "It is important to know their ideas, concerns and expectations. The key to this is to ask open questions and listen and reflect on the answers to check they have a full understanding of what the treatment involves." He adds, "A lot of the time humour and a calming manner, while showing empathy, really settles a patient."
GP and aesthetic practitioner Dr Jane Leonard also agrees that it is important to have a patient-led approach to allow the patients to feel comfortable enough to ask questions. She explains, "We really want them to trust us, so we need to build a rapport; you have got to be open, honest and transparent, and willing to answer questions." Dr Leonard continues, "I revert back to communication skills ingrained in me from GP training and that is taking a patient-centred approach rather than doctor-centred. This means you give them time to speak freely during the consultation so you can identify their ideas, concerns and expectations regarding the treatment."
Challenging questions
There are many questions that patients ask that may be less straightforward to address than others. Below are eight examples which, according to the practitioners interviewed, commonly arise during consultation, and advice on how they can be effectively answered.
1. Will people be able to tell if I have had something done?
TE: There are two groups of people – the first group say they do not want anyone to notice they have had the procedure, so in this case I would say, 'All treatments will be subtle and natural'. People may just notice you look fresh and more rejuvenated but won't be able to tell why. However, the second group of patients say that they want people to notice the work but say it looks great, not fake. On this occasion, I inform them that, 'Your results will look natural and I'm confident that you and everyone else will think you look great'.
SW: When it is an injectable treatment, I always say, 'In the first few days there might be bruising and swelling, but, once that has settled, people will not know'. I usually discuss with them that I will firstly do a very conservative treatment, which will guarantee that nobody will be able to tell and then they come back in two weeks for a follow-up appointment and I will add more if it is not enough.
JL: I want patients to know that they will look better, they will look fresher, and they will see 'improvement' rather than 'change'. I would say, 'From my experience and from previous patients that have had this, they don't have people coming up to them saying, oh wow you have had your lips done! But they get reports of people saying they look good and their lips look good'.
2. Is it going to hurt?
JP: My opening line with all my patients is 'I am a wimp, and if I can have this done then so can you!' I do try and reassure them that I will do everything in my power to make it as pain-free as possible.
JL: You need to be clear and tell them the truth. I say, 'A lot of the treatments we do in clinic that can cause pain, can be controlled' and I emphasise that if they can't tolerate it they must let me know straight away.
SW: To make patients feel at ease, we explain they will get a 15-minute appointment with my medical assistant an hour before I see them for an injectable treatment and they will have the numbing cream applied. I tell them there could be a mild discomfort still, but it is completely tolerable.
3. I don't want to have before and after pictures taken – do I have to?
JI: I explain that photos are part of each patient's medical record. I would say, 'The treatments that are being done are medical procedures and photographs are a great tool to document the journey to create a visual aid to see the improvement after treatment'.
SW: I reassure the patient that the images are stored safely and stress the importance of having them taken – sometimes the patient will turn around after treatment and say 'Look, you made this appear (a lesion, for example)'. So, I explain to them that we may solve one issue but then they may suddenly see something they didn't notice before and think the treatment caused it. Thus, we need photographs to look back at and show it was already there.
JP: If patients refuse to have photographs taken then I refuse to treat them. I explain that it is part of my duty-of-care and my insurance policy. I need to have a before photo as a benchmark of what their face looked like before treatment. So actually, if they do not want to or refuse to have them, I say, 'That is fine but unfortunately, I won't be able to treat you'.
"I would explain to the patient that a cut-price treatment often means that the other practitioner may be cutting costs behind the scene, and that the price of treatment reflects the quality of work, quality of products and the care being delivered"
4. I've seen this treatment advertised cheaper elsewhere – can you match the price?
JL: In this circumstance, I would explain to the patient that a cut-price treatment often means that the other practitioner may be cutting costs behind the scene, and that the price of treatment reflects the quality of work, quality of products and the care being delivered. If you explain to patients why you cannot lower the price confidently, then they will understand it is not all about the sale.
JP: 'Probably not', would be my answer, as you get what you pay for. I like to think we are reassuringly expensive, and explain, 'You are paying for my years of experience and knowledge'.
TE: I tell patients, 'Cheaper is not always better when it comes to aesthetic treatments. I pride myself on delivering a high standard of results with the best products and as such, the price reflects not just this but also the ongoing care our clinic will give you. The price is always fixed to remain fair to all our patients'.
5. How quickly can I have the treatment? Can I have it today?
SW: I make it clear to the patient that there has to be a cooling-off period1 where they can think about the treatment. I explain that our appointments are scheduled in a way where we can have a very extensive consultation but I am not going to rush the treatment to have it in the same timeslot.
TE: There's never a rush to have a treatment. I explain, 'Aesthetic treatments are most often a want, not a need and it's important you take time to go over the information given. If you have more questions or, on reflection, you feel you don't want to proceed right now or at all, that is absolutely normal. If you are happy to proceed after reviewing all the information, my team will book you into the next available date based on our availability and yours. This is the safest way to make sure you make the right decision for you'.
JP: The answer to this usually depends on the treatment and is also patient-dependant. International patients who travel to see you don't want to come back the next day for treatment, so we will try and accommodate them as much as possible, for example, we may have already spoken over FaceTime prior to them attending clinic. I am very much using the consultation to see how much they understand what the treatment entails and if they have made an informed decision. If I have any doubt at all, then I will say that I do not want to go ahead with treatment today and ask them to go away and think about it.
6. What products do you use and are they the best?
JP: I am really proud of what I use, and I would explain that I use products that have FDA approval and a good clinical history. People will come in and say, 'I want such and such' and I will explain that I don't use that in my clinic but I use 'this' and explain why. I will say, 'I believe that as a practitioner it is going to give you a superior result and that is why I have chosen to use it'.
TE: There's never one best treatment or product, only the product that the practitioner feels is the best and safest to use at that particular time. I would say, 'In your case I will be using X based on Y as I believe this will be the best and safest way to achieve the desired look'.
JL: I tend to have preferred brands of fillers I work with but if the patient wanted a different type of filler that I've used before and I feel confident in using it, then I would do it. It also comes down to the practicality of it. I would ask 'Why do they want it?' To really understand the reason.
"I do not allow anybody else into the treatment room but they can bring someone over the age of 18 into the clinic to wait in the waiting room"
7. How likely is it that I will have a complication or side effect?
JI: I explain that with any procedure, there is a risk for complications. Experienced injectors know the signs of a complication and can act quickly to minimise any long-term effects, so by having an experienced injector, the risk is lower.
JL: You have to be honest and clear. I would explain the common side effects and say, 'It is likely you could get 'X, Y, Z', however, side effects, such as infection and granuloma are very rare'.
JP: I explain that it depends on what is being treated. It is my duty of care to inform the patient of all the things that could go wrong or could happen. I would say, 'There is a needle going into the skin so I can't guarantee you won't get a bruise'. I would make sure they are not in a position where they cannot afford to get a bruise, such as if they are going on a date the next day.
8. Can I bring a friend or have a chaperone with me?
TE: I would say, 'Your friend is more than welcome to come and observe if this will make you feel more comfortable during the procedure'. Good medical practice states we should have a staff member trained in chaperoning,2 so my clinical assistant will be there to keep them comfortable at all times.
JI: I would say absolutely. Having someone present, that patients trust, can ease anxiety.
JP: I do not allow anybody else into the treatment room but they can bring someone over the age of 18 into the clinic to wait in the waiting room. This is because the last thing a practitioner needs is a friend fainting during the treatment, which I explain to them. We don't let anyone under the age of 18 into the clinic at all as we do not feel that it is clinically appropriate.
Saying 'no'
The practitioners who took part in this article agreed that one of the most difficult situations was saying 'no' to patients who they either suspect to have body dysmorphia disorder (BDD), who have already had too much treatment done, or who the practitioner feels does not need that treatment. Finally, we asked the practitioners how they would deal with this situation:
TE: I believe what really makes a good practitioner is knowing when not to treat. On these occasions, I state, 'Although I completely understand why you feel you need this procedure, from my assessment of you, I don't think this is the correct treatment for you because of X. If I'm saying no, it's because I have your best interests at heart'.
JL: I think you have to take the honest approach and do it in a factual way. You say 'I have heard your point of view and what you are trying to achieve, and from my experience your ideas and expectations do not match what the treatment provides'. Offer them alternatives and say, 'Well you would be a candidate for another type of treatment'. Even if you don't do that treatment, you can refer them, so it is not a complete 'no'.
JI: This is always a delicate subject, especially in this day and age of online reviews. I have an honest conversation with my patients and discuss their concerns and goals and explain what can realistically be done. I try to show them what they can achieve with a 'less is more' approach and really explain facial symmetry to them so they understand what looks natural and in proportion.
JP: I used to see a patient who had been over-treated elsewhere so I spent a lot of time taking dermal fillers out, rather than putting them in. Over time, she asked if I would treat her with injectables and I explained that her appearance and behaviour suggested she may have some form of BDD. I offered to refer her to a doctor of clinical psychology, who works in our practice, and cover the costs of her treatment. I explained that I would only treat her once she had been seen and was assessed. She refused, so I had to refuse treatment. It was difficult and it meant losing a customer, but I was doing it to protect the patient. My only concern now is that she has gone somewhere else to see someone who might not have the patient's best interests at heart and are only concerned with making a sale.
Conclusion
It's important to allow patients to ask questions and even more important to make sure that patients are given detailed answers, which thoroughly explain the reasoning behind clinical decisions. Although saying 'no' to some requests may be more difficult than others, what is of utmost importance is the safety of patient, says Dr Leonard, concluding, "I think when you are under pressure for time, you tend to take a more doctor-centred approach, which is basically asking direct questions. That way, you often get the answers you want, but it could affect your relationship with the patient. The key thing is to make that investment as, if the patient does not trust you from speaking to you, then they are never going to trust you taking a needle to their face."