As dermal filler procedures continue to be regarded as one of the most popular non-surgical aesthetic treatments in the UK, the risk of complications occurring also remains high.
While there are no exact statistics on the number of procedures that take place, or the adverse events that have arisen following filler treatments, numerous media reports and discussions from practitioners suggest that they are not uncommon.
In the space of one week in August, there were two stories describing serious filler complications in Glasgow1 and Barrow2 that hit the national press, as well as reports of a non-medic carrying out aesthetic treatments in a garden shed, which led to debate amongst clinicians on what constitutes suitable premises for injectable procedures.3
In the UK, there isn't an official protocol on complication management, however there is noteworthy consensus guidance from a number of bodies. The Aesthetics Complications Expert (ACE) Group, established by Dr Martyn King, has created an evidence-based, peer-reviewed protocol that details the management of acute skin infections,4 while a multi-disciplinary group, supported by Merz Aesthetics, published The Expert Consensus on Complications of Botulinum Toxin and Dermal Filler Treatment.5 In addition, consultant, plastic, reconstructive and aesthetic surgeon Mr Dalvi Humzah is in the process of developing a group that will share a consensus on dermal filler complication prevention and management protocols.
According to the practitioners interviewed for this article, along with a lack of appropriate training and understanding of fillers, poor injection technique and not taking a proper medical history, infection is a significant contributing factor to dermal filler complications.
So, Aesthetics asked, what is the safest environment to inject in? How can a patient's general health impact their risk of infection? What should you do to prepare the skin prior to treatment? And, how do you manage an infection if it occurs?
Environment
"The spotlight is shifting in terms of the standard of the premises people are practising out of and how clean they need to be," says aesthetic nurse prescriber Anna Baker. She explains, "If a legal complaint was raised, then investigators would want to know about your clinical setup and how the patient felt about where they were treated. It is likely the patient would be asked, did the clinician wash their hands? Was there a sharps bin? Did they use a sterile field? From the medicolegal perspective, the patient will have to comment on what they saw first-hand."6-8 Mr Humzah adds, "The environment is very important. It's not just cleaning the skin and rolling the sleeves up. Carpeted areas have a higher bacteria count, so you therefore get more bacteria in the air. It is also more difficult to clean, whereas a hard floor is easy to mop down."
In England, non-surgical clinics can join the Care Quality Commission (CQC) register, where random inspections will be carried out
Consultant plastic surgeon Mr Taimur Shoaib also mentions that good lighting is important. In addition, he points out that in Scotland, where he practises, improvements are being made to monitor the environment private clinics practise in. As part of Healthcare Improvement Scotland's (HIS) regulation of all independent clinics, practices need to adhere to standards that cover decontamination, education on the prevention and control of infections, infection prevention and control policies, procedures and guidance.9 "I think HIS is certainly a way of ensuring that clinics are operating to a good standard of high-quality hygiene – it's one of the cornerstones of what they're doing and can only be a good thing for our specialty," he says.
In England, non-surgical clinics can join the Care Quality Commission (CQC) register, where random inspections will be carried out. However, this is not a requirement for most injectable clinics, apart from those that offer surgical, laser or IPL procedures.10 In addition, practitioners can sign up to private regulation companies where inspections are made and certification given. Baker explains, "They will come and inspect your clinic to ensure you're adhering to their standards, however there's no counselling body that is legally bound to come out and routinely inspect clinics."
Medical history
As with all clinical consultations, taking a thorough medical history is imperative to safe treatment. Baker says, "Medical history is absolutely paramount. In my opinion, the first thing that's important is a really thorough and rigorous medical history and consent process." She continues, "There's a lot of divided opinion in the UK about whether you should treat a patient with autoimmune conditions. Some practitioners do, and some don't. In my experience, there is an increasing number of people in the UK who are immune suppressed. They may be taking something for rheumatoid arthritis or a polymyalgia condition, which suppresses their immune system but they are otherwise fit and healthy. Personally, if I've identified that a patient is immune suppressed, I'd be extremely resistant to giving them a dermal filler treatment as it will be harder for them to fight off infection. Clinicians have to justify their rationale for why they've done it if complications do occur."
Aesthetic nurse prescriber Helena Collier says, "It's so important for the practitioner to identify previous treatments that the patient may have had. It could well be that the infection was caused by the last practitioner who injected the patient and it has lain dormant. Then you treat and have been as sterile as possible, but you could reactivate a previous contamination in the tissue."
"In my consent form I have a section that asks if we can contact their GP to let them know that they've had treatment. Half the time we don't know what people are taking and they may not disclose everything" - Anna Baker
Mr Shoaib details the types of questions practitioners should ask their patients. "As well as asking them if they've had any aesthetic treatments before, you should find out whether any complications arose, and what they thought of the results. You should also find out if they suffer from cold sores, which are caused by the herpes simplex virus that can spread,12 and shouldn't inject through active acne due to the risk of spreading bacteria," he advises.
Baker notes that in her practice, she always asks patients if she can inform their GP of the aesthetic treatment they have undergone. She says, "In my consent form I have a section that asks if we can contact their GP to let them know that they've had treatment. Half the time we don't know what people are taking and they may not disclose everything. It's so important that we do know in case we have to start prescribing concurrent treatment to the patient."
In Baker's experience, GPs have got in touch to advise her of other medication their patient is on, which can help to form her treatment plan for an infection. However, she notes, "It must be consensual – if someone's not comfortable with informing their GP, then we should respect that."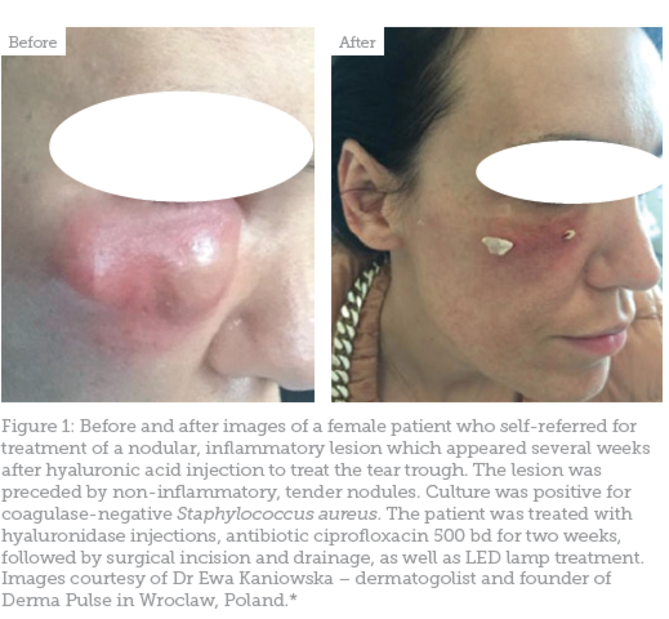 Avoiding contamination
Personal preparation
Nurse prescriber Cheryl Barton says, "I'm a great advocate of going back to basics. As doctors and nurses, we are taught that hand contamination is the primary source of pathogens. Since 2012, guidance has informed us of the 'bare below the elbow' mantra – which means exactly that – we need to be bare below the elbows. Practitioners should be in scrubs, cover cuts and abrasions with waterproof dressings, have short nails, with no nail polish and no jewellery. Most importantly, we should be washing our hands before and after direct patient contact."
The 'bare below the elbow' guidance was first outlined in National Institute of Health and Care Excellence (NICE) guidance on healthcare-associated infections in 2012. Barton emphasises that all practitioners should be familiar with its suggestions, which provide advice on, amongst others, hand decontamination, use of personal protective equipment, safe use and disposal of sharps, and general waste disposal.11
Significantly, Barton points out that it is likely to be a disciplinary offence if an NHS practitioner was found to be not adhering to NICE guidance, so questions why an aesthetic practitioner should be exempt. She emphasises, "Do you know how many pathogens are sitting on somebody's watch? It's likely to be hundreds of thousands. Practitioners should keep hair short and tied back. In addition, they should wear clean scrubs and shouldn't travel back and forth from work in the same clothing. I have scrubs that I keep here in clinic."
Treatment preparation
To begin treatment, Baker says, "I purposely get the product and sterile pack out in front of the patient – it gives an air of professionalism; it sounds like it's just for show but it does make an impact." Mr Humzah adds that practitioners should use an aseptic, non-touching technique, on a clean surface, with a sterile field. He emphasises that areas should not be mixed up as you would be at risk of causing cross contamination. Baker says, "I use a sterile pack for everything, whether it's a filler or a toxin. Initially I put one pair of sterile gloves on to clean the face. Then, when I'm about to start the procedure and start picking stuff up, I put a new sterile pair on top. This is so if, for whatever reason, I've got to take the sterile pair off, I've got another pair underneath. The minute you start touching and syringing, you're ready to go – you should be sterile at that point."
"The hair is one of the most contaminated areas; it is full of bacteria and should be covered with a hair net" - Helena Collier
Collier notes that during treatment, practitioners should be wary of the areas they are touching. "The hair is one of the most contaminated areas; it is full of bacteria and should be covered with a hair net," she says, adding, "The other thing worth mentioning is the mouth is full of bacteria, so if you put your glove in the patient's mouth when you're injecting a lip, you're really at risk of contamination. You've got to stop straight away, remove your gloves, clean your hands, and put fresh gloves on. For me, when I'm working in the perioral area, I don't massage until the very end and the gloves are disposed of as soon as I'm done – I don't ever do it in the middle of a procedure."
Skin preparation
All the practitioners interviewed agree that the first thing that needs to be done to prepare the skin for dermal filler treatment is to remove the patient's makeup. "You have to remove every trace of makeup – not just in the area where you're injecting, but the whole face," says Collier.
Mr Shoaib says that a really good disinfectant that kills all known bacteria is needed, before the needle enters the tissue. "There are several topical agents that we use as antiseptic agents. These include chlorhexidine, which can be in a water-based solvent or an alcoholic based solvent. 12 We can also use alcohol solutions such as isopropyl alcohol," he explains.
While chlorohexidine is acknowledged by this panel of practitioners as the most commonly-used antiseptic solution, Collier says that chlorohexidine can be an irritant to some patient's skin,13 so has been using the new skin preparation agent Clinisept+ since its release earlier this year. Clinisept+ is a product that contains a stabilised version of hypochlorous (HOCI) acid, which has displayed positive results for disinfection.17 She explains, "It can be used pre, during and post treatment – if someone's had a filler procedure, cleansing the skin with this reduces the risk of infection hugely."
Baker agrees, noting, "I've come away from using chlorohexidine – I've gone over to Clinisept+ because I haven't found another skin preparation solution out there that's bactericidal, sporicidal and fungicidal. I've yet to find any patient that's sensitive to it."
Post treatment
Following a dermal filler procedure there are additional protocols that practitioners can follow to continue to reduce the risk of infection. Mr Humzah says that one of the key considerations post treatment is the application of makeup. "Patients often will want to immediately cover the hole made by the cannula with makeup," he says, continuing, "I'm actually in the process of developing a spray plaster that you can literally spray on top of the hole you've made, sealing it off immediately so you can put makeup over it. The idea came from a technique I saw when I was in the Asia – it's a clear spray that you can wash off and stays on for about a day or so."
In Baker's practice, she advises patients not to apply any makeup for the first 24 hours. She also says that she will always spray a patient's hands with a skin disinfectant before they get off the couch. "Although we tell people not to touch their face, they will!" she says, explaining, "I give them a good spray and tell the patient to rub their hands together until it dries. It leaves their hands, for the best part, as clean as they're going to be. At least in the clinic room you can say you've done everything you can to protect the patient from the risk of infection and they've watched you putting disinfectant on their hands."
Diagnosis
"Recognition of an infection is the first stage of treatment," says Mr Shoaib, adding, "Infections can occur early, so within the first few days, or can be late, several weeks or months later. Usually an infection will present as a red, hot, swollen, tender nodule or area."
Mr Humzah agrees, emphasising that the most important thing to do if a patient presents with an infection is to get it adequately diagnosed. "The best thing to do is to get a sample and ask a microbiologist to tell you exactly what's growing in there so you can treat the patient with the right antibiotic or other relevant treatment," he says.
Baker adds, "If a patient presented with an infection, I'd want to get my baseline photographs out, and photograph it there and then. I'd also want a really thorough history of everything they've done, everywhere they've been – if they've been on holiday or out of the country – I will need to get as much information and detail from them as I possibly can." After she has collated this information, Baker will then look at the infection itself. "If there's something that's obviously discharging, I'd swab it and send it off for a histopathology report. Ultimately, I'd always want to link up with an expert – someone who's got a great deal of expertise in complications," she explains.
Of course, for practitioners who are working independently, this could be difficult. Baker advises, "Practitioners should strike up a relationship with a local lab, microbiologist or histopathologist within a hospital. It's likely that they would have to come to some sort of discretionary commercial agreement for doing the culture, analysis and report."
Mr Humzah explains that it is fairly easy to take a sample of an infected area, saying, "You can literally just put a needle in the area to take some fluid out. It's whether the practitioner actually has all the necessary microbiology kit that may be challenging." However, he notes that a lot of GPs will have the kits to do it. "If you can liaise with your local GP, they can probably take the sample. It may mean you need to go with the patient, but it's relatively easy to get the sample to send to the microbiologist," he says.
Recognition and management
Bacterial infection
"For every square inch of the human body, there are approximately 32 million bacteria.14 They're on our body all the time and most of them don't cause us problems, but if you take some of those bacteria into an environment where it's not their home, that's when they can cause problems," says Collier.
She explains that one in every three people carry the staphylococcus bacteria harmlessly on their skin; however, if the skin is compromised, for example, through a cut or injection, then the bacteria can get into the body and cause an infection.15 "When we're injecting filler deep into the dermis, we're dragging that bacteria right into the body," says Collier.
There are a variety of staphylococcus infections that can occur, which would be most likely to present locally as an abscess, redness, swelling, pain and pus following dermal filler injections and generally respond well to antibiotic treatment
According to the practitioners, in a healthy person, an infection can lie dormant without the knowledge of the patient or practitioner. Collier says, "It will sit there quietly, not causing much of a problem, however, a common cause of reactivation is repeat injection, which causes further trauma to the skin. It can be a month, six months, a year or more and suddenly the patient can develop an abscess or hard and thick nodule."
There are a variety of staphylococcus infections that can occur, which would be most likely to present locally as an abscess, redness, swelling, pain and pus following dermal filler injections and generally respond well to antibiotic treatment.16 However, the practitioners agree that it is imperative to correctly diagnosis the problem prior to antibiotic prescription, as it could be more serious than empirical observation suggests.
Biofilms and granulomatous response
A biofilm is formed when bacteria joins with other microorganisms such as protein, polysaccharide and DNA.17
As Collier explained in her peer-reviewed paper on biofilms from 2014,18 a biofilm can cause local infection, systemic infection, or a granulomatous or inflammatory response. In her paper, Collier highlighted a study from Narins et al., which suggested that lips may be the highest risk for potential biofilm formation because of the proximity to more than 500 species of bacteria.19
Baker says that biofilms are probably the most feared type of infection because they're very difficult to diagnose and treat. "There's no real consensus on how they come about," she says, explaining, "They can manifest sometimes years after treatment, meaning it can be difficult to pinpoint exactly what's caused it – especially in patients who've had many different fillers and gone to many different establishments as you don't know what they've had done."
The injection of dermal fillers can also disturb a dormant biofilm, which, in turn, can trigger a granulomatous response.20 Mr Humzah explains, "A granuloma is the reaction of your body, known as a foreign body reaction, where specific cells called giant cells accumulate. A foreign body could be anything – and in the case of aesthetics, is generally filler." Collier adds, "Your body naturally forms a capsule around the foreign body to protect you, because it doesn't want the infection to spread anywhere. This then usually presents as a hard nodule in the skin."21,22 Like biofilms, granulomas are extremely difficult to recognise without a histological diagnosis. "A true granuloma needs to be scientifically diagnosed. It isn't enough to say it's probably a granuloma – the only way to say it's definitely a granuloma is to take a biopsy at a laboratory," emphasises Collier.
Viruses
Mr Shoaib explains that infection can be either bacterial or viral, and one of the most common viral infections is herpes simplex virus, which often presents as cold sores.12 Barton emphasises that in her practice, she tells patients that they should be free of a cold sore for at least two weeks before commencing treatment. She says that practitioners should find out if the patient has a history of herpes simplex virus, explaining, "If it is recurrent, we generally don't treat them with filler. Sometimes we give prophylactic antibiotics, which can help prevent a cold sore occurring, but if they're having recurrent outbreaks then we advise that they see their GP for treatment."
Baker notes that if we advise that they see their GP for treatment." Baker notes that if a viral response is not managed properly, it can escalate. "Herpes in a very severe, aggressive presentation can mask as different things as well, so practitioners should ensure they make a correct diagnosis," she says.
Treatment
Once a diagnosis has been made, only then should clinicians proceed with treatment, according to the practitioners interviewed. "For me, I don't believe in blind empirical prescribing antibiotics or steroids," says Baker, explaining, "The danger is, you could just be stalling something that might need to be treated quite urgently."
As well as potentially masking something that may need alternative treatment, the practitioners are concerned that prescribing antibiotics unnecessarily could build patients' resistance to the drugs. "I am an antibiotic guardian," says Barton, who notes that GPs are reducing the amount of antibiotics they prescribe23 and emphasises that aesthetic practitioners should be following suit where appropriate.
Mr Humzah adds, "I'm all for giving people antibiotics if they really need it, but you've got to know which antibiotic to give. I always say get an accurate diagnosis before you start a patient on antibiotic treatment so you know exactly what you're doing."
Of course, many infections will respond well to antibiotics. Mr Shoaib says that practitioners will often prescribe antibiotics such as clarithromycin or clindamycin for a bacterial infection, while Baker notes that biofilms will usually require long-term antibiotic therapy. According to Fuente-Núñez et al., there are no approved drugs that specifically target biofilms,24 however research by Dayan et al., suggested that the successful management of biofilm complications includes broad spectrum antibiotics.25
If a granuloma has formed, practitioners recommend using oral or intralesional steroids to reduce the inflammation and reaction around the foreign body. "You should then remove the offending body if possible – so if it's hyaluronic acid (HA) filler, you can try dissolving the HA with hyaluronidase," says Mr Humzah. Viruses, on the other hand, generally respond well to antiviral agents such as acyclovir, says Mr Shoaib. As an experienced plastic surgeon, filler infection complications are often referred to Mr Humzah, who sees, on average, one serious infection every other month. He says, "I see them at a much later stage than most people would, I tend to see the ones that haven't responded or have had a very late diagnosis, when the infection is fairly horrible."
"The important thing for practitioners to take away from this is that good, early diagnosis and prompt treatment will often save a patient from having to see me" - Mr Dalvi Humzah
Mr Humzah explains that he treats patients who may have developed a major abscess, where the infection has got really out of control and is affecting a large area of their face. "I get people with lots of fat loss in the face, so we literally have to take them into theatre to remove the filler and let all the pus out. We then test the pus again to ensure there's nothing growing in there," he says, adding, "The important thing for practitioners to take away from this is that good, early diagnosis and prompt treatment will often save a patient from having to see me."
Summary
If an infection does present, it can be an unsettling time for both the practitioner and the patient. Collier explains that when consulting patients prior to treatment, she details the risk of an infection and tells patients that, in the event of one occurring, the good news is that they usually respond well to treatment. "It's very unusual for it not to respond once we've identified what it is and know how to treat it appropriately," she says, adding, "Infection control doesn't have to be complicated – it's really just about the practitioner understanding their responsibility for safety and taking accountability. It isn't rocket science – it's simple infection control at the time of injecting."
Barton adds, "The complacency of practitioners can be pretty worrying – pathogens don't dabble, they win every time I'm afraid. My role as a healthcare professional is to keep my patients safe and to do that I abide by policies for infection control." Baker agrees, emphasising that so many infections could be avoided if just the most basic precautions were taken.
For Mr Humzah, raising awareness of the complications that can occur following filler treatment for them is essential. He says, "I think we've gone a long time thinking that fillers are something that can be injected and forgotten about. Fillers last a long time; sometimes a year or two years – so we should start treating them like proper implants that we're putting into the body and being aware of the risks of doing so." Mr Shoaib agrees, "Especially with the higher volume we're injecting nowadays – we need to be very careful about maintaining strict hygiene control.