Taking photographs of patients' aesthetic concerns and the subsequent results of treatment is a standard part of all aesthetics practitioners' clinical protocol. Not only is doing so essential for documenting accurate medical records, they can be used to train other practitioners and showcase successful results. Yet there is a plethora of before and after photographs online that are unclear, use bad angles, inconsistent backgrounds and the wrong lighting, which are unlikely to help practitioners' marketing efforts and do not portray the aesthetics specialty in the most positive light.
Securely storing images and obtaining the appropriate consent to use patient photographs is also a key part of appropriate clinic management. And with penalties for non-compliance to General Data Protection Regulations (GDPR) set to come into force on May 26 this year, having a thorough process for protecting patients' data is an essential part of any business.
Aesthetics spoke to three practitioners on how they take and store before and after photographs, as well as Dr Elizabeth Raymond Brown, an education specialist and author of Clinical Photography – Keeping it Legal, Accurate & Consistent,1 for her recommendations on photographing aesthetic patients.
Taking photographs
Why should practitioners take before and after photographs of patients?
Mr Chris Inglefield, a consultant plastic surgeon based at London Bridge Plastic Surgery, says, "Before and after photographs are vital medical records for any intervention that we do on our patients. In our clinic, we have a policy that if a patient refuses to have pre-photographs taken then we won't operate or treat them as it's part of their medical documentation." Miss Sherina Balaratnam, a surgeon with plastic surgery training and founder of S-Thetics clinic in Beaconsfield, agrees, adding, "From a medicolegal point of view you're safeguarding yourself, as well as your patient." This is supported by the General Medical Council's (GMC's) Good Medical Practice guidance, which outlines that recordings made as part of the patient's care form part of the medical record, and should be treated in the same way as written material in terms of security and decisions about disclosures.2 Miss Balaratnam also explains that by taking and analysing detailed photographs, practitioners can plan treatment accordingly. She says, "We can educate patients about what their areas of concern are and communicate an effective plan with them," adding, "Taking before and after photographs delivers high-quality consultations, which is part of our duty of care to our patients."
What devices can you use?
As well as using digital cameras, there are a number of imaging devices on the market that can aid clinical consultations and photograph taking. "I use the VECTRA 3D Imaging Solution for my patients," says Mr Inglefield, explaining, "I've been using it for nearly five years now. In my opinion, for us to be much more accurate in assessing our results and teaching patients what results are achievable, 3D imaging is a much more powerful medium." The device can be used to capture 3D face, breast and body images in high-definition resolution.3
Mr Inglefield continues, "We use it not just for documenting treatments, but also for planning treatments. We can plan how much volume we're going to add to a cheek for example, or how much body we can add to a breast that is already asymmetrical, as some of these things aren't always as evident with a 2D image. It's the same with body contouring procedures; we can be much more accurate in predicting the outcome of our treatment or procedure if we use 3D images."
For Miss Balaratnam, purchasing an imaging system was one of the first investments she made when she opened her clinic almost three years ago. "I chose to invest in the VISIA complexion analysis system as it acts as a diagnostic tool that allows me to accurately diagnose my patients' concerns, so I can treatment plan and track my patients' journeys over time," she explains. The device analyses left, right and front facial views, while capturing surface and sub-surface skin conditions to allow practitioners to view data on sun damage, porphyrins, spider-veins, hyperpigmentation, rosacea and acne.4 Miss Balaratnam notes that the device offers standardised lighting, the distance from the patient to the lens is the same and the level of accuracy has improved over time. "For me, it's an excellent assessment and diagnostic tool," she says.
It is important to note, however, that practitioners do not need an imaging device to take high-quality before and after photographs. "Choose a good camera," advises Miss Balaratnam, explaining, "It doesn't have to be complicated; as long as it's a good quality camera and you keep the photographs consistent you'll be fine."
What other points should you consider?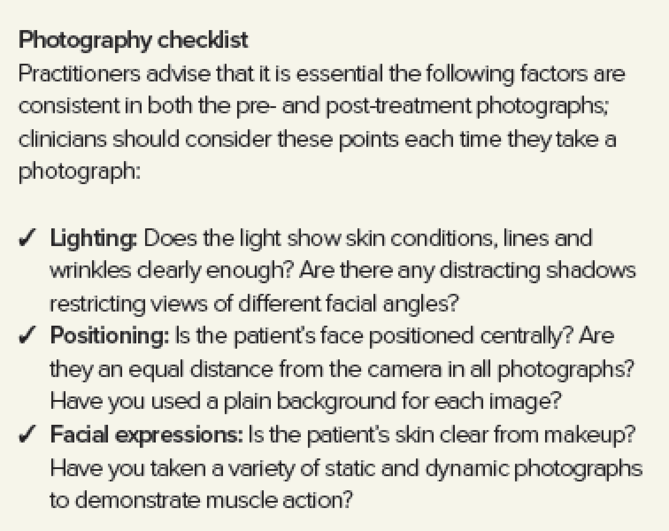 Dr Raymond Brown writes in Clinical Photography, "Both a 'smart' technology device (e.g. phone, tablet) and a mid-range compact camera have sufficient image resolution (typically five megapixels) to record quality images. Smart technologies and compact cameras typically allow the user to select features such as white balance, light metering modes, flash settings, ISO (equivalent to film speed) – so both are an option for easy routine imaging (e.g. facial images) without needing major expense or expertise."1
She notes, "Bridge cameras and digital single lens reflex cameras (DSLR) offer many additional benefits, such as higher resolution, larger sensor size, better quality lenses, including interchangeable or dedicated lenses such as macro, post-camera processing of images, and a far greater number of user-adjustable settings. But they can need more user involvement to make the most of all the features they offer." As such, Dr Raymond Brown advises, "Investing in an expensive DSLR is no guarantee of producing quality before and after images if you do not standardise other factors such as lighting, background and patient positioning. It's better to invest in a simple camera you can use in the right environment, than an expensive, multifunctional camera in a less than ideal setting."1
"If a photograph is worth taking in the first place, it is surely worth taking a meaningful and accurate one" -Dr Elizabeth Raymond Brown
Dr Raymond Brown provides detailed advice regarding lighting in Clinical Photography, noting that photographing features you particularly want to see requires practitioners to think critically about the position of the light source(s), the type of lighting and how it falls upon the subject. She explains that a ring flash is a useful tool for practitioners, as it creates a subtle 'fill' light as it falls on-axis with the subject.
However, Dr Raymond Brown notes that, consequently, it provides even illumination with few shadows, which may not always be ideal for skin and textural images that practitioners may want to capture. "If your camera cannot be fitted with a ring flash, there are several affordable, compact and portable LED lighting units on the market that can significantly improve the quality of clinical photographs," she says, adding, "Whilst they light a subject very evenly and uniformly, you may need to vary the direction or light output to record skin texture or features such as depressions/wrinkles."1
Miss Balaratnam says that patients should be free from makeup in all pictures to accurately demonstrate results and investing in a tripod is advisable, in order to keep the height consistent and ensuring your camera doesn't shake. Dr Raymond Brown adds that using the gridline in the camera viewfinder/display screen is an ideal way to align anatomical landmarks for repeatable images.1
"A floor mat is also beneficial to identify the measurements between the patient and practitioner when taking the photos," says Miss Balaratnam, while noting that she recommends using a black background. "If you're using a flash then you're going to have a harsh refraction of light if the photograph has a white background," she explains, adding, "Black is also preferred because you see the angles of the face very accurately."
However, Dr Raymond Brown notes that using a black background requires skilful lighting to keep the edge of subjects separate from the background. She says, "White or grey are easiest to use in the clinical setting but you may need options for backdrops depending on skin colour and lighting technique."1
Dr Brian Franks, an aesthetic practitioner based in Harley Street, uses a digital camera and says, "There should be a standard number of photographs you take for each patient depending on their treatment. For example, if you were to administer filler, you would take a full facial photograph, each side of the face, and any other particular angles you want to capture."
For botulinum toxin procedures, practitioners should take both static and dynamic photographs to capture the lines and wrinkles when they are relaxed, as well as in movement.
"When taking post-treatment images, have the pre-treatment images available to remind yourself of the views you captured," adds Dr Raymond Brown, stating that video recording is also beneficial; "A short video clip will illustrate muscle action far more effectively than a series of static images… recording in HD video also allows extraction of good quality still images using readily-available software." If practitioners are monitoring individual lesions through their photography, then Dr Raymond Brown advises that the use of scales are valuable. "Take a series of photographs showing; overview, regional area, regional view with additional marking," she advises.1
The practitioners interviewed recommend that clinicians should take into account that there is a risk that, by taking such high-quality photographs, patients may be more critical of their concerns and the treatment results. "After you perform an aesthetic treatment, the patient looks at absolutely everything," says Dr Franks, highlighting that they may look at their post-treatment photographs and still see areas of concern.
Miss Balaratnam agrees, emphasising that it is essential that practitioners are explaining to patients that aesthetic treatments are not quick fixes so their expectations are managed effectively. "However, sometimes, treatments don't go according to plan," she says, advising, "It's important for us as medical practitioners to appreciate that, take it on board and say 'OK, how can we optimise this?' When it doesn't go right, which is the minority of the time, we can still jump in and change the patient's regime. In terms of skincare especially, having high-quality images of the patient's progression helps identify whether your treatment plan is working."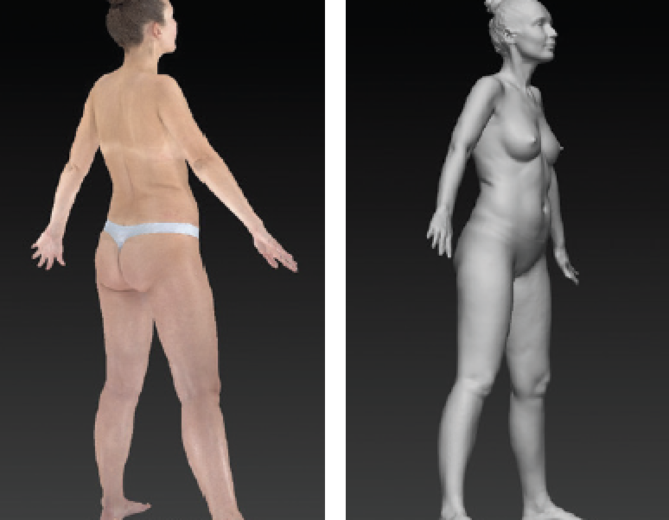 The GMC outlines specific guidance for aesthetic practitioners on obtaining consent from patients, in Guidance for doctors who offer cosmetic interventions.5 It says, 'Before accepting a patient's consent, you must consider whether they have been given the information they want or need, and how well they understand the details and implications of what is proposed. This is more important than how their consent is expressed or recorded'. In accordance with GDPR, practitioners should also ensure that the request for consent is given in an 'intelligible and easily-accessible form, with the purpose for data processing attached to that consent'. The regulations also state that, 'Consent must be clear and distinguishable from other matters… using clear and plain language' and that it must be as easy to withdraw consent as it is to give it.6
The practitioners interviewed emphasise that this doesn't just apply to consenting to the procedure itself, but also for the use of photographs taken. "We consent for their use both inside the clinic and outside," says Miss Balaratnam, noting that she has a detailed consent form specific to photography; "We have a separate consent form for showcasing our photographs in studies to one that enables patients to choose which media context their photography will be used in; be that on Facebook or on the website. In this day and age when there are multi-platforms of media interaction, we have to be as accurate as possible to give our patients the choice."
Mr Inglefield points out that care should be taken to describe exactly why and how a patient's photographs will be used.

"Some patients who have body contouring treatments will request not to show their face or any identifying marks such as tattoos," -Mr Inglefield
For facial photographs, many practitioners will redact the patients' eyes so they can't be identified. "Always discuss how you will present the photos, so the patients are prepared for this," advises Mr Inglefield.
Dr Franks uses patient management system Consentz to take and store notes during the consultation, as well as using its consent form software. The tablet-based system has tick-box options for the different types of consent, which practitioners can tailor to their clinic's preferences. Dr Franks explains, "I use photographs because I teach and train, as well as for marketing, so I have separate consent options for each of those. When you give the patient the device to sign, they cannot move out of their records because it has a security code that I have to put in to be able to move to the next stage. So even if I left the patient alone with the device – which I of course wouldn't do – they could not access anybody else's records."
Miss Balaratnam obtains consent for the use of photographs during the initial consultation, however she notes that her team members state their use once more in follow-up calls. "During these calls we mention to patients again that they have consented for the use of their photos; giving them the opportunity to re-consent or remove their consent to ensure they are comfortable with us sharing their results," she explains.
Securely storing photographs
Maintaining patients' confidentiality is a significant part of any medical procedure. The GMC states, 'Confidentiality is central to trust between doctors and patients. Without assurances about confidentiality, patients may be reluctant to seek medical attention or to give doctors the information they need in order to provide good care'.7 However, it adds that appropriate information sharing is, 'Essential to the efficient provision of safe, effective care, both for the individual patient and for the wider community of patients',7 which aligns with necessity of using patients' before and after photographs for the reasons discussed previously; primarily, to educate future patients and to teach other practitioners.
In 2013, the GMC released guidance on Making and using visual and audio recordings of patients which states, 'The increasing use of technologies such as video and picture messaging has made it considerably easier to record, copy and transmit recordings of patients. Doctors may be interested in using new technologies to aid rapid diagnosis and consultation and therefore improve patient care. Doctors need to bear in mind that when used for clinical purposes, such recordings form part of the patient's medical record and the same standards of confidentiality, and the same requirements for consent to disclosure, apply'.8
As with all medical records, practitioners need to ensure they are storing photographs of patients securely. Just last year, Mr Inglefield's clinic experienced a data breach after a cyber attack. "We were the victims of an attack last year, which was a massive problem for us," he says, explaining, "They did get a very small number of photos – probably less than 30 – but it's difficult to tell whether those photos were obtained from an email which we sent to patients with their photos in, or accessed through our system."
Data breaches have become an increasing problem in the digital age,9 which has resulted in the development of GDPR. Launched in 2016, the regulations replace the Data Protection Directive 95/46/EC and have been designed to harmonise data privacy laws across Europe. Following a two-year grace period since 2016, from May 26 this year, businesses can be fined up to 4% of their global annual turnover if they breach GDPR. It is now mandatory for businesses to notify the Information Commissioners' Office (ICO) of a data breach within 72 hours of finding out it has occurred, where a data breach is likely to 'result in a risk for the rights and freedoms of individuals'. Business owners also have to notify customers 'without undue delay' as soon as they are aware of the data breach.6
What can practitioners do to improve data security?
All practitioners should ensure they are encrypting data advises Mr Inglefield, explaining that all his patient photographs and other medical records are uploaded onto a secure cloud-based server. He says, "You should password protect all files you send and access should only be given to designated staff. This is one of the key things in our clinic; only individuals who need access to patients' photographs and other medical records will have a password. You don't let any and everybody get access to them."
This is in line with the GMC's Good medical practice guidance, which states, 'You should not share passwords or leave patients' records, either on paper or on screen, unattended or where they can be seen by other patients, unauthorised healthcare staff, or the public'. It says, 'You should not abuse your access privileges and must limit your access to information you have a legitimate reason to view'.
For practitioners who are responsible for the management of patient records or other patient information, the guidance states, 'You should make sure that they are held securely and that any staff you manage are trained and understand their responsibilities'. It also recommends making use of professional expertise when selecting and developing systems to record, access and send electronic data, and make sure that administrative information, such as names and addresses, can be accessed separately from clinical information, so that sensitive information is not displayed automatically.2
Miss Balaratnam says, "My patients' photographs are stored in the VISIA device itself, which is password protected and stored in a locked room." She adds that her team members need to sign a disclosure agreement when they come on board with the clinic to ensure patient confidentiality. For Dr Franks, his patients' data is stored in his patient management system. "It's certified with the International Information Security Management Standard and is a G-cloud approved supplier for the UK government's digital marketplace," he explains, adding that its security is also regularly checked with a global third-party security organisation.10 "I've got the comfort of knowing it's fully GDPR-compliant and all regulations are in place," says Dr Franks.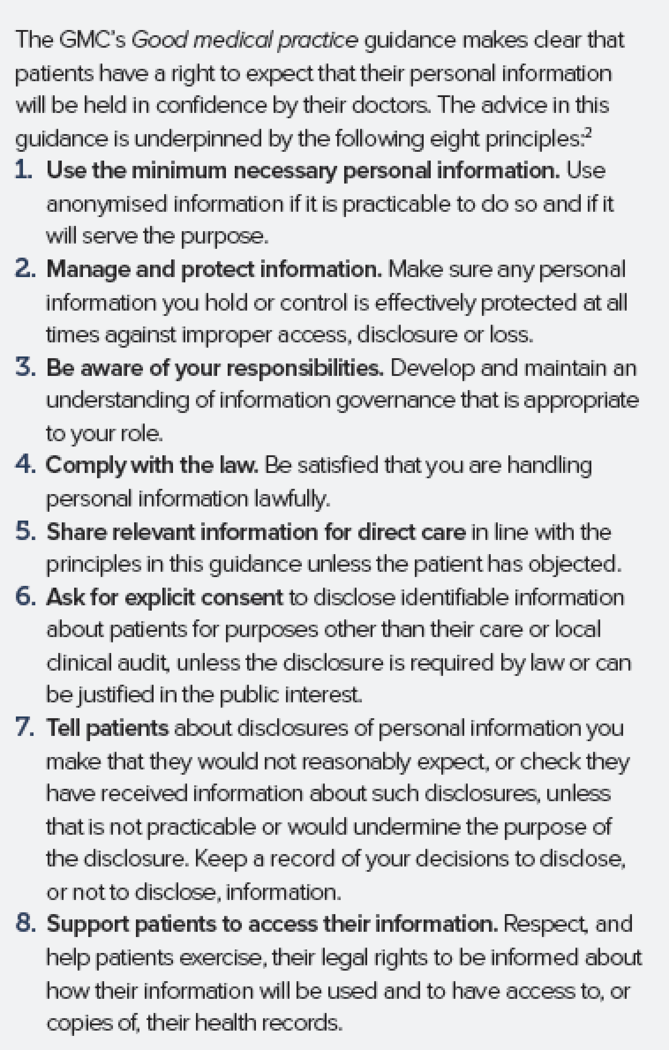 Summary
Clinics across the UK have become more confident in using photographic tools and social media platforms to showcase their results, while the internet and social media have made it increasingly easy for the public to investigate a practitioner's success stories before booking an appointment for aesthetic treatment. As a result, care should be taken to ensure photographs are accurate, clear and consistent, while appropriate consent must be obtained to hold any images, with clearly identifiable purposes, and all images should be stored securely with only necessary access authority permitted. As Dr Raymond Brown writes in Clinical Photography, "If a photograph is worth taking in the first place, it is surely worth taking a meaningful and accurate one." Miss Balaratnam concludes, "Data protection and patient confidentiality is key."