According to the NHS, people seeking help to lose weight through its weight loss programme are, on average, five pounds heavier than before the COVID-19 pandemic.1 It's been suggested by many practitioners in medical aesthetics that the pandemic has led to an increase in people seeking aesthetic help to reduce fat and contour their bodies. This is likely due to the limitations of the pandemic in terms of gym closures and the impact on people's mental health, as well as a lack of understanding on the inadequate effects of diet and exercise after a certain age.

As the demand for these treatments increases, with their relatively lower costs compared to surgical alternatives, lower risk of complications and side effects, and shorter recovery times, it is no surprise that business consulting and market research company DelveInsight estimates that the global energy-based aesthetic devices market will be valued at US $4.96 billion by 2026, up from $3.09 billion in 2020.2
Aesthetics spoke to three aesthetic practitioners to get an overview of the body treatment landscape.
Emerging trends
Desire drives the market, and as the interest in minimally-invasive body treatments increases, the energy-based body contouring industry is going from strength, to strength and making huge innovative strides.
"With years and years of focusing on injectables and rejuvenating the face, people are now turning to their aesthetic clinicians for help with their bodies too," says aesthetic practitioner Dr Nestor Demosthenous. "I think in recent years and with innovations in the non-invasive body contouring industry, people have begun to look to aesthetics for a helping hand in the body fat and muscle department." As Dr Demosthenous points out, energy-based body contouring is the third most popular aesthetic treatment in China after skin and facial rejuvenation and facial contouring,3 and it's set to grow at a compound annual growth rate of 16.3% globally.4
"I would say the most important trend in recent years is the use of multitasking devices," says aesthetic practitioner Dr Galyna Selezneva. "10 years ago, this section of the device industry was more about fat loss alone, but now patients are more educated and are seeking out a more holistic approach whilst looking for a treatment that not only tackles fat, but also builds muscle and improves the skin." In the past, multiple devices were necessary, "And now," she adds, "These machines are multifaceted and they're growing in popularity."
Dr Munir Somji agrees that combination treatments are on the rise, stating, "I don't find people coming in asking for specific treatments as much anymore, they're looking for a combination of things, for example fat reduction at the same time as muscle stimulation, and we could use a combination of energy-based devices to suit different concerns."
He also asserts that wellness has become a popular trend in recent years, "People want help with superficial fat reduction, as well as visceral fat. This is the fat that wraps around organs deep inside the body, which can lead to serious health conditions like heart disease, breast cancer, and Alzheimer's therefore, these treatments can make you healthier overall."
Patient selection and the consultation
Dr Somji comments that he is starting to see patients of all ages coming into the clinic for body contouring. "I tend to see 18-35-year-olds coming in asking about body contouring, whereas it used to be more 35-50-year-olds. In my experience the gender imbalance is levelling out. Before I would say it was about 70/30 female over male coming in, and now I'm seeing more of a 60/40 ratio. I've also started to see an increase in patients coming in for post-partum treatments, to help tighten up their muscles."
Although there are certain conditions that might make a patient unsuitable for body treatments which must be thoroughly deduced during the consultation, including heart problems and eating disorders,
Dr Selezneva says, "The perfect patient does not exist and it is up to us as practitioners to find a solution to their problems. This is why we need a wide range of devices to personalise the treatment plan to each patient's individual needs."
All practitioners interviewed are in agreement that there are certain conditions to look out for, highlighting the importance of identifying Body Dysmorphic Disorder (BDD). "BDD is something we have seen a lot more of because people have been spending more time in the mirror and analysing themselves during the COVID-19 pandemic," explains Dr Somji. "An important question to ask is 'Is this the only area you want treated?', and if they can't specify a particular concern but want their whole body treated, then that is a definite red flag. If they are overly emotional during the consultation, then this also might be an indication that they are not emotionally stable enough. It's our responsibility as practitioners to ascertain if there is an issue and if they will be happy with the results."
As a psychiatrist, Dr Selezneva, knows how to spot the signs of BDD. "I will always check their full medical history, discover if they have been refused treatment before or been shopping around to find a practitioner who will treat them, and assess whether the patient will be able to maintain and handle the results, and of course, if they come into the clinic grabbing handfuls of non-existent fat, further conversation is necessary before we decide to treat."
Dr Demosthenous agrees that an important part of the consultation is to assess where the patient is in their fat loss journey, and whether they will be able to maintain the results of a non-surgical aesthetic treatment. "It's essential to find out what lifestyle changes they are making to aid and sustain their weight loss. Diet, exercise and lifestyle all need to be assessed prior to treatment and the patient needs to demonstrate that they are doing enough to be able to maintain the results, otherwise the treatment is pointless," he says. Dr Demosthenous references a patient he once saw who was significantly overweight, "He informed me he had cut down his daily crisp consumption from four packets a day to two, and that he was going for fish and chips and a pint after our appointment. To him, this was obviously a step in the right direction, however much more is needed with regards to eating the right foods (and amounts), increasing physical activity, obtaining enough sleep etc. Sustainable changes to lifestyle are what is most important."

Before and after imagery
The practitioners differ in their opinions on the use of before and after imagery when it comes to managing patient expectations of body treatments. "I think before and after imagery is very important, and I show my patients a range of results, some with dramatic changes and some with less significant results," explains
Dr Demosthenous. "It's not possible to say exactly how the results will turn out," he continues, "So I think showing before and afters is really useful in managing patient expectations." It also depends on the patient's size and perception of their own bodies, Dr Demosthenous continues, "Losing an inch off the waist might be loads for one person and barely anything for another."
Dr Somji agrees that before and after imagery is important and asserts the point that standardising the imagery is essential. "The images must be consistent so the patient can get a full picture of the results. 360-degree images are important and take measurements of circumferential changes from bony anatomy landmarks." Dr Somji also agrees that showing an array of results is useful in managing patient expectations. "I show patients good, average, and minimal results so they can have a range of expectations, and I also show the good effects when a patient has stuck to the aftercare and has maintained a healthy diet."
Dr Selezneva takes a different approach to the use of before and after imagery. "It's a very personal and subjective process," she says, "I don't show my patients before and after images and prefer to speak to them about their own potential and manage their expectations that way, as every result is different."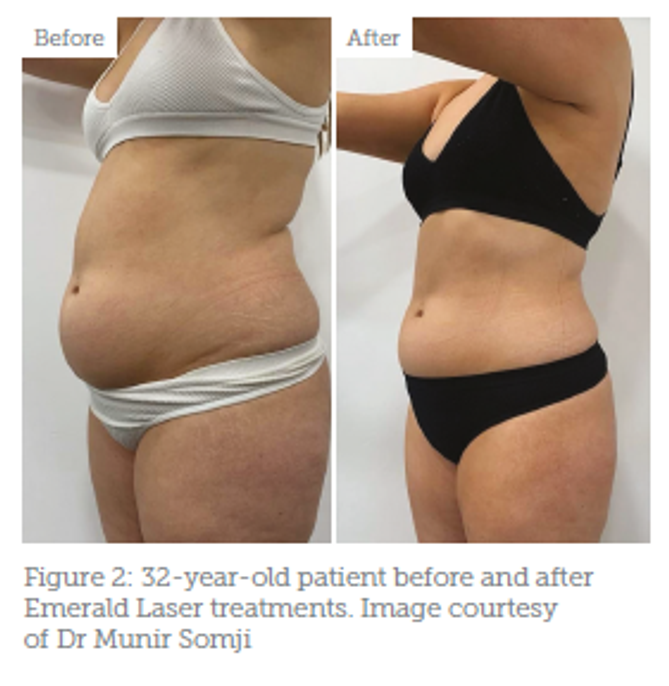 Choosing a device
Dr Somji looks for three main factors when choosing a device for his clinic. "Firstly, I want innovative technology that will bring something new to my clinic to offer my increasingly educated patients," he says, "Secondly, I look for a device that has a wealth of clinical studies behind it over a long period of time to ensure it's as safe as it can be, and thirdly, it must have a proven level of efficacy," he explains.
"Science, science, science!", agrees Dr Selezneva, "Safety is paramount and should always come before pricing considerations as we're working on a human being here. We have 37 devices that can be used on the body in clinic, and I want to sleep at night knowing that they are all the best and most reputable devices from companies that offer support and a history of proven efficacy. I also use all the machines on myself first," she continues, "So I can make sure they are effective and what we want in the clinic, and so I can accurately explain the process to the patient." For more advice on choosing a device, read our online article.5
Popular treatments
Here our practitioners discuss some of the technologies which they believe are effective and worth adding to your treatment portfolios.
Dr Demosthenous on muscle stimulation
Still an emerging treatment, muscle stimulation is fast becoming a popular and versatile option for a range of concerns. "The idea of being able to build muscle with a device fascinates me," says Dr Demosthenous, "Non-surgical body treatments are now able to sculpt and define the body and the use and popularity of muscle stimulating devices is developing fast. There has been a big focus on body contouring for a long time now. We can only truly contour a body when the underlying structure (muscle) is addressed. I suppose it's comparable to revolumising a face, we need the right volume in the right place. Building muscle builds a better body. The fitness industry has been singing from this hymn sheet for years."
Dr Demosthenous mentions his preferred devices include the electrical muscle stimulation (EMS) device truSculpt flex which induces muscle contractions using an electric current, for building muscle, used in combination with Cutera truSculpt iD radiofrequency device to remove fat. He explains, "The flex helps to build muscle with minimal effort and is great for people who struggle to get to the gym. Originally a 45-minute procedure, now condensed to a 15-minute session, I recommend four to six sessions over a two to three week period." Another interesting innovation of muscle stimulation is how it can be used for injury rehabilitation. "More research is needed on the use of muscle stimulation for lower limb injuries," explains Dr Demosthenous, "People who rapidly lose muscle due to disuse following injury could really benefit from this, not only to maintain muscle mass but also to strengthen the muscles and reduce recovery time, pre- and post-surgery."
Dr Somji on low level laser therapy
Low level laser therapy (LLLT) employs non-thermal ablation of adipocytes for focal adiposity and skin tightening on the abdomen, thighs, flanks, and neck, according to Dr Somji, and patients need up to eight sessions for optimal affect. "When I looked at the Erchonia Emerald Laser," says Dr Somji, "I thought this is probably the newest technology in terms of body contouring. It's a cool laser and there's no thermal release so no chance of burns or side effects." The low chance of side effects makes LLLT an almost universal treatment, continues Dr Somji, "It works on patients who could benefit from circumferential fat reduction and even works on patients who are clinically obese, which has really opened up a new era of fat contouring." Dr Somji asserts that the Emerald Laser can be used for reducing circumference as well as adapting shape, "We can now take a patient who is severely overweight, put them on a good exercise and diet plan, and reduce fat with LLLT before contouring, which is really exciting," explains Dr Somji.
Another advantage of the low-risk treatment is the ability to treat the arms and the calf/ ankle areas, which are a common trouble area for women, as Dr Somji points out. "These areas are very difficult to treat from a surgical perspective, so liposuction is not really an option, and this is where LLLT is a great treatment." Dr Somji also recommends other body contouring treatments in his clinic, "Fat freezing is a great safe, non-surgical alternative to liposuction for the removal of localised fat in hard-to-shift areas, for example under the arms or chin. This is great in combination for radiofrequency skin tightening to improve skin laxity and reduce fatty deposits," he explains.
Dr Selezneva on cryolipolysis
This process of fat freezing uses a high-pressured suction handpiece to target areas of the body which are cooled to negative temperatures to cause apoptosis of fat cells. These are then removed by lymphatic drainage.6 "We use a wide range of machines and technologies within the clinic," says Dr Selezneva, "I like Cristal Cryolipolysis from Deleo, especially for men, due to its versatile applicator options and wide treatment area, making it possible to effectively target the upper and lower stomach, hips, inner and outer thighs, chest, and back, upper arms, calves, knees, buttocks and chin." One session takes about 70 minutes, explains Dr Selezneva, "Your patients can just lie back and relax and can continue their normal day straight afterwards. There is a risk of paradoxical adipose hyperplasia, which has been in the news in recent months and affected the popularity of cryolipolysis, but it's a very low risk at less than 1%."7
As well as cryolipolysis, Dr Selezneva reshapes patients' bodies with an array of other devices and will choose the best device for the individual patient. "I love using BTL Exilis and BTL Unison to target cellulite in combination with ULTRAcel to tighten the skin after fat removal. The key is to combine treatments to get the whole body looking it's best!", she says.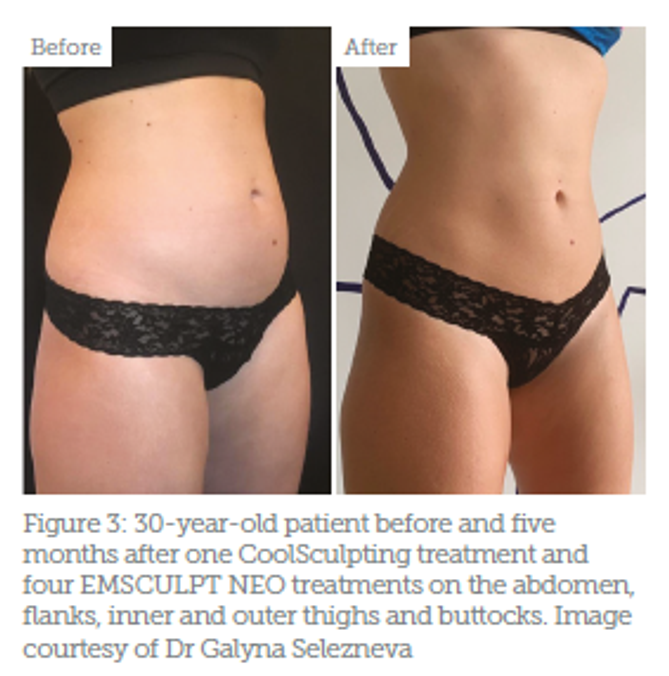 The future of body contouring
With the steep interest in energy-based devices for body treatments, practitioners predict further developments and innovations. "The demand for these procedures will certainly increase," says Dr Selezneva, "And as the public becomes more aware of these treatments, I think there will be a higher demand for multitasking devices targeting different areas and concerns on the body. I genuinely believe the time of the single use device is over and we will move to a more personalised treatment protocol." Likening it to injectable treatments, she continues, "With botulinum toxin, there's a recommended dose of product, but you personalise it depending on the severity of the wrinkles and the results the patient wants – we can do the same with multitasking devices."
Dr Somji agrees that combination treatments are the way forward and adds that, "I also believe the introduction of nutritional information is imperative."
Dr Demosthenous also agrees that there will be a significant increase in the popularity of energy-based body treatments. "I see the public becoming more and more interested in these treatments as they evolve and develop, and people realise they can get rid of stubborn pockets of fat in a minimally invasive non-surgical way."
In terms of muscle stimulation, Dr Demosthenous feels as though society hasn't quite caught on yet. He says, "People feel that by removing fat they will have a better body. This isn't necessarily the case. Increasing muscle will have both aesthetic and health benefits, far greater than removing fat. I also don't think we've seen the true potential of muscle stimulation devices yet," he adds, "They're relatively new in their current form, and more research and studies are needed to understand the possibilities that are open to us with these devices. So, watch this space."