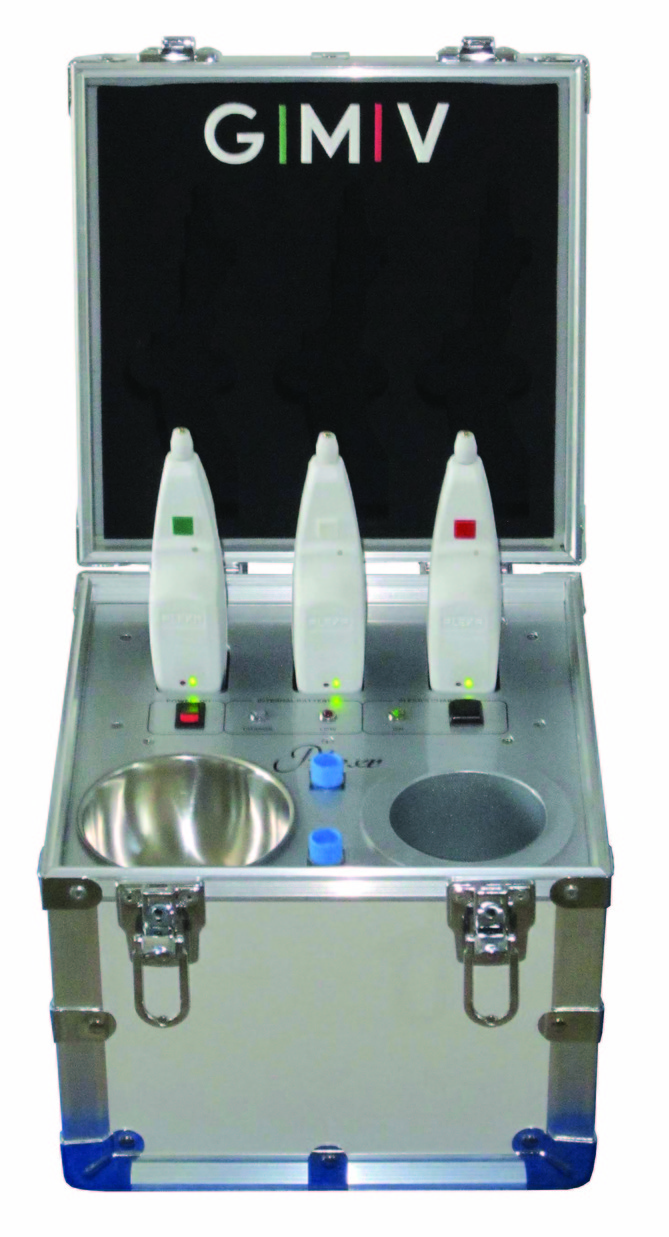 Patient demand for faster treatment with minimum downtime is increasing year on year. Aesthetic practitioners are being continually challenged to offer non-surgical procedures that provide results.
In response to this demand, Professor Giorgio Fippi, president of the Italian Society for Aesthetic Medicine, has developed an innovative tool that uses plasma to treat an array of aesthetic concerns. The Plexr (which stands for Plasma Exeresis) comprises three handheld wireless devices (white, green and red) that each offer varying degrees of treatment.
The device , which has received CE approval, works through the non-ablative process of sublimation. Plasma is formed through the ionisation of atmospheric gas, which works to stimulate the contraction, shortening and tightening of skin fibres, thus resulting in the reduction of the skin surface.
The amount of plasma generated depends on which Plexr device is used, air exchange in the ionisation area, and the emission of atmospheric gases in the treatment area. Plexr can also be used for mole removals, stretch mark treatment, excess skin removal, keloid scar removal, hyperpigmentation treatment, acne scarring and as an active acne treatment. As Plexr does not directly touch the skin, the manufacturers claim using the device for aesthetic concerns significantly reduces the risk of complications occurring.

Studies into the efficacy of Plexr for the treatment of excess
skin on the upper eyelid, perioral rhytides and acne have been conducted, with positive results.1,2,3 Dr Sherif Wakil, who was
lead Plexr
Soft Surgery trainer in the UK until March 2016, before Dr Shirin Lakhani took over (who is also the Fusion GT brand ambassador), uses the device as an alternative
to blepharoplasty. He explains, "Plexr works on a completely different mechanism of action compared to laser or cryogenics. By generating plasma, Plexr maintains the vitality of the tissue much better than other methods of skin tightening or rejuvenation, as demonstrated in a histological comparison between Plexr and radio-surgical methods."1
"Extra skin on the eyelid is a very common patient complaint in my clinic," says Dr Wakil. "With surgery, there is a standard procedure which can allow one eye to be more corrected than the other. Plexr allows the practitioner to sculpt each patient's upper eyelid and individualise treatment to each line or piece of skin. As it is a very small tool, it's very easy to manoeuvre and target the most hidden areas to achieve the best results."

He adds, "This procedure has less complications than surgery
for blepharoplasty – no anesthesia, reduced down-time and the expense is much lower. You find a lot of patients are boasting that they've had an effective procedure without a knife touching their face." Plexr can also be used for dermabrasion.
The study, 'Treatment of Perioral Rhytides with Voltaic Arc Dermoabrasion', comprised 15 patients (11 female and four male) who were aged between 30 and 65 years. The majority (90%) had class II and III wrinkle scores within the perioral area. After undergoing treatment with Plexr, the study's authors concluded that, "Fine rhytides, particularly in the perioral areas may be completely eradicated with voltaic arc resurfacing; deeper creases are also improved, probably secondary to a general tightening effect."
A second study, 'Plexr in Acne Treatment', treated 30 patients with acne (10 male, 20 female) aged between 14-45 years. Of the 30 patients, 23 had already tried to treat their acne with both local and systemic treatment, with little effect. The remaining seven patients had not undergone any treatment prior to Plexr. The authors found no relapse in any of the patients, and no side effects such as dyschromia, scars, hyperpigmentation or hypopigmentation, which can occur as a result of laser and peel treatments. They concluded, "Plexr is an alternative way of treating acne without the need of systemic medication."
Depending on the indication, practitioners can adopt two techniques for effective treatment results, known as 'spraying' and 'spotting'. The first is more commonly used for pigment treatments, whilst the second is used to aid skin tightening. "Each technique has its own treatment protocol," explains Dr Wakil.
"Practitioners are given patterns to follow for 'spraying' and are taught how to target treatment areas whilst 'spotting'." Dr Wakil explains that the Plexr should be held 1-2mm away from the skin during treatment, and says, if the device touches the skin, it will immediately switch off, preventing the risk of injury. Once treated, the skin will develop a crust-like protective layer, which will fall off approximately five-seven days post procedure. The new skin, often referred to as similar to 'baby skin' by Dr Wakil's patients, will be very thin and soft, and pink in colour. Patients can conceal it with makeup until it develops to match their natural skin colour.

Plexr treatments usually take approximately 20-30 minutes, depending on the area being treated and the severity of each case. For practitioners using the Plexr as an alternative to blepharoplasty, Dr Wakil advises practitioners offer patients two to three treatments, before the final aesthetic results equate to those achieved through surgery. "When you are starting out, it's better to do it bit by bit," he says, adding, "Don't be aggressive and make sure you take your time."
Dr Wakil says that there are no contraindications for the use of Plexr, and explains it can treat aesthetic concerns not achievable through laser treatment. "You can not use lasers to treat Herpes Simplex, however Plexr allows you to treat the viral disease, as well as the blisters that could accompany it." He says he has not yet seen any complications following treatment with Plexr, and notes that the procedure is suitable for most patients with all Fitzpatrick skin types.
After cleansing the skin and applying the numbing cream, practitioners should wait around 20 minutes before administering treatment. Dr Wakil explains that you can then position the patient appropriately and begin using the Plexr. He says, "Patients can open and close their eyes during the procedure, allowing practitioners to target each area effectively."
Once the procedure is complete, Dr Wakil says he then applies a concealer to the treated area, which patients can take home. Healing time for patients with higher Fitzpatrick skin types can take four/five weeks, compared to the usual two/three weeks for patients with lighter skin. He suggests that practitioners should advise patients to protect their skin from the sun and apply ice to the swollen treated area, which, according to the doctor, usually goes down after approximately two days.
Dr Wakil also gives patients eye drops to take home, for the rare occasion that patients develop any redness or infection. Whilst Dr Wakil reports no complications, he does note that problems could arise if a practitioner does not receive appropriate training for the use of Plexr. Adding to the already varied indications Plexr can treat, research is currently underway for its effectiveness as an alternative treatment to labiaplasty.
Before and afters